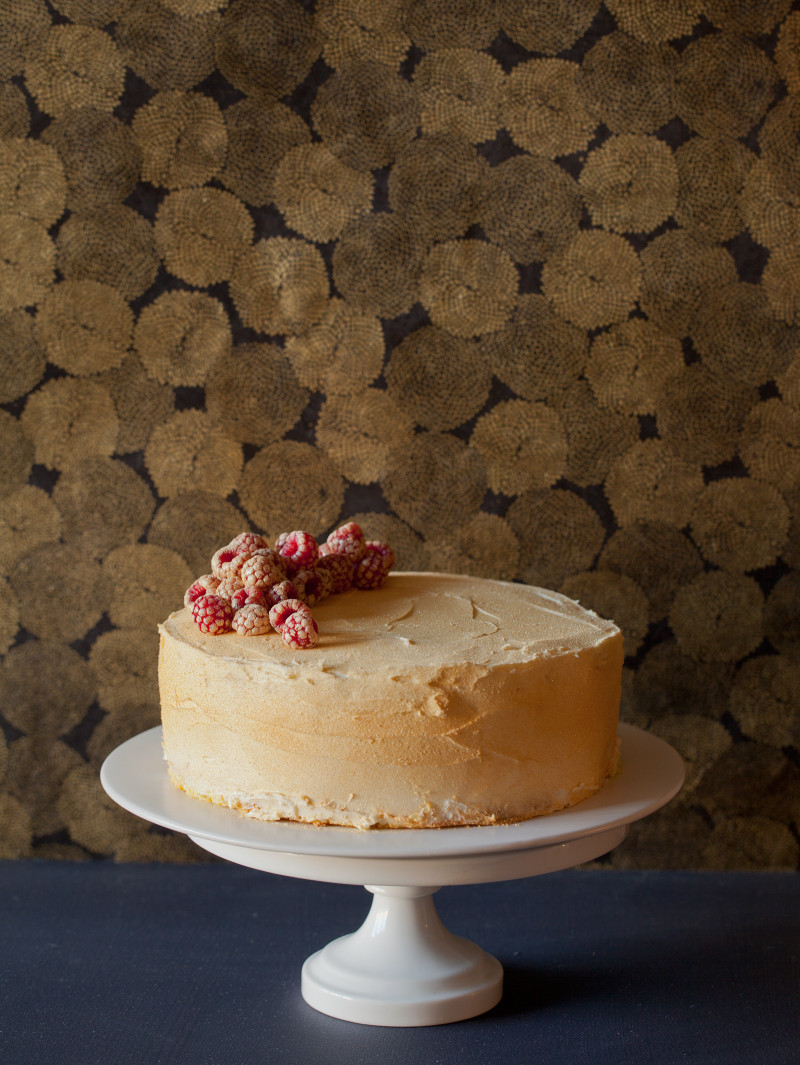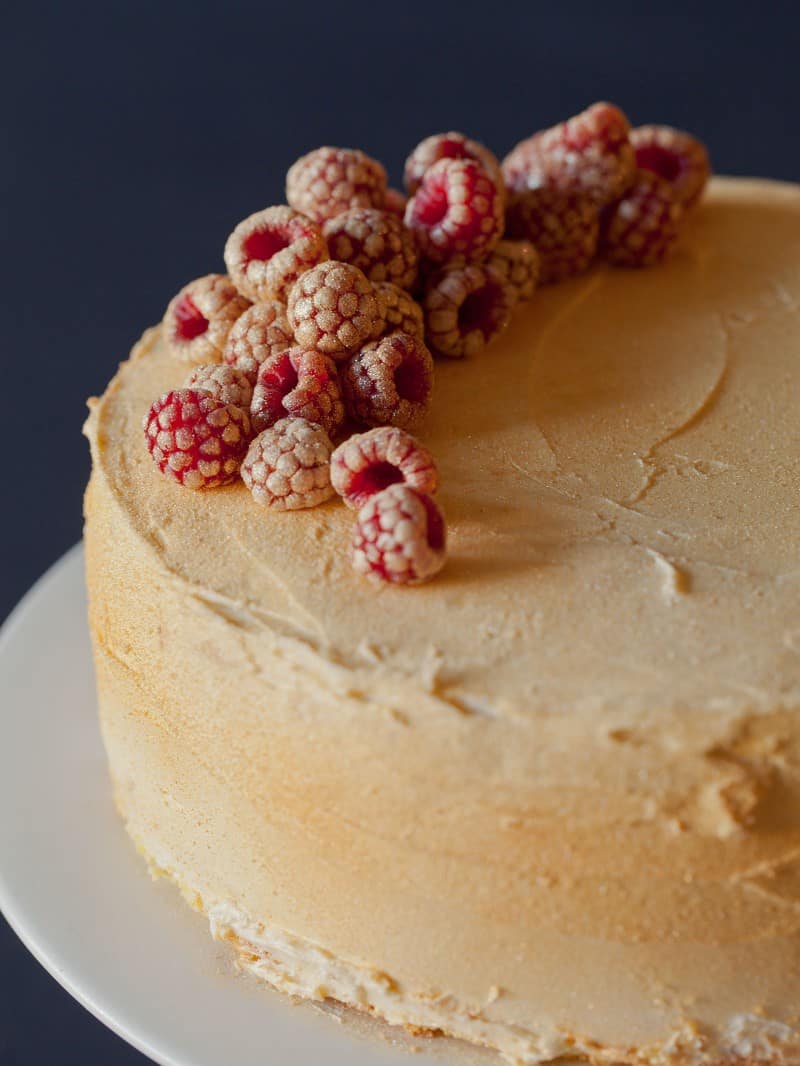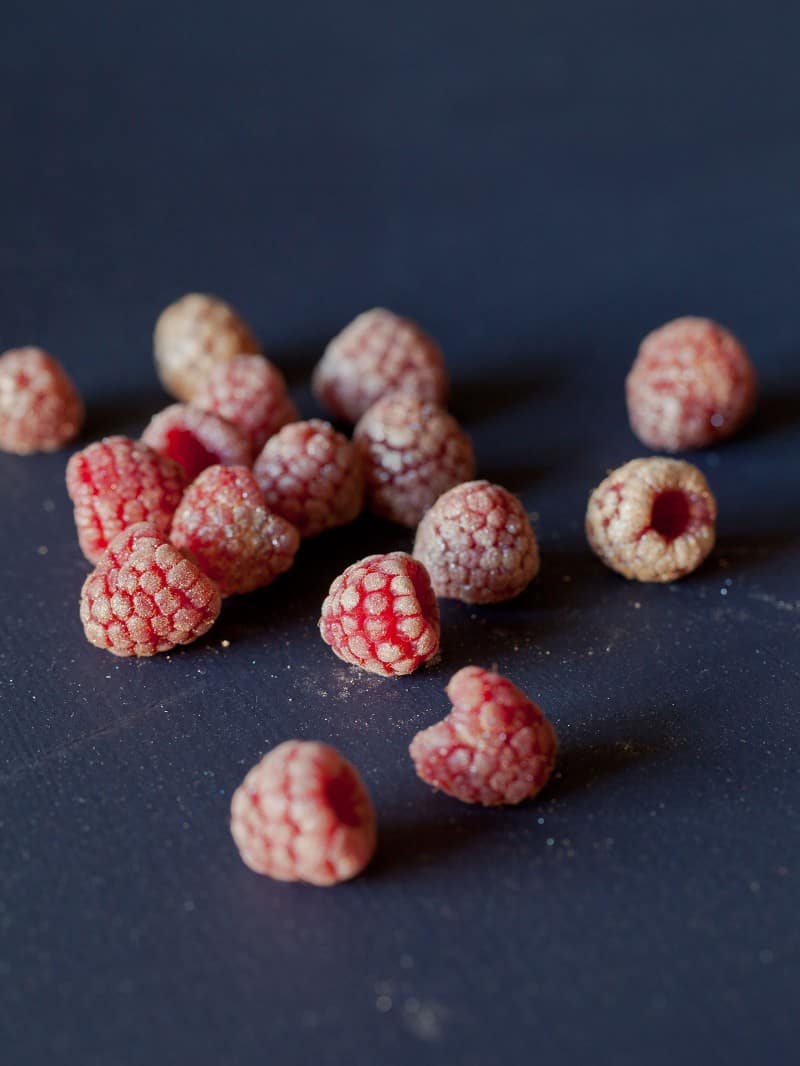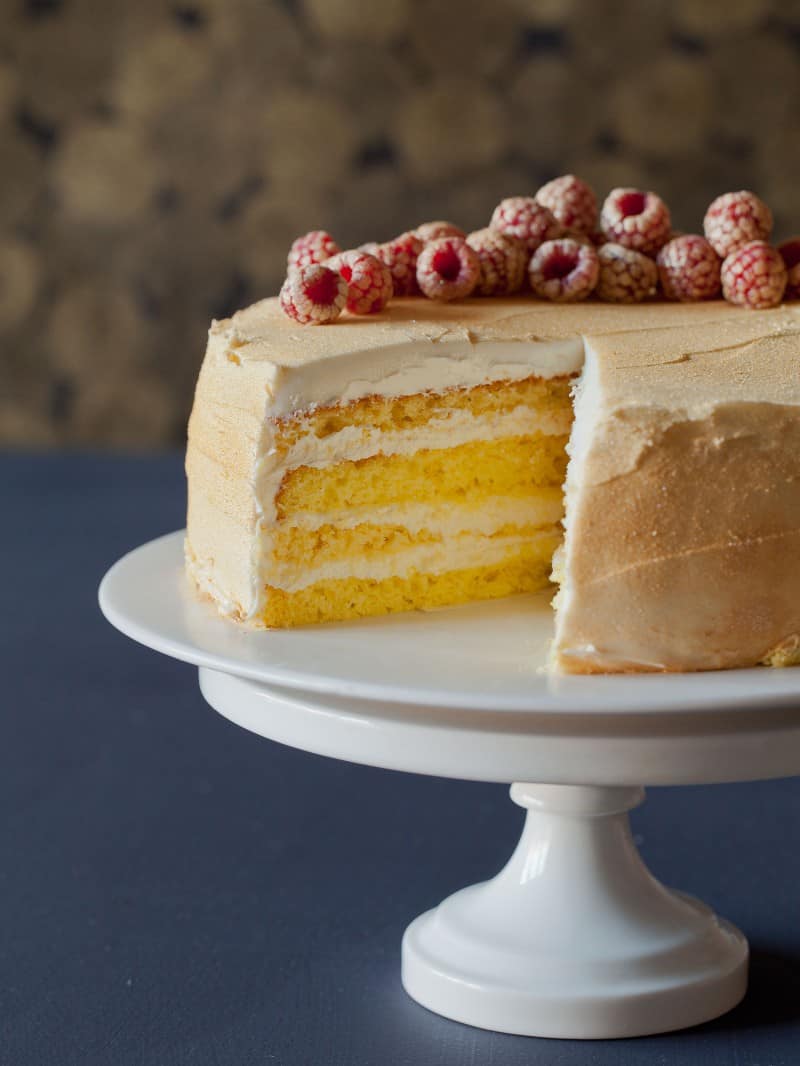 Hi All! So we know we've been a bit MIA this week, we're just taking a little holiday break-skies….BUT before the New Year hits we wanted to leave you with a fun little cake recipe that sparkles…our NYE Rose Water Glitter Cake! We flavored ours with rose water because the floral aroma is actually quite pleasant and the flavor isn't overwhelming. The rose water cake also goes great with the sweet basic buttercream frosting we've paired it with (if you thought our last buttercream frosting recipe was a bit scary with melting sugar and all, you're sure to like this one. Super easy!). If rose water isn't your thing it's no problem at all, just swap it out for another flavoring of your choice. Also, are the glitter raspberries not super awesome?!?! You should steal this idea and put it on other things. They look so cool! We hope you enjoy our glittery concoction and continue to have a very Happy Holidays!
Rose Water Glitter Cake
Makes 1 9 inch cake
Ingredients:
cake:
2 cups all purpose flour
2 ½ teaspoons baking powder
¼ teaspoon salt
1 cup (2 sticks) good quality unsalted butter, softened
1 ¾ cups plus 1 tablespoon granulated sugar
4 eggs, at room temperature
1 ½ cups buttermilk
3 tablespoon rose water, divided (you can substitute this for an orange oil or any other
flavored oils of your choice)
approx. 1cup simple syrup
basic buttercream frosting:
1 cup (2 sticks) unsalted butter, softened
7 ½ cups powdered sugar, sifted
1/3 cup plus 1 tablespoon milk
1 ½ teaspoons vanilla extract
garnish:
1 cup fresh raspberries
lots of gold luster dust
Directions:
1. Preheat oven to 350°F.
2. Sift together flour, baking powder and salt. Set aside.
3. In a stand mixer or with a hand mixer, cream together the butter and sugar for about 3 minutes.
4. With the motor running add the eggs one at a time, scraping down the sides of the bowl after each addition.
5. Add the dry mixture and milk to the butter mixture, alternating in thirds, until all of the dry ingredients and milk have been incorporated. Stir in 1 tablespoon of rose water.
6. Divide the batter between two greased and parchment lined 9 inch cake pans and bake for about 25 minutes or until the cakes are golden brown and a toothpick comes out clean when inserted into the center of each round.
7. While the cakes bake, make the frosting: In a stand mixer fitted with a paddle attachment, whip the butter. With the motor running, add the powdered sugar, ½ cup at a time until all of the sugar has been incorporated. Add the milk and vanilla into the mixture and beat until smooth. Cover with plastic wrap and set aside.
8. Allow the cakes to cool completely, about 45 minutes. Remove cakes from the pans and place in the refrigerator for about an hour.
9. Once the cakes have chilled, slice each in half so there are a total of four cake layers.
10. In a small bowl stir the remaining rose water into the simple syrup.
11. To assemble: Place a single cake round onto a cake turner (or clean surface) and brush the top with some of the rose water syrup. Add a thin layer of frosting over the syrup and top with another layer of cake.
12. Repeat step 11 until all of the layers have been used. Coat the cake in a thin layer of frosting to create a crumb coat and allow the cake to chill for 30 minutes.
13. Decorate cake with the remaining frosting and begin to dust cake with gold luster dust. (I find the easiest way to completely coat the cake in luster dust is to dab some onto a pastry brush, pull the bristles back with my fingers and flick it towards the cake)
14. Roll raspberries in luster dust until well coated and arrange on top of the cake. Serve.