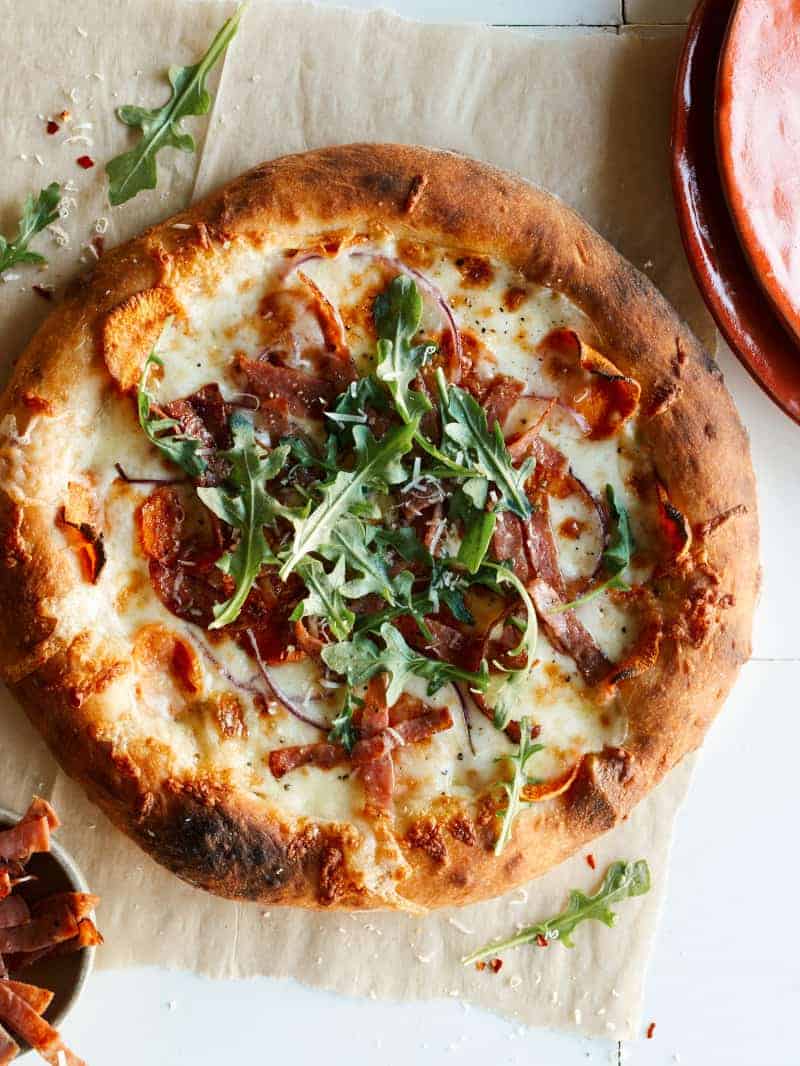 I love making homemade pizza at home because it's nice to be able to make a pizza in the size you want, with the ingredients you want. When I am really lazy, which is most of the time I just grab some store bought dough at the grocery store. Whole Foods has the best store bought dough in the game in my opinion. I usually find it right near where they make their own pizza. I usually don't use all of the dough, so if you have some leftover you can always make a mini batch of our pizza wheels! Anyway, sometimes it's nice to get some pizza topping ingredients so I don't always go with the fail safe of pepperoni and mushrooms. So today we have this fall inspired beauty of pizza, which is our Roasted Sweet Potato, Salami and Arugula Pizza. :) Yum.
♥ Teri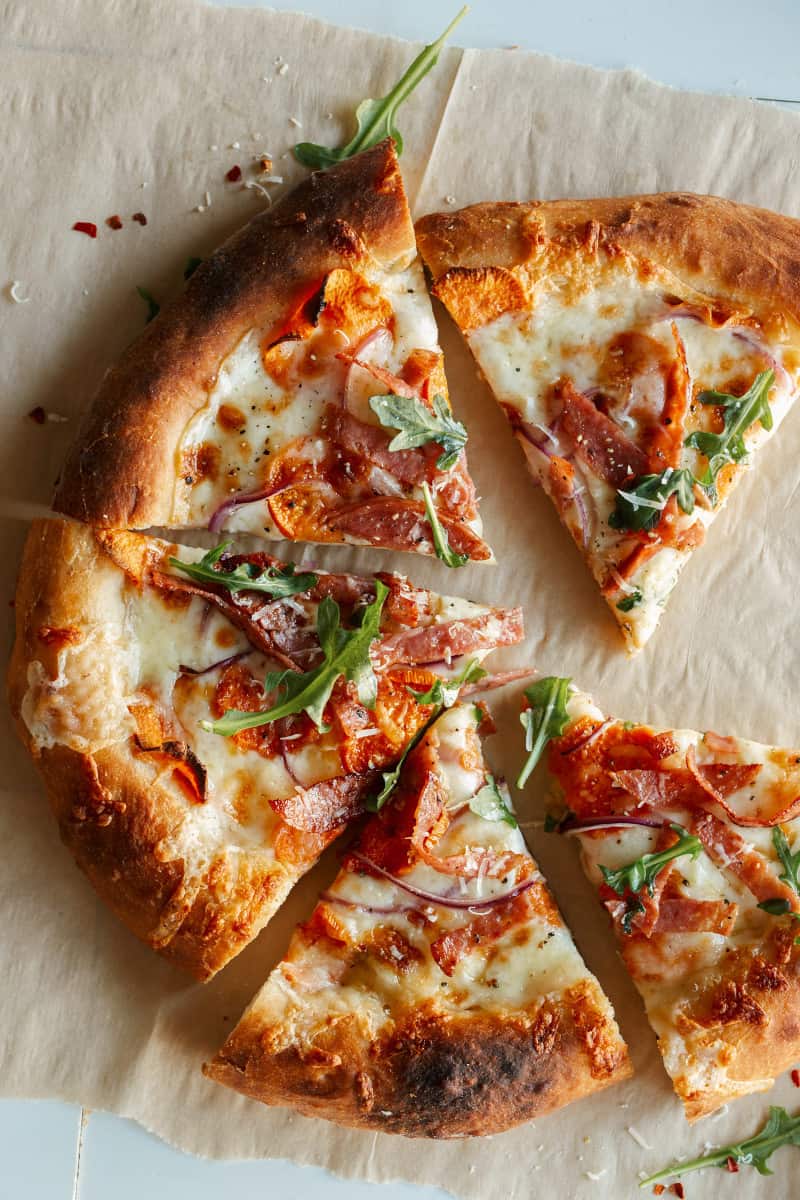 Roasted Sweet Potato, Salami and Arugula Pizza

1 (14") pizza

Ingredients:
3 tablespoons extra virgin olive oil, divided
1/2 sweet potato, thinly sliced
1 (8 ounce) store bought pizza dough, room temperature
1/2 cup coarse cornmeal
6 ounces (part-skim) mozzarella, thinly sliced
thinly sliced red onion
6 ounces thinly sliced salami, lightly sautéed
salt and pepper to taste

crushed red pepper flakes, optional

Directions:
1. Preheat oven to 400˚F.
2. Place 1 1/2 tablespoons oil and sweet potato into a large mixing bowl and toss together. Season with salt and pepper.
3. Spread onto a baking sheet and roast for 6 to 8 minutes. Remove from the oven and allow slices to cool.
4. Raise the oven temperature to 450˚F.
5. On a clean surface roll dough into a 14" circle, about 1/8" thick. Sprinkle cornmeal onto a baking sheet and top with rolled dough.
6. Brush the remaining oil over the dough and spread potato slices and 1/2 the cheese over the surface, leaving a `1/2 inch border around the edge.
7. Top with 1/2 the salami, onions, and remaining cheese.
8. Bake pizza for 12 to 15 minutes or until crust has browned and cheese is bubbling.
9. Remove from the oven and allow the pizza to cool for about 5 minutes.
10. Top with remaining salami and arugula and serve (with crushed red pepper flakes, if desired).