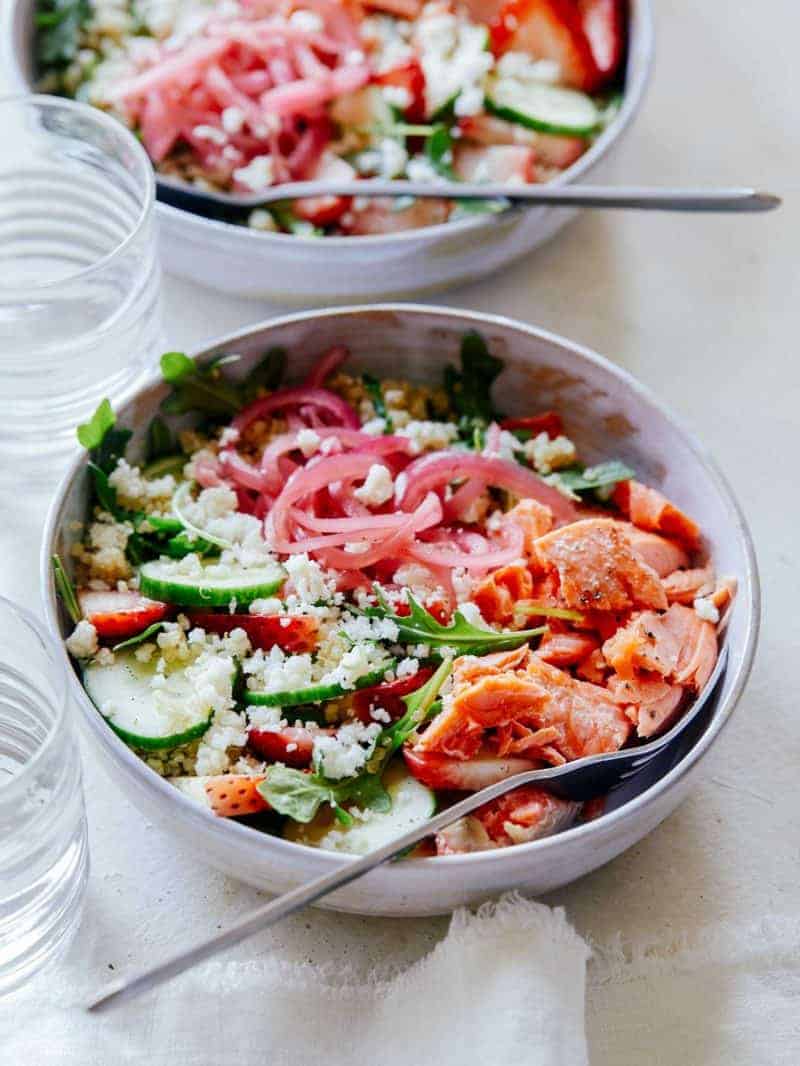 We're starting this week off with a simple and fresh bowl of delicious food. Warmer weather always tends to make me crave 'fresher, cleaner' meals and this grain bowl is one of those meals at the top of my list! This Roasted Salmon and Strawberry Grain Bowl screams springtime, it's super simple to make and it makes a really great lunch or dinner! You can also make it ahead of time and just assemble everything together right before you eat/serve it. Lets all take advantage of the super ripe strawberries popping up everywhere, make this dish and maybe even enjoy it outside in the sun! Enjoy! xx, Jenny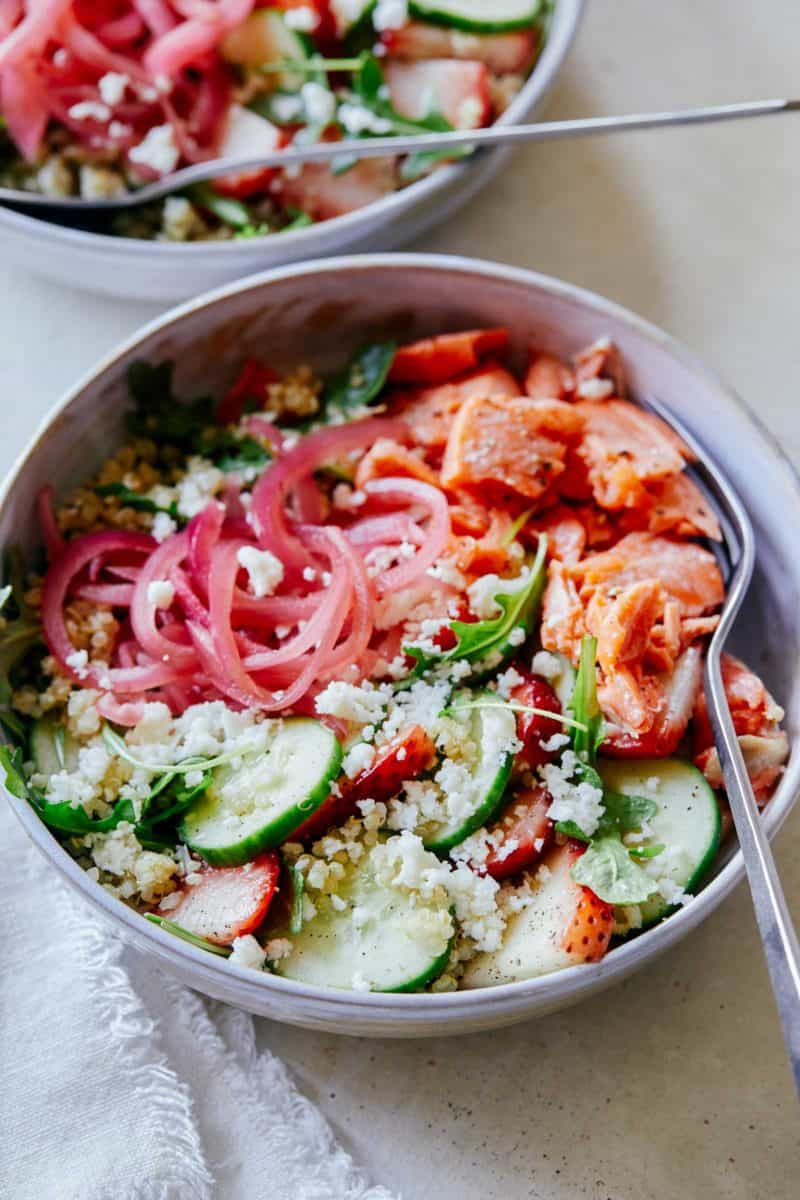 Roasted Salmon and Strawberry Grain Bowl

Serves 2

Ingredients:
quick pickled red onions:
1/2 large red onion, thinly sliced
1 cup apple cider vinegar
1/2 cup red wine vinegar
5 tablespoons sugar
1 teaspoon salt
1/2 teaspoon yellow mustard seeds, optional
roasted salmon:
1 (8 ounce) fillet wild-caught salmon

1 heaping cup cooked quinoa
1 packed and heaping cup arugula
1 tablespoon extra-virgin olive oil
1/2 lemon, juiced
1/2 Persian cucumber, thinly sliced
8 strawberries, hulled and thinly sliced
1/2 cup crumbled goat cheese
salt and pepper to taste

Directions:
1. Place sliced red onion into a non-reactive bowl and set aside.
2. Pour remaining pickling ingredients into a saucepan and simmer over medium-low heat until sugar and salt dissolves.
3. Pour vinegar mixture over onions and toss together. Loosely cover and set aside for at least 30 minutes.
4. Place salmon fillet on a baking sheet and season with salt and pepper. Turn broiler on high and broil salmon for 6 to 8 minutes or until just cooked through, remove from heat and allow fish to cool.
5. In a mixing bowl combine quinoa, arugula, oil, and lemon juice. Season with salt and pepper and toss together.
6. In another mixing bowl, combine cucumber and strawberries. Season with salt and pepper and toss together.
7. To assemble: Divide quinoa-arugula mixture into two shallow bowls and top with cucumber-strawberry mixture. Roughly shred salmon and divide between the two bowls. Top each bowl with a small pile of (drained) pickled red onions and finish with a sprinkle of goat cheese. Serve.

**Pickled Red onions will stay fresh for up to 3 to 4 weeks, when stored in an airtight container and refrigerated.