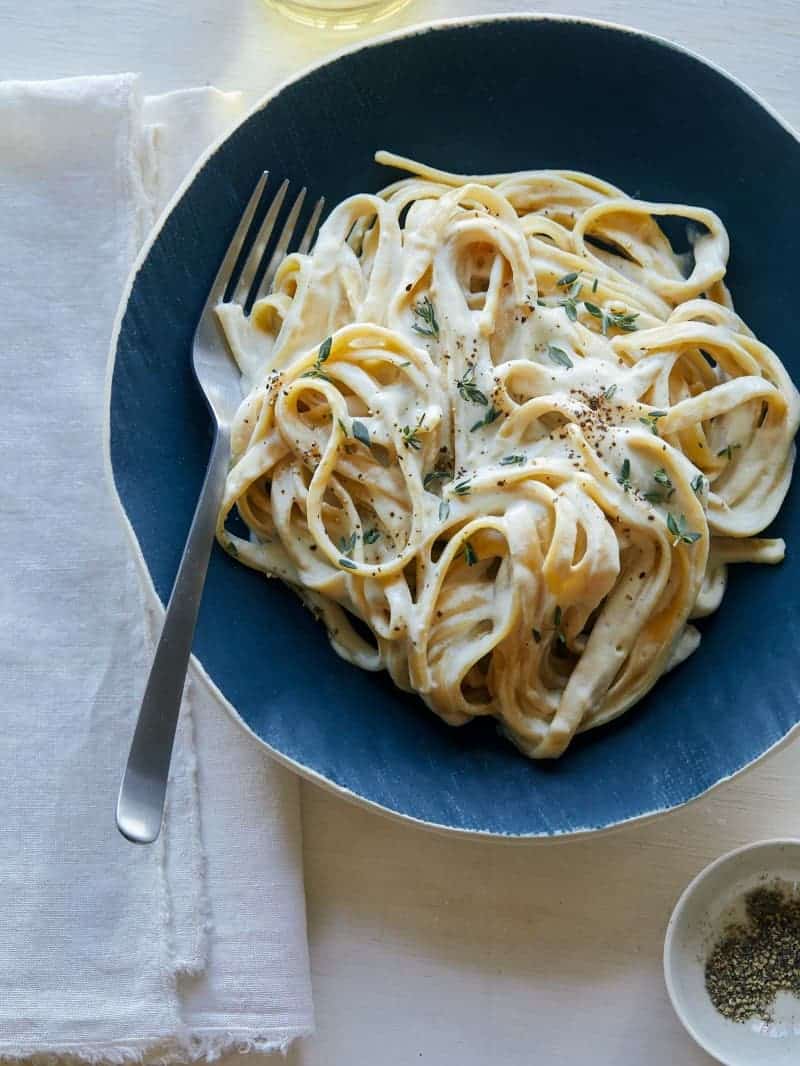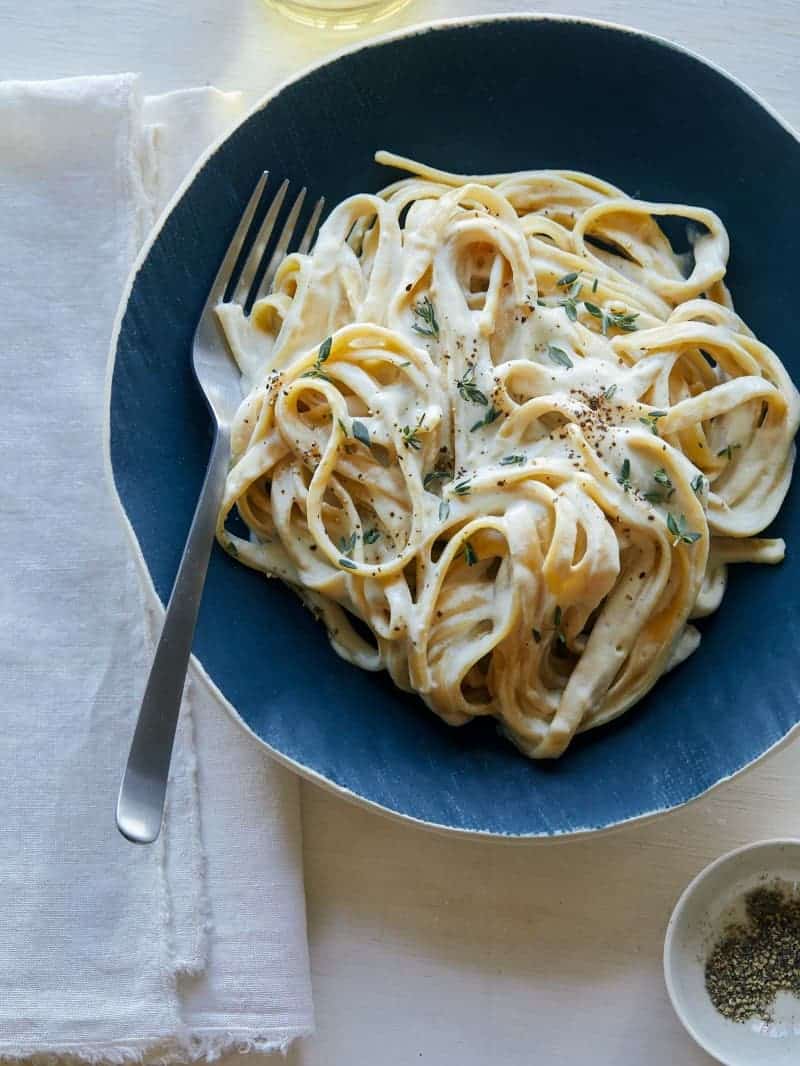 I'm so glad you all are digging our vegan recipes! It truly makes me so so happy! We have another one for you guys today; our Roasted Garlic Vegan Fettuccine Alfredo! This recipe is all about the sauce and it really couldn't be easier to make! I really dig this recipe because of the ease and the short list of ingredients. The sauce can also be used for so much more than pasta; you can drizzle it on roasted vegetables, a grain bowl, on your avocado toast, on a warm salad, seriously endless possibilities! The roasted garlic adds a depth of flavor that's pretty addicting.
If you store the sauce in the fridge for a later use, I just recommend adding a bit more water to it to get the consistency at a good place, as it'll thicken up as it sits, even once it's hated you'll notice that the consistency was thicker than when you originally made it. Enjoy!! xx, Jenny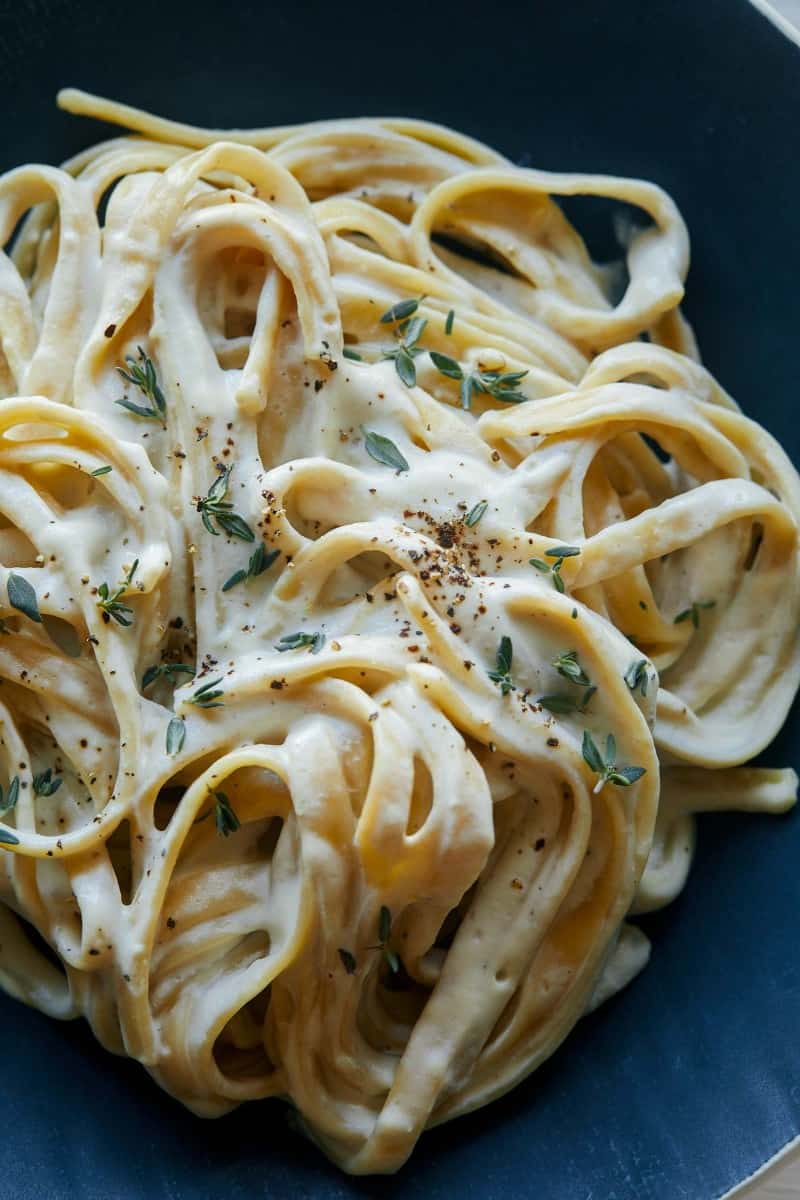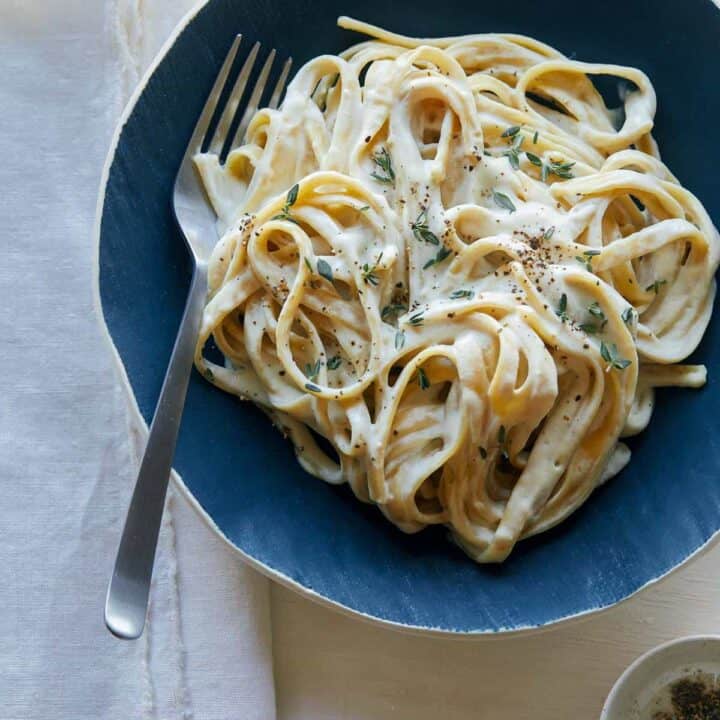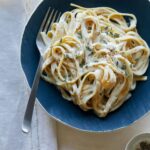 ---
Roasted Garlic Vegan Fettuccine Alfredo
INGREDIENTS
6

cloves garlic

4

teaspoons

extra virgin olive oil

1

pound

dry fettuccine

1

shallot, minced

1 ½

cups

raw cashews (soaked in 2 cups water for 1 hour)

2 ½

tablespoons

nutritional yeast

salt and pepper to taste

fresh thyme or basil leaves for garnish
INSTRUCTIONS
Place garlic cloves over a small sheet of foil and drizzle with 2 teaspoons of oil. Place directly onto an oven rack and roast for 30 minutes.

Fill a large pot with water and bring to a boil. Add pasta and season water generously with salt.

Bring mixture back to a boil and cook pasta, stirring occasionally until pasta is al dente, 6 to 8 minutes. Drain, reserving about 2 cups pasta water, and pour pasta back into the pot.

Add remaining oil to a small skillet and place over medium heat. Add shallots and sauté for 3 to 4 minutes.

Remove from heat and transfer to a blender. Drain cashews and add to blender along with 1 1/2 cups pasta water, roasted garlic cloves and nutritional yeast. Blend until mixture is smooth. Season with salt and pepper and add more pasta water, if needed. Pulse a few times.

Pour 'alfredo' sauce over the pasta and toss together until completely coated. Adjust seasonings, top with thyme or basil and serve.
Calories:
511
kcal
Carbohydrates:
67
g
Protein:
18
g
Fat:
20
g
Saturated Fat:
4
g
Cholesterol:
64
mg
Sodium:
21
mg
Potassium:
486
mg
Fiber:
5
g
Sugar:
4
g
Vitamin A:
47
IU
Vitamin C:
1
mg
Calcium:
44
mg
Iron:
4
mg