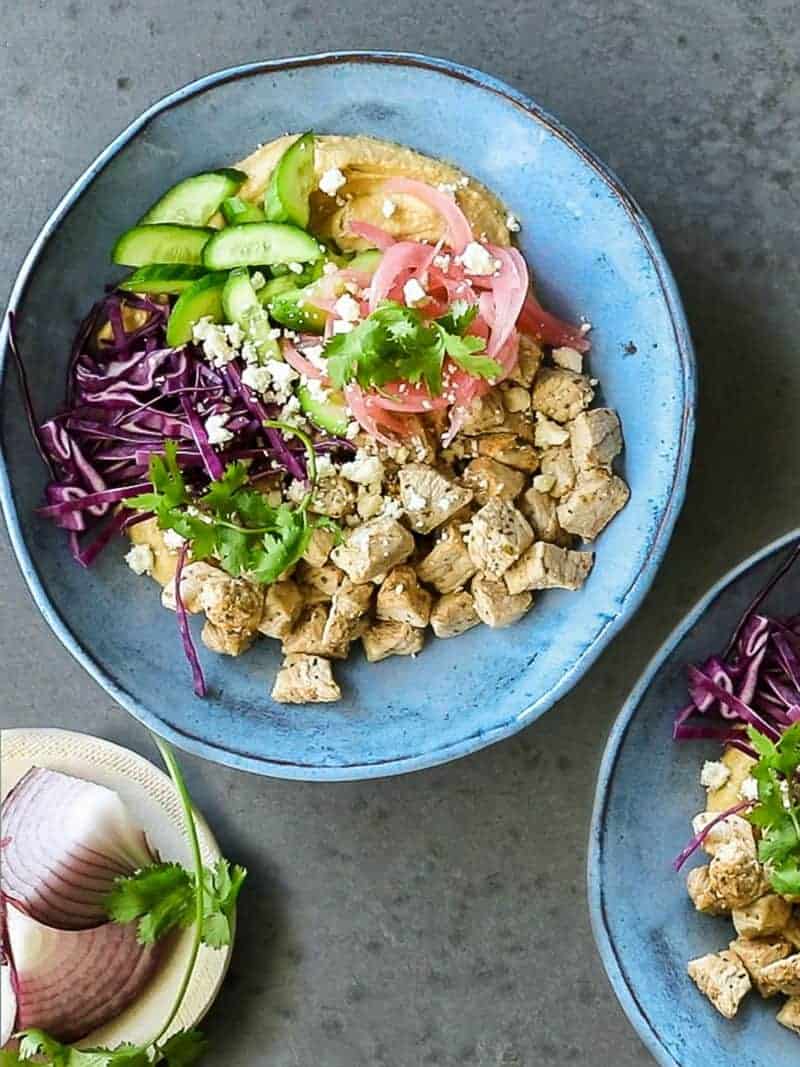 Whenever summer ends, things seem to kick up into high gear and the days seems shorter but busier. We've been working on quick and easy recipes that still taste amazing and we've got our Roasted Garlic & Herb Pork Hummus Bowls for you guys today, featuring the Smithfield Roasted Garlic & Herb Marinated Fresh Pork Loin Filet. The pre-marinated pork loin filet makes getting dinner on the table way easier without compromising any delicious flavor. We love that Smithfield products are made with 100% fresh pork with no artificial ingredients. You can find them at select retailers nationwide such as Albertsons/Safeway, Publix, ShopRite, and Walmart, making them really easy to find. Plus, today is the last day to enter their "Real Food, Real Flavor, Real Fast" contest and sweepstakes where you can win a trip to Napa Valley for the ultimate wine experience! Make sure to visit this site today for details on how to enter!
We promise you guys these pork hummus bowls will not disappoint! They're super easy to make, are ready in a matter of minutes, and are really deliciously satisfying! Enjoy!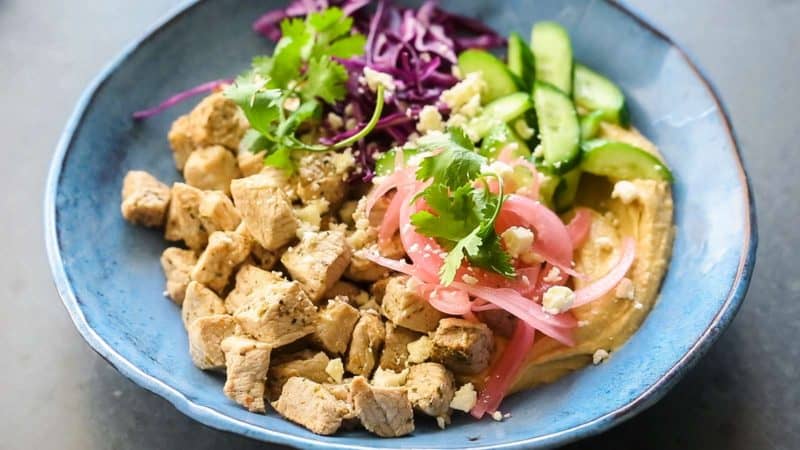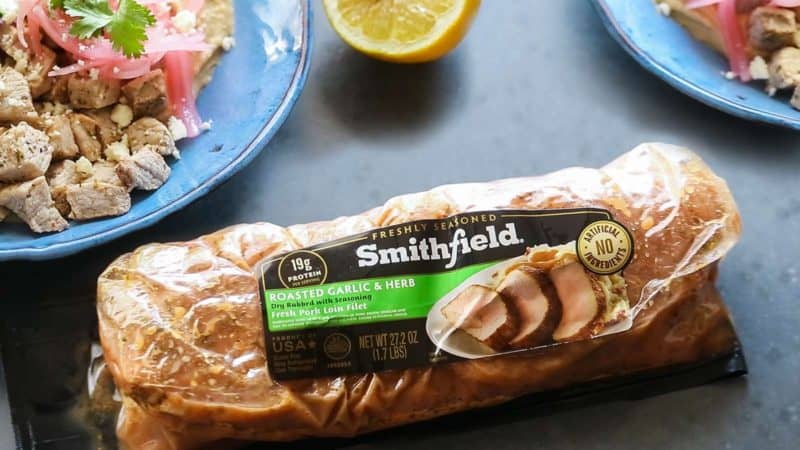 Roasted Garlic & Herb Pork Hummus Bowls

Makes 2 bowls

Ingredients:
1/2 Smithfield Roasted Garlic & Herb Marinated Fresh Pork Loin Filet, chopped into bite sized pieces

quick pickled red onion:
1/2 cup white vinegar
1/2 cup water
1 1/2 tablespoons sugar
3/4 teaspoon salt
1 1/2 teaspoons pickling spices
1/2 red onion, thinly sliced

2 tablespoons extra virgin olive oil
1 1/2 cups store-bought hummus of choice
1 heaping cup shredded purple cabbage
1/2 Persian cucumber, halved lengthwise and thinly sliced
crumbled feta
fresh cilantro leaves

Directions:
1. For quick pickled red onions: Pour vinegar, water, sugar, salt, and spices into a small saucepan, stir and simmer over medium-low heat.
2. Once sugar and salt dissolve, remove from heat and pour mixture over sliced red onions. Set aside and allow mixture to steep for at least 30 minutes.
3. Place a skillet over medium heat and add oil. Add cubed pork and sauté for 7 to 8 minutes or until pork pieces have just cooked through. Remove from heat and transfer to a bowl.
4. To assemble: Scoop hummus into each bowl and top with shredded cabbage, cucumber, pork, some pickled red onion, crumbled feta, and cilantro. Serve.

**Once pickled red onion mixture has cooled completely, transfer to an airtight container and store in refrigerator for up to 2 months.