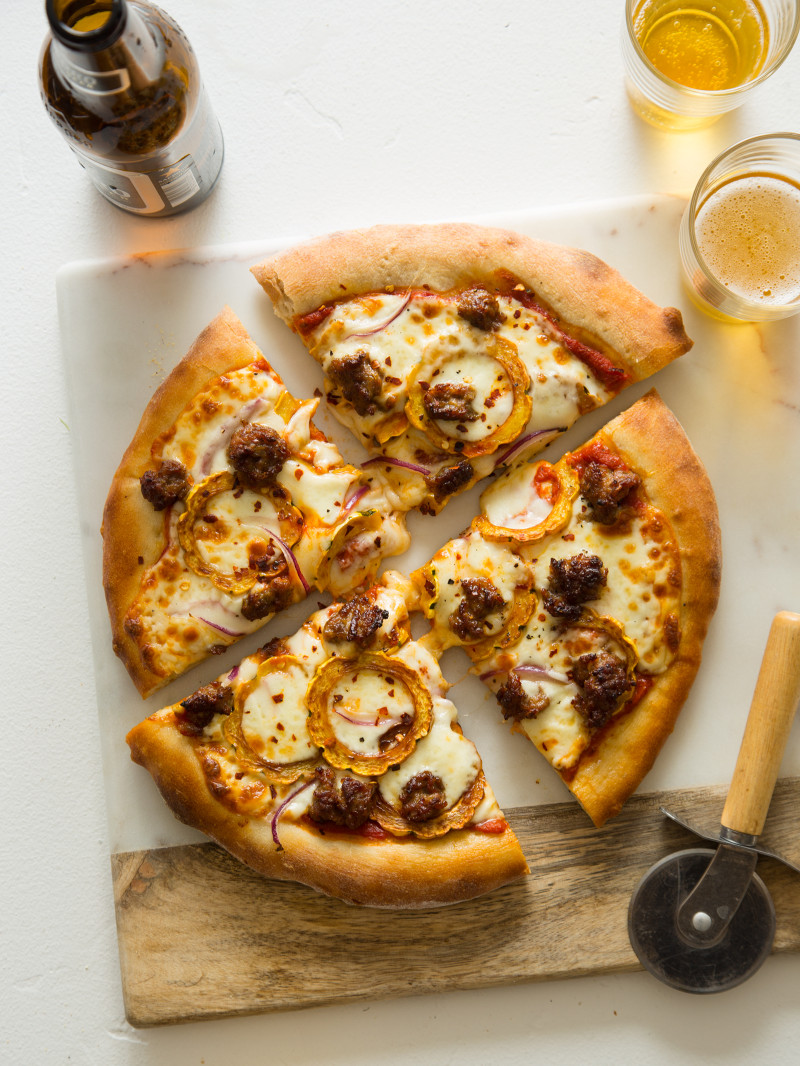 Hi! I just got back from my trip to Italy and I have come back with a new addiction to carbs, 10 pounds, and a new routine where I wake up at 4am and endlessly scroll through facebook and look at deep at peoples photo albums like a stalker. It's been great. But really, my appetite is insane from all the eating. I am not quite sure how I am going to go back to normal. It's so hard. The weather in Italy was pretty pleasant for the most part, mid 70's. So when I came back to LA I was hoping that the terrible heat situation would leave us. Instead I come back and it's like 90. Ugh. Yesterday at least it rained or "misted" or whatever you want to call it. That was nice. It makes me feel like fall is really happening, and it's not just some kind of marketing scheme Starbucks does for PSL (whats up with the new graham cracker drink, I want to try it! Have you?). The other thing about fall that is nice are squash. Squash is pretty, and tastes good, and you can make a lot of fun things with it. So today in celebration of fall and carbs we have this Roasted Delicata and Spicy Italian Sausage Pizza. Perfect, simple, fall pizza. Because carbs and fall belong together forever.
♥ Teri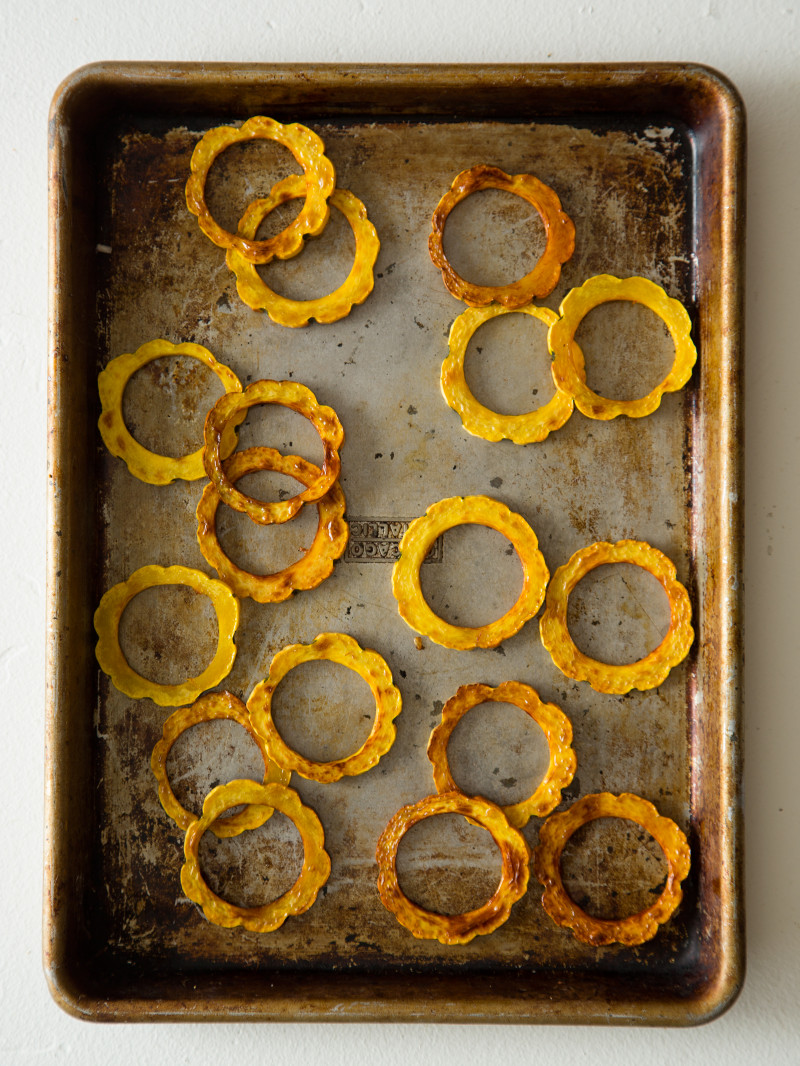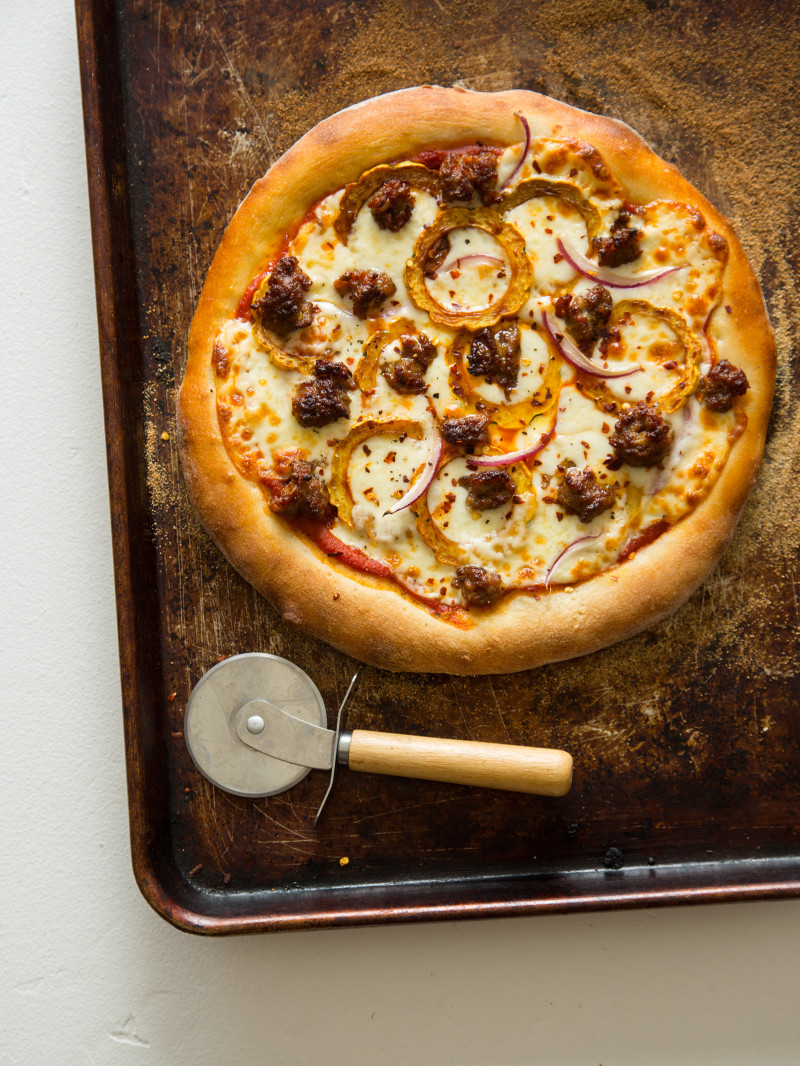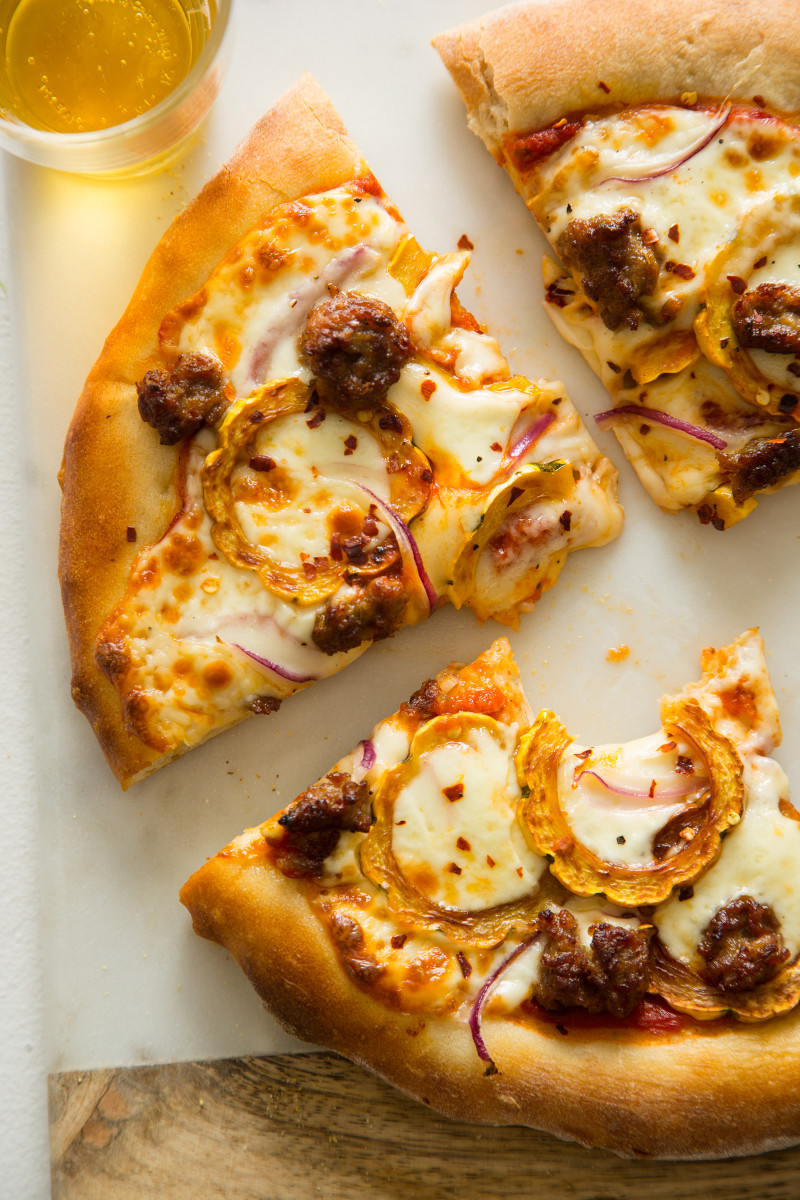 ---
Roasted Delicata and Spicy Italian Sausage Pizza
Ingredients
2

tablespoons

extra virgin olive oil

½

small delicata, thinly sliced and seeded

1

recipe pizza dough or store bought pizza dough, room temperature

½

cup

coarse cornmeal

⅔

cup

marinara sauce

1

cup

crumbled and browned spicy Italian sausage

6

ounces

(part-skim) mozzarella, thinly sliced

2

tablespoons

thinly sliced red onion

salt and pepper to taste

crushed red pepper flakes
Instructions
Place delicate and oil in a large mixing bowl and toss together. Season with salt and pepper.

Spread onto a baking sheet and roast for 18-20 minutes or until golden brown and soft but still holding their shape. Remove from oven and allow squash to cool.

Raise the oven temperature to 450˚F.

On a clean surface roll dough into a 14" circle, about ⅛" thick. Sprinkle cornmeal onto a baking sheet and top with dough.

Spread marinara sauce over the dough followed by ½ the cheese. Top with the delicata, sausage, onions, and remaining cheese.

Bake pizza for 12 to 15 minutes or until crust has browned and cheese is bubbling.

Remove from the oven and allow the pizza to cool for about 7 minutes.

Sprinkle with crushed pepper flakes, cut and serve.
Calories:
722
kcal
Carbohydrates:
70
g
Protein:
29
g
Fat:
37
g
Saturated Fat:
13
g
Cholesterol:
72
mg
Sodium:
1620
mg
Potassium:
583
mg
Fiber:
5
g
Sugar:
10
g
Vitamin A:
1155
IU
Vitamin C:
11
mg
Calcium:
364
mg
Iron:
5
mg