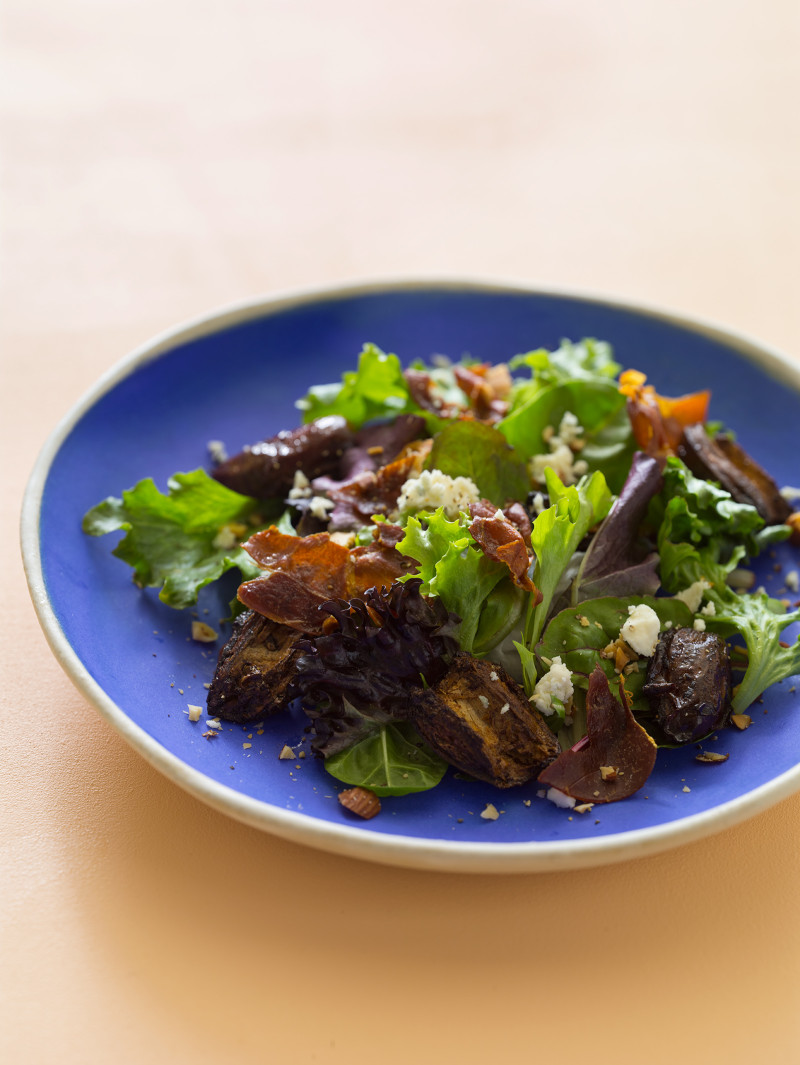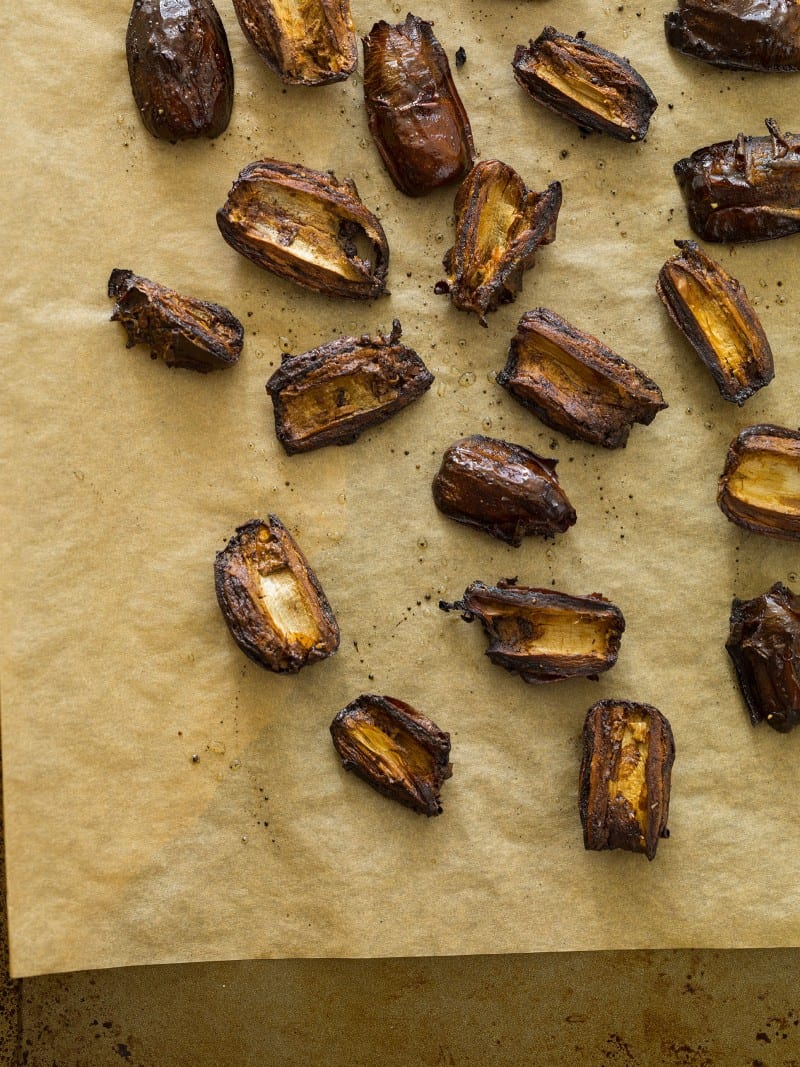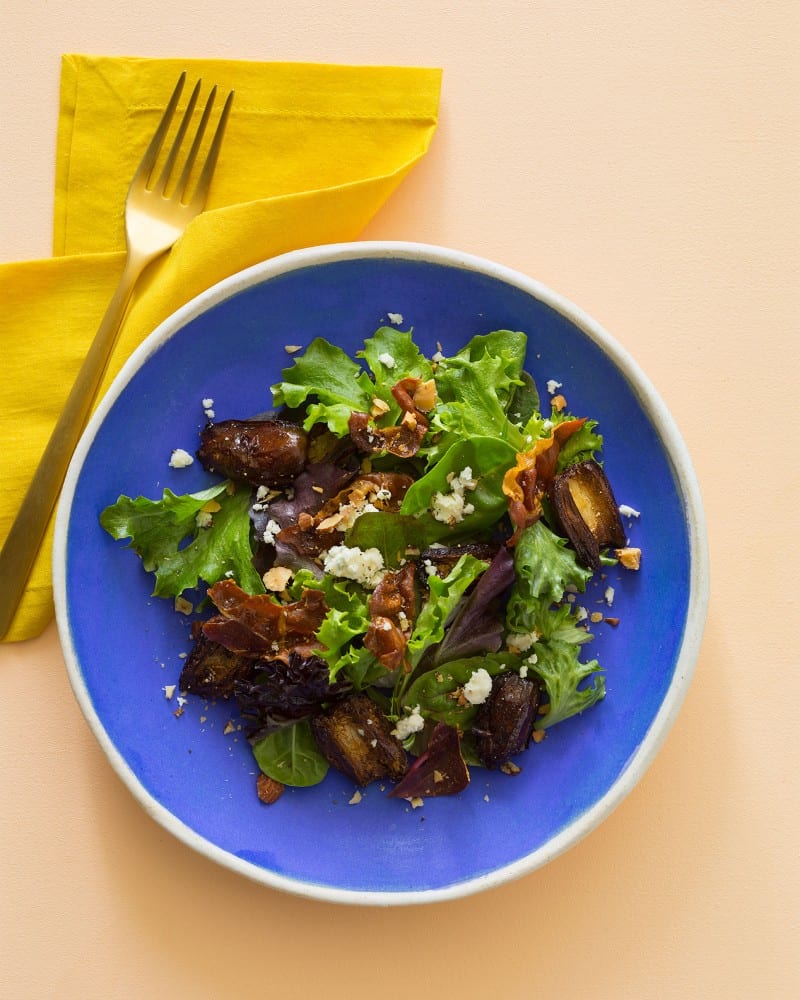 Hey guys! Lets get straight to food today. We have one of my new favorite salads….one with roasted dates! I love dates, their natural sweetness and how they lends themselves so well to baked goods, their ability to turn almond milk into a delicious milkshake like beverage and just being able to wrap some bacon around them and call it a day. Dates are awesome. Today we've roasted them and tossed them into a salad. If you've never roasted dates…PLEASE.GO.DO.IT. They become these delicious candy-like things with a crisp exterior and wonderfully chewy interior (I'm a major texture person, you all know this)….that combined with the thin, crispy prosciutto, pungent bleu cheese and crunchy almonds…whoa, so good!
I used California dates in this salad over of the much prized Medjool dates because they are slightly less sweet and don't caramelize are quickly as Medjools would in the oven. They also have a firmer texture which aids them in the roasting process. You do need to be careful though and make sure to keep an eye on these things in the oven. Thy can burn fairly easily and even if they don't burn, if you pull them out a little "late" then you'll end up with rock hard dates instead of delicious crisp and chewy bites! If you want a heartier salad, feel free to use kale…just as delicious! You can also swap the prosciutto out for crispy pancetta or bacon (although I would recommend speck, if anything), but I sort of like the oober, thin and crispy bit of prosciutto throughout the salad, which really helps to highlight the rest of the ingredients, rather than overwhelm them. You can also swap the bleu cheese out for goat cheese or a nice and salty ricotta salata as well as the toasted almonds for Marcona almonds (my favorite). This is a great salad to make for yourself or guests if you're craving something slightly different and slightly decadent. Enjoy!
xx, Jenny
Roasted Date Salad
Serves 3 to 4
Ingredients:
1 recipe balsamic-vinaigrette
8 California dates, pitted and cut in half lengthwise
2 tablespoons balsamic vinegar
2 teaspoons extra virgin olive oil, divided
3.5 ounces prosciutto
6 cups mixed greens
2 ounces bleu cheese, crumbled
1/4 cup chopped, toasted almonds (or Marcona almonds)
salt and pepper to taste
Directions:
1. Preheat oven to 375°F.
2. For the dates: Place dates, balsamic vinegar and 1 teaspoon oil into a mixing bowl and toss together until the dates are well coated. Spread in a single layer onto a baking sheet lined with parchment and roast for 10 to 15 minutes. Set aside and allow dates to cool.
3. Place a nonstick pan over medium-high heat and add remaining oil. Swirl around pan and add pieces of prosciutto. Sear on each side until crisp and set onto paper towels until ready to use.
4. To assemble: Place mixed greens into a large mixing bowl with half the dates, prosciutto (slightly crumbling), bleu cheese, and almonds. Add the vinaigrette and toss together. Top with remaining ingredients, lightly season with salt and pepper and serve.