Hi Guys! We had a blast in Austin, ate a ton and are so happy to be back! I learned A LOT and came back totally inspired with so many fun recipe ideas. I can't wait to share them with you in the next month or so….lets just say there are both awesome hot and cold SMOKED thing in the near future (totally easy too!)! Today we have rhubarb pickles for ya. I love pickled things of all kinds, I love the basic cucumber pickles, I love gherkins, pickled onions, pickled garlic, pickled carrots, pickled pigs feet, pickled eggs….I LOVE pickled things. One thing I love to pickle is rhubarb. That's right, no need to save up precious stalks of rhubarb during the summer for just pies and crumbles…there are so many awesome savory things to do with rhubarb and pickling is one of them! I like to think this is similar to those giardiniera pickled peppers and other vegetables, only rhubarb. I like eating my rhubarb pickles atop hot dogs or I also like dicing it up with olives and spreading it onto a giant Italian beef sandwich for a little kick and tang. One of my favorite things to do with these pickles is to serve them with a little bit of cheese and charcuterie. The sharpness of these pickles goes great with the rich meats and cheese.
I've made these pickles rather sharp and sour, but feel free to adjust the spice, sugar and salt amounts based on your own preferences! I just prefer a more sour pickle, but if you're more into a bread and butter type sitch feel free to add an extra tablespoon of sugar. You can also omit any of the different spices I've added, because there is certainly a lot going on in there. If you're more of a dill pickle type of person, then feel free to omit some or all of the spices and drop a handful of fresh dill into the mix. Pickles can be such a personal thing, I urge you all to try out these rhubarb pickles and adjust them to fit your taste. Have a great weekend! xx, Jenny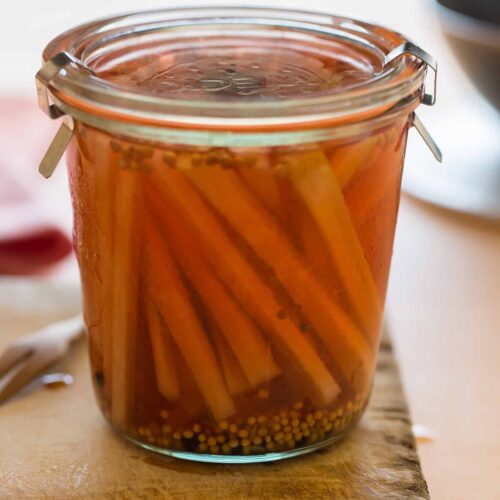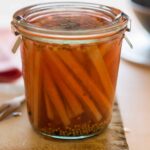 ---
Rhubarb Pickles
INGREDIENTS
1

bunch

rhubarb stalks cleaned and cut into 2 ½-3"x ½" pieces

1 ½

tablespoons

yellow mustard seeds

2

teaspoons

black peppercorns

1

teaspoon

coriander seeds

½

teaspoon

cumin seeds

½

teaspoon

crushed red pepper flakes

3

whole cloves

1

star anise

1

cup

white (distilled) vinegar

1

tablespoon

kosher salt

1 ½

tablespoons

granulated sugar
INSTRUCTIONS
Place cut rhubarb into a sterilized jar and top with mustard seeds, peppercorns, coriander seeds, cumin seeds, crushed red pepper flakes, whole cloves, and star anise and set aside.

Pour 1 cup water, vinegar, salt, and sugar into a medium pot and simmer until sugar dissolves, about 8 minutes. Pour hot liquid over rhubarb and spices and close lid. Gently shake to get all the spices moving around.

Place jar into a medium pot filled with lightly boiling water about ⅓ of the way. Can for about 20 minutes or until the lid has completely sealed. Allow mixture to come to room temperature before refrigerating. Rhubarb pickles should be ready to eat after 2 to 3 days and should hold for up to 2 ½ months.
Calories:
24
kcal
Carbohydrates:
3
g
Protein:
1
g
Fat:
1
g
Saturated Fat:
1
g
Sodium:
701
mg
Potassium:
24
mg
Fiber:
1
g
Sugar:
2
g
Vitamin A:
30
IU
Vitamin C:
1
mg
Calcium:
11
mg
Iron:
1
mg