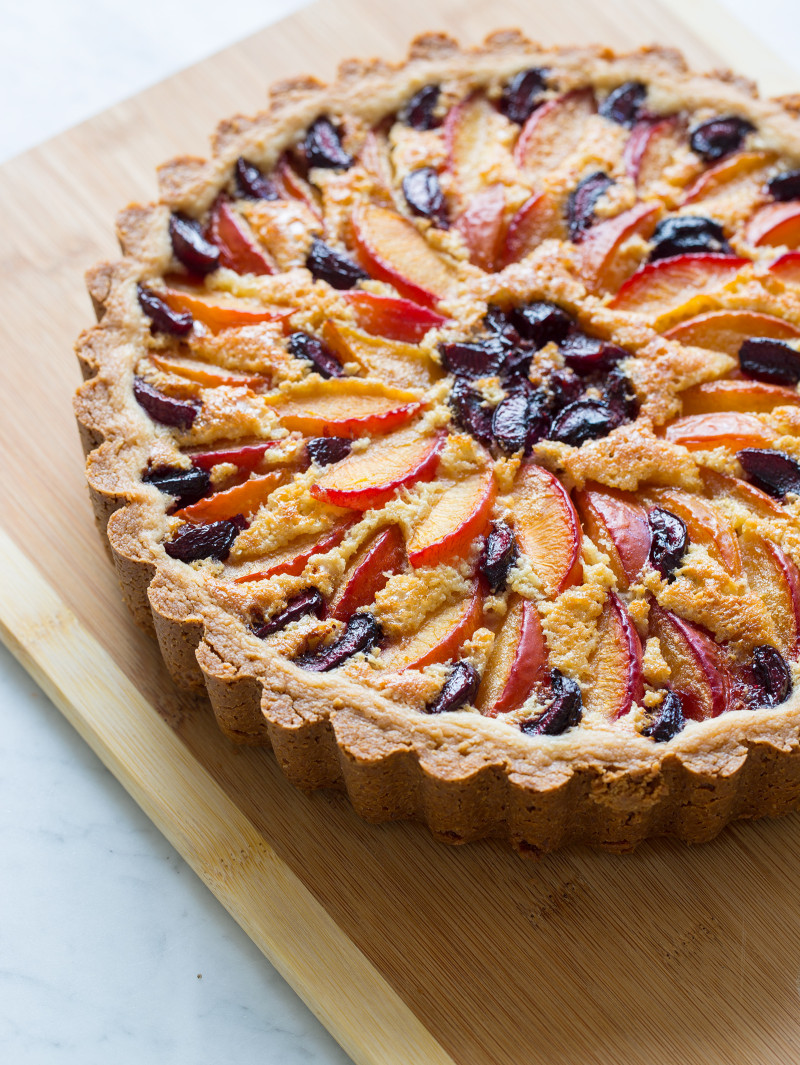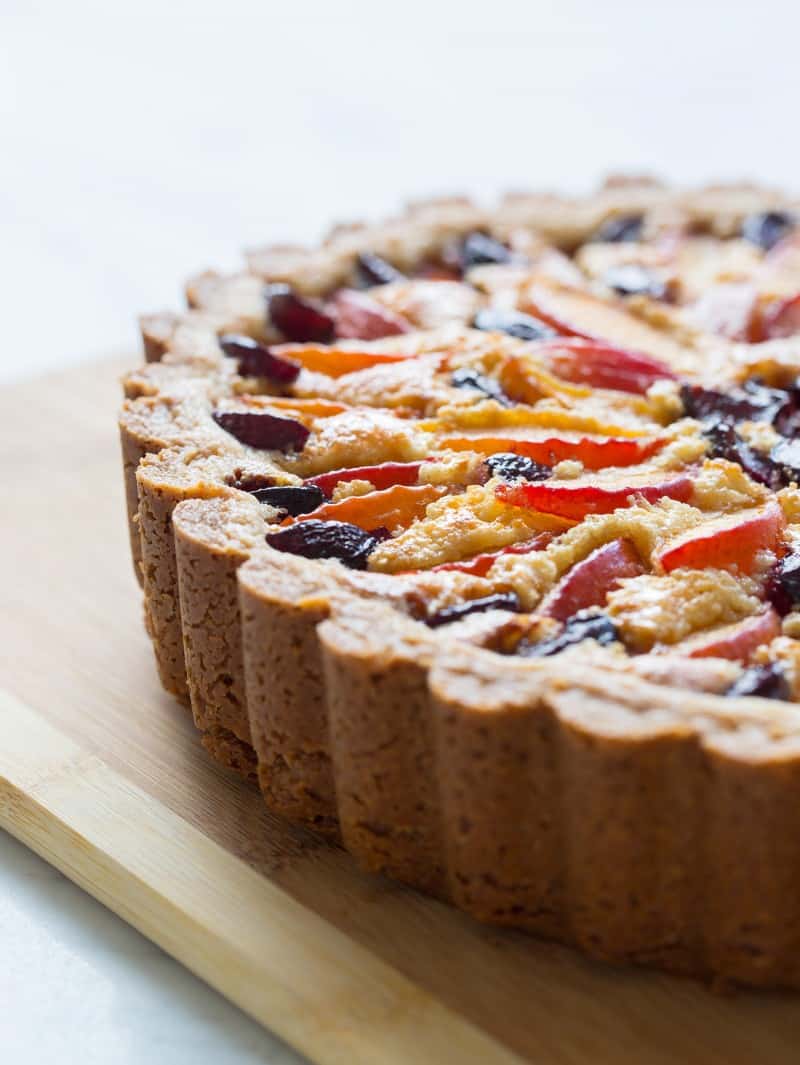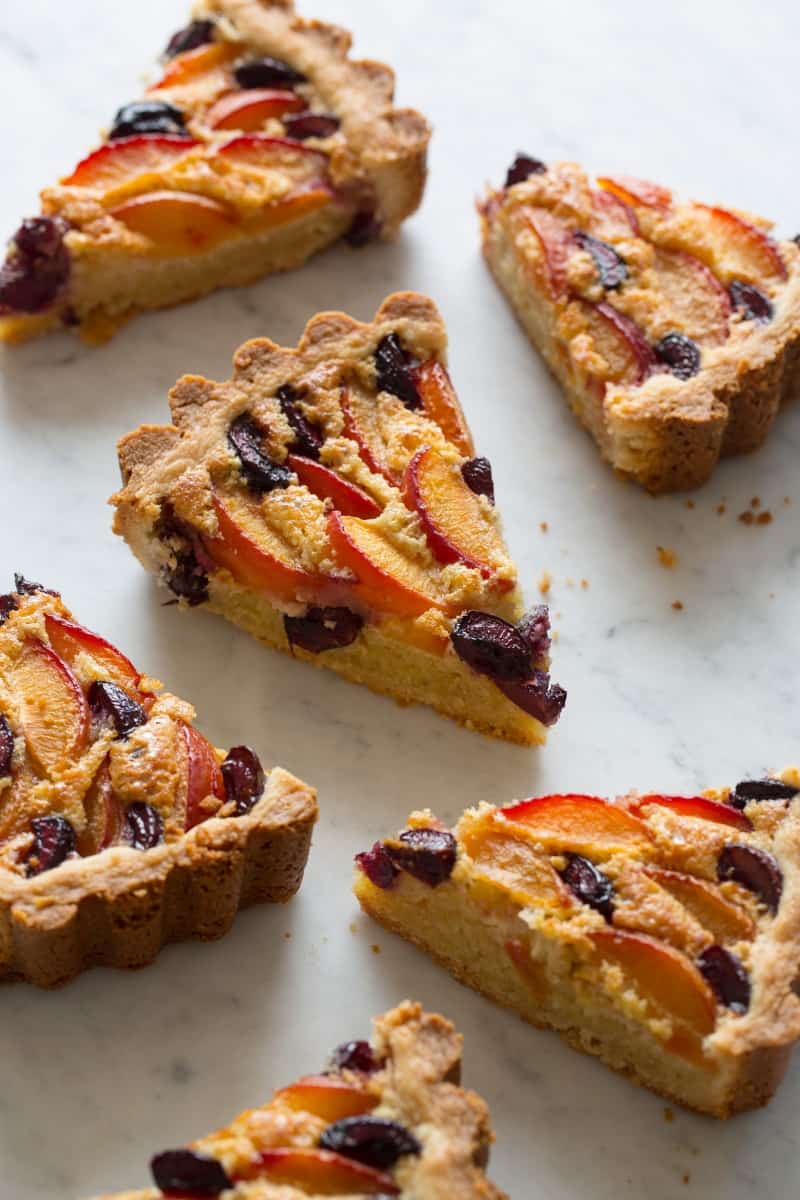 We made this cute tart for you to make to celebrate life with. It's a Red Apricot and Sweet Cherry Tart with a Cashew Frangipane. We invite you to welcome in autumn and say bye bye to summer with this tart. We decided to use these gorgeous Red Velvet Apricots, or plum-cots. These apricots have a beautiful deep red skin with rich golden flesh. Their texture is very much plum like with the taste of both apricots and plum, hence the name plum-cots. If you can't find these it's ok, you can sub for regular apricots or even plums. We love the sweet and tart flavor the Red Apricots give this tart, which is a really nice compliment to the rich and nutty baked cashew custard. We also used sweet cherries to add a just a touch more of autumn. We surrounded all of this goodness with a simple shortbread crust. This really is autumn in a tart, and we hope you will enjoy it!
♥ Teri
Red Apricot and Sweet Cherry Tart with a Cashew Frangipane
Makes 1 (10 inch) tart
Ingredients:
shortbread crust:
1 1/2 cups all purpose flour
1/2 cup plus 2 tablespoons superfine sugar (granulated is fine)
1/4 teaspoon salt
3/4 cup (1 1/2 sticks) cold unsalted butter, cut into small cubes
cashew frangipane:
1 1/2 cups dry roasted cashews, finely ground (food processor works best)
3/4 cup superfine sugar (granulated is fine)
3 tablespoons all purpose flour
3 tablespoons unsalted butter, melted and cooled
2 eggs, lightly beaten
1 1/4 teaspoons vanilla extract
1/2 teaspoon cinnamon
1/4 teaspoon salt
10-12 red apricots pitted and cut into wedges (6 per apricot)
25-30 sweet cherries, pitted and quartered
Directions:
1. Preheat oven to 375˚F.
2. For shortbread crust: In a mixing bowl whisk together flour, sugar and salt. Place all ingredients into a food processor and pulse until dough forms. Evenly press dough into the bottom and sides of a 10" tart shell. Refrigerate for 30 minutes (while you make frangipane).
3. For cashew frangipane: Whisk together ground cashews, sugar, flour, cinnamon, and salt. Add butter and eggs and whisk together until fully incorporated.
4. To assemble: Pour cashew frangipane into tart shell and spread evenly. Arrange apricots around edge until a border is created. Use remaining apricot wedges to create a smaller circle of apricots inside the border. Arrange cherries decoratively between apricot wedges, using remaining pieces of cherries for the center of the tart.
5. Place tart onto a baking sheet and bake for 35 to 40 minutes or until frangipane has puffed and is golden brown (a toothpick should come out clean when inserted into the center of the frangipane).
6. Remove from oven and allow tart to cool for at least 1 hour before removing from tart mold, slicing and serving.