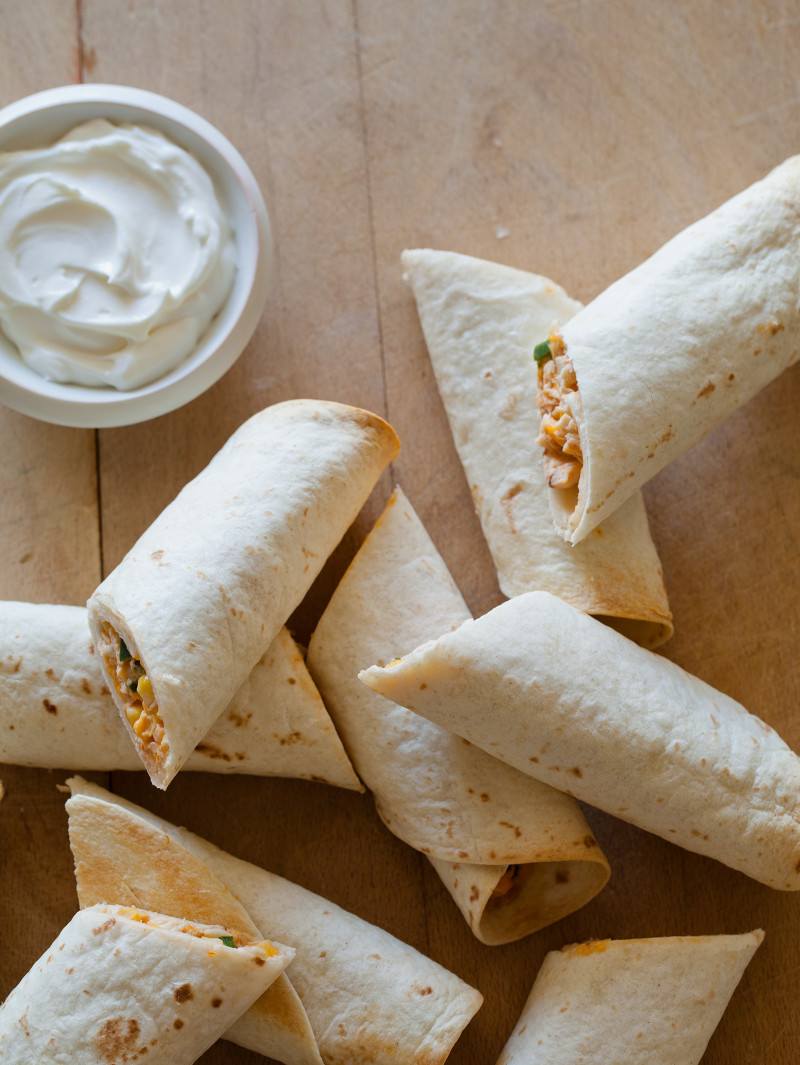 Can we just talk for a second about how much I am looking forward to the Hunger Games movie? I feel embarrassed by it. Like admitting I am totally obsessed with Twilight (I'm not. Ok I am kinda am, ugh). WHY do I like all these movies? Is it a series thing? Star wars, Love. Harry Potter, I watch parts of movies at least once a week. Twilight, less so, I went through a phase with that. Why do I feel like people judge me because I love all that crap? Are you secretly judging me? Its ok if you are. I will try not to judge you for judging me. :) Do you ever wish there was like an Eternal Sunshine erase your memory pill you could buy at CVS so you could watch Star Wars and Harry Potter like it was your first time ever? I think about that a lot, and think about how awesome that would be. Please tell me some of you feel the same way as me!
Ok. Chicken Flautas. These make the perfect lunch AND make really good left overs. They are almost as good as cold pizza. I envision these are the perfect after school or after work snack. I hope you will think so too. These Quick & Easy Baked Chicken Flautas are so good!
♥ Teri
More recipes you might like: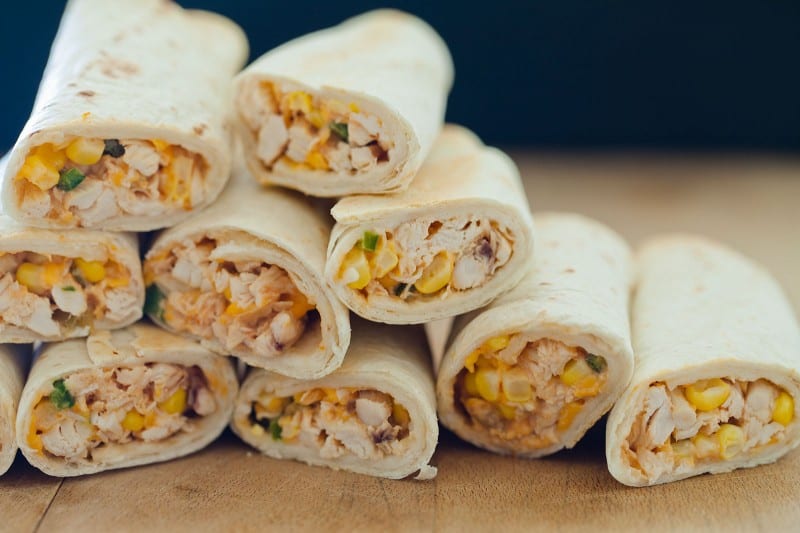 Hungry for more?
Subscribe to never miss a recipe.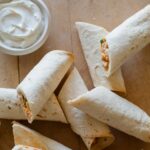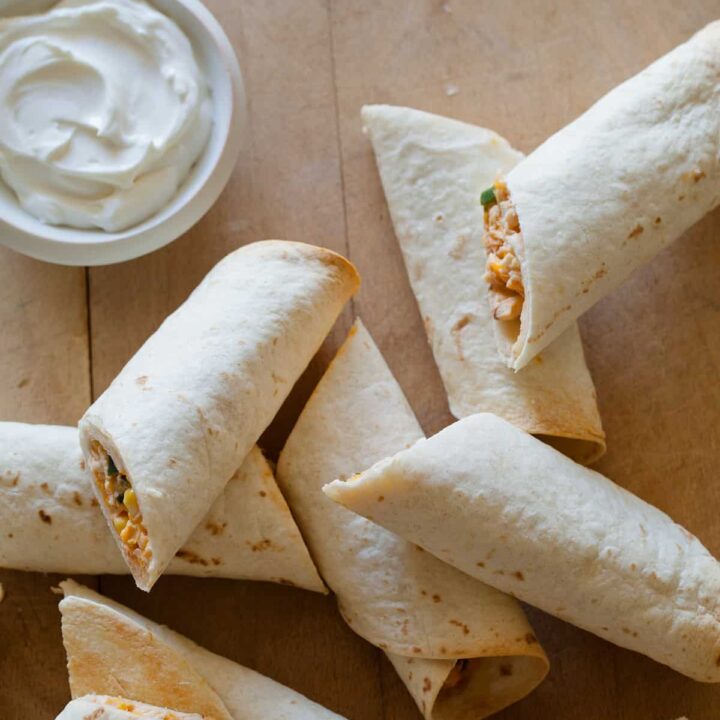 ---
Quick & Easy Baked Chicken Flautas
INGREDIENTS
filling
2

cups

roasted chicken, shredded

1 ½

tablespoons

extra virgin olive oil

½

yellow onion, diced

½

poblano, seeded and diced

1

ear yellow corn, kernels and milk removed from husk

⅓

cup

prepared salsa

2

tablespoons

sour cream

2

ounces

Monterey Jack cheese, shredded

salt and pepper to taste

6

8-inch flour tortillas

½

cup

sour cream
INSTRUCTIONS
Place chicken into a mixing bowl and set aside.

Pour oil into a medium sauté pan and place over medium-high heat.

Saute onion, poblano and corn for about 5 minutes. Season with salt and pepper. Cook for an additional 2 minutes.

Pour onion mixture over chicken and toss together. Add remaining filling ingredients to chicken and onion mixture and stir together until mixed together. Season with salt and pepper.

Place a heaping ⅓ cup of the filling into one of the tortillas and spread into a log.

Tightly roll tortilla and place onto a parchment lined baking sheet, seam side down.

Repeat until all of the tortillas and filling have been used.

Bake flautas for 20 to 25 minutes or until the tortillas have crisped up and turned golden brown. Slice each in half and serve with sour cream.
Calories:
604
kcal
Carbohydrates:
42
g
Protein:
36
g
Fat:
33
g
Saturated Fat:
13
g
Cholesterol:
111
mg
Sodium:
830
mg
Potassium:
600
mg
Fiber:
3
g
Sugar:
8
g
Vitamin A:
740
IU
Vitamin C:
20
mg
Calcium:
280
mg
Iron:
4
mg