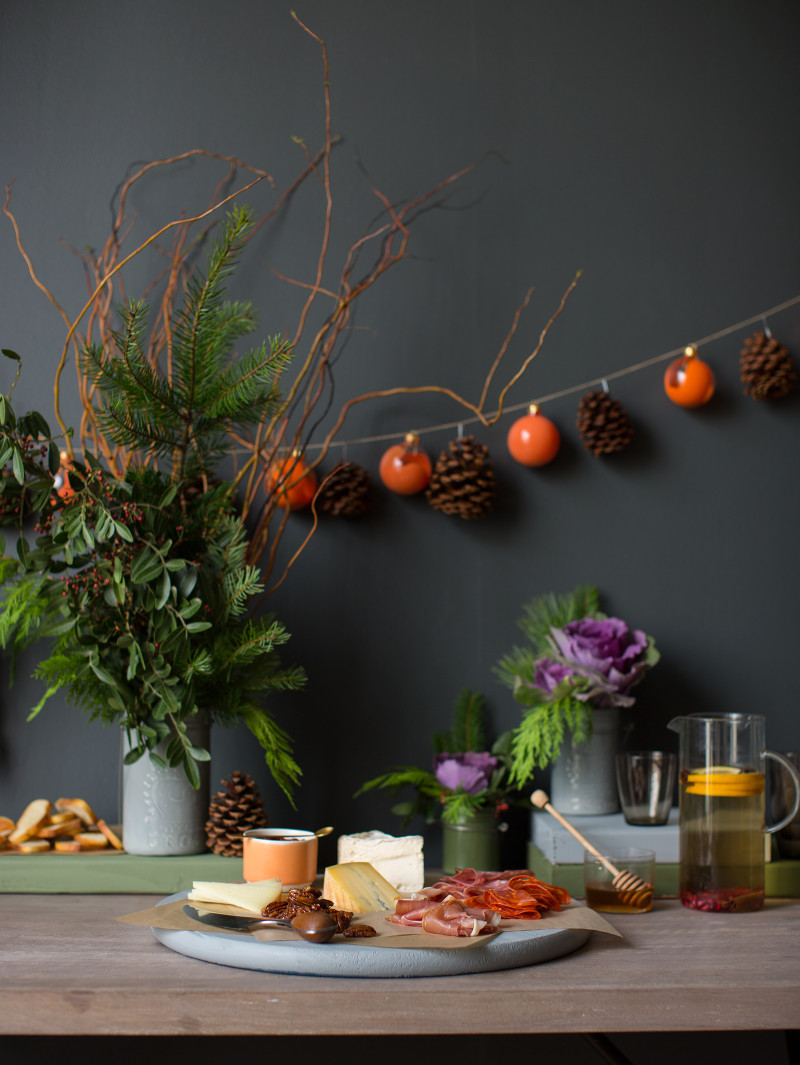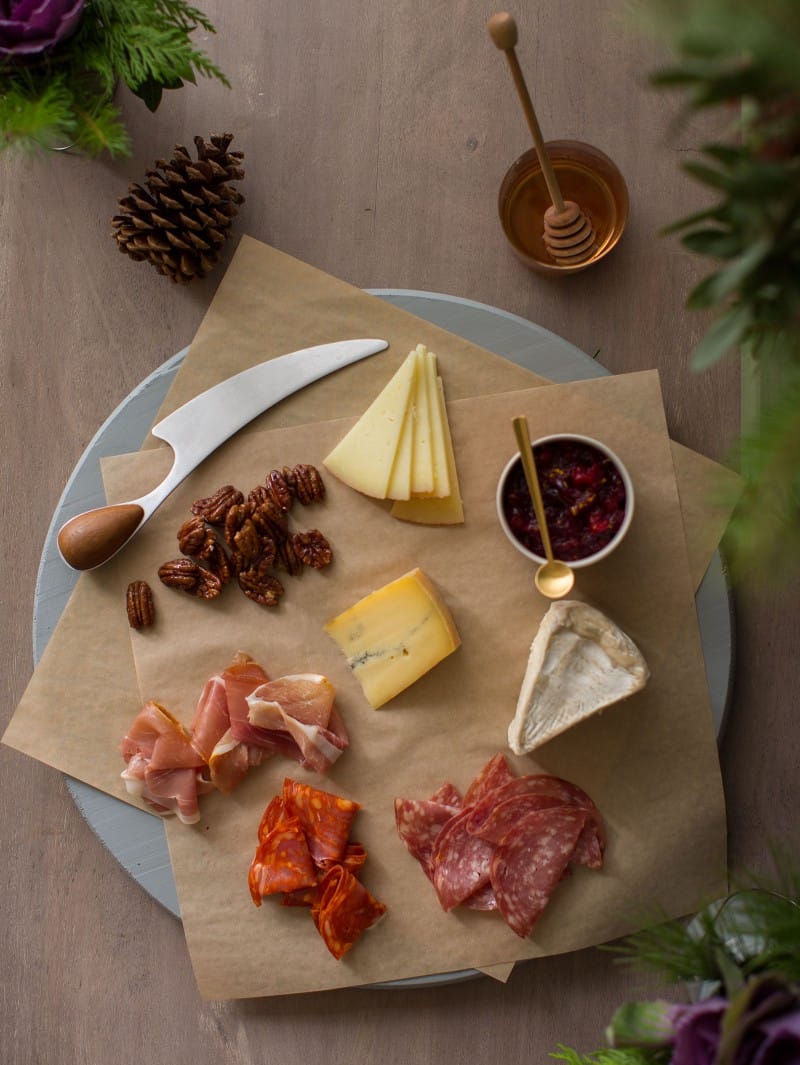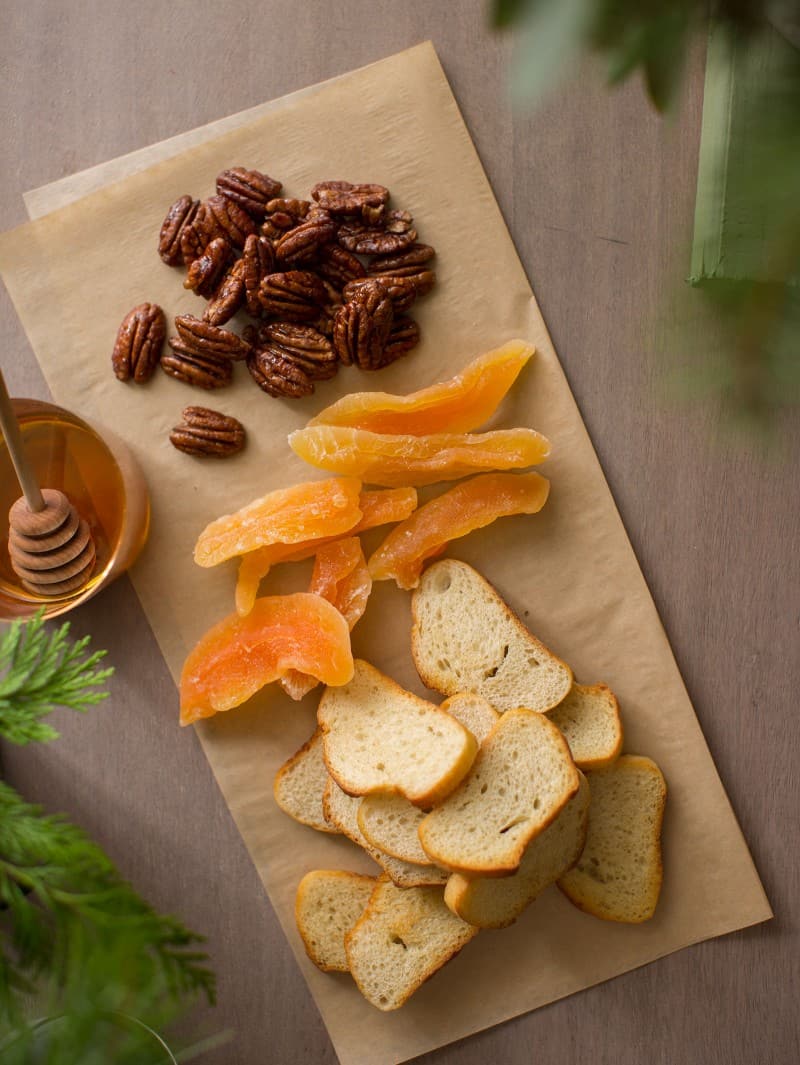 We are cheese and meat fiends. We could both live on eating off cheeseboards and be totally happy. So we wanted to show you what we think makes up a quick and easy cheese board. We also did some really fun quick and easy little DIY stuff with some Valspar Paint. So let's jump into what makes our tablescape neat. We poured some Valspar Paint into some clear glass ornaments and strung them with some pinecones to create some really simple garland that you could hang anywhere (you could also use scented pinecones, they smell amazing). We also took some old mason jars we had hanging around that painted the inside of them and then used them as vases. We painted some wood blocks we picked up at the hardware store to use on our table to give things some height. Super simple stuff. We paired with Valspar for this project because they have this really awesome program going on. It's called Love Your Color. Basically, they know that choosing the right paint is scary, so they guarantee that you love your color you choose, and if you don't they will give you a new one. Simple, awesome, stress free color picking. Yay! The Valspar Love Your Color Guarantee runs through October 7, 2013, so if you're thinking about painting a room, do it before then!
We all know that this time of year can get super crazy so why not also give yourself a break and forget the long, low and slow braises or fussy put together apps. We think an awesome cheese board (and lots of wine!) is all you need for your next holiday or cocktail party. When we say cheese board we don't mean one of those pre-made cheddar cheese, ham and Ritz cracker platters with plastic tops (although we have happily noshed on a handful of those in the past), we mean head out to your local cheese shop or even grocery store and see what they have! We like mixing our meats and cheeses up and giving our guests variety. Along with the charcuterie and cheese you want to give your guests cheese board "fixin's" such as a nuts (we made some maple cinnamon pecans for the holiday season), fruit whether dried or fresh (in the grape, apple, pear variety), honey for an extra touch of sweetness, and finally some nice crostini to pile everything else onto before shoving it in your mouths… We definitely had a field day eating this spread up! Super basic, super good. Enjoy, everyone!
Side Note: We hope you're excited because once the new year hits we are going to present you all with a detailed run down of our own ideal charcuterie and cheese spread, and it's pretty cray! Told ya we love meat n' cheese. :)
Full Disclosure: We collaborated with Valspar Paint and were compensated for this post. Our opinions (especially concerning meat and cheese, thoughts, and photographs are our own.