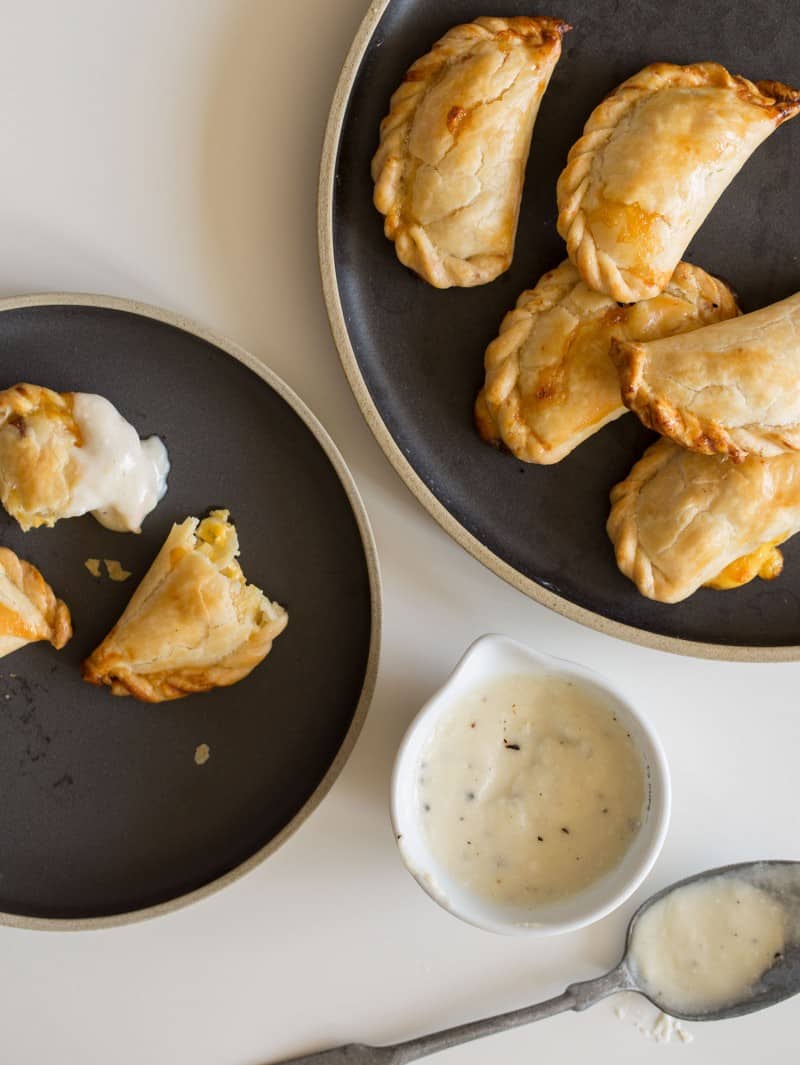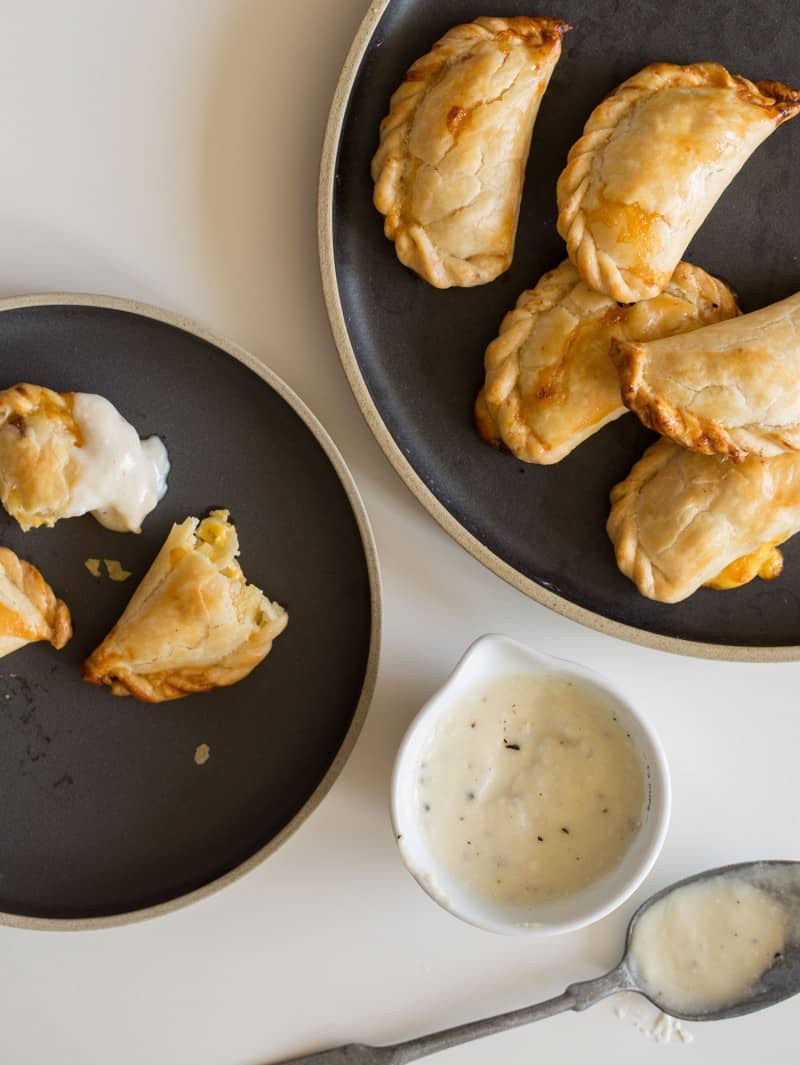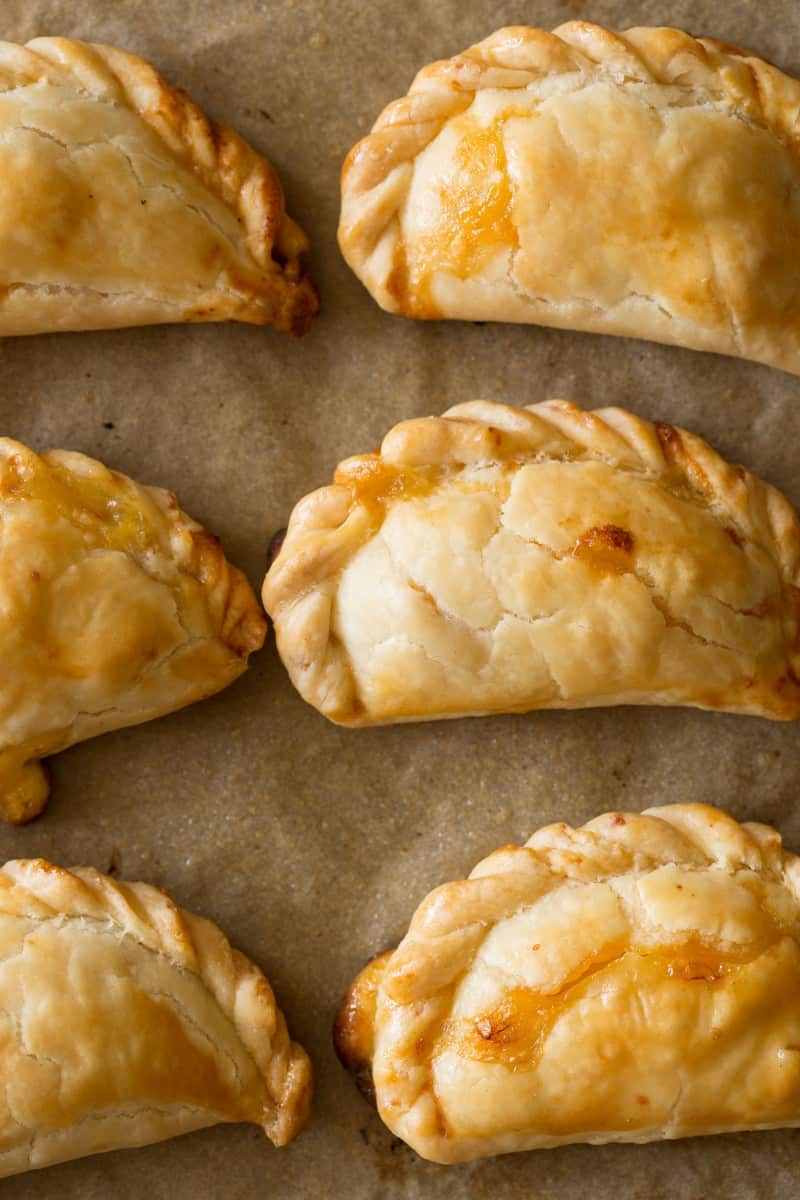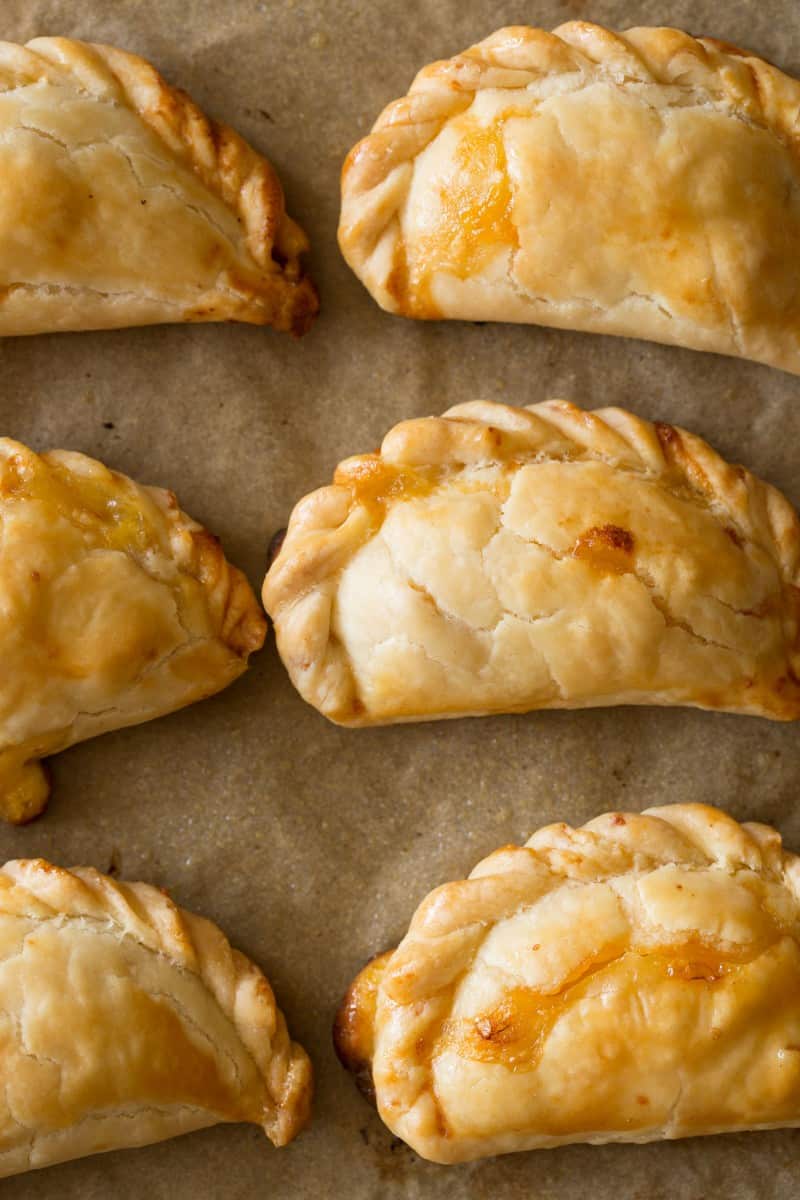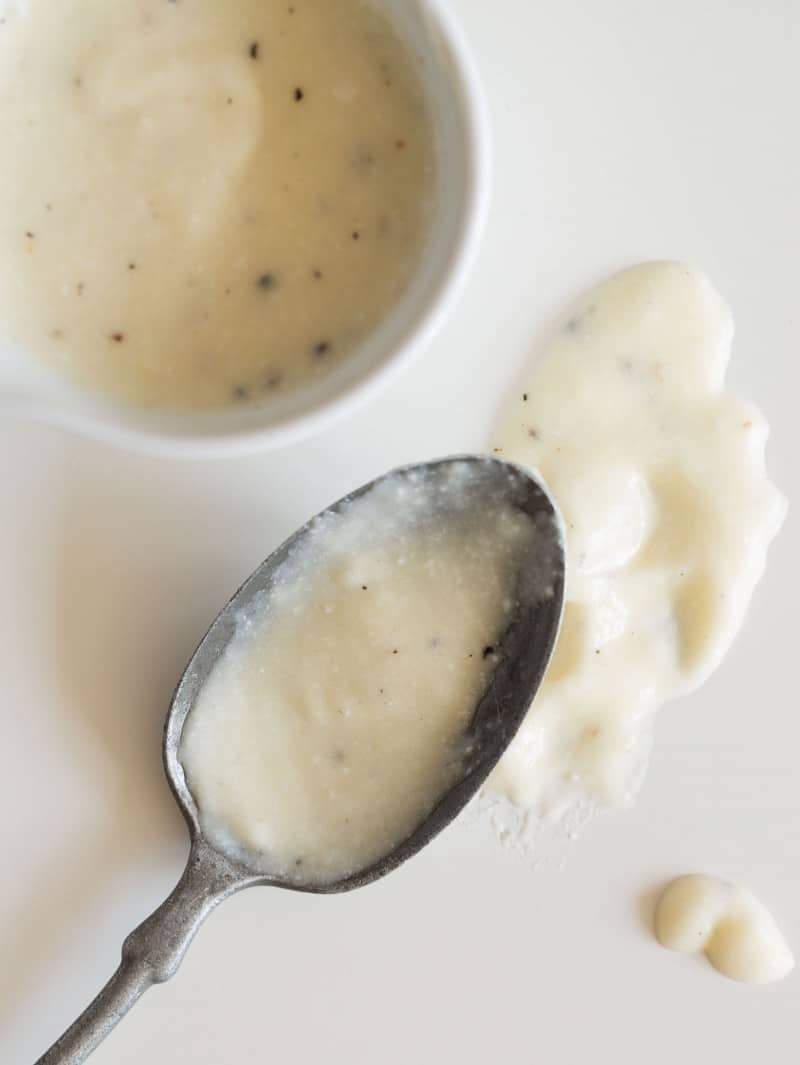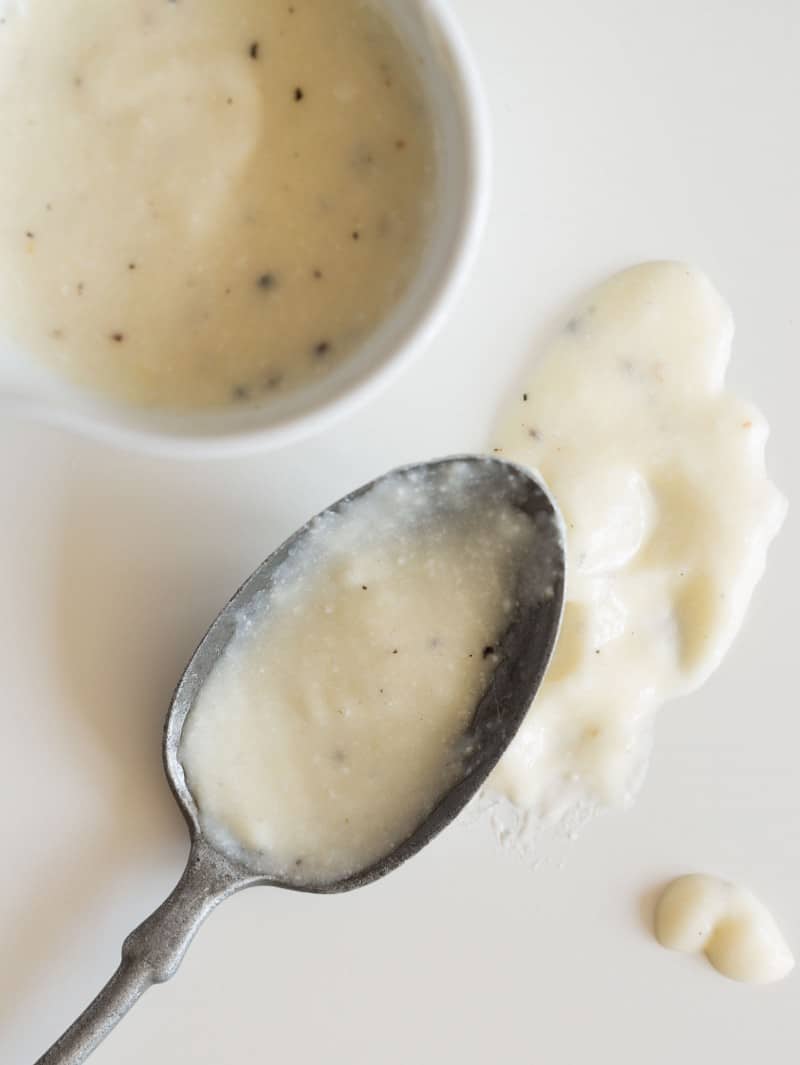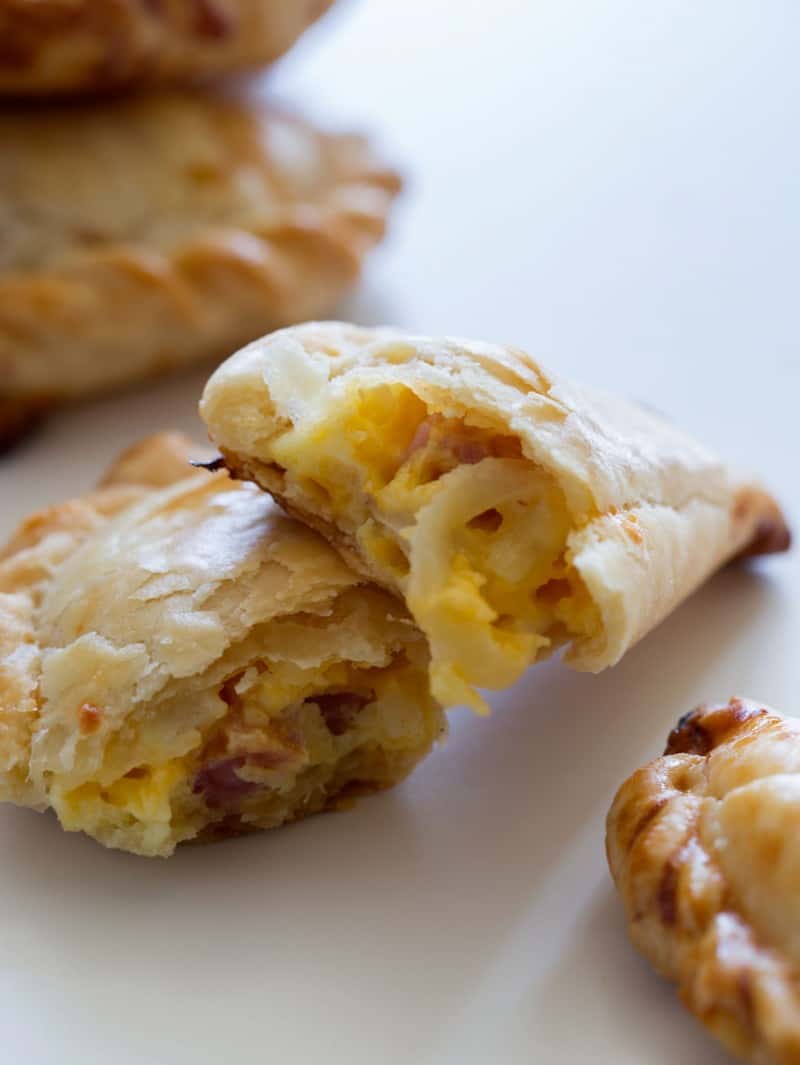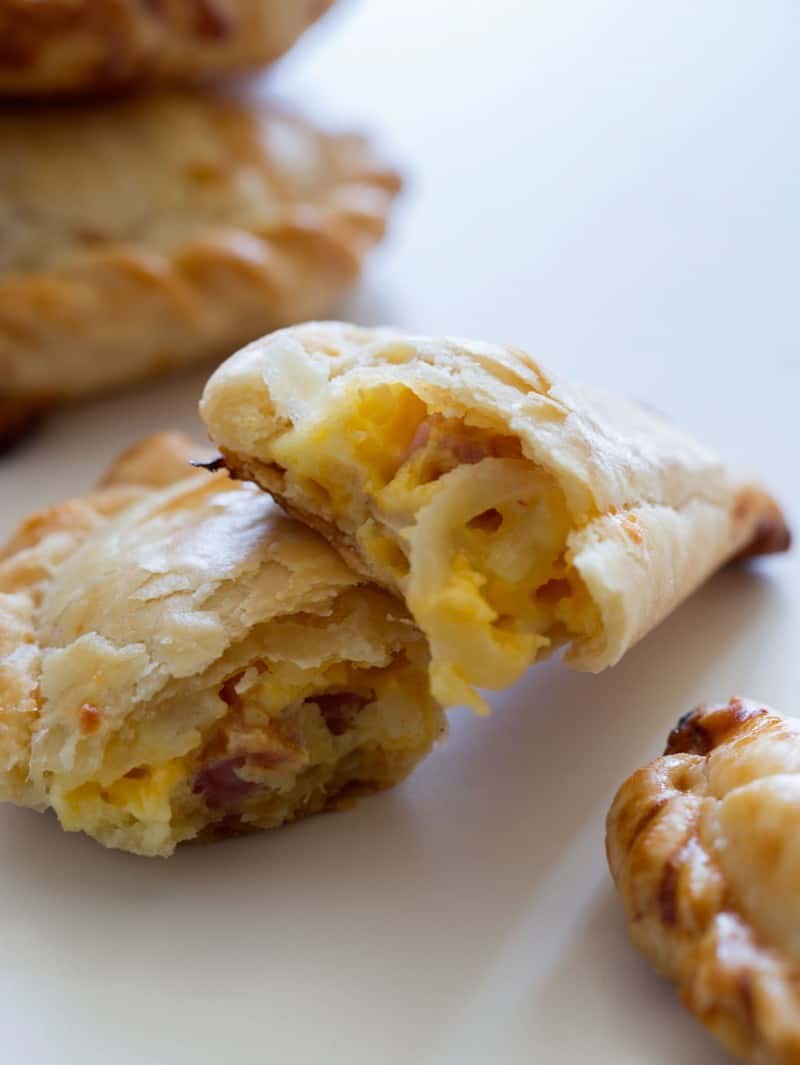 Hi Guys! Today we have quiche pockets for you! Think old school hot pockets, but breakfast-style, tasty, with a fun new shape! (I totally grew up on hot pockets, so I'm really not one to judge) I like to think of this as the most portable way to eat quiche! I know there are the little quiche bites you can make in a mini muffin tin, but these are much more fun and much more conducive to dipping… oh yea, there's totally a cheesy dipping sauce for this. I mean why not, right?
You'll all notice in the recipe that it says to create sort of a filling "paste," it might sound off, but it's very important the filling be thick and not runny at all because we're not "cupping" these into anything. It's best for the filling be thick so when you're forming your pockets things are easier to handle and you're not left with an eggy mess. Don't worry though because there will still be lots of yummy egg goodness in the pockets once they bake up.
I've also had a few questions in the past each time I make a cheese sauce of sorts because I always toss my grated cheese into lemon juice. Why do I do this? Because tossing the cheese in a bit of acid will make it so your cheese sauce is nice and smooth and not stringy at all. I do hate a stringy sauce, so this is the perfect way to prevent it.
I'm sure most of us will be brunching this Sunday, whether we celebrate Easter or not, and these are the perfect brunch-y like snacks to bring to whatever get together you may be going to. They also freeze and reheat well, so you could make a whole batch of these quiche pockets, freeze half of them and pop them out whenever you want a really eggy, yummy snack! Not into the alsacienne-like filling? Don't worry! Create whatever filling you want according to your taste, just remember the importance of the thick filling! Enjoy! xx, Jenny
Here are some other breakfast recipes you might like: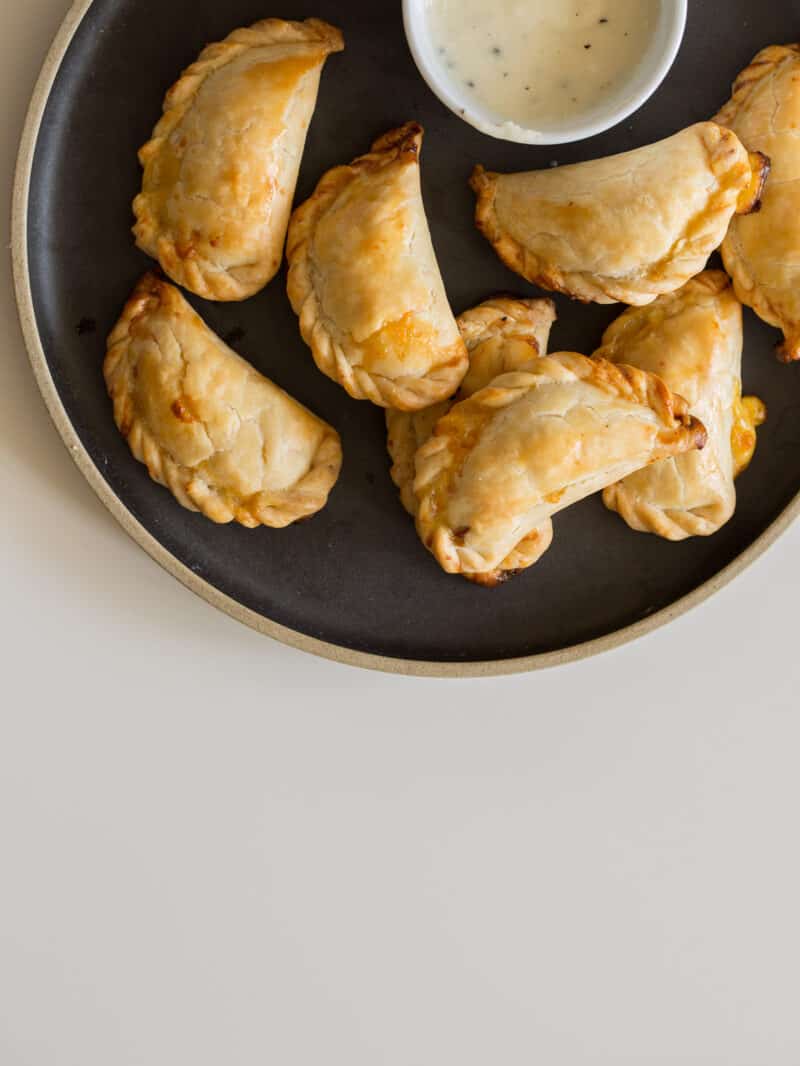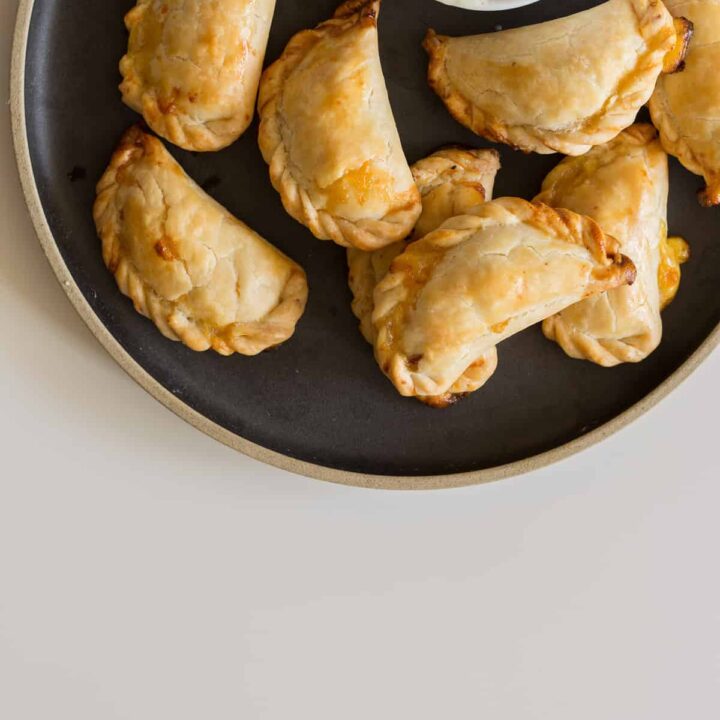 ---
Quiche Pockets with a Mornay Sauce
INGREDIENTS
flaky pie crust (dough)
2 ½

cups

all purpose flour

¼

teaspoon

baking powder

¼

teaspoon

salt

1

cup

(2 sticks) cold, unsalted butter, cut into ¼ inch cubes

3 to 4

tablespoons

ice water
filling
1

cup

smoked ham, diced

1

yellow onion, lightly caramelized

2

eggs, lightly beaten

1

tablespoon

whole milk

2

ounces

gruyere cheese, coarsely grated

2

ounces

sharp cheddar cheese, coarsely grated

¼

cup

Parmesan cheese

salt and pepper to taste
black pepper-mornay sauce
1 ½

tablespoons

unsalted butter, softened

1

tablespoon

all purpose flour

1

cup

whole milk

4 to 5

ounces

gruyere cheese, coarsely grated

1

tablespoon

fresh lemon juice

1

teaspoon

cracked black pepper

½

teaspoon

salt
INSTRUCTIONS
For pie dough: Place flour, baking powder and salt in a mixing bowl and whisk together. Add butter and cut into the dry ingredients using your fingers or a pastry knife until a fine mealy texture forms. Add water, one tablespoon at a time, mixing, until the dough just comes together. Form dough into a flat disc and wrap in plastic wrap. Chill for at least 30 minutes before using.

For filling: Place ham and onions into a small mixing bowl and toss together. Add eggs and milk and mix together. Fold in cheeses until fully incorporated. (you should have more of a loose paste texture, instead of a runny filling). Season with salt and pepper and set aside until ready to use.

To assemble: Preheat oven to 425°F. Roll chilled dough out onto a clean, lightly floured surface. Roll until slightly thinner than 1/8 inch thick . Cut out 4 inch circles, using a circle cutter, and fill the center of each circle with 1-2 tablespoons of filling. Continue until all of the dough and filling have been used. (For egg wash: In a small mixing bowl beat together 1 egg and 2 tablespoon water.) Brush egg wash around the edge of each circle and fold together. Egg wash the sealed seam and starting from one edge push the seam over and squeeze the dough slightly. Use the dough you have squeezed and fold it over the seam again. Continue squeezing and folding until you have crimped the entire seam of the quiche pocket. Place pockets onto a baking sheet, lined with parchment, and pierce the top of each to allow steam to escape, while baking. Place pockets in the refrigerator for about 30 minutes. Brush the tops with remaining egg wash and bake for 25 to 30 minutes or until golden brown and the filling has set. Allow to cool for 5 minutes before serving.

For mornay sauce: Melt butter in a small saucepan over medium heat. Sprinkle flour over surface and whisk together for 2 to 3 minutes. Add the milk and whisk together until no lumps remain and the mixture is thick enough to coast the back of a spoon. Toss cheeses in lemon juice and whisk into the béchamel sauce. Continue to whisk until no lumps remain. Season with salt and pepper and stir. Serve as a dipping sauce for quiche pockets.
Calories:
280
kcal
Carbohydrates:
17
g
Protein:
10
g
Fat:
19
g
Saturated Fat:
12
g
Cholesterol:
77
mg
Sodium:
444
mg
Potassium:
103
mg
Fiber:
1
g
Sugar:
1
g
Vitamin A:
590
IU
Vitamin C:
1
mg
Calcium:
186
mg
Iron:
1
mg