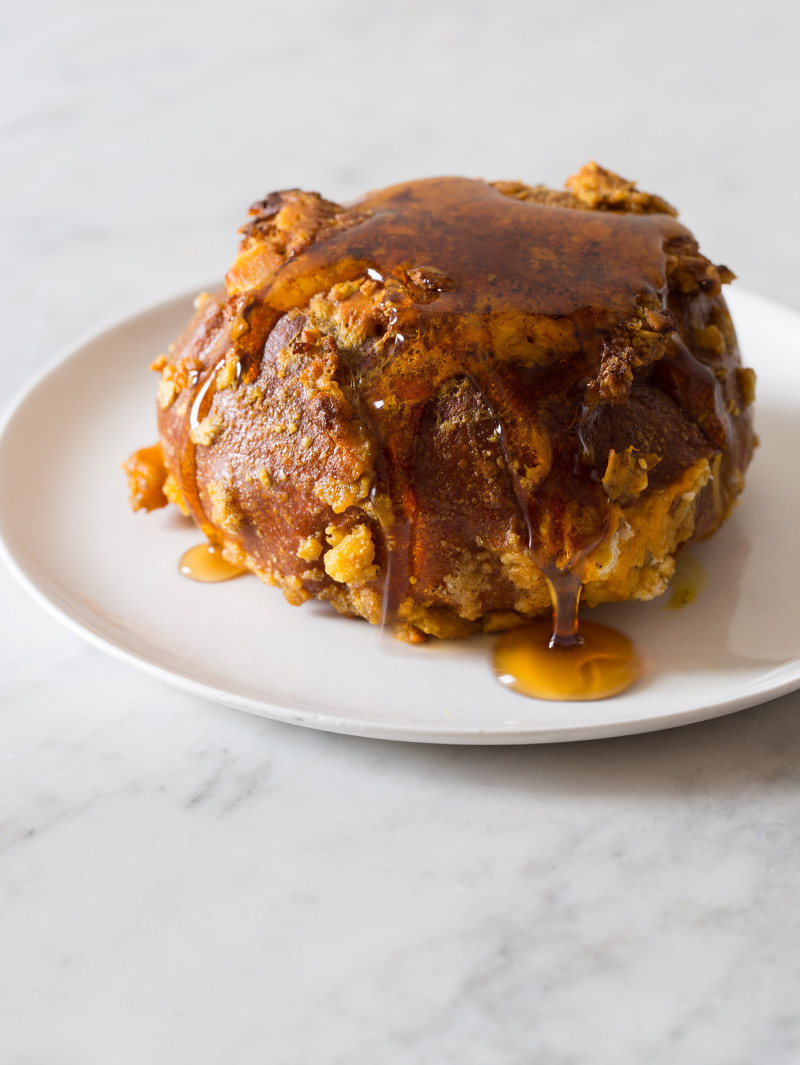 Hi! We are reposting this recipe because we are basic and love pumpkin everything, but this french toast is like a crazy indulgent amazing breakfast situation that everyone should experience. MAKE IT!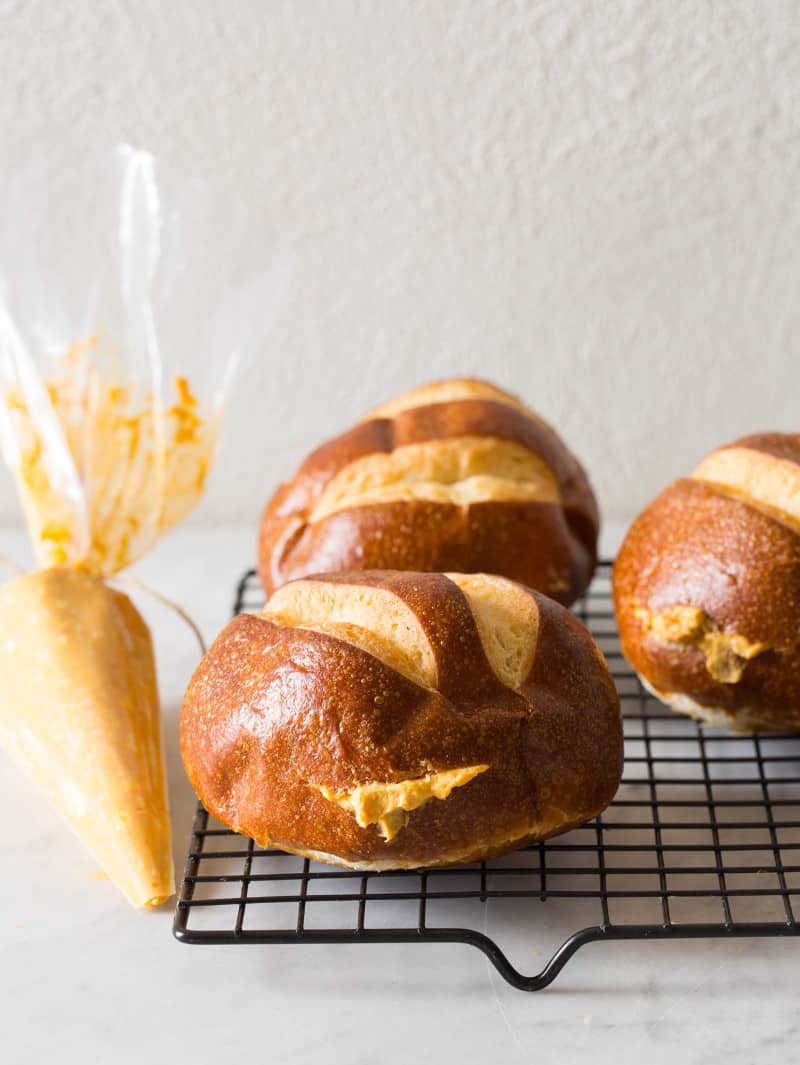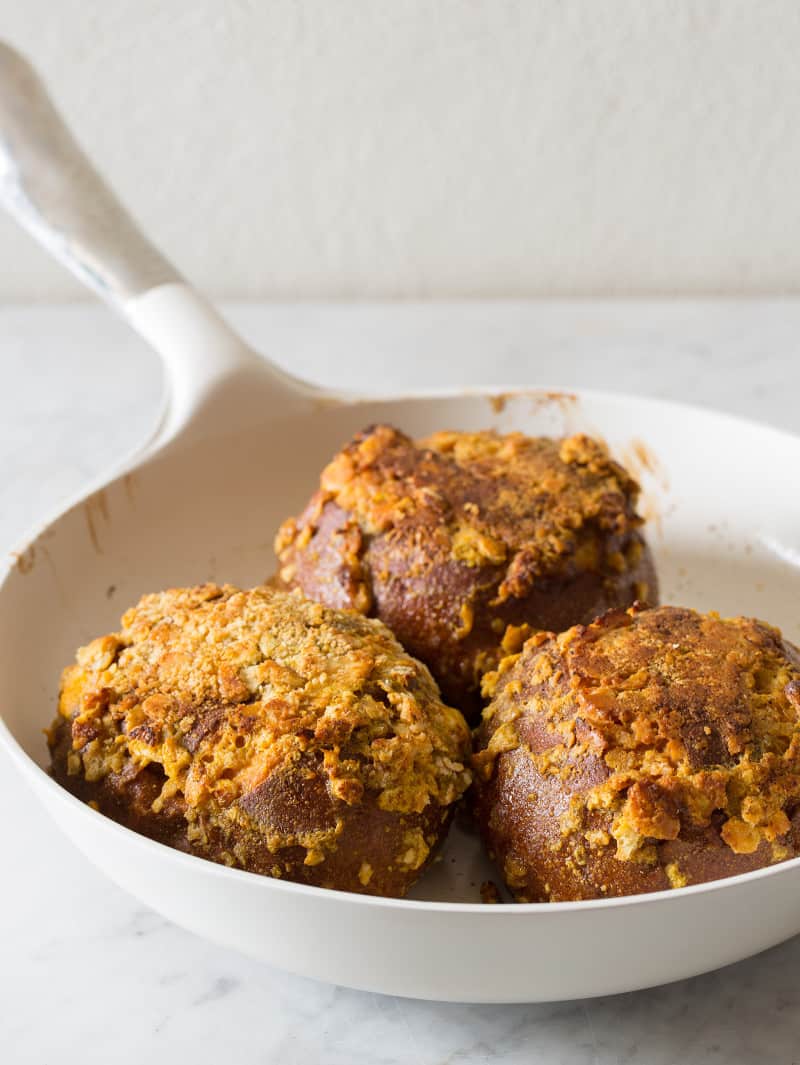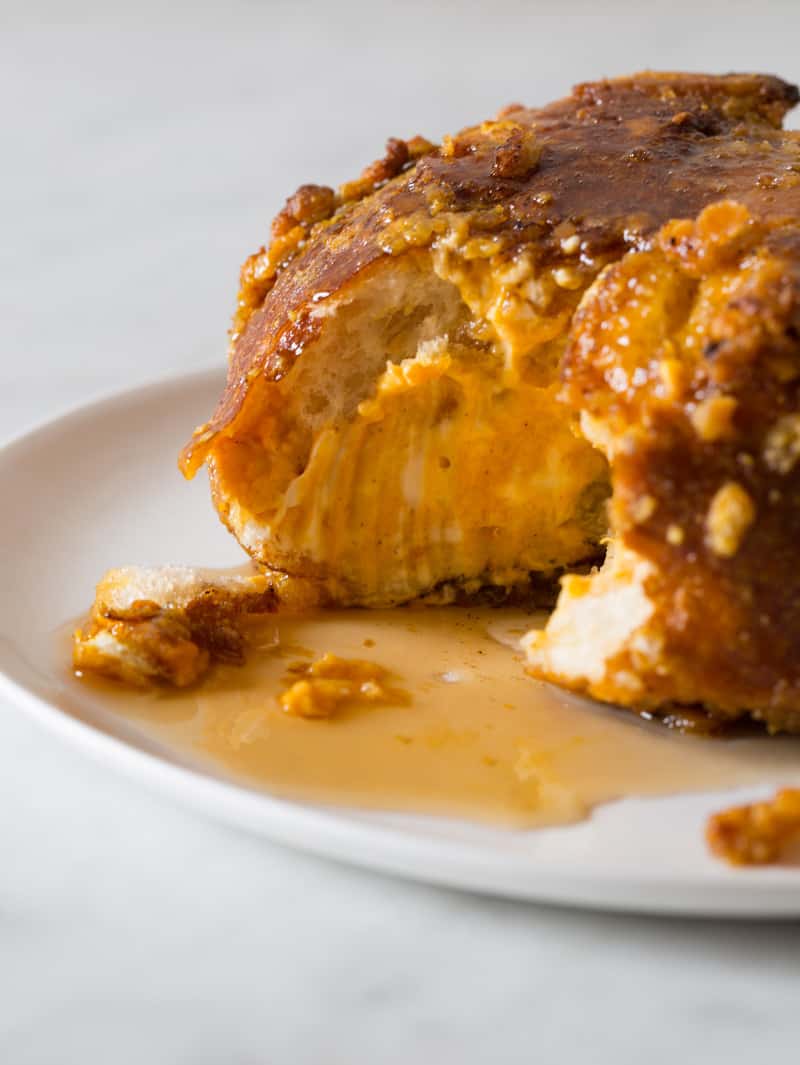 Today we have this very delicious Pumpkin Stuffed Pretzel French Toast! When I was growing up my mom was my Korean food hero. She was and still is the BEST Korean food cook in the world. I know everyone says that about his or her mom's cooking, and I'm pretty sure I've even said it before on this blog…but really she is! My mom's cooking is so good that she used to make kimchi for most of my relatives and even some of our family friends….and if you're familiar with Korean food you know that kimchi is pretty much the foundation of our cuisine.
Anyway, while my mom pretty much has Korean food cooking down to an art, her non-Korean food cooking was more like a mad scientist in her laboratory. Haha, sorry mom! Take French toast for example; in my early years I thought French toast was a savory, breakfast dish. No joke, I really did, but that's because my mom made her egg batter with only some beaten eggs and a little milk and she would get some plain white bread and dip it into her 'batter' before tossing them onto the griddle. We also always ate our 'French toast' with ketchup…not maple syrup, fruit compote, or honey…just some good ol' ketchup. Oh how I love my mom for trying so hard, while basically giving my sister and I little savory omelets stuffed with bread [and served with ketchup].
The first time I ordered French toast at a restaurant I was with some friends and a friend's parent. When the server put a giant plate of sweet batter dipped brioche, topped with macerated strawberries, whipped cream, and served with a side of maple syrup I thought she had given me the wrong dish. I quietly asked the server what it was that she put down in front of me. "You ordered the French toast, didn't you hun?" I nodded and stared back at my plate. My 9 year old mind was blown. I pushed everything around my plate for a minute or two, confused. I took a small bite and could feel my face immediately light up. SO.GOOD. I then proceeded to inhaled my entire plate of food and put myself in a food/sugar coma…thus beginning my love affair with real French toast.
Today we have what I consider to be my ultimate French toast! We start by using pretzel buns. I love using bread like this because not only is the flavor great, but I love the crusty outside with the super soft inside. Also it's pumpkin season and I'm one of those who gets REALLY excited about pumpkin season so naturally we have stuffed our French toast with a deliciously sweet, pumpkin-cream cheese mixture. Finally we encrust our French toast with Ritz crackers because I love the crunchy texture it provides.
This French Toast is definitely one of those uber decadent, 'lets take our time to sip on some coffee (or milk/juice) while we work our way through this big boy', sort of weekend treats. I'm going to be flying back home to Chicago this Thanksgiving and definitely plan on making this for my family and I'm especially excited to make this for my mama whilst reminiscing about her one of a kind, savory, French toast omelet thingies. Ha! Enjoy! xx, Jenny
Pumpkin Stuffed Pretzel French Toast
Makes 4
Ingredients:
4 pretzel rolls
filling:
4 ounces cream cheese, softened
2 ounces goat cheese, softened
1/3 cup pumpkin puree
3 tablespoons light brown sugar
1/2 teaspoon ground cinnamon
1/4 teaspoon ground ginger
pinch nutmeg
batter:
4 large eggs, lightly beaten
1 cup heavy cream
1/3 cup pumpkin puree
2 1/2 teaspoon vanilla extract
1 medium orange, zested and juiced
1/4 cup light brown sugar
1/4 teaspoon ground cinnamon
20 butter crackers, crushed
2 1/2 tablespoon unsalted butter, softened
Directions:
1. Place all filling ingredients into a mixing bowl and whisk together until smooth.
2. Cut a 1 inch, horizontal slit through the side of each pretzel roll. Fill a piping bag or re-sealable plastic bag with the filling and cut the tip.
3. Insert the piping tip into the slit of each pretzel roll and inject 1/4 of the filling into each roll. Set aside.
4. Place all the batter ingredients into a shallow baking dish and whisk together.
5. Dip each roll into the egg batter and allow the rolls to sit for 2 to 3 minutes. Flip rolls over and allow them to sit for an additional 2 minutes.
6. Carefully dredge each roll in the crushed crackers.
7. Place a large skillet over medium heat and melt butter.
8. Place all rolls into the skillet (top side down) and cook for 4 to 5 minutes or until golden brown and crisp. Flip each pretzel toast and continue to cook for 3 to 4 minutes.
9. Remove from heat and serve immediately with butter and maple syrup.