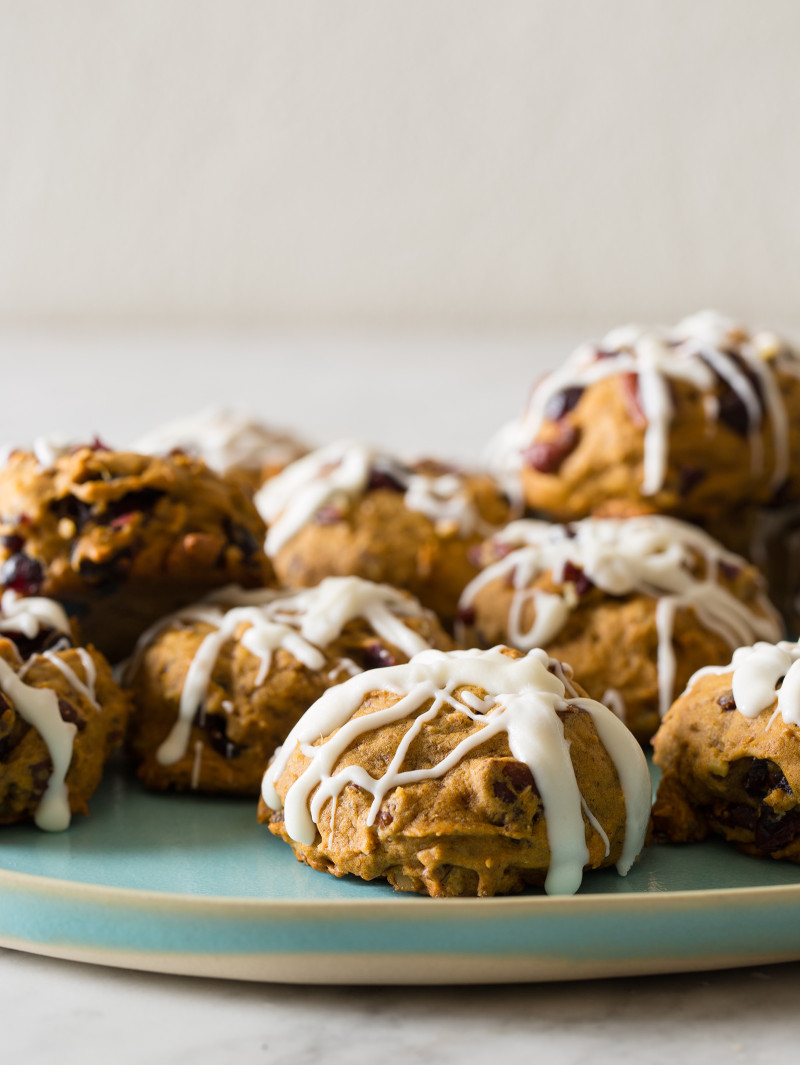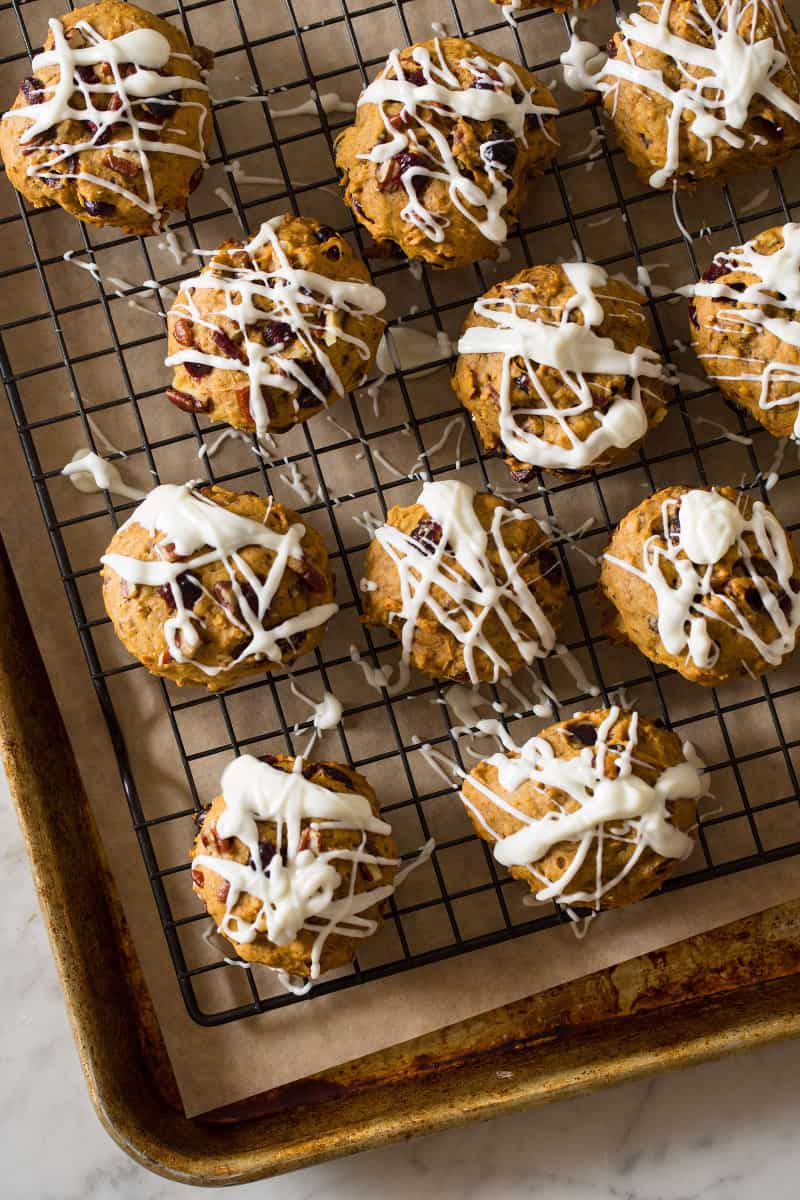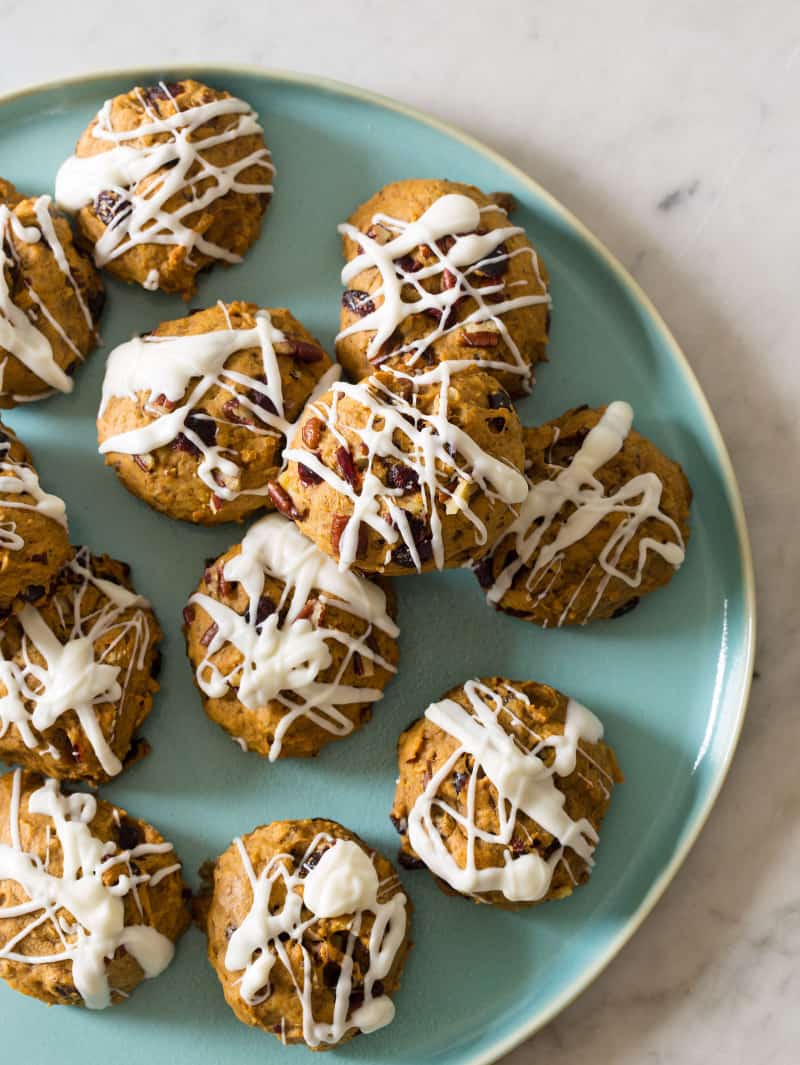 You may remember last year we did a million recipes for cookies because we think cookies are such a good gift. We love giving them, but even better is receiving them. We made a lot of really great recipes for this time of year (but also all times of the year because, cookies). Today we have another recipe to add to the pile. This is our Pumpkin Cranberry and Pecan Cookies with a White Chocolate Drizzle. We realized we didn't have any pumpkin cookie recipes so we had to sneak one in (sorry pumpkin haters!). The drizzle on this cookie adds a nice little kick of sweetness, but these cookies are not a sugar rush in your mouth, so it's quite a nice balance. Enjoy!
♥ Teri
Pumpkin, Cranberry and Pecan Cookies with a White Chocolate Drizzle
Makes 24 to 28
Ingredients:
1 cup all purpose flour
1 teaspoon baking power
1/2 tablespoon ground cinnamon
1/2 teaspoon ground nutmeg
1/2 teaspoon baking soda
1/4 teaspoon ground cloves
1/8 teaspoon salt
1/2 cup pumpkin puree
1/4 cup granulated sugar
1/4 cup light brown sugar
1/4 cup unsalted butter, melted
1 egg
1 teaspoon vanilla extract
1 cup dried cranberries
1 cup chopped and toasted pecans
1 cup melted white chocolate, cooled
Directions:
1. Preheat oven to 350°F. Line a baking sheet with a sheet of parchment paper and set aside.
2. In a mixing bowl, sift together the flour, baking powder, cinnamon, nutmeg, baking soda, cloves, and salt.
3. In another mixing bowl whisk together the pumpkin puree, sugars, butter, egg, and vanilla until completely combined. Add the dry ingredients to the wet ingredients and stir together until fully incorporated. Fold in the cranberries and pecans until just combined.
4. Spoon and drop 2 tablespoon sized balls of cookie dough onto the parchment lined baking sheet, about 1 inch apart.
5. Bake cookies for about 20 to 25 minutes or until they have puffed up and are light and fluffy.
6. Allow cookies to cool for 30 minutes. Drizzle cookie with white chocolate and allow cookies to set, about 20 minutes. Serve.
7. Store in an airtight container, in the refrigerator, for up to 3 days.