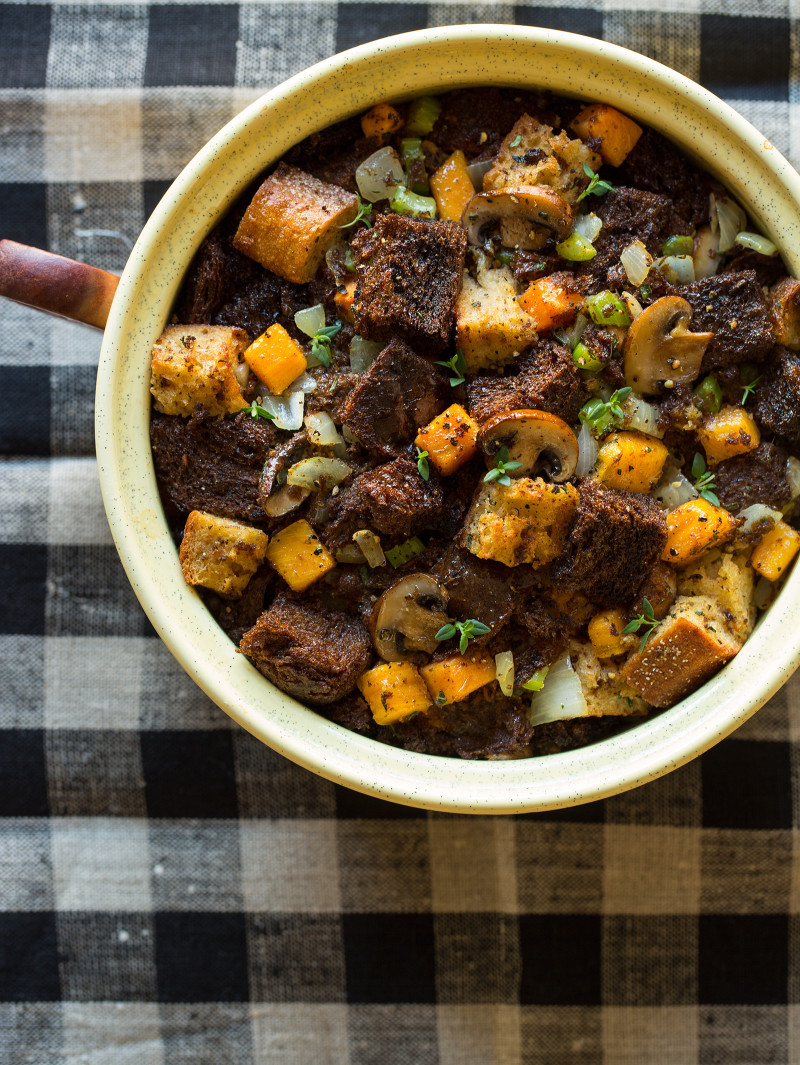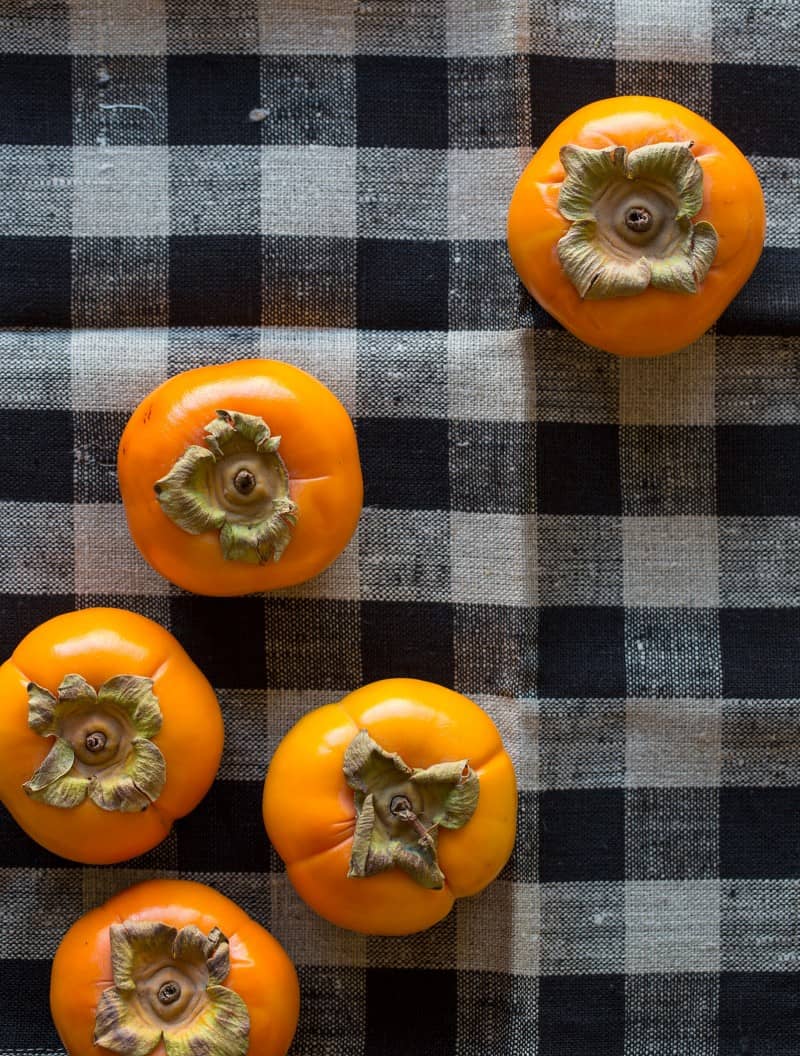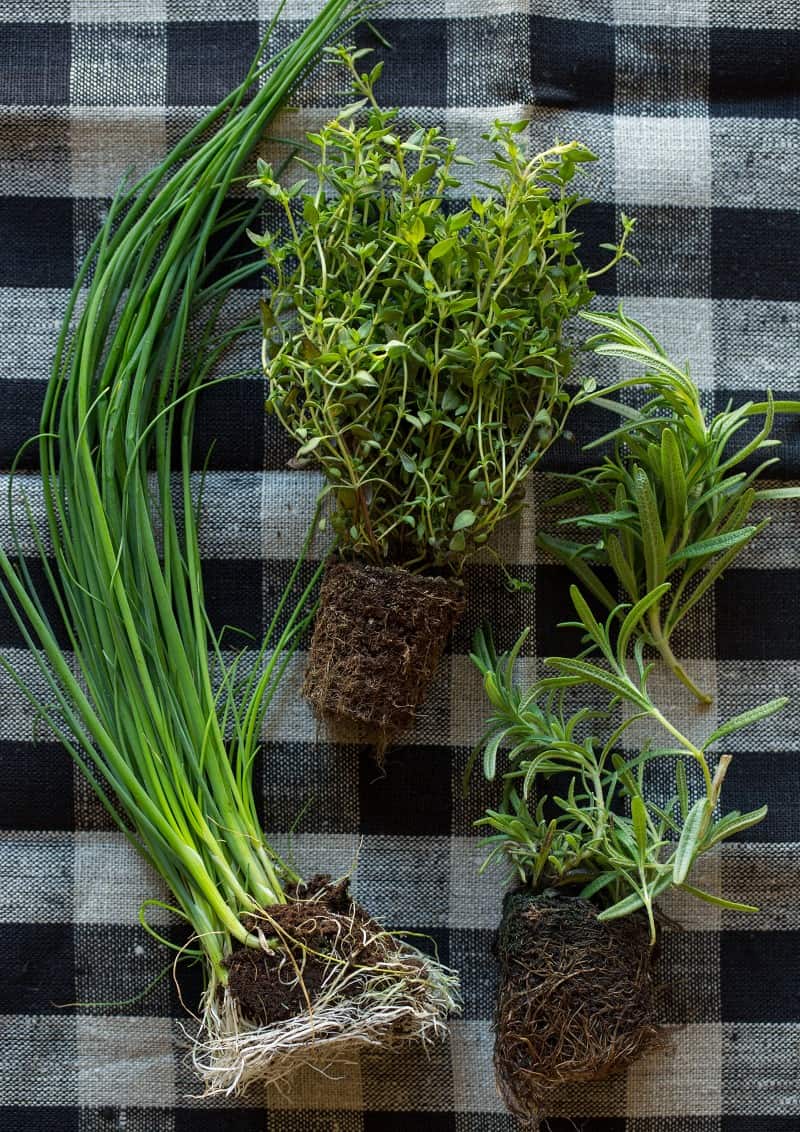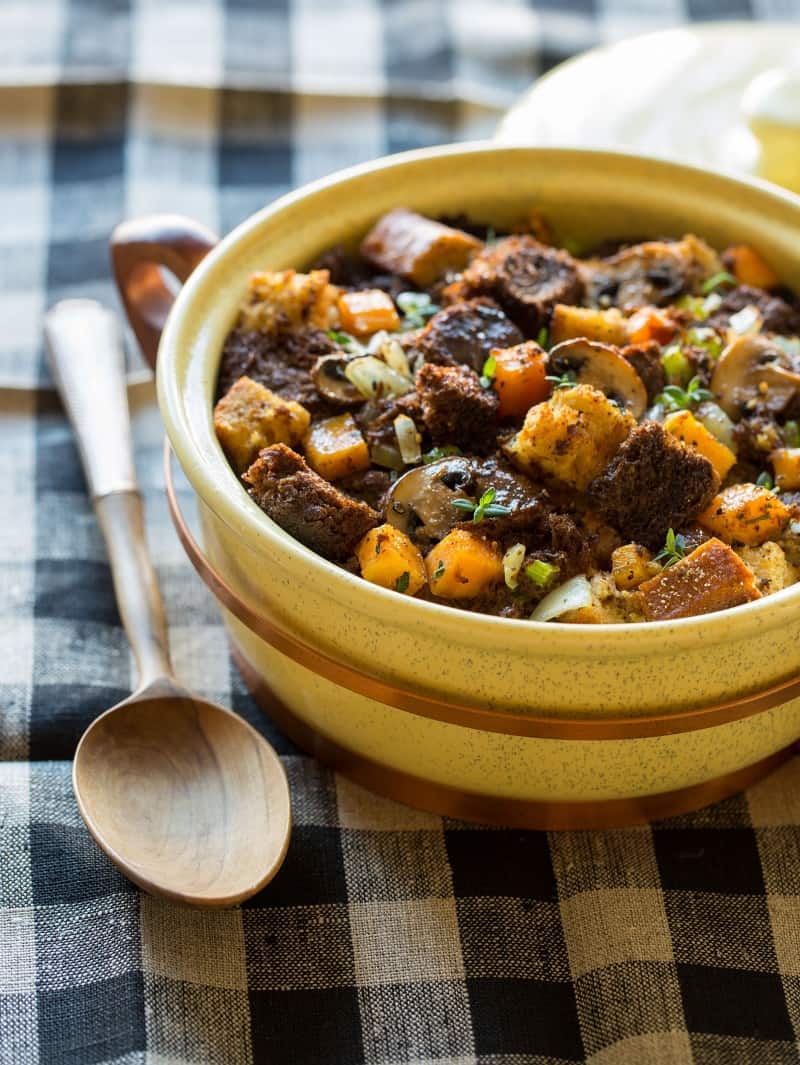 Hi all! Today we have a really yummy stuffing for you….and it's vegetarian friendly! My sister's a vegetarian (the kinds that still eats fish though, hooray sushi dinners!) and poor her because she's a part of a very carnivorous family. True story. Anyway, last year we posted a really tasty Sausage and Sage Stuffing with Dried Cranberries and Hazelnuts. I loved it so much that I used that stuffing last year for my family's thanksgiving get together (along with my mom's traditional stuffing she makes every year….which is so simple, yet so AMAZING). The sausage stuffing has become one of my absolute favorite stuffings! Sadly, my sister could only smell it and even more sad, stuffing's her favorite thanksgiving dish. So this year I've decided not to be an inconsiderate a-hole and make a very vegetarian friendly stuffing that my big sis' can chow down on as well as the rest of us meat eating Parks!
Okay, back to this years' stuffing. I've used a combo of both squaw bread and whole wheat sourdough because I love the almost honey-kissed and mild flavor of the Squaw bread paired with the more hearty sourdough. There are diced persimmons in this stuffing and it pretty much makes this dish super special. I grew up eating persimmons as they are one of my mom's favorite winter fruit. We had boxes upon boxes of these guys at our home every winter and when they began to over-ripen, to the point where it just begins to feel mooshy and the skin begins to wrinkle, my mom (the genius) would gently arrange them into large ziploc bags and stick them in the freezer. A couple months would go by with no activity involving the frozen persimmons until one day on a warm spring day my mom would take one of the frozen persimmons out of it's frozen home, peel the skin back like a banana (while holding the shriveled and tough leaves) and hand it to me to eat….instant….all natural….persimmon….sorbet. Doesn't this sound like the best thing EVER??? I told you my mom's a genius. :)
Ahhhh, back to stuffing…yet again! Okay, so this Persimmon & Squaw Bread Stuffing may be lacking in meat, but not flavor, whatsoever. Promise! It's super moist, but not wet and after it's baked it holds together really well. If you're nervous about this being a sweet stuffing, don't be! It's a really nice savory stuffing with hints of sweetness from the diced persimmons. You all know I'm more of a savory, meat and potatoes type of girl so trust me when I say that this stuffing is hearty, absolutely delicious, full flavored, and you won't even miss the meat!  If you're looking to mix things up with your stuffing this year why not try this delicious vegetarian friendly dish! Enjoy! xx, Jenny
Persimmon & Squaw Stuffing
Serves 8 to 10
Ingredients:
12 ounces cubed (1/2 inch) and toasted squaw bread (about 9 1/2 cups)
6 ounces cubed (1/2 inch) and toasted whole wheat sourdough bread (about 5 1/2 cups)
3/4 cup (1 1/2 sticks) unsalted butter, divided
1 medium yellow onion, diced
3 celery stalks, diced
3 garlic cloves, minced
14 cremini mushrooms, cleaned and thinly sliced
3 (slightly under ripe) fuyu persimmons, peeled and diced
1/2 teaspoon light brown sugar
2 1/2 tablespoons minced thyme
1 tablespoon chives, thinly sliced
2 teaspoons minced rosemary
28 to 32 ounces (3 1/2 -4 cups) high quality vegetable (or chicken) stock, warmed
2/3 cup finely grated gruyere cheese, optional
salt and pepper to taste
Directions:
1. Preheat oven to 375°F. Grease a 9"x 13" baking dish with 2 tablespoons butter and set aside.
2. Place both types of bread into a large mixing bowl and toss together. In a large skillet melt 4 tablespoons butter over medium high heat. Add onion, celery and garlic and sauté for 5 to 7 minutes or until vegetables begin to get translucent. Season with salt and pepper. Pour mixture over the bread.
3. Place skillet back over heat and melt 2 tablespoons butter. Sauté mushrooms for 3 to 4 minutes. Season with salt and pepper. Pour mushrooms over the onion mixture and toss together.
4. Place skillet back over heat and melt 2 tablespoons butter. Add persimmons and sauté for 1 minute. Sprinkle with brown sugar and toss together. Sauté for an additional 2 to 3 minutes. Pour persimmon- sugar mixture over bread and vegetable mixture and toss together.
5. Add thyme, chives, rosemary, and half of stock and gently fold together until well combined. Add remaining stock and fold until the entire mixture has been evenly saturated and completely mixed together. Season with salt and pepper.
6. Press mixture into the prepared baking dish and cover with foil. Bake for 30 minutes. Uncover and top stuffing with small dots of the remaining 2 tablespoons of butter and grated gruyere (if using).
7. Bake for an additional 15 to 20 minutes or until the top has become golden brown. Allow stuffing to cool for 5 minutes. Serve.