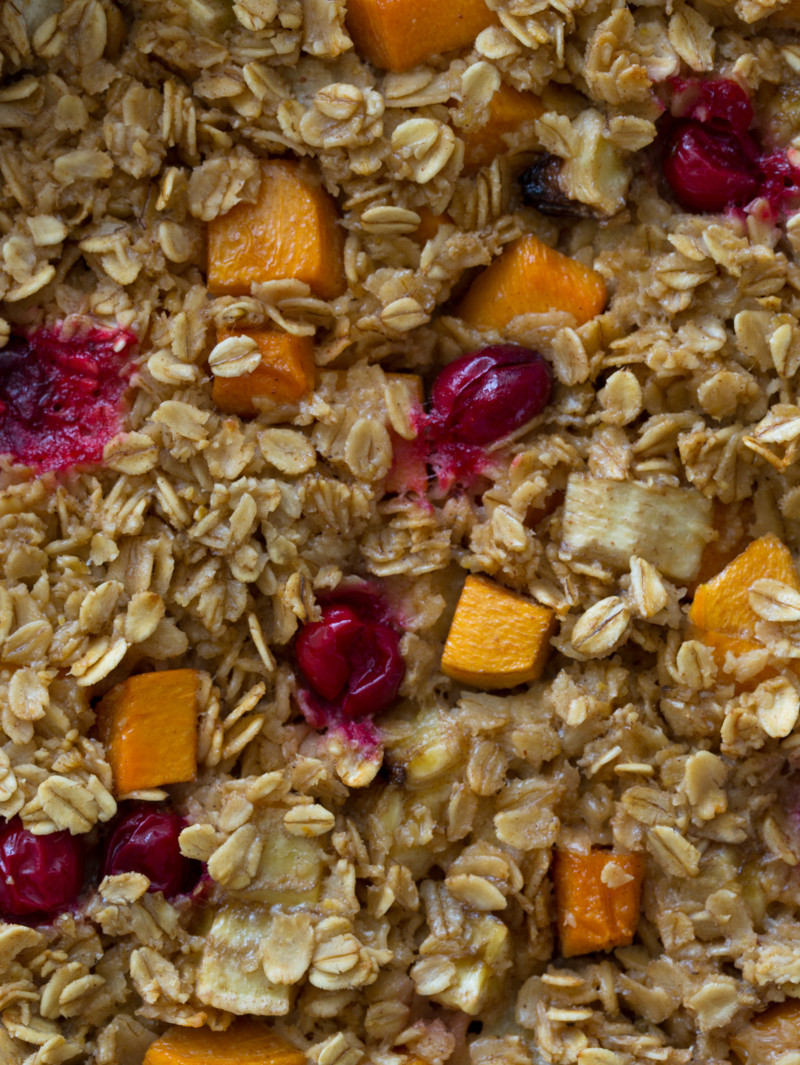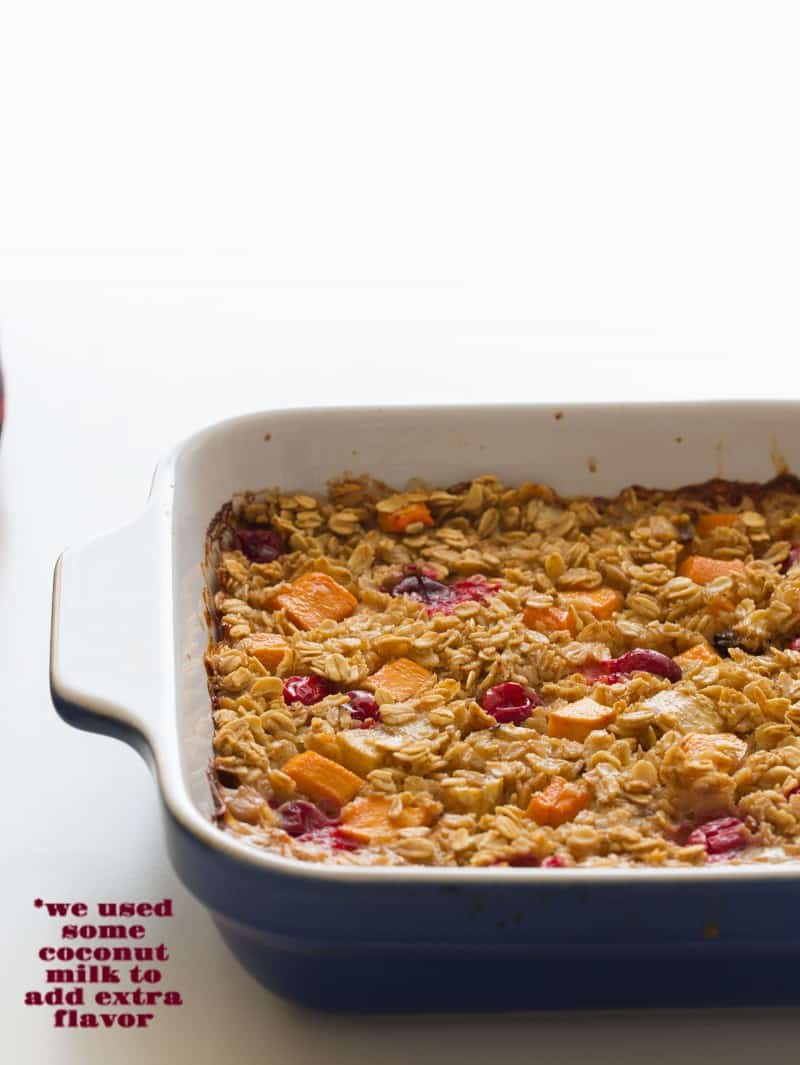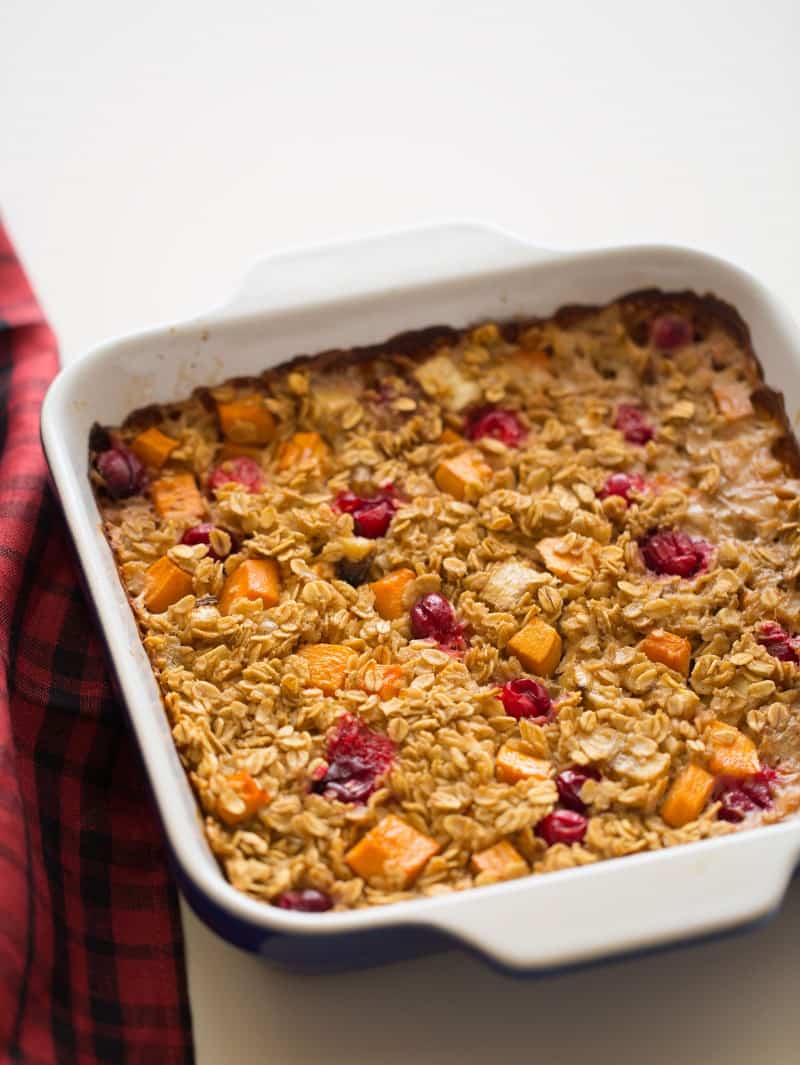 My new favorite thing is baked oatmeal. I have always been a huge fan of regular oatmeal, but I was always skeptical about baked oatmeal. I didn't want it to taste like I was eating a cookie for breakfast. I was pleasantly surprised the first time I made it. The texture was great, and it saves in the refrigerator even better. It will definitely be one of those things I pre bake and heat up when needed. My favorite thing to do is to pour some soy milk over a huge scoop of it. We used cranberries and persimmons, but you can literally put anything in it. This year, I am trying not to eat 10 cheeseburgers every day, so if you are like me and trying to eat a bit more mindful, I urge you to try out this Persimmon & Cranberry Baked Oatmeal. Add the mix-ins you like, and maybe play around with things a bit. I have a batch in the fridge right now I am about to dig into. I hope you guys enjoy it. Happy New Year!
♥ Teri
Persimmon & Cranberry Baked Oatmeal
Serves 6 to 8
Ingredients:
2 cups rolled oats
1/2 cup light brown sugar
1/3 cup flaxseed meal
2 1/2 teaspoon ground cinnamon
1 teaspoon baking powder
1/2 teaspoon salt
1 cup coconut milk
1 cup low-fat milk
1 egg
1 1/2 teaspoons vanilla extract
1 1/2 tablespoons melted coconut oil (can substitute melted butter)
2 fuyu (jiro) persimmons, peeled and chopped
2/3 cup fresh (or frozen) cranberries, blanched
1 banana, chopped
2 tablespoon butter, softened
maple syrup, optional
Directions:
1. Preheat oven to 375°F.
2. Generously grease an 8"x 8" baking dish and set aside.
3. Place first 6 ingredients into a mixing bowl and toss together.
4. In another mixing bowl whisk together both milks, the egg, vanilla and coconut oil.
5. Pour the milk mixture over the oat mixture and stir together. Fold in the remaining ingredients until just combined.
6. Pour mixture into the prepared baking dish and smooth surface with a spatula.
7. Dot the top with butter and bake for 40 to 45 minute or until golden brown. Allow oatmeal to cool about 7 minutes before drizzling with syrup, if using. Serve.