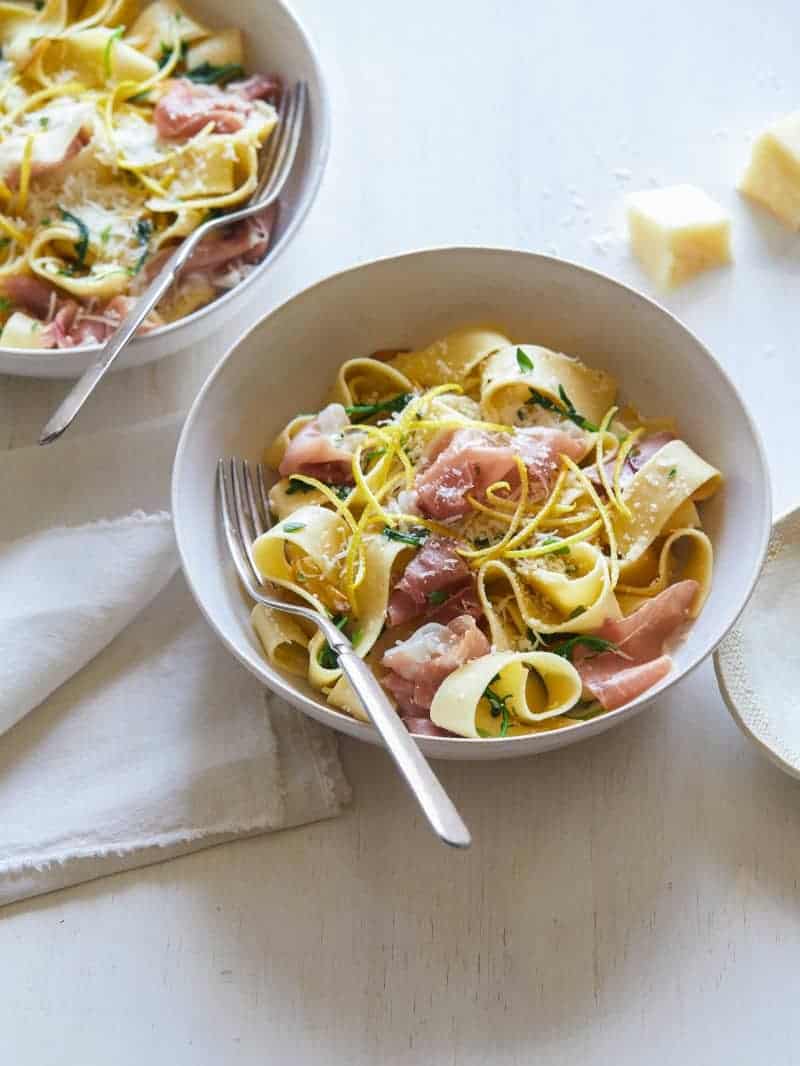 Happy Monday! We are coming at you with this simple pasta combo that we are really into for summer. Great for this nights where you want some carb action, but not like carbonara heavy carb action. The proscuitto gives this pasta the heft it needs, but lets the lemon and thyme sing in a super refreshing way. It's a really easy dish to whip on up on those weekdays when you come home and don't really feel like cooking. We added a bunch of a arugula so you can also feel like you're eating an appropriate amount of greens. :)
♥ Teri

Pappardelle with Prosciutto, Arugula and Lemon
Serves 3 to 4
Ingredients:
16 ounces pappardelle
2 tablespoons unsalted butter
1 tablespoon extra virgin olive oil
2 tablespoons minced shallots
1 garlic clove, minced
2 teaspoons minced thyme
2 heaping cups arugula
1 lemon, zested and juiced
2 ounces grated Parmesan
3 ounces thinly sliced prosciutto, torn into bite-sized pieces
salt and pepper to taste
garnish:
lemon zest
grated Parmesan
1. Fill a large pot with water and bring to a boil. Once water is boiling add a small handful of salt, followed by the pappardelle and boil, stirring occasionally, until pasta is al dente, 6 to 7 minutes (for dry pasta).
2. Drain pasta, reserving 1/4 cup of pasta water and set aside.
3. Place a large skillet over medium heat, melt butter and add oil.
4. Once the skillet is hot add shallots and garlic and sauté for 1 to 2 minutes.
5. Add thyme and continue to sauté for an additional minute.
6. Add the arugula, lemon zest, juice, and pasta water to the skillet and toss together until the arugula is partially wilted. Season with salt and pepper.
7. Add the pasta and grated Parmesan to the skillet and toss together.
8. Once the arugula has just wilted completely, remove from heat and add the torn prosciutto. Lightly season with salt and pepper and toss together.
9. Top dish with additional Parmesan and lemon zest and serve.