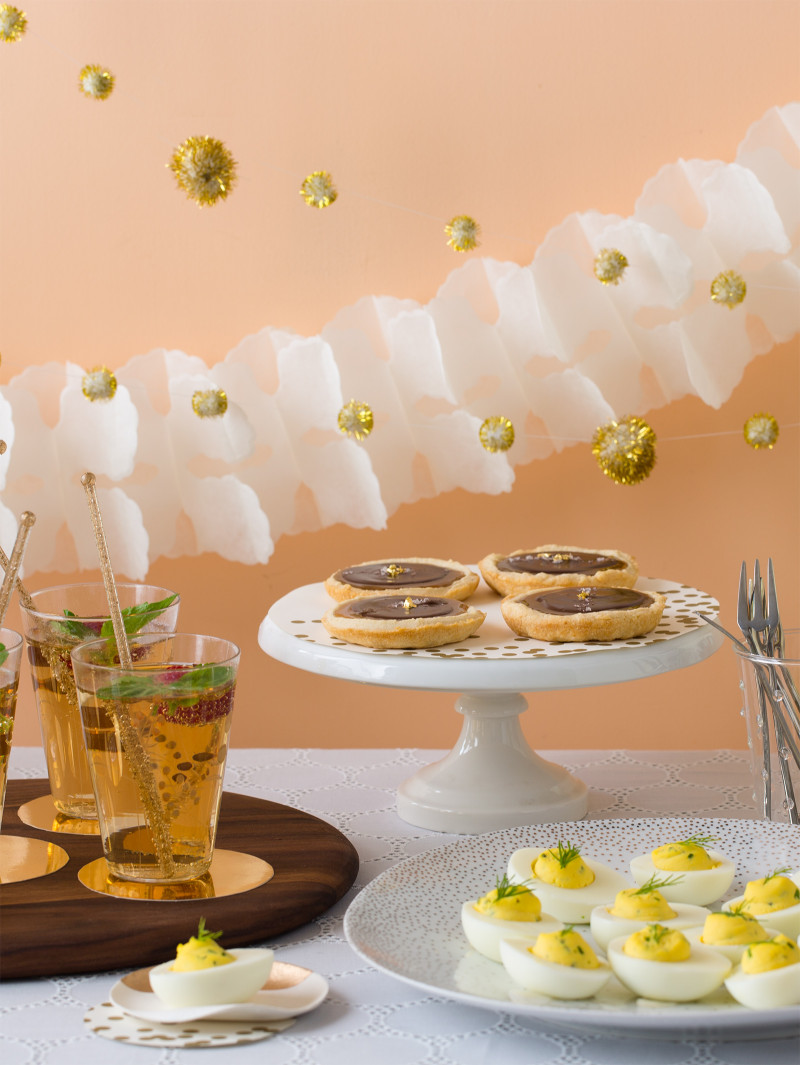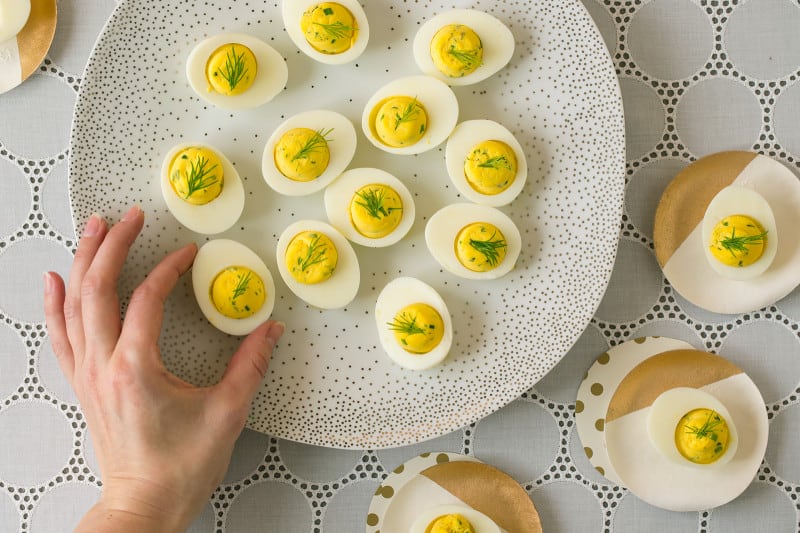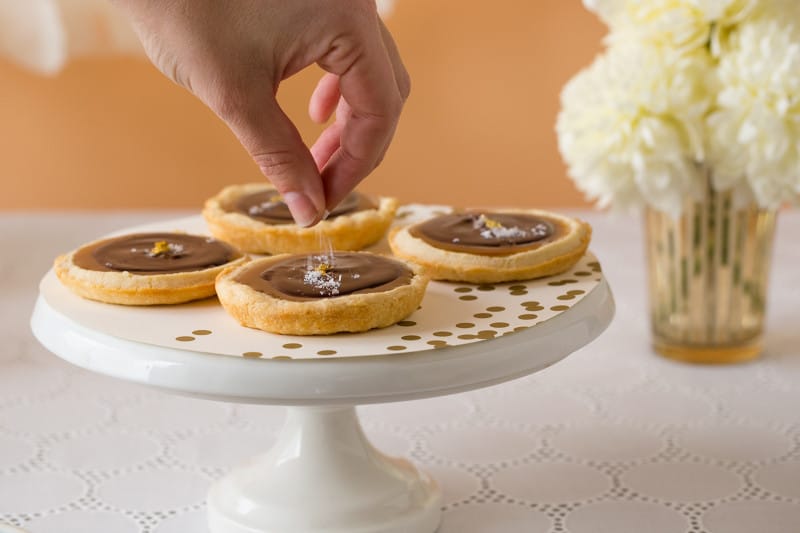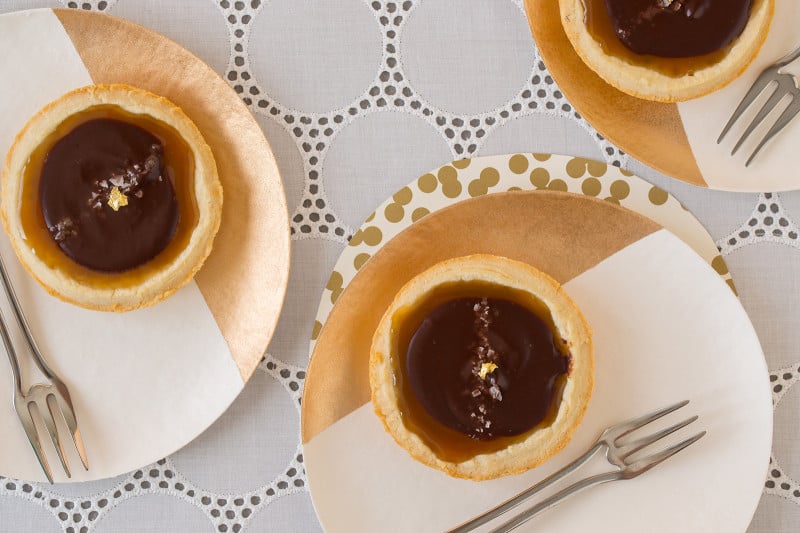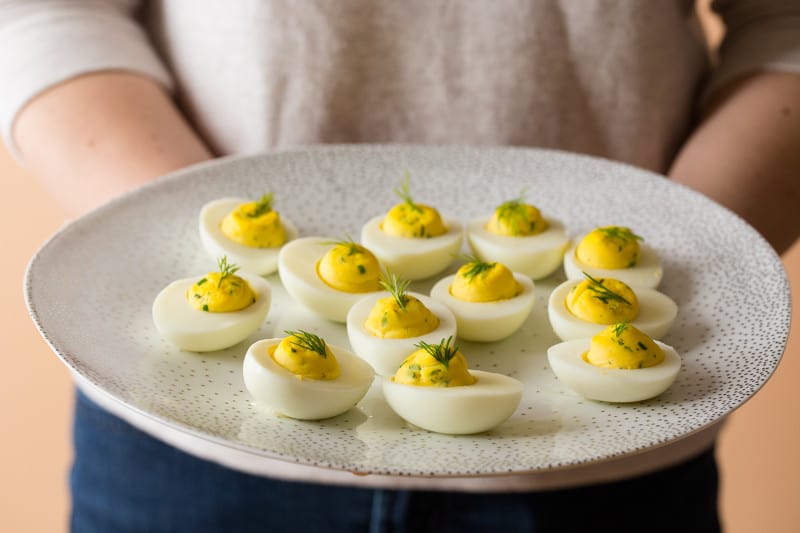 Good Morning America asked us to create some perfectly easy recipes to celebrate the Oscars. You all know we love making cute little appetizers so obviously we were so excited. For our menu we decided on a simple yet elegant cocktail, an herbed deviled egg, and a really yummy salted caramel and chocolate tart! All of these recipes are really simple and easy to throw together. We also think our Black Pepper and Lemon Asiago Dip would be great if you're in the mood for a dip. You may also want to try Korean Style Cocktail Meatballs, which is a personal favorite.
We also have a couple of really quick and easy tips to decorate your Oscar Party.
The first one is edible gold. I know we have mentioned this before but you can add a little bit of edible gold to anything, like we did with our Salted Caramel and Chocolate Tarts, and it will automatically take it up a notch. We found ours at an Asian market, but you can easily order it online after a quick google search.
For our Oscar party decorations, we used a combination of tissue paper garlands, as well as garlands we made out of gold tinsel pom poms. The gold tinsel pom poms are inexpensive and really easy to make into a garland. We used a regular needle and thread, and half inch and one inch tinsel pom poms. You could also use the tinsel pom poms glued to the top of skewers to make really festive swizzle sticks for your drinks! They're so versatile!
An easy way to dress up plain paper plates is to use edible gold spray paint. You can tape off part of the plate and spray only a corner for a nice pop of color. You can also lay parchment paper over the area of the plate you wish to block off. A large re-closeable plastic bag also works, just place the plate inside with a corner left out and spray away!
We don't know about all of you but we are so excited to check out everyone's dresses. That's the best part right? What are you guys planning for the Oscars?
Teri + Jenny
Herb Deviled Eggs
Makes 24
12 large hard boiled eggs, halved and separated
1/4 cup mayonnaise
1 tablespoon Dijon mustard
1 1/2 teaspoons thinly sliced chives
1 teaspoon minced thyme
1/2 teaspoon minced dill
1/2 teaspoon salt
1/4 teaspoon cracked black pepper
pinch sugar
garnish:
sprigs of dill
Directions:
1. Crumble yolks into a mixing bowl and add remaining ingredients, except halved whites. Mash together with the back of a fork until smooth and no lumps remain.
2. Scoop mixture into egg whites (you can pipe the filling too) and top each deviled egg with a small sprig of dill. Serve.
Easy Salted Chocolate and Caramel Tarts
Makes 12
12 premade or store-bought mini tart shells
18 caramel squares
1/4 cup heavy cream
ganache:
4 ounces heavy cream
4 ounces chopped bittersweet chocolate
garnish:
sea salt flakes
edible gold leaf, optional
Directions:
1. Place caramel squares into a small pot and simmer over medium heat. Stir together until completely melted and smooth. Remove from heat and stir in heavy cream until fully incorporated.
2. Pour a few teaspoons of the caramel sauce into each tart shell until almost full. Allow the caramel to set, 15 to 20 minutes.
3. For ganache: Pour heavy cream into a small pot and scald over medium-low heat. Pour hot cream over chopped chocolate and allow mixture to sit for 3 to 4 minutes or until chocolate has melted. Stir together until fully combined and smooth.
4. Pour a teaspoon (or two) of ganache over the caramel, in each tart shell, and set aside until partially set, about 20 minutes. Sprinkle each tart with a small amount of sea salt and allow ganache to set completely.
5. Top each tart with a small dab of edible gold leaf, if using, and serve.
Raspberry Champagne Cocktails
Makes 12
12 ounces Chambord (or another raspberry liqueur)
2 (750ml) bottles champagne or sparkling wine
garnish:
fresh raspberries
fresh mint sprigs
Directions:
1. Place a raspberry into each glass and fill with 1 ounce of Chambord.
2. Top each glass off with champagne and finish with a fresh raspberry and a sprig of mint.