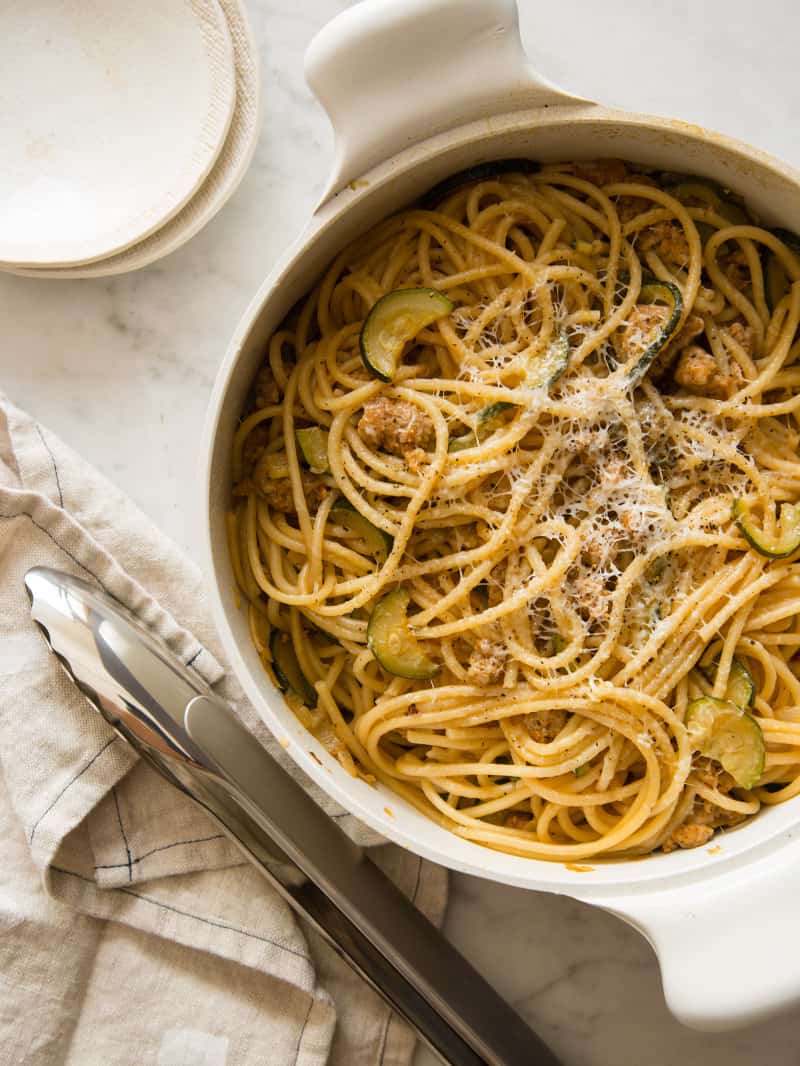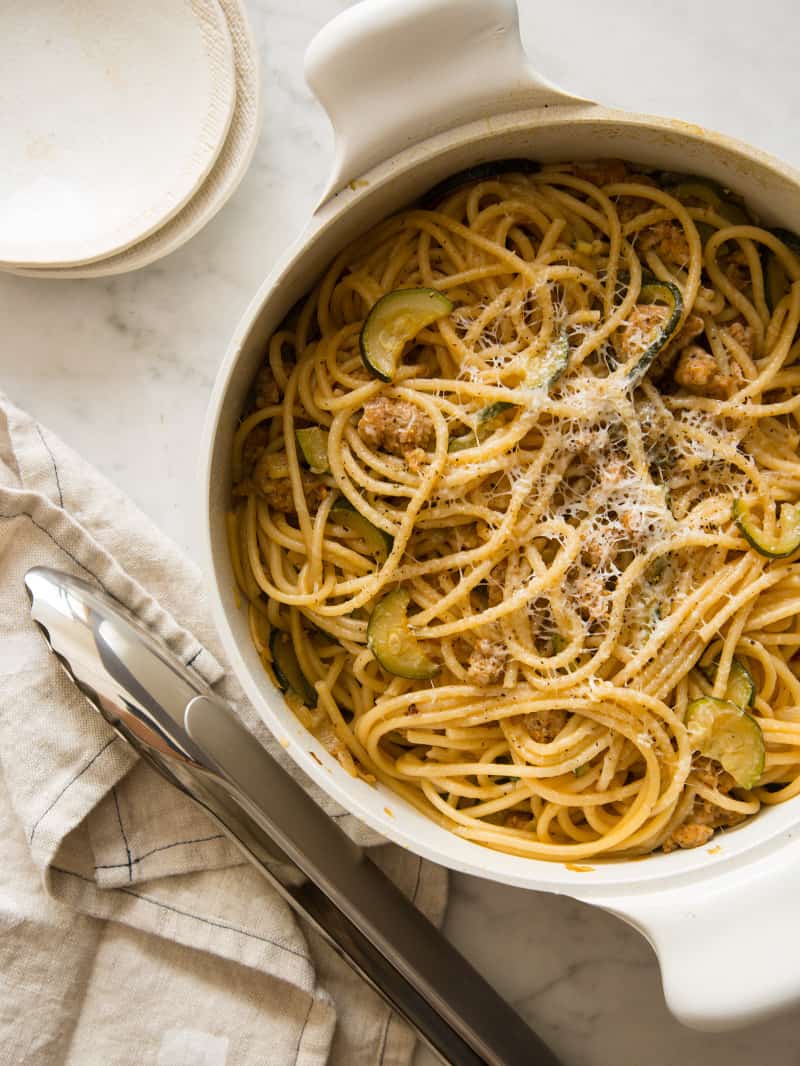 Today we're reposting this one pot pasta dish because it's one of the easiest, most delicious, no nonsense meals you can possibly make and eat! Seriously though, this dish is super flavorful, totally satisfying and only takes about 30 minutes to throw together with a very small handful of ingredients! If you're stuck on dinner ideas for tonight we totally have you covered! Enjoy!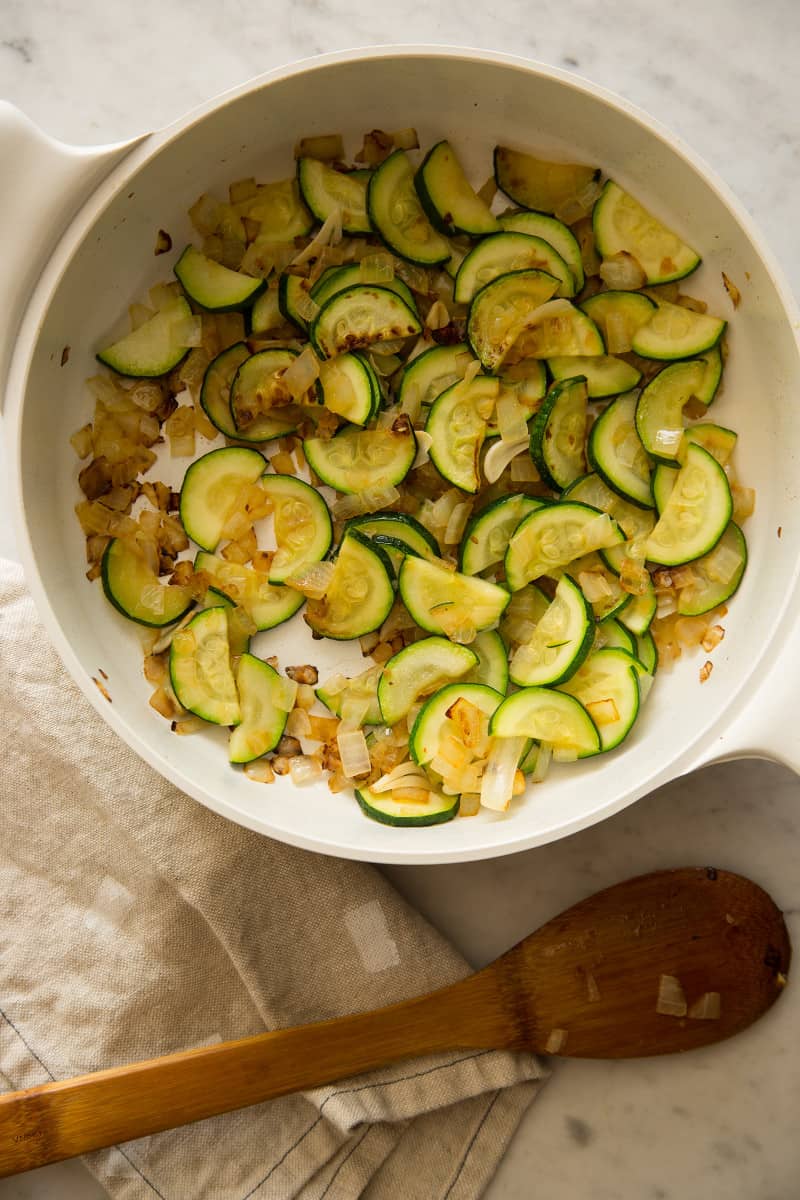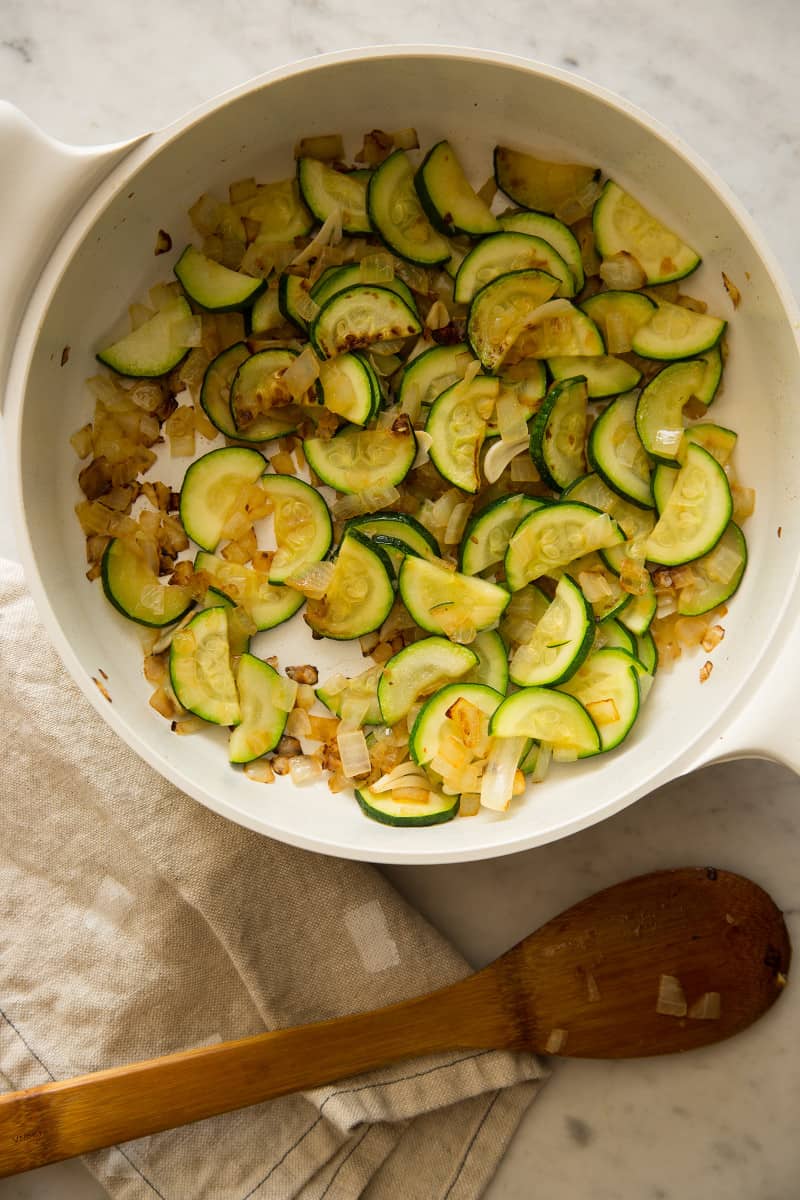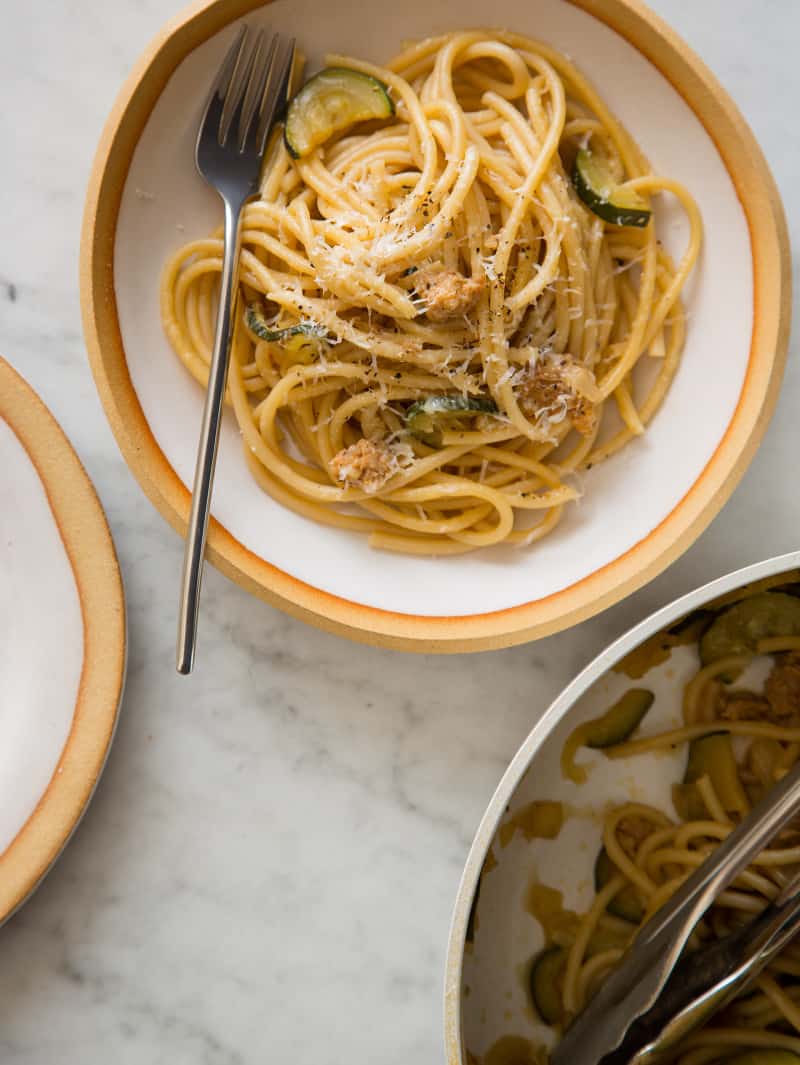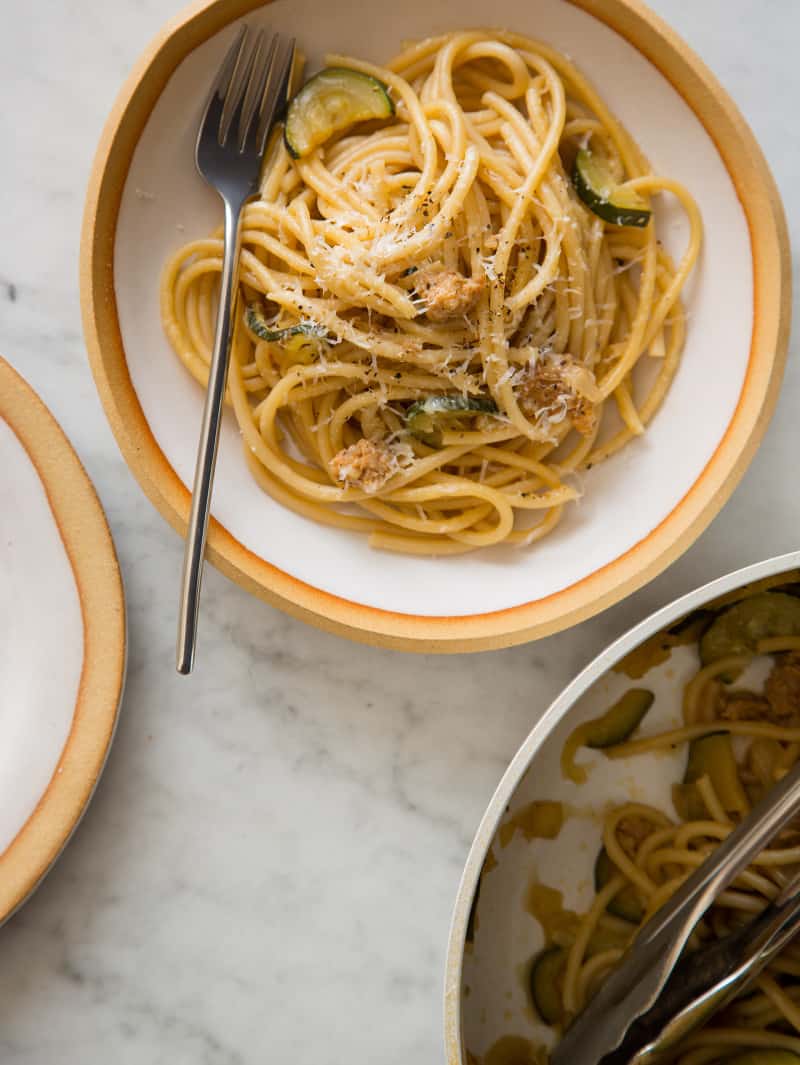 This idea actually came from Instagram. I was doing my usual, weekly-stalk on instagram when I came across this one pot pasta from Joy the Baker (yes, I realize that instagram was from July 2014…it was a deep-stalk sort of day. Whatever!). One look and I was totally sold. I went home that day and made my own version with sausage, lots of sausage. It was a marvelously gluttonous dinner and made for pretty awesome leftovers for the next couple of days.
This is such a great, lazy meal pasta, that's not necessarily all that lazy…but I think that if you can avoid filling a huge pot up with water as well as avoid having to drain it when it's super hot and steamy, you've basically already won dinner. I added zucchini in addition to the sausage because I like "stuff" in my pasta, especially when there isn't an official sauce happening. The boyfriend even requested that there be more fun "stuff" added to this dish the next time around. The zucchini actually gets a bit mushy after being cooked down but I sort of like how they kind of melt into the dish; if you're not into the melty zucchini action, then feel free to remove it from the pan before adding the stock and stir them back into the pot about 5 to 7 minutes before the entire dish is finished.
Sometime you just need to get cozy and carb out, preferably with something awesome to watch on the tube like House of Cards or True Detective, you know? This has definitely been incorporated into the regular dinner rotation in our household and no one's complaining about it. Enjoy! xx, Jenny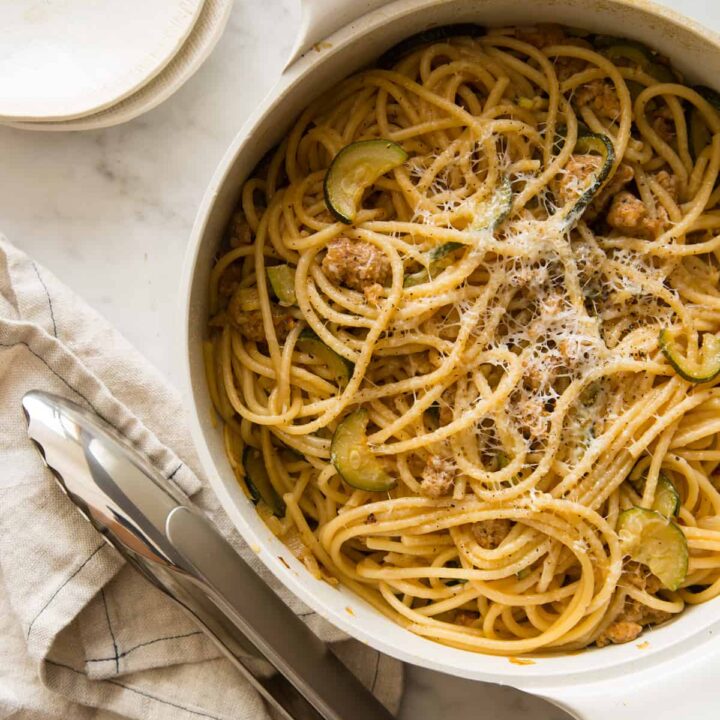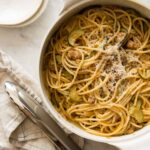 ---
One Pot Pasta Sausage and Zucchini Pasta
INGREDIENTS
3

tablespoons

extra virgin olive oil divided

2

spicy Italian sausages, casings removed

1

yellow onion, chopped

2

zucchini, sliced lengthwise, then thinly sliced (into 1/2 circles)

2

garlic cloves, minced

1 ½

tablespoons

minced thyme

2 ½

cups

chicken or vegetable stock

½

pound

bucatini

½

cup

freshly grated Parmesan

salt and pepper to taste
INSTRUCTIONS
Place a large pot over medium-high heat. Add 1 tablespoon of oil and sauté sausage until browned and crumbled, 2 to 3 minutes. Remove from pot with a slotted spoon, set aside and discard grease.

Place pot back onto the stove and add remaining oil. Sauté onions for 4 to 5 minutes. Add zucchini and garlic and continue to sauté for 2 minutes. Season with salt and pepper.

Stir in thyme and add sausage back into the pot and sauté for 1 minute.

Pour stock into the pot and bring to a boil. Add pasta and lower heat to medium. Simmer for 15 to 20 minutes, stirring occasionally, until most of the liquid has evaporated and pasta is al dente. Season with salt and pepper.

Top pasta with parmesan and carefully toss until well combined. Adjust seasonings and serve with extra fresh grated parmesan.
Calories:
632
kcal
Carbohydrates:
55
g
Protein:
25
g
Fat:
34
g
Saturated Fat:
11
g
Cholesterol:
56
mg
Sodium:
837
mg
Potassium:
749
mg
Fiber:
4
g
Sugar:
8
g
Vitamin A:
418
IU
Vitamin C:
26
mg
Calcium:
210
mg
Iron:
3
mg