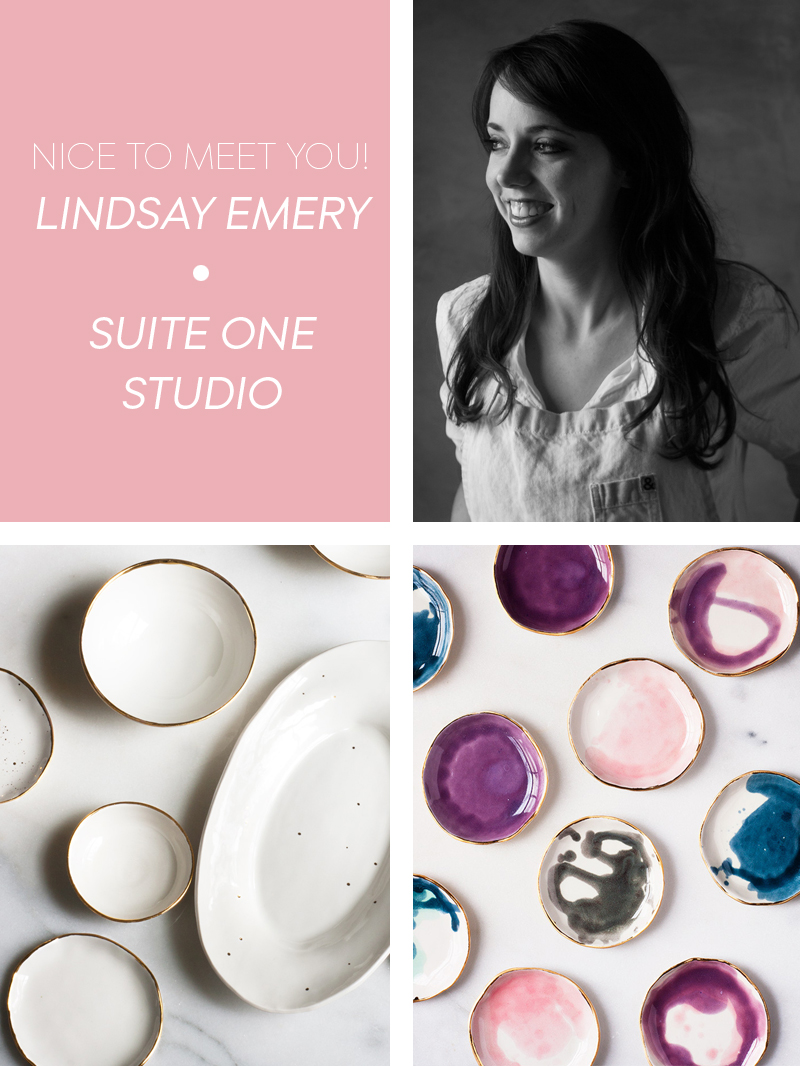 Hi! So today we are introducing a new column here on Spoon Fork Bacon, where we do a quick interview of people who inspire us, and people that we just generally like. You will see anyone from chefs to makers on our Nice To Meet You series and we are really excited to share with you some truly inspiring people. Our first guest on our new series is Lindsay Emery of Suite One Studios. We own and use a lot of her ceramics in our work, and we love her. :)
NAME: Lindsay Emery
WEBSITE: www.suiteonestudio.com
LOCATION: Greensboro, NC
CURRENT STATE OF MIND: Content (it is the most beautiful spring day and I'm enjoying my sunny, Southern screen porch).
ASTROLOGICAL SIGN: Aquarius
FAVORITE COLOR: Purple
FAVORITE ARTIST: Cindy Sherman (she is fascinating!)
FAVORITE TOOL: My hands.
FAVORITE SNACK: Dark chocolate anything.
FAVORITE MEAL: At home we make a really good black bean and corn grilled wrap that I can't get enough of this time of year.
MORNING OR NIGHT PERSON: I lean a little more to the night side, but I'm not a late night person at all. Is afternoon person an option?
OCEANS OR MOUNTAINS: Mountains.
SWEET OR SAVORY: Sweet.
BIGGEST PET PEEVE: Condescension and meanness.
MOST TREASURED POSSESSION: My new large kiln!
DO YOU HAVE A PERSONAL PHILOSOPHY? Be kind, find your passion, work tirelessly towards a fulfilled life, and remember that sometimes enough is as good as a feast.
WHAT DID YOU WANT TO BE WHEN YOU GREW UP? An artist!
WHATS YOUR PERSONAL SOUNDTRACK RIGHT NOW? Oddly, I seldom listen to music. Weird, right? In my studio now that it's warming up, I have the windows open during the day listening to the birds, people walking by, and the city streets. I guess you could say that my environment is my current soundtrack.
CATS OR DOGS? Dogs, but don't tell my cats.
WHAT ADVICE WOULD YOU GIVE YOUR YOUNGER SELF? Worry less.
ANY ADIVCE YOU WANT TO GIVE TO PEOPLE STARTING OUT? Determine what you like and do more of that. Perhaps more importantly, determine what you don't like and do less of that. Participating in your own life is so important. Actively shape your own life instead of passively reacting to it. That's simple advice I give myself daily, and it's helped me grow my life and livelihood in a really natural way that feels good and authentic.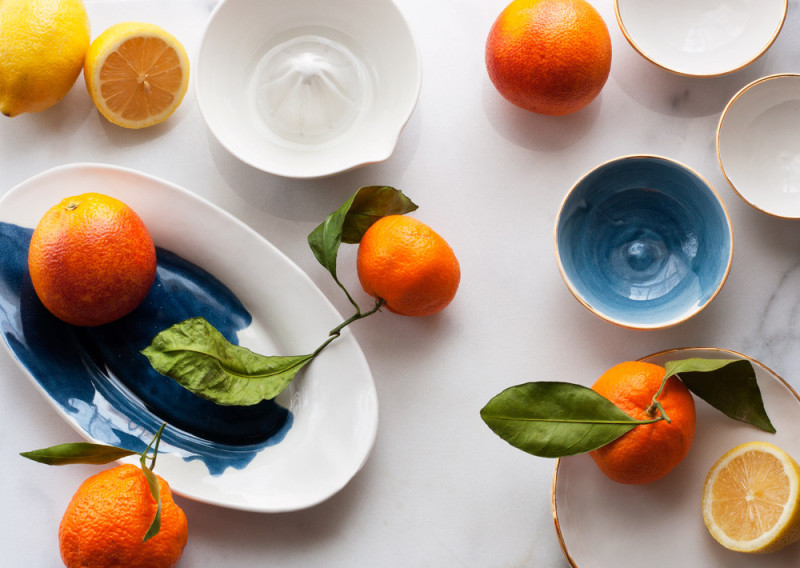 1. How did you first get into ceramics, and what drew you to that medium?
Ceramics was a required course for my college fine art studies in painting and art history. I was nineteen, and I had some pretty inflexible ideas about what art was, ceramics didn't fit into that. I was certain the class would be a complete waste of my time. All of the things I initially hated about ceramics became the same things I love about it now: it's immediately responsive, selectively forgiving, deceptively challenging, and oh so rewarding when you get it right!
With clay there are endless variables in the making, drying, glazing, and firing processes. Because of that you learn a special kind of patience and acceptance. You get to become a bit of an alchemist-chemist when it comes to making your own glazes, and that still gets me going!
I instantly had much less control over my new materials in the ceramic studio, compared to my painting and drawing classes, where pencils and paintbrushes were perfectly familiar. I'd always been good at any art I tried, but I was terrible at ceramics. That led to a profound frustration and then that led to insatiable determination. After a few long, dirty days in the ceramics studio I knew my whole life was changing.
2. What inspires and motivates you during your creative process?
I'm inspired and motivated by food and my ceramic materials. My family owned restaurants when I was growing up and I basically lived in kitchens as a kid. My ceramics are designed around my understanding of food, and what it needs to shine. After working with porcelain for a decade, I've learned to understand it on a similarly deep level. I know how my clay will bend and how it will collapse. I work up until these limits to make pieces that appear substantial and organic, yet feminine and delicate. It's the same thing with my glazes. I've worked on the formula for years and after a tremendous amount of trial and error I now understand the range of my glazes and how they can be used successfully to achieve my goals.
3. One of our favorite things about your ceramics are the simple depth you give your pieces with texture and overlapping swoops of color. You say on your website that you're inspired by watercolor, when did that start to really influence your designs? Do you also paint with watercolor?
I don't paint as often as I once did. Before that dreaded first ceramics class I would have said I was a painter, and that's really what I thought I would do after college. I love the way paint moves, especially watercolors. I had a difficult time finding this same sort of fluid movement with my glazes in the beginning. Either they were too controlled and flat, or just a big melty, drippy mess. As my glaze chemistry understanding improved I was able to work in some of the painterly movement my ceramic work was missing. I've done brushstrokes, and bold gestural marks on my pots since I first started working in clay, but the results have become more refined over time. Experimenting and finally developing a glaze that has subtle, natural variation that I could manipulate, now that was a big moment.
4. It's obvious you have a great talent for high gloss ceramics. what initially drew you into high gloss and how did that effect your decision to start getting into handmade glazes?
I've made my own glazes since my first ceramics class. Looking back I'm really impressed that my professor took the time to work this into the curriculum so early on. Having the opportunity to make glazes from scratch and to learn how glazes have been made over the centuries has tremendously impacted my glaze formulas. All of my glossy glazes at their most basic are influenced by celadon glazes, specifically those from the Song Dynasty. I fire in a completely different kiln atmosphere, and for that reason the formulas themselves are hugely different, but the fundamental inspiration for the translucent, high gloss, cool-hued glazes I make is drawn from pottery made a thousand years ago on the other side of the world.
5. Some of your platters use an imprint of lace. How did you come up with that idea, and what drew you to utilizing that kind texture?
Being inspired by food and all things kitchen and dining, I have a big weakness when it comes to vintage kitchenware and serveware. The lace texture I use is from an antique table-runner I found at a consignment shop years ago. Adding textiles to clay is a pretty popular ceramic technique that I picked up in my early ceramics education. Once I found that table-runner I knew I'd found a textile that would translate well to food related pottery, and I loved the idea of giving an old table linen the opportunity to grace a table again in a new modern way.
6. We have been long time fans, and so when we knew you had started using gold in your pieces we immediately loved it. Why did you decide to start doing that?
This one goes back to ancient and traditional pottery as well. Potters have been adding gold to their pots for over a thousand years and I wanted to find a way to add a little bling to my ceramics in a way that hinted at nostalgia but that also read as totally chic and of the moment.
7. What plates do you have in your house that you use everyday?
My cupboards are filled with blue and white vintage pieces I've collected piecemeal and flawed dishes from my firings. Remember all of those firing and glazing variables I mentioned earlier? Well, they happen, a lot. And they fill my cupboards with wonky, though well loved pots.
8. Do you have any personal 'favorites' among your collections, both old and new?
I'm a little obsessed with the Rose and Gold Dessert Plates in my current collection. Whenever those don't fire properly in the kiln I'm secretly kind of happy because I can add to my own collection! I also love my Pour Bowls, and Serving Bowls. What really excites me about my work both old and new is the way the rims of multiple pieces work together when they're stacked and nested. There's something about the organic edges that challenges expectations of how plates are supposed to stack, or how bowls are supposed to nest. The spaces between the pots aren't predictably even, and those small gaps and wavering edges completely captivate me.
Thank you so much Lindsay! Please visit her website and shop, new stuff is added to her shop every Tuesday at 7PM EST. :)


All images courtesy of Suite one Studio. Images directly above from Suite One Studio's instagram.