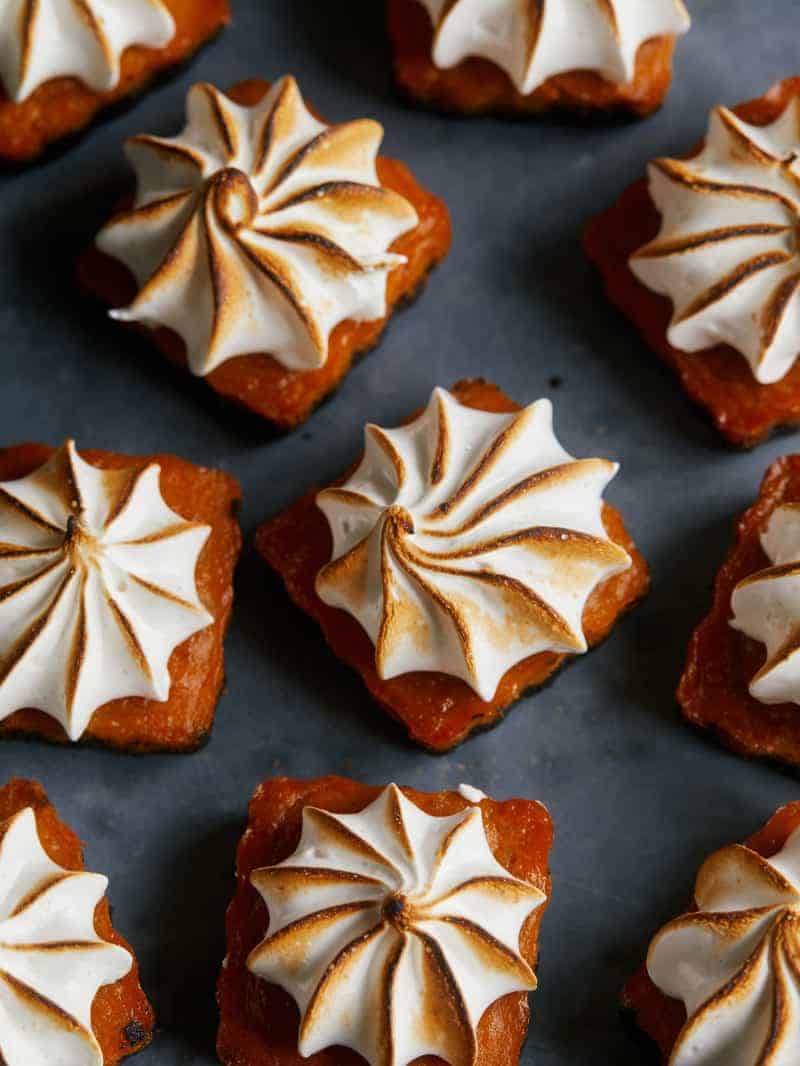 I love pumpkin pie so much. It's my favorite. I don't discriminate either – grocery store pumpkin pie, costco, or fancy. It's all good and I love all of it. So we made this cute version that you can pop into your mouth. We topped it with chai spiced marshmallow fluff because we are fancy like that. So basically you make a bunch of these and platter them, and then pop them in your mouth when ever you pass through the kitchen. It's dangerous, but it's holiday season so it's ok.
♥ Teri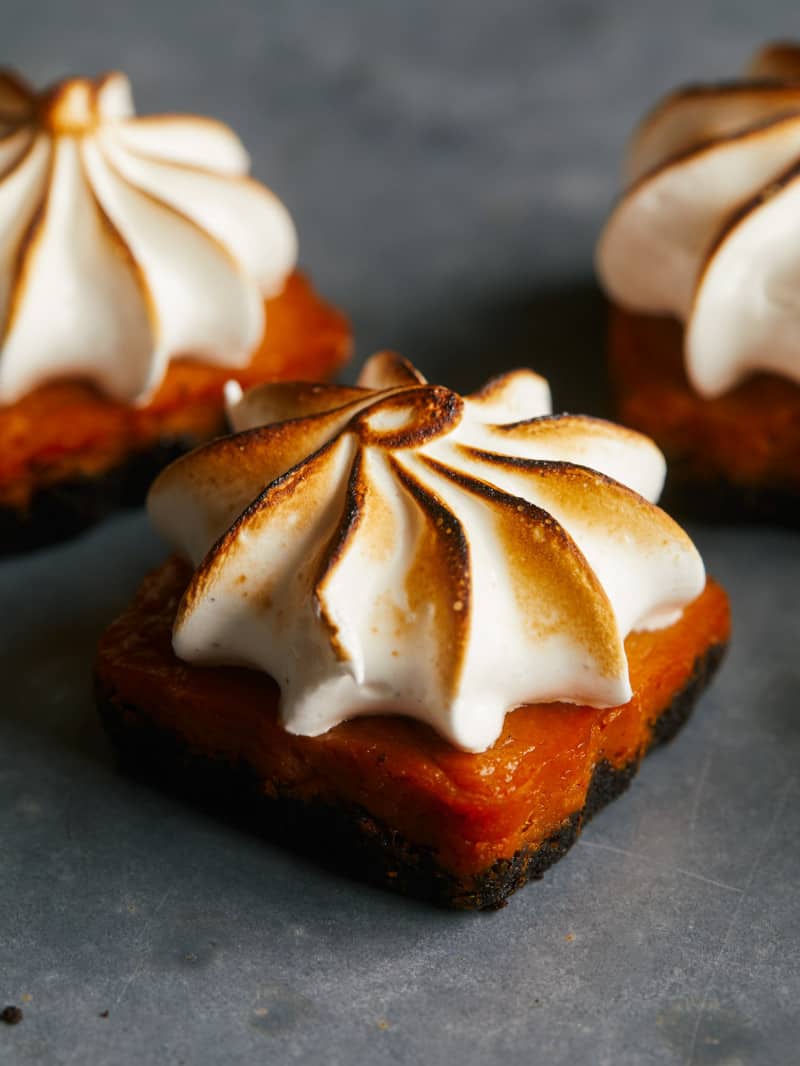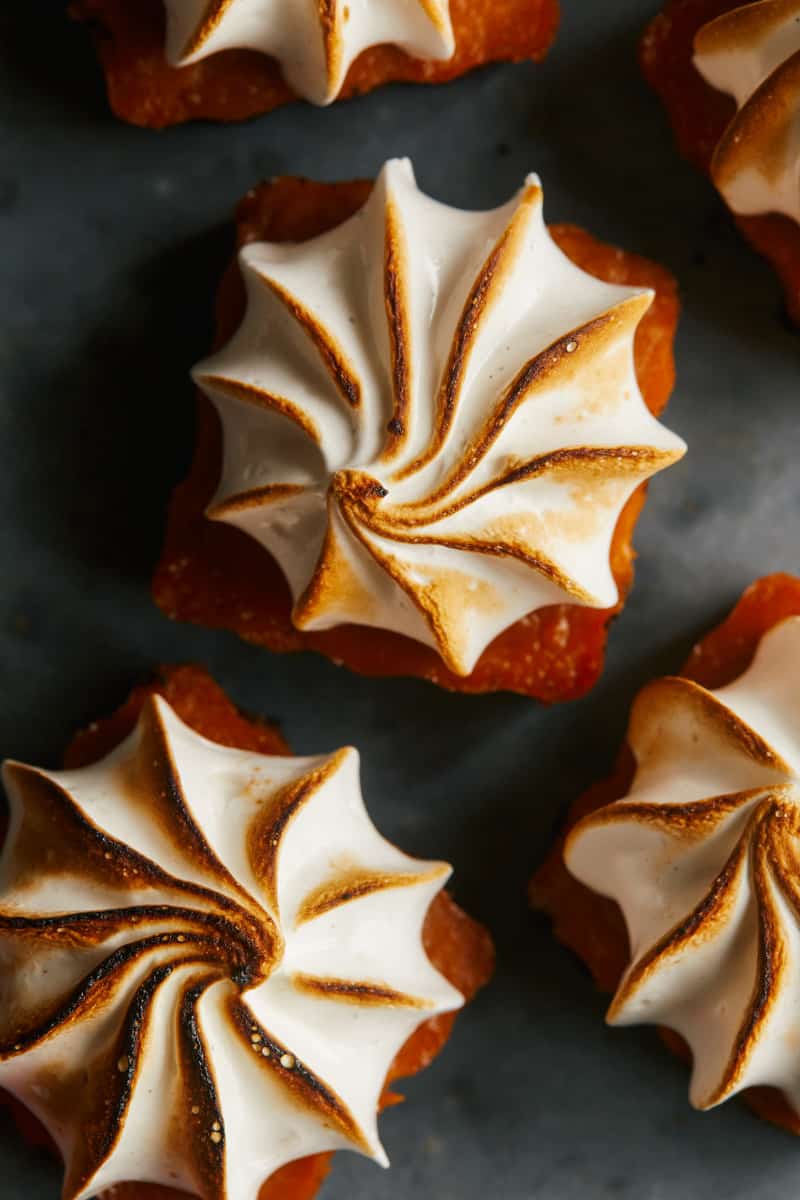 Mini Pumpkin Tarts with Toasted Chai Marshmallow Fluff

Makes 24 (1.5" tarts)

Ingredients:
chocolate crust:
48 chocolate wafers, finely crushed
4 tablespoons unsalted butter, melted
pumpkin filling:
3/4 sugar
1 teaspoon cinnamon
1/2 teaspoon salt
1/4 teaspoon ground ginger
1/4 teaspoon ground cloves
2 large eggs, lightly beaten
1 (15 ounce) can 100% Pumpkin Puree
1 (12 fl. oz.) evaporated milk
chai marshmallow:
1/3 cup water
3/4 cup sugar
3/4 cup light corn syrup
3 egg whites (room temperature)
1/2 teaspoon cream of tartar
1 teaspoon vanilla extract
2 teaspoons chai spice

Directions:
1. Preheat 325˚F.
2. In a mixing bowl, mix together chocolate wafer crumbs and butter. Spoon 1-2 tablespoons of crust mixture into each tart insert and gently press into the bottom of each insert.
3. For filling: Combine all filling ingredients into a large mixing bowl and whisk together until smooth.
4. Spoon about 2 tablespoons of pumpkin filling over each prepared crust and bake for 25 to 30 minutes or until pumpkin filling has set. Remove mini tarts from oven and cool completely.
1. Chai Marshmallow: For marshmallow fluff: Place water, sugar and light corn syrup into a saucepan and melt sugar over low heat. Once sugar melts, raise the heat to medium and allow mixture to simmer until it reaches 240˚F.
2. Meanwhile place egg whites and cream of a tartar in a stand mixer, fitted with a whisk attachment, and beat until soft peaks form.
3. Once sugar mixture has reached 240˚F, very carefully pour mixture into the egg whites (with the stand mixer motor running), is a slow and steady stream, until fully incorporated.
4. Raise the mixer speed to high and continue to beat until the mixture is light, glossy and fluffy, about 6 to 8 minutes. Add vanilla and chai spice and continue to beat for an additional minute.
5. Scoop marshmallow fluff into a piping bag fitted with a large star tip and pipe a single star atop each tart. Lightly brulee each marshmallow star with a brulee torch and serve.