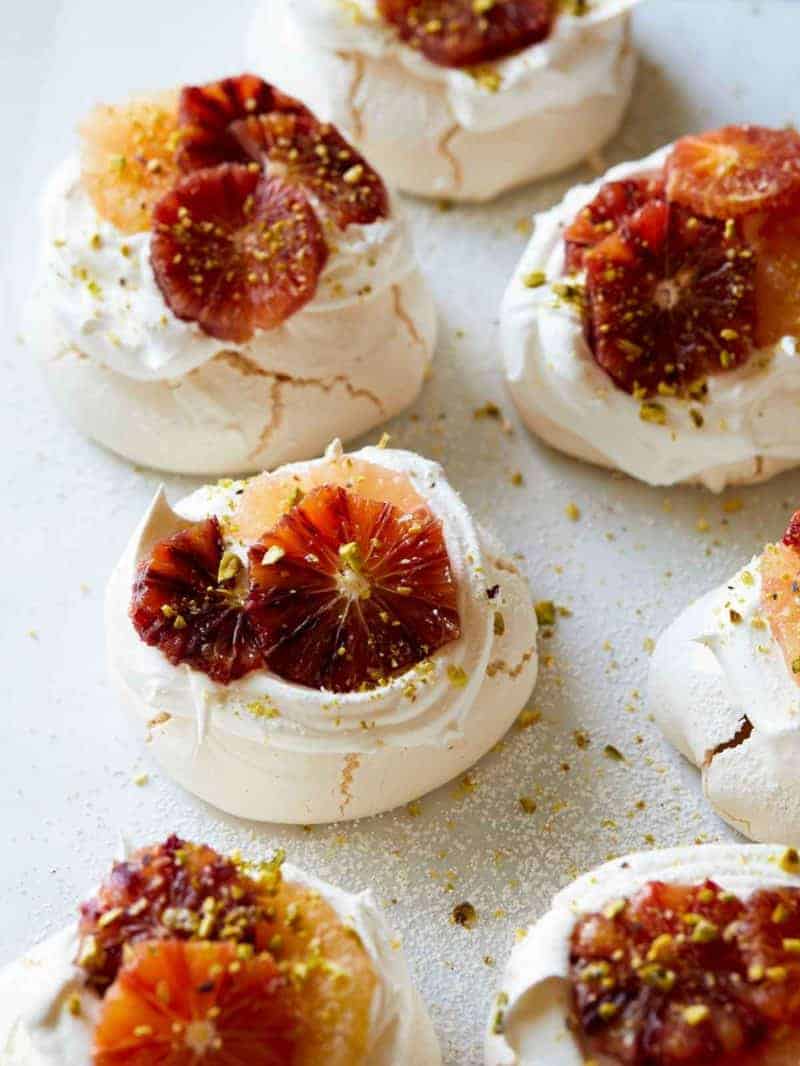 We have Mini Citrus Pavlovas for everyone today! These little guys make a really perfect holiday dessert apart from the holiday cookie craze. I also love making these because there are only a few ingredients needed and everyone gets their own, which is always nice. You can also make and bake the meringue base a day or two ahead of time as well as cut the citrus ahead of time, making this a super speedy dessert to put together for when your guests are over. Simple, delicious, and seasonal! Enjoy! xx, Jenny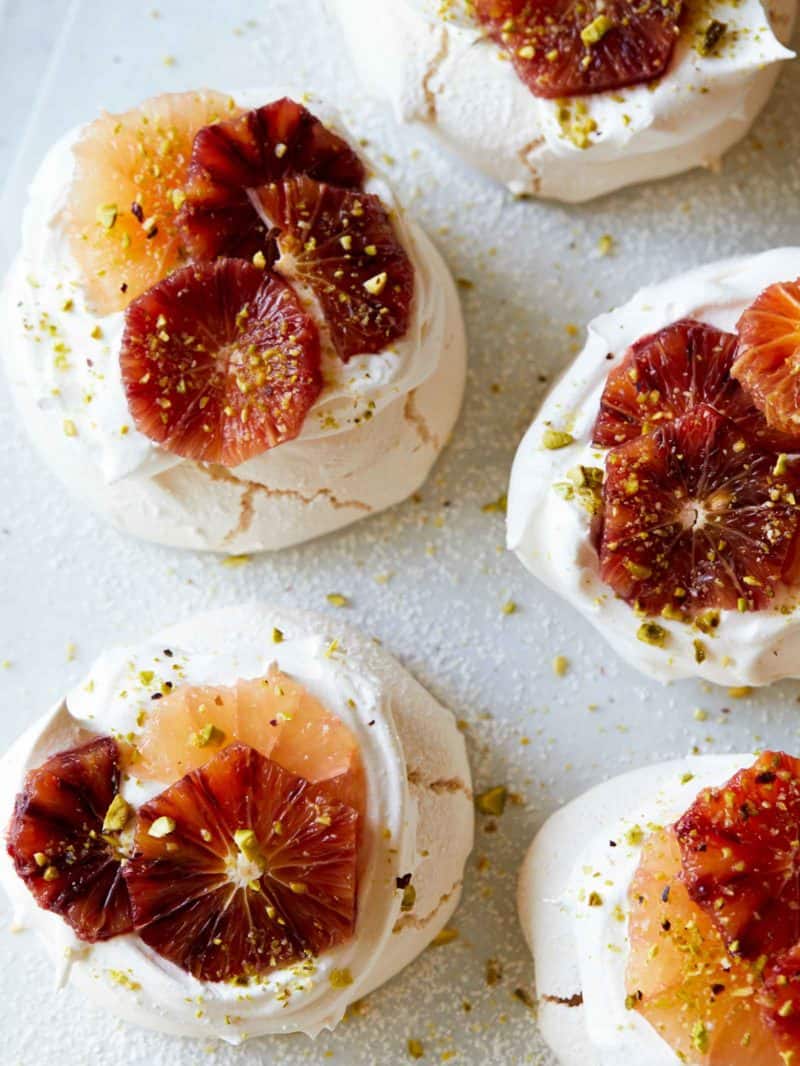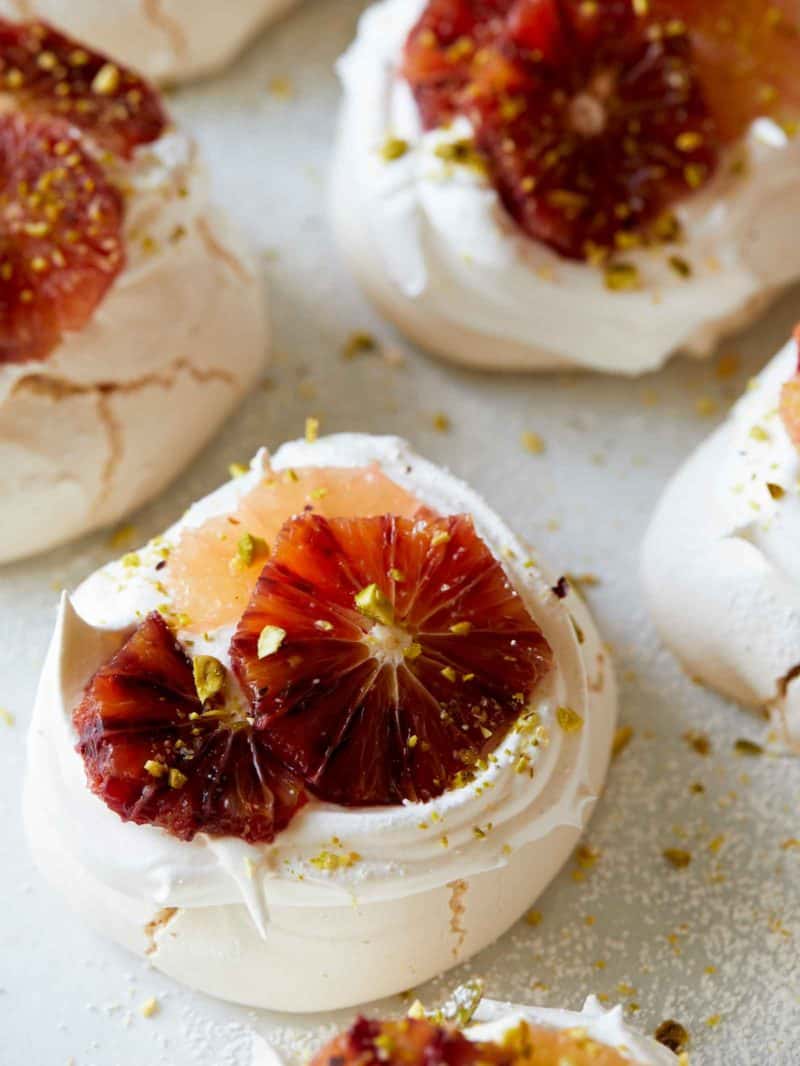 Mini Citrus Pavlovas

Makes 8

Ingredients:
5 whole citrus fruits of choice (we used 2 navel oranges, 2 blood oranges, 1 small grapefruit)
meringue:
4 egg whites, room temperature
1 cup superfine sugar
pinch salt
1 1/2 teaspoons cornstarch
1 teaspoon distilled vinegar
whipped cream:
1 cup heavy cream
1/2 cup superfine sugar
1 teaspoon vanilla extract

powdered sugar for dusting
crushed pistachios, optional
honey for drizzling, optional

Directions:
1. Slice ends of each citrus off with a knife and then slice remaining peel off, so each fruit is still whole, but both peel and outer membrane has been removed. Thinly slice each fruit so you have thin rounds and set aside.
2. Preheat oven to 250˚F.
3. Pour egg whites into the well of a stand mixer, fitted with a whisk attachment and beat on high until stiff peaks form.
4. With the motor running add 3/4 cup of the sugar, 2 tablespoon at a time, until fully incorporated.
5. Combine salt, cornstarch and vinegar in a small bowl and whisk together.
6. Pour mixture into the beaten egg whites, along with the remaining 1/4 cup of sugar and continue to beat together until mixture becomes fluffy, glossy and stiff peaks form.
7. Spoon mixture onto a parchment lined baking sheet, into 4" rounds, 2" apart, slightly flattening the tops with the back of a spoon.
8. Bake for 1 hour and 15 minutes, then turn the oven off, open the door a crack, and allow mini pavlovas to sit in the oven for an additional hour to dry out.
9. Remove pavlovas from oven and transfer to a large platter.
10. In a mixing bowl beat together the cream, sugar and vanilla until stiff peaks form.
11. Place a large dollop of whipped cream over each pavlova and top with a few slices of prepared citrus rounds.
12. Lightly dust pavlovas with powdered sugar, top with pistachios and drizzle with honey (if using) and serve.