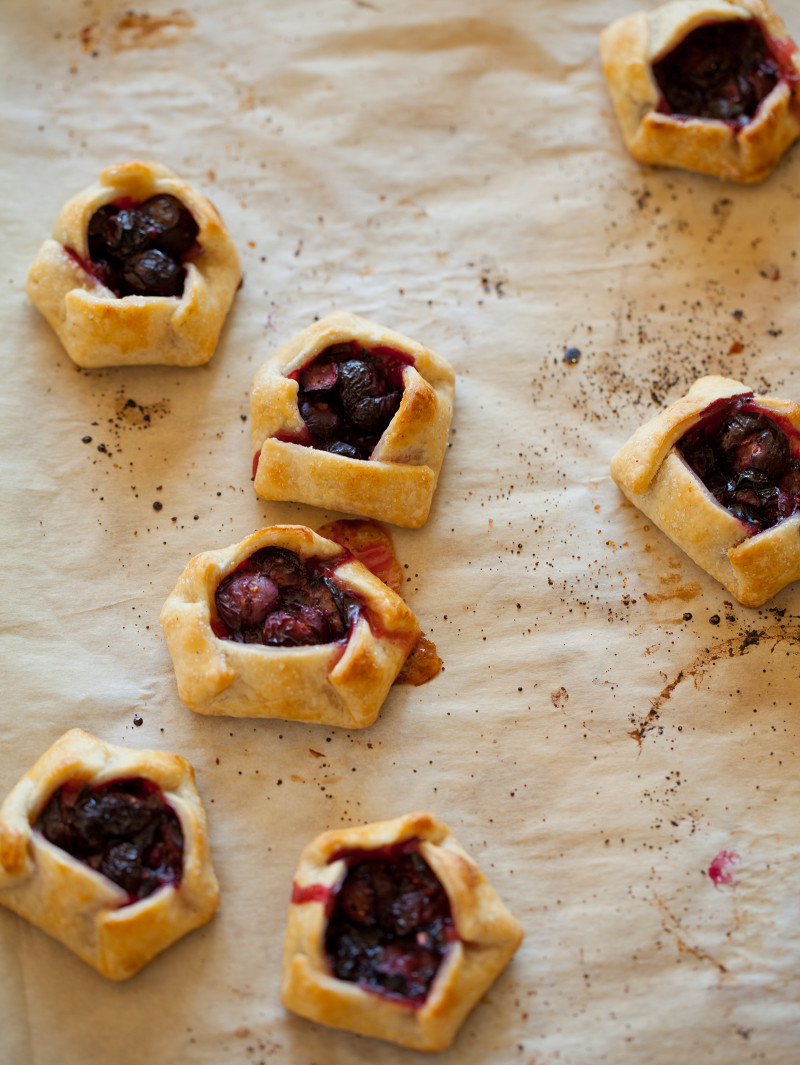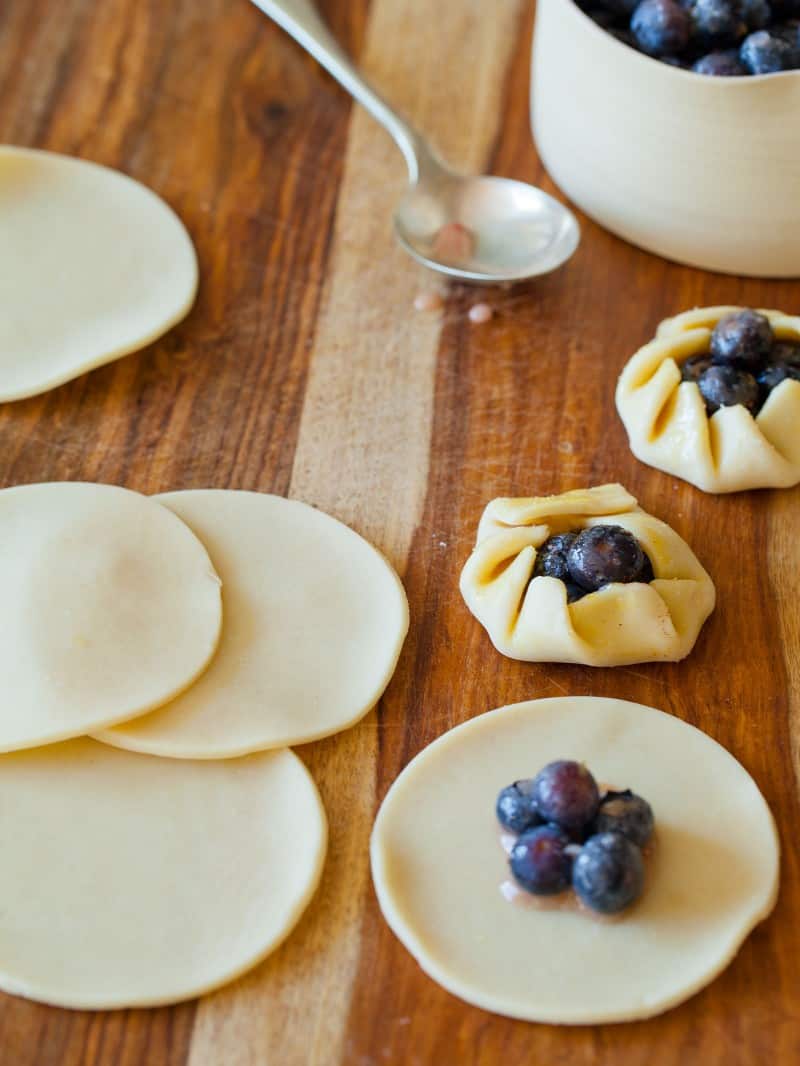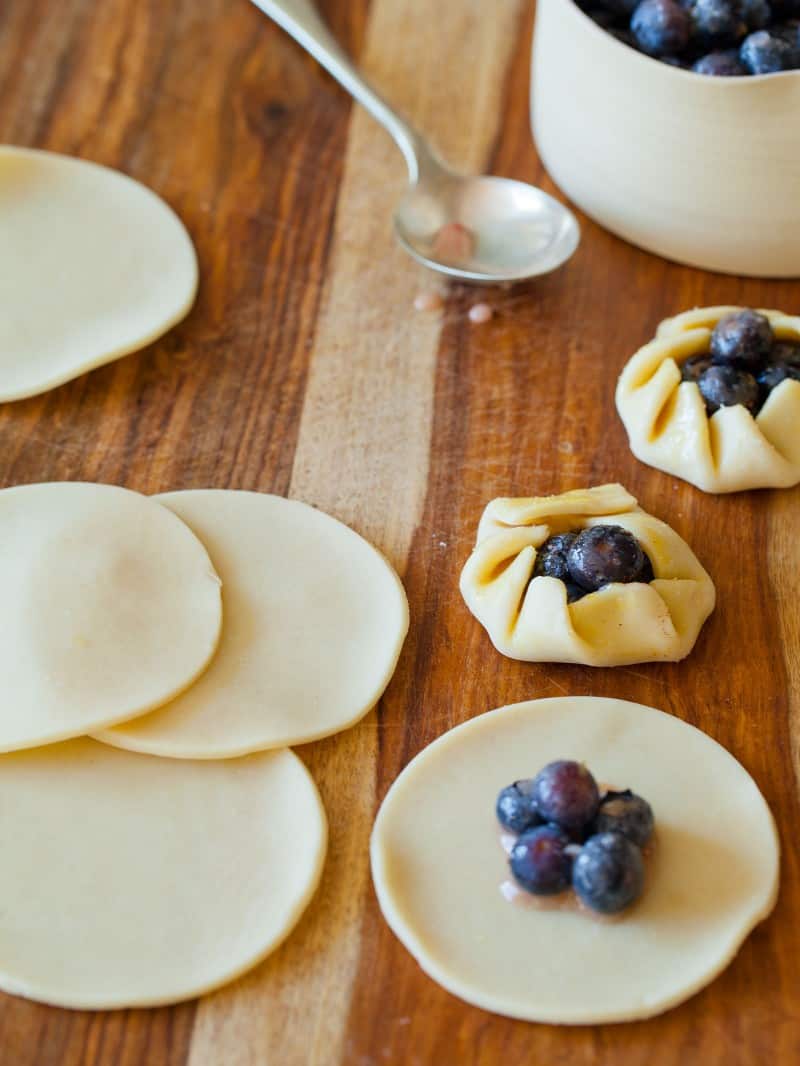 Hi Everyone! I hope you all had a fun and safe New Years! Do you all indulge in New Years resolutions? Not me. Why? Because I'm realistic. I know even if I tell myself that I'm giving up diet coke or will force myself to yoga 5 times a week…I know it's not going to happen, so why put myself through all the fuss? I'll do my usual dress up for yoga and end up sitting on the couch to catch up on housewives and continue to order menu items I know I shouldn't because my willpower  just doesn't exist.
For those of you who have made New Years resolutions and plan on keeping them, I applaud you. For those of you like me, here's an awesome dessert recipe that's also super simple to put together. When the end of summer hits I tend to go on a berry binge and freeze and preserve as many berries possible. This is a great time to take advantage of some of those frozen berries. These mini galettes are great to have in the morning with your coffee or at night, slightly warmed with a bowl of vanilla ice cream. Happy New Years! Now lets start it right by forgetting the diets and baking these awesome sweets, okay?
xx Jenny

If you love blueberries like we do, check out these other blueberry recipes: 
We also have an entire section of our site dedicated to pie and tart recipes, check it out below!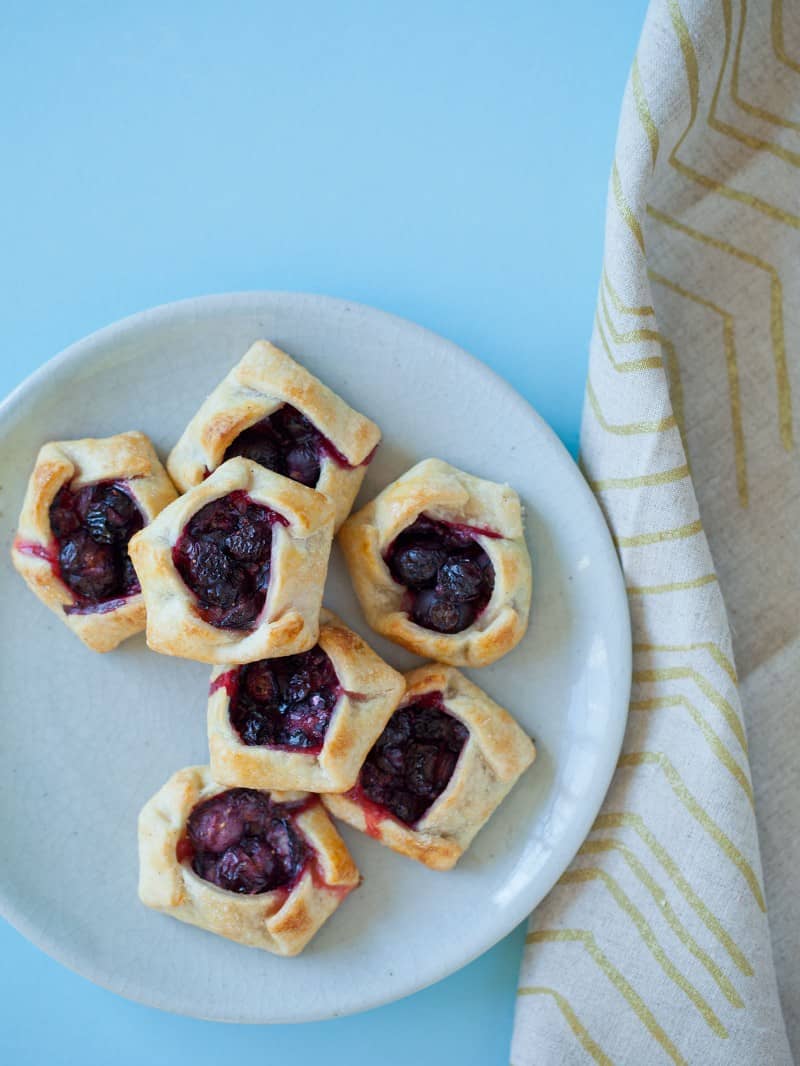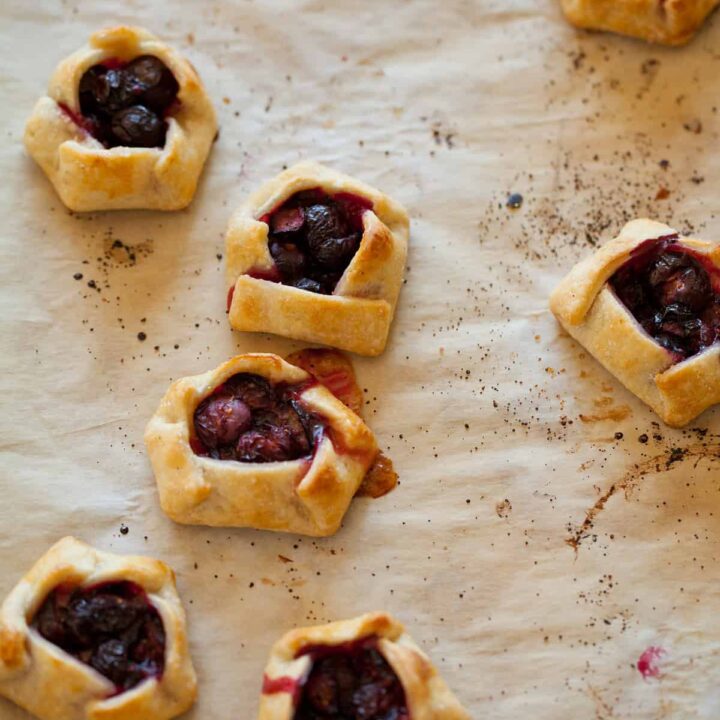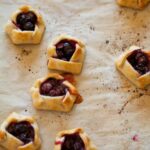 ---
Mini Blueberry Galettes
INGREDIENTS
cream cheese crust
1

cup

all purpose flour, plus more for dusting

¼

teaspoon

baking powder

⅛

teaspoon

salt

6

tablespoons

cold unsalted butter, cut into small cubes

4

ounces

cold cream cheese, cut into small cubes

1

tablespoon

cold water

1

tablespoon

apple cider vinegar
filling
8

ounces

fresh or frozen blueberries

1

lemon, zested and juiced

3

tablespoons

granulated sugar

1 ½

tablespoons

cornstarch

2

tablespoons

honey

½

teaspoon

ground cinnamon

⅛

teaspoon

ground nutmeg

⅛

teaspoon

ground clove

1

egg, lightly beaten

2

tablespoons

water

3

tablespoons

granulated sugar
INSTRUCTIONS
Sift together the flour, baking powder and salt.

Place butter and cream cheese into the bowl with the flour mixture and cut together until fully incorporated. The mixture should be evenly grainy.

Add water and vinegar and knead together until the mixture comes together and a smooth dough forms, about 2 minutes.

Pat the dough into a disc, cover with plastic wrap and chill in the refrigerator for about 30 minutes.

Place the ingredients for the filling into a mixing bowl and gently stir together until well combined and the blueberries are well coated.

Once the dough has chilled, place it onto a lightly floured surface and roll out until ¼ inch thick. Using a 2 ½ to 3 inch circle cutter cut out as many circles possible, about 14.

Re-roll the scraps and make more circles.

Whisk together the egg and water and brush a thin layer over each disc. Place 2 teaspoons of the filling into the center of each disc of dough and fold the sides towards the center, until all the sides have been tucked in.

Brush the tops of the dough with egg wash and sprinkle with a small amount of sugar.

Place the mini galettes onto a baking sheet, lined with parchment, and bake for 11 to 13 minutes or until golden brown.

Allow the glaettes to cool slightly before serving.