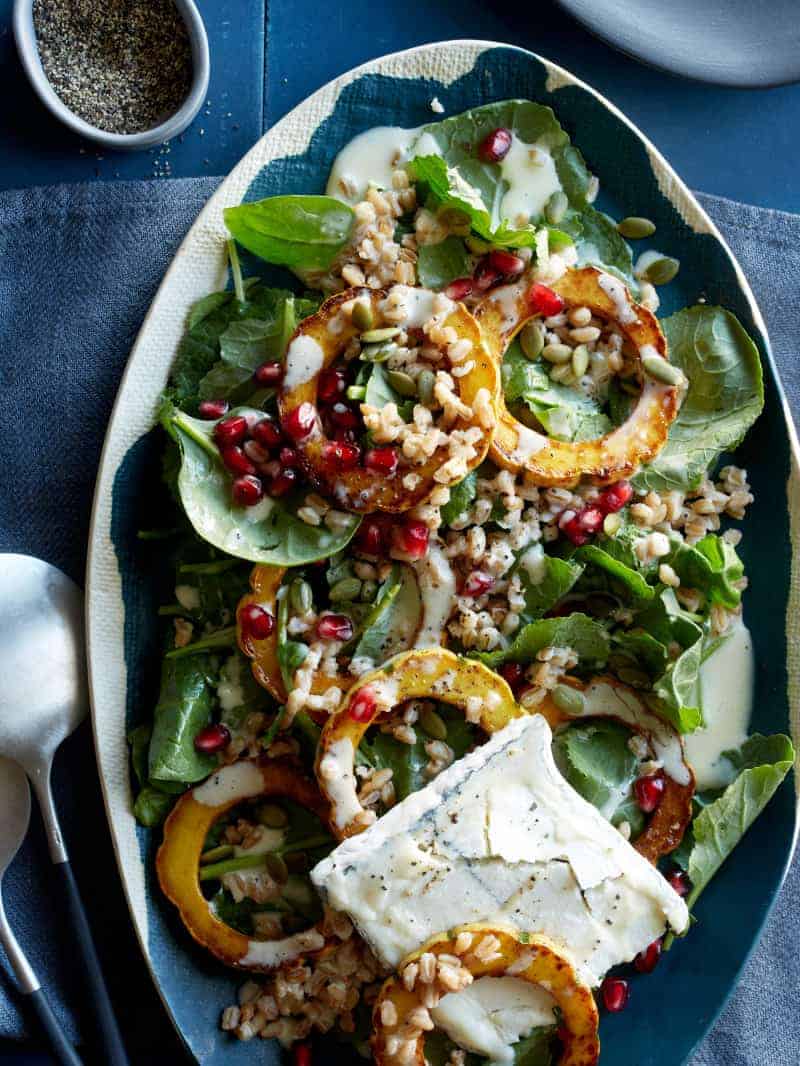 I hope everyone has been enjoying this holiday season and had a great weekend celebrating with fun winter festivities! As we get closer to the New Year, it's about time we started thinking about "rebooting" our systems, both physically and mentally. I really like to ease into the New Year. I know a lot of smoothies, smoothie bowls and salads start to pop up right on Jan 1 every year, but I just can't do that. I can't pretend that I'm suddenly going to go from eating my weight in carbs for the last 2 months to suddenly eating no carbs and sucking down nothing but fruits and veggies…that's just not realistic for me. I mean I totally wish it were, but it's not.
So we have a salad for you today that's very good for you, but still loaded with lots of yummy things as well. This salad will make you feel like you're eating a huge meal instead of a plate of light greens, but won't leave you feeling sluggish and tired. I love eating this salad for when I want to very slowly ease back into "non-winter body" situations, lol. Enjoy! xx, Jenny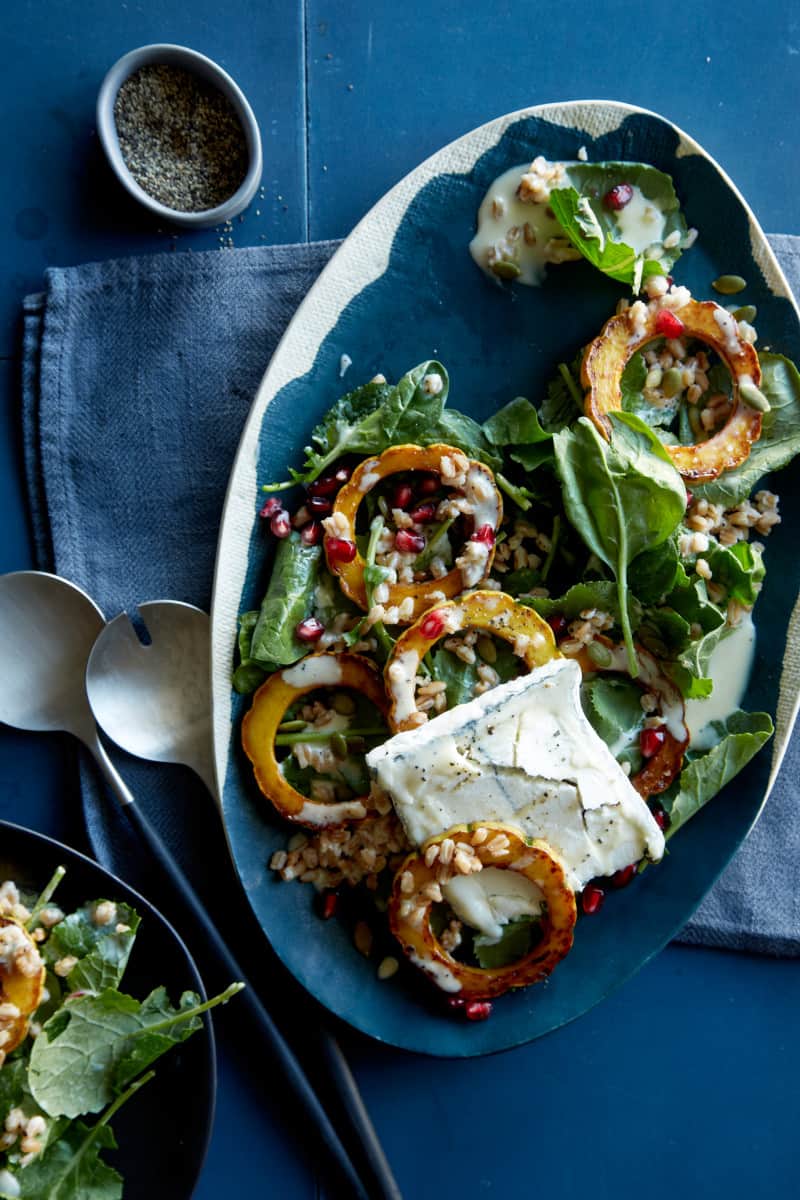 Loaded Winter Salad with Humboldt Fog
Serves 4
Ingredients:
creamy poppy seed vinaigrette:
1 egg, lightly beaten
1/3 cup apple cider vinegar
3 tablespoons honey
2 tablespoons Dijon mustard
1/2 teaspoon ground ginger
1 teaspoon minced shallot
1/2 cup safflower oil (or another light, neutral flavored oil)
1/4 cup extra virgin olive oil
1 tablespoon poppy seeds
salt and pepper to taste
12 ounces baby kale
1/2 delicata, cut into 1/2 inch slices, seeded and roasted
1 cup cooked farro
1/2 cup toasted pepitas
1/2 cup pomegranate seeds
4 (1/2 ounce) slices Humboldt fog cheese
Directions:
1. For vinaigrette: Place the egg and 1/2 the vinegar in a blender and blend until smooth. With the motor running, drizzle in the safflower oil until fully incorporated and the mixture emulsified. Add the remaining ingredients, except the olive oil and poppy seeds and blend until smooth. With the motor running again, drizzle the remaining oil into the blender until fully incorporated. Stir in the poppy seeds and season with salt and pepper.
1. To assemble: Pour 1/3 of vinaigrette into the bottom of a large mixing bowl and add baby kale and farro. Toss together until well coated. Divide mixture among 4 plates and top each with a couple slices of squash, some pepitas, pomegranate seeds and a slab of cheese. Season with salt and pepper and serve.