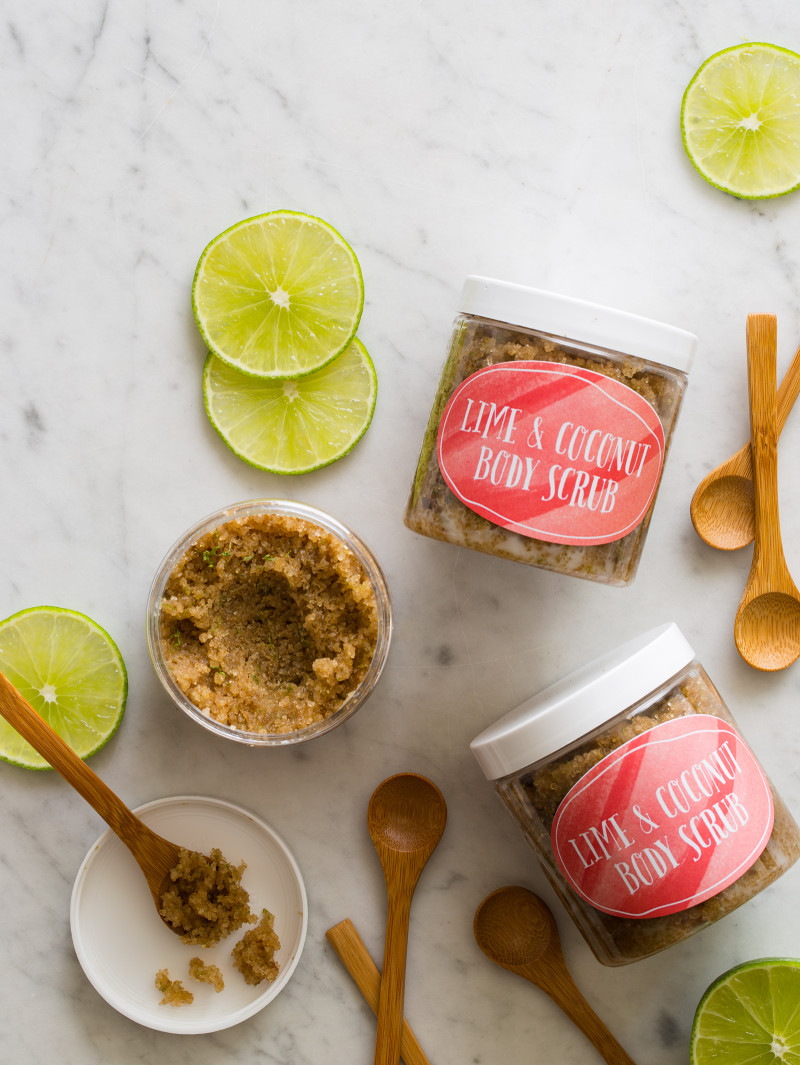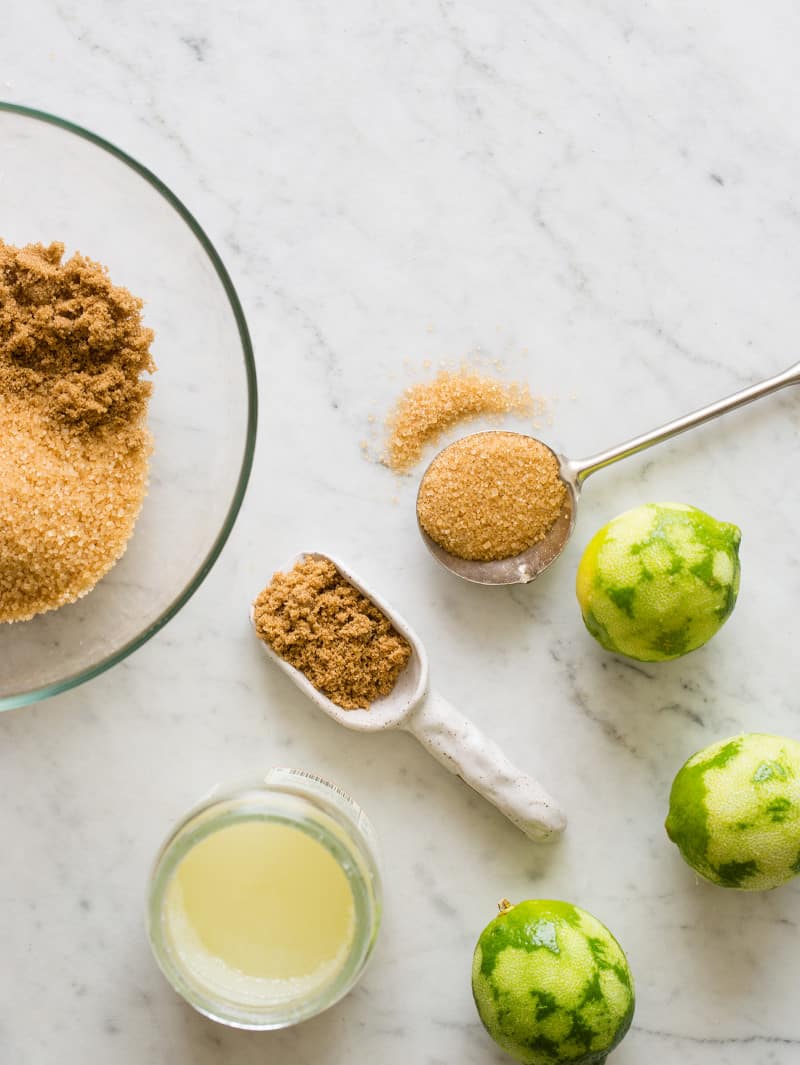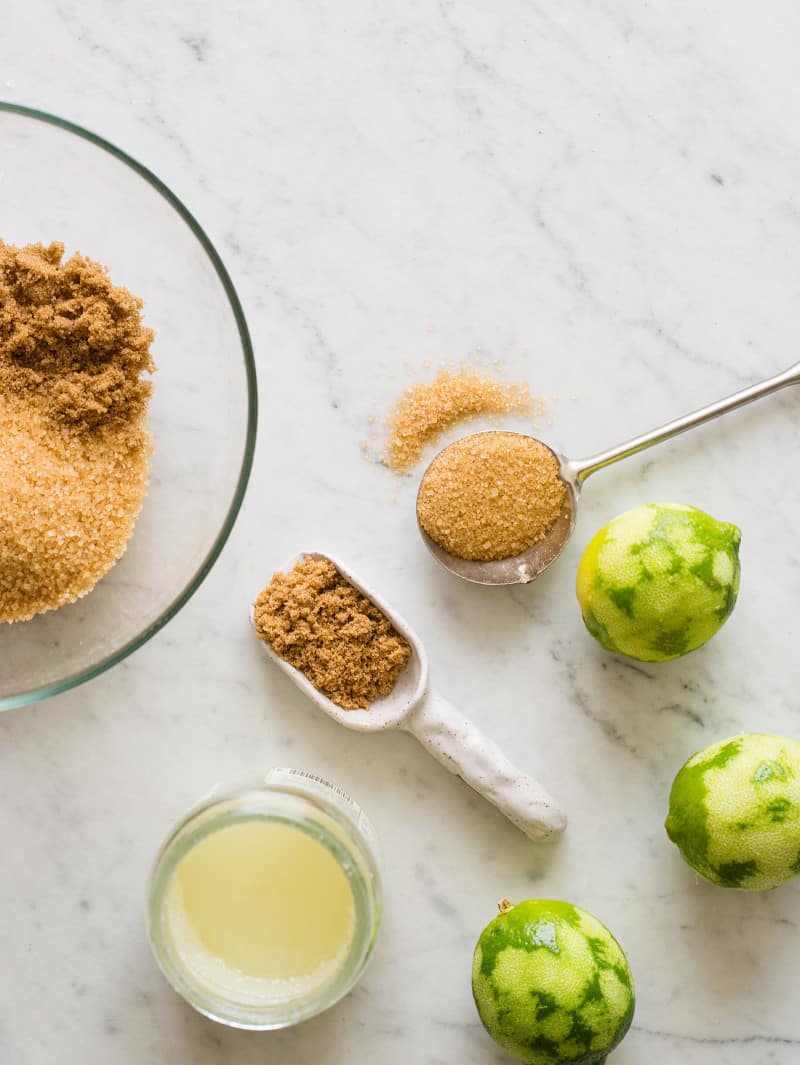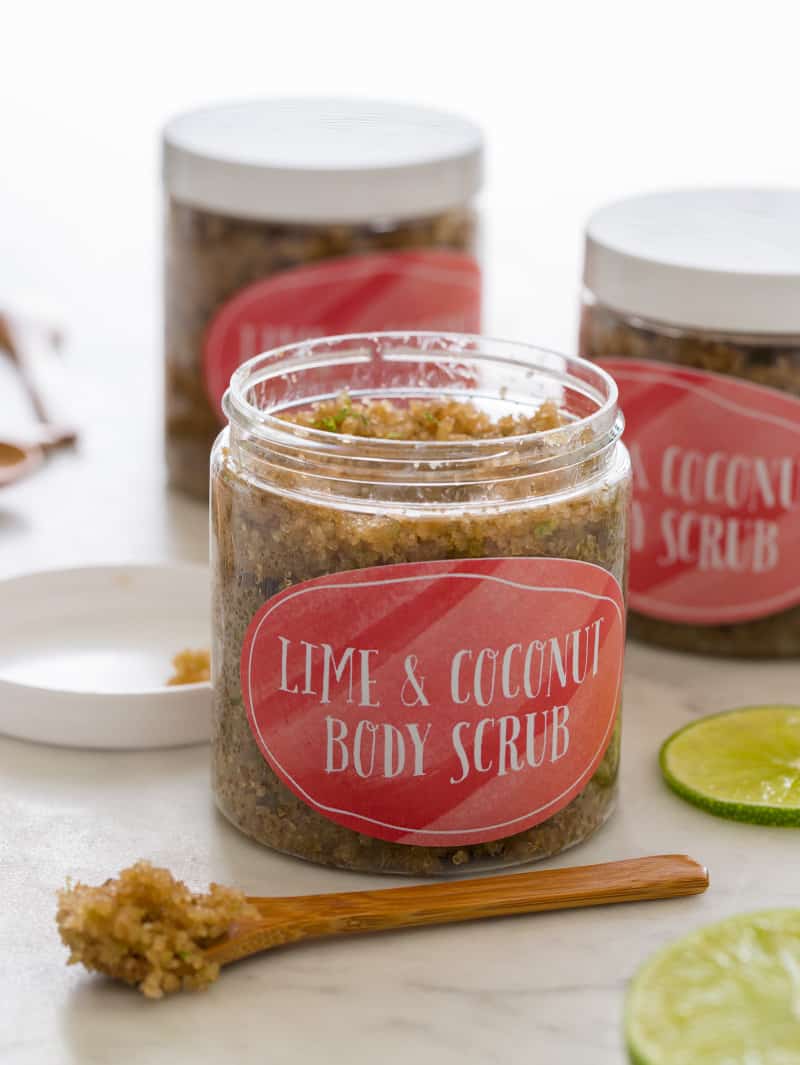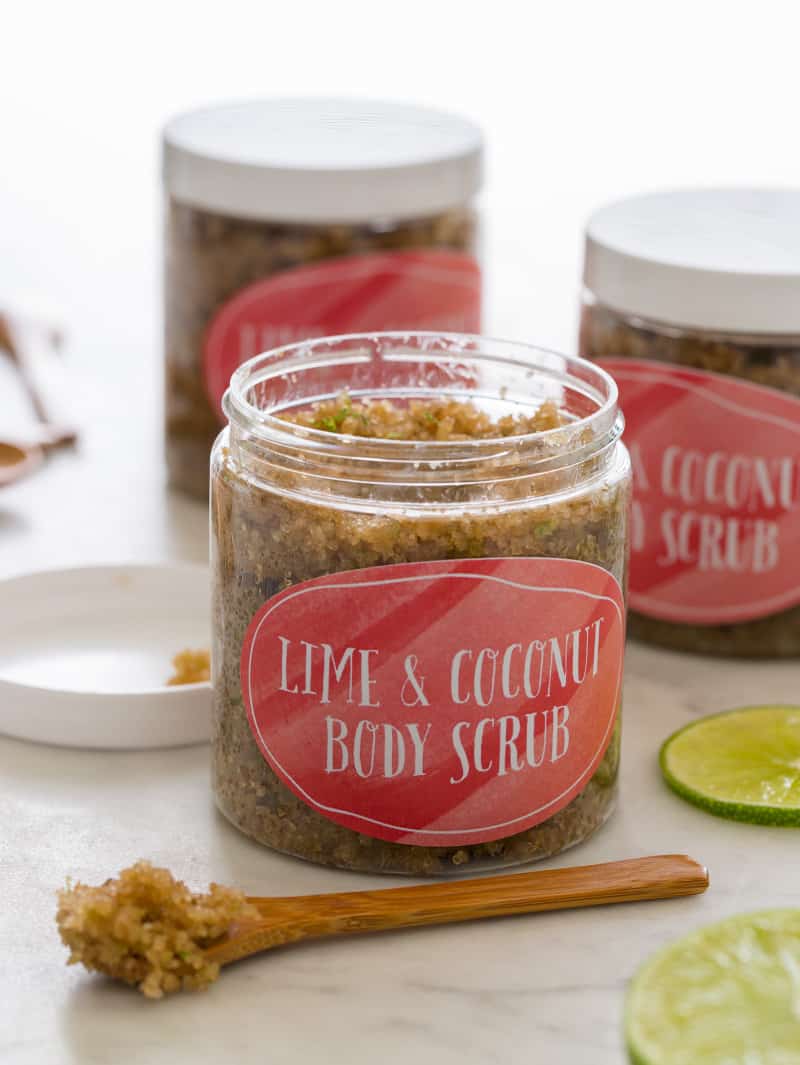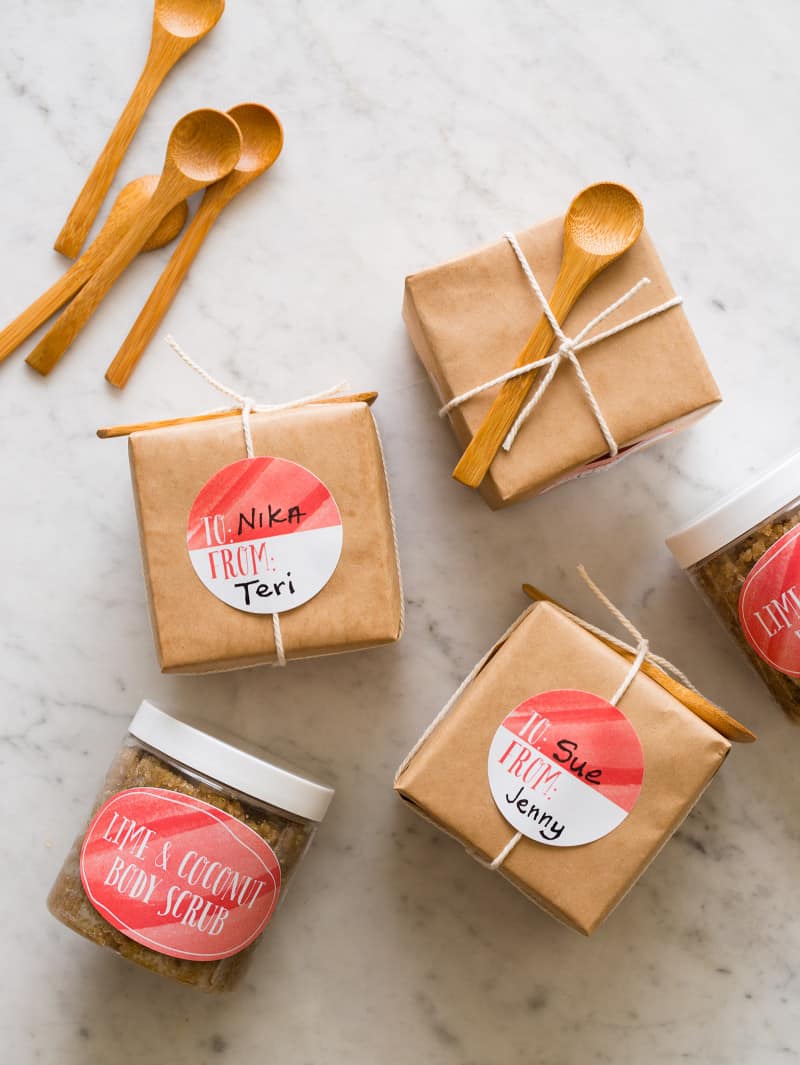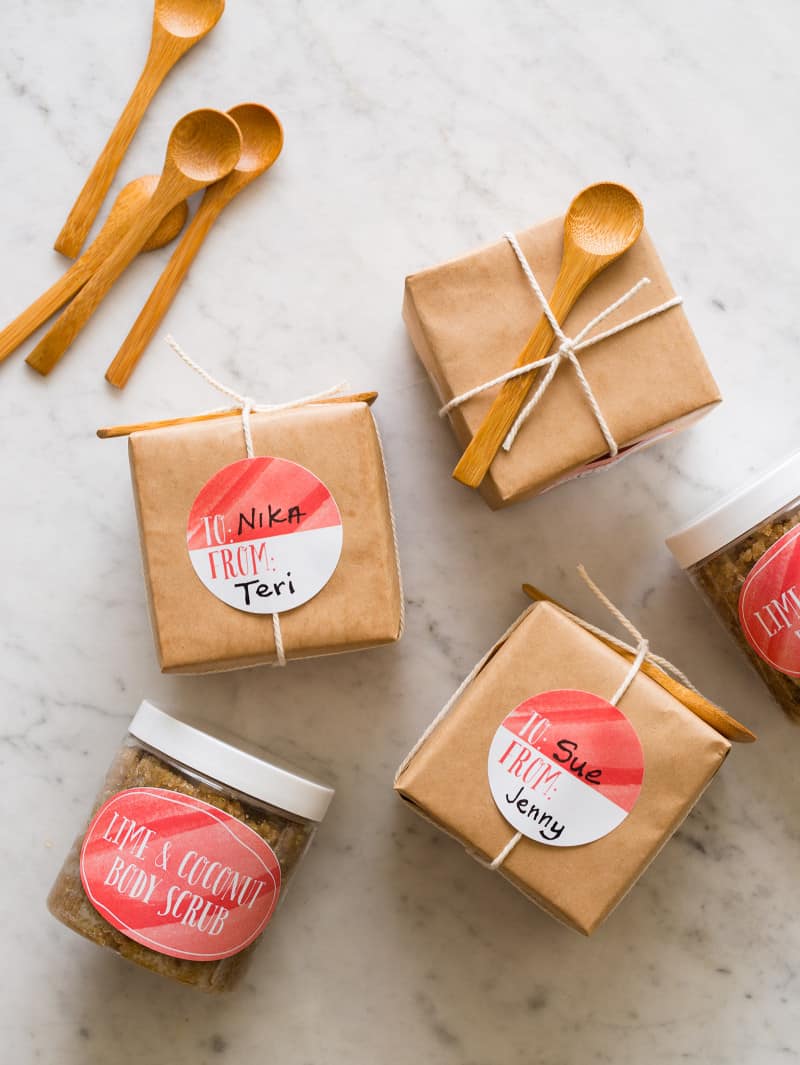 Hi Guys! Today we have another fun DIY holiday gift…a Lime-Coconut Body Scrub! I love this scrub so much, it's simple to make, smells delicious and is great for your body! It's an all in one nourishing, moisturizing and exfoliating scrub. It only takes a few ingredients to make this scrub (plus the process is super simple) and it's a really fun homemade holiday gift to give to friends and family. I love the combination of lime and coconut although the lime definitely dominates in this scrub. I also love using both coconut oil and avocado oil on my skin and in my hair in general. They both do wonders to your skin, and combining them with a mixture of coarse turbinado sugar and fine dark brown sugar makes a perfectly balanced and revitalizing scrub!
We don't only use a combination of coconut oil and avocado oil because of their awesome skincare benefits, but also because coconut oil solidifies at about 75˚F or below and the addition of another oil prevents this from happening. We like this because we like our scrubs fairly wet, but if you're someone who thinks scrubs tend to feel 'greasy' then we recommend either scaling the amounts of oil down by 1/3 to 1/2 OR cutting the avocado oil out completely so that the scrub itself solidifies as it sits, but once heat is added to it it's easy to scoop out and use with less of a 'slick' feeling. If you don't want to splurge on avocado oil as it can get be a little expensive, feel free to use a light olive oil (extra virgin olive oil, while rich in nutrients and great for your skin, is a little heavy for this scrub).
We love using a mix of turbinado sugar with dark brown sugar because We love the extra coarse texture of the turbinado mixed with the fine graininess of the brown sugar. It also makes for maximum exfoliation, we thinks. Just a small note that when we photographed these, I didn't add quite enough avocado oil to the mix and my scrub solidified (still not a bad thing though!). The recipe I've given will actually result in a much more moist and dark scrub with a small amount of 'excess' oil sitting at the top, which is how I originally intended the scrub to look like!Either way, make it how you like it!
We made some cute labels to go with our body scrub because they make such awesome gifts. We made labels for the jar themselves, and for packaging. We made some extra holiday labels that you don't see in the image just for fun:



We also love giving little spoons with our body scrub. We found our tiny bamboo spoons on amazon right here. The jars we used were 8 oz plastic jars we found on amazon, unfortunately it seems to be out of stock, but any 8 oz jar will do. In fact, it doesn't have to be 8 ounces at all, it could be any size.
You can find the Lime and Coconut Body Scrub Labels right here, and the holiday labels right here! For the Lime and Coconut Body scrub labels we used Avery Oval Labels. For the holiday labels we used Avery Round Labels. All you need to do in download the label designs and go to avery.com/print to print them out!
I'm so excited about this scrub and definitely plan on making a huge batch later this week to hand out to my own family and friends! Enjoy!  xx, Jenny
[print]
Lime-Coconut Body Scrub
Makes 4 cups
Ingredients:
1 cup coconut oil, liquefied
1/2 cup avocado oil
3 cups turbinado sugar
1 cup dark brown sugar
zest of 4 limes
1. In a small bowl whisk together coconut and avocado oils.
2. Pour all ingredients into a large mixing bowl and stir together until sugars and zest are fully saturated and the mixture has been evenly combined.
3. Scoop into small jars and tightly seal. Scrub will stay fresh for 2 to 3 months.
[/print]