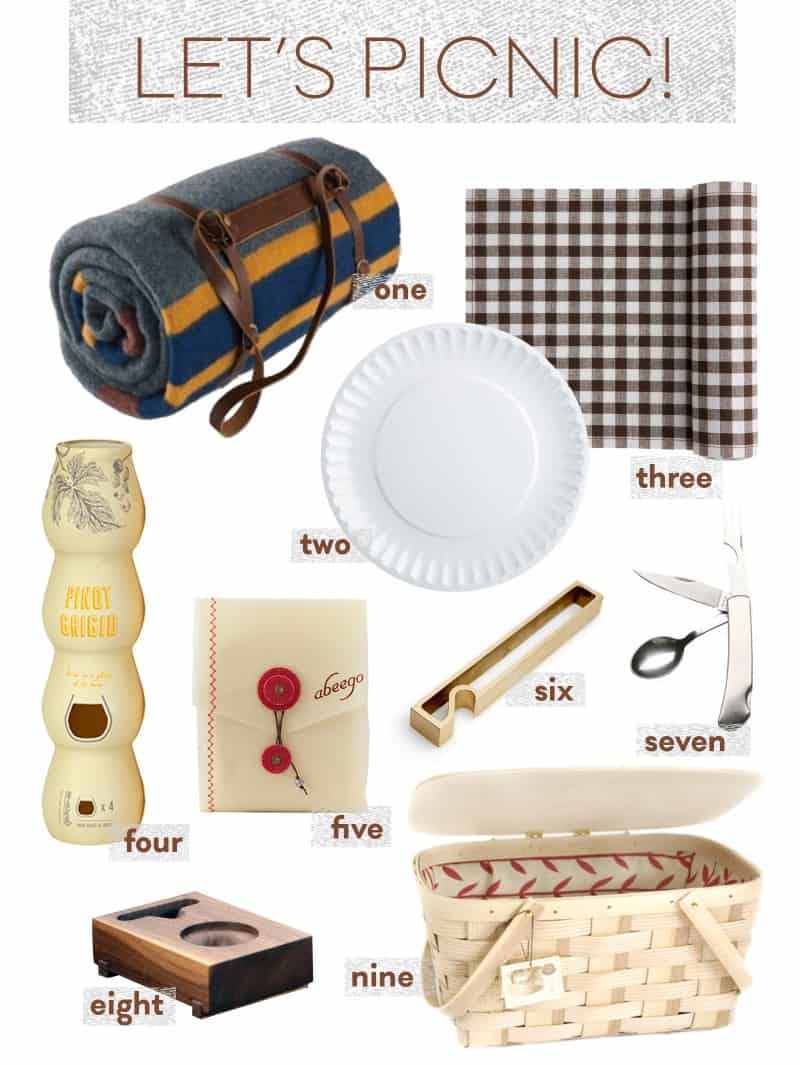 Let's picnic! Whenever I think about summer coming along I think about how I want to get my picnic situation handled. I guess I dream of perpetually picnic-ing and having all the stuff I need be cute and functional. So I have created this roundup of my ideal picnic items. Complete with pre packaged glasses on wine (four, super cool right?!), and a no battery beautiful speaker for my iphone so I can play my hipster tunes (eight). I think my favorite thing are the reusable food storage bags (five). Seriously, could they be any more neat!?!? If I brought my lunch to work everyday those would be a staple for me.
You may have noticed we have been posting some sandwiches recently that are perfect for picnics, like our Bocadillo Bites, and our giant Fried Chicken Sandwich. Some other recipes to consider might be our Warm German Potato Salad, Watermelon Feta and Crispy Pork Belly Salad, Apple Thyme Cake, and our Sweet Cherry Ginger Spiked Soda.
Here's where to get the goods:
one – Leather Blanket Carrier. two – 'Paper' Plate. three – Gingham Tear Off Napkins. four – Stack Wine. five – Abeego Food Storage Reusable Food Storage. six – Brass Bottle Opener from Poketo. seven – Hobo Knife from Best Made. eight – Mini Koo IPhone Speaker from Koostik. nine – Peterboro Picnic Basket.
Now go get out there and picnic!
♥ Teri