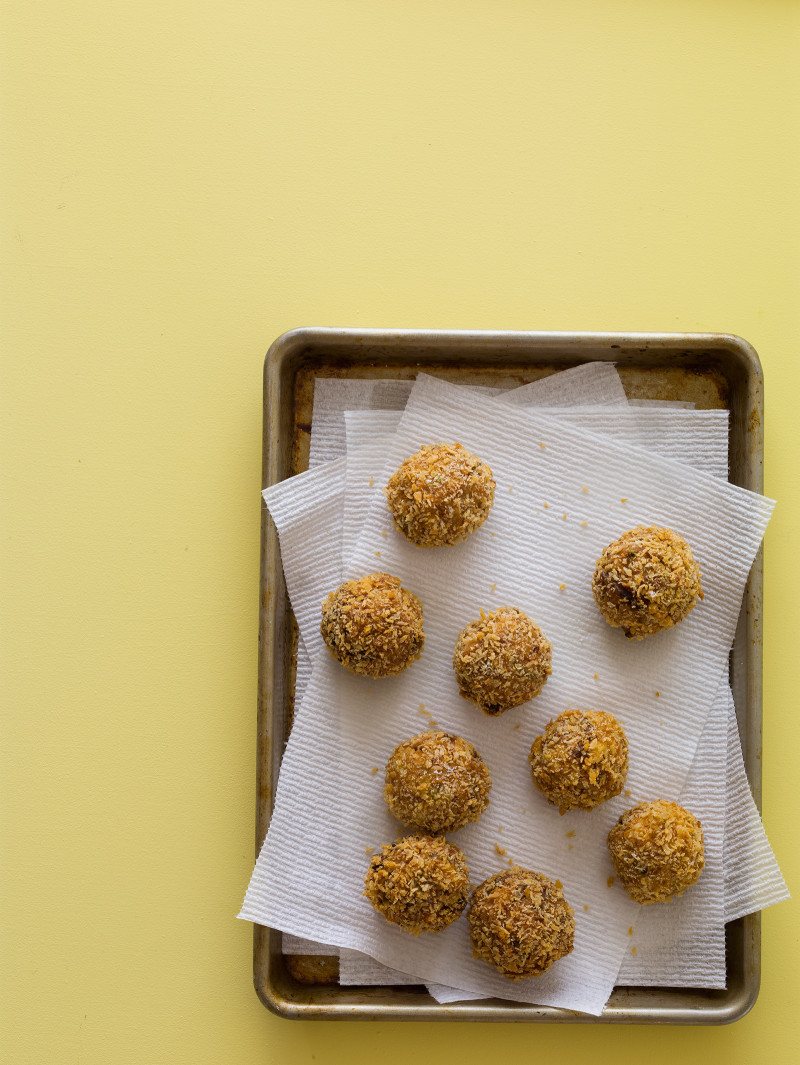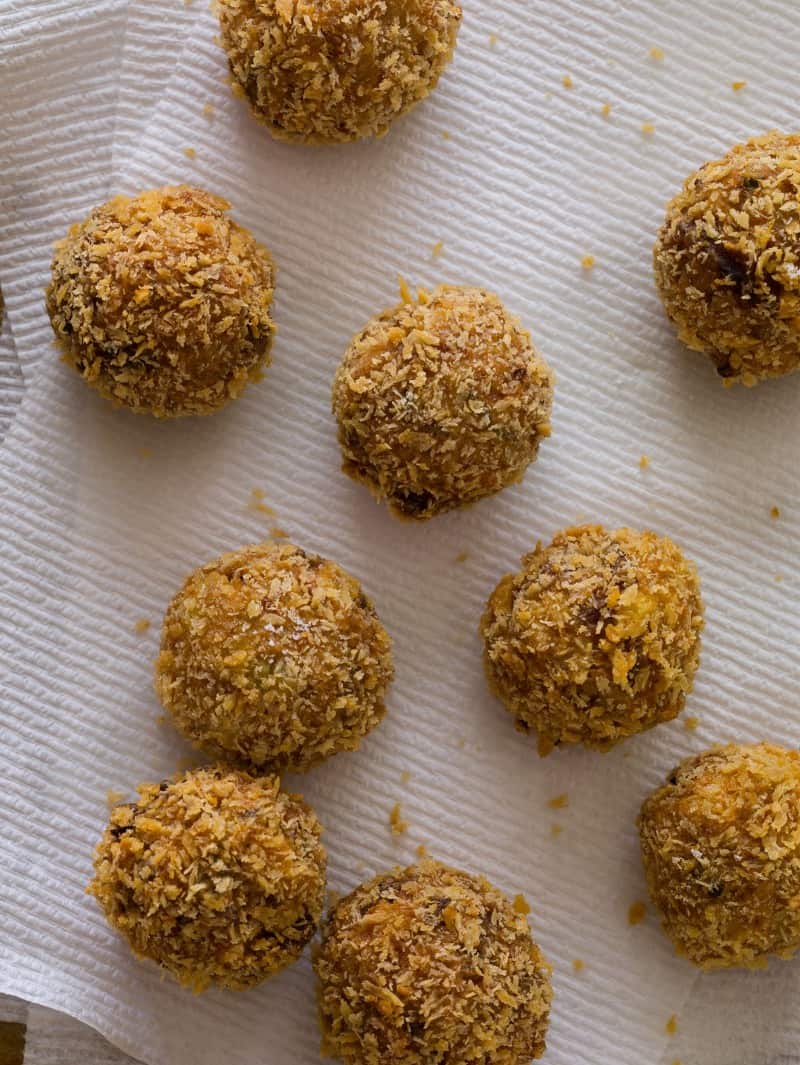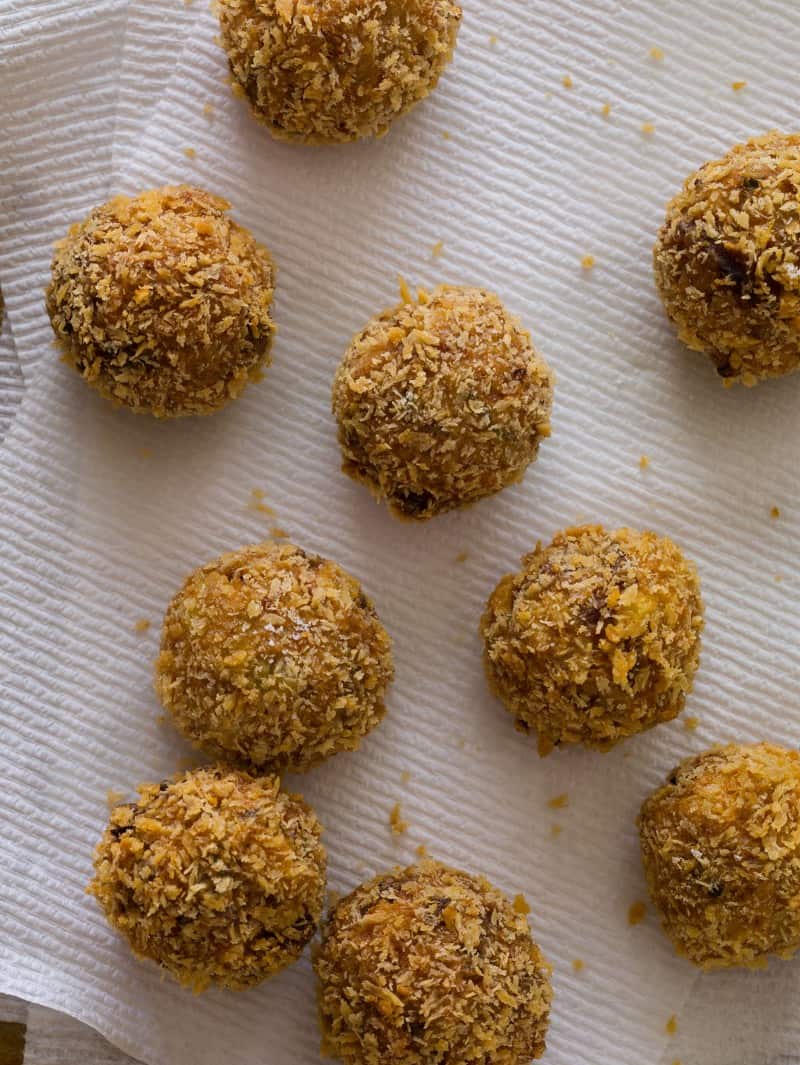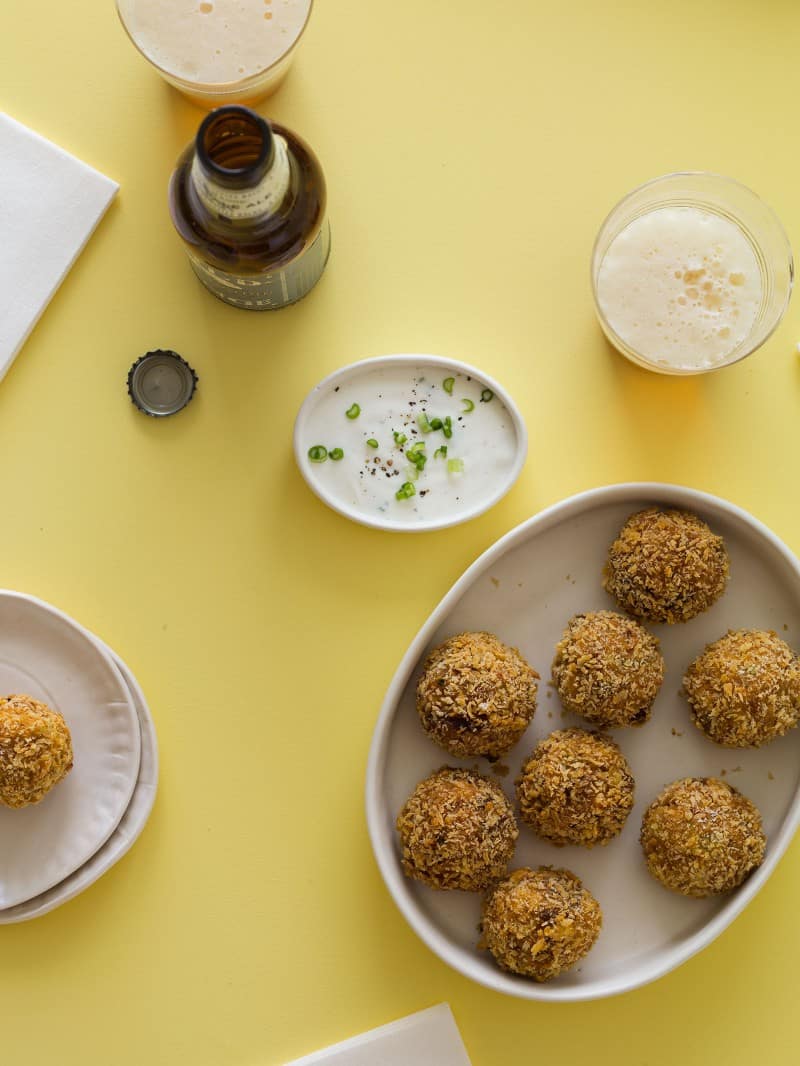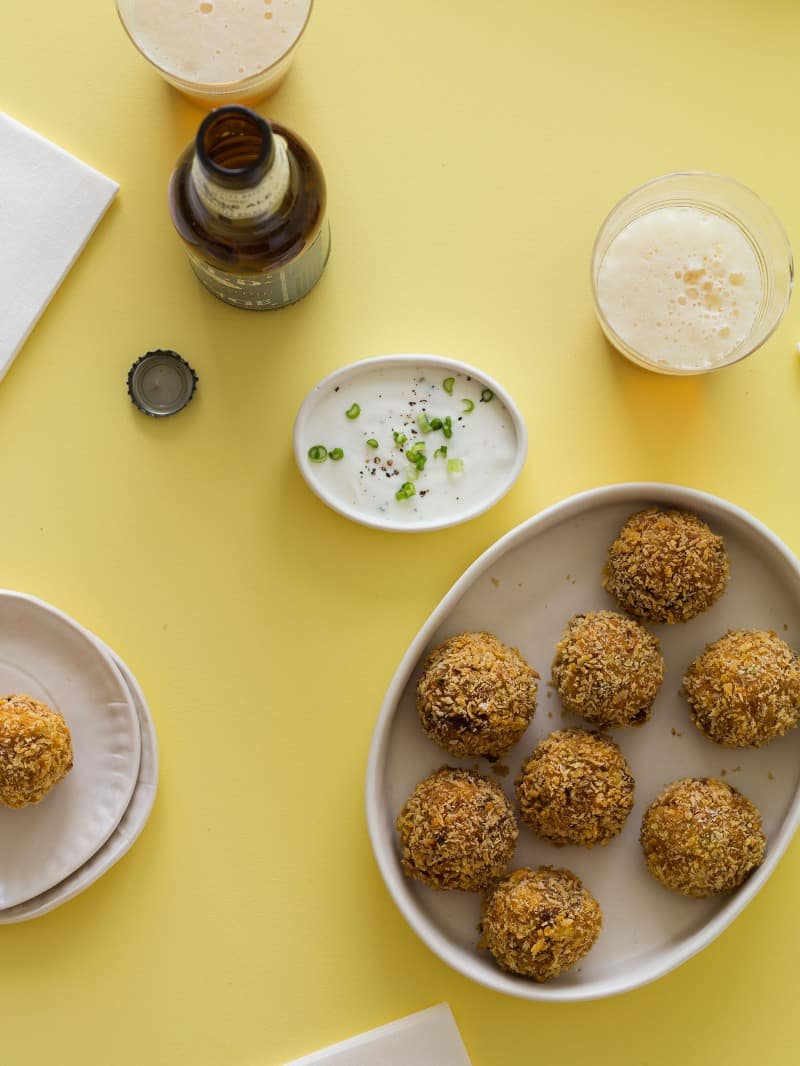 Hey Guys! Is everyone getting ready for the super bowl?? As usual we're both getting ready and excited for the fun food that usually comes along with this "holiday" sort of day….not so much the game, sorry! We feel like we've been doing pretty well with keeping ourselves somewhat in check with the cheeseburgers, hot dogs, tater tots, and so on so just like we did this past friday, we're treating ourselves again with these, Fried Pork Belly and Kimchi Fried Rice Balls. The idea for these actually came from the yummy eatery in LA, Seoul Sausage. This place serves up some unique Korean style fusion snacks such as Galbi Poutine, a variety of awesome and unique sausages and these fried balls. :) If you haven't had a chance to try any of their food we recommend it..go with a big appetite though as you'll want to eat everything on the menu and the items are pretty filling. Our fried balls are filled with a Korean style pork and kimchi fried rice and lightly coated and fried in a crisp panko breading. These balls pack tons of delicious and intense flavor, but if the heat is a bit much for you, cool them down by dipping them in our garlic-green onion aioli! Balance, people!
More recipes you might enjoy: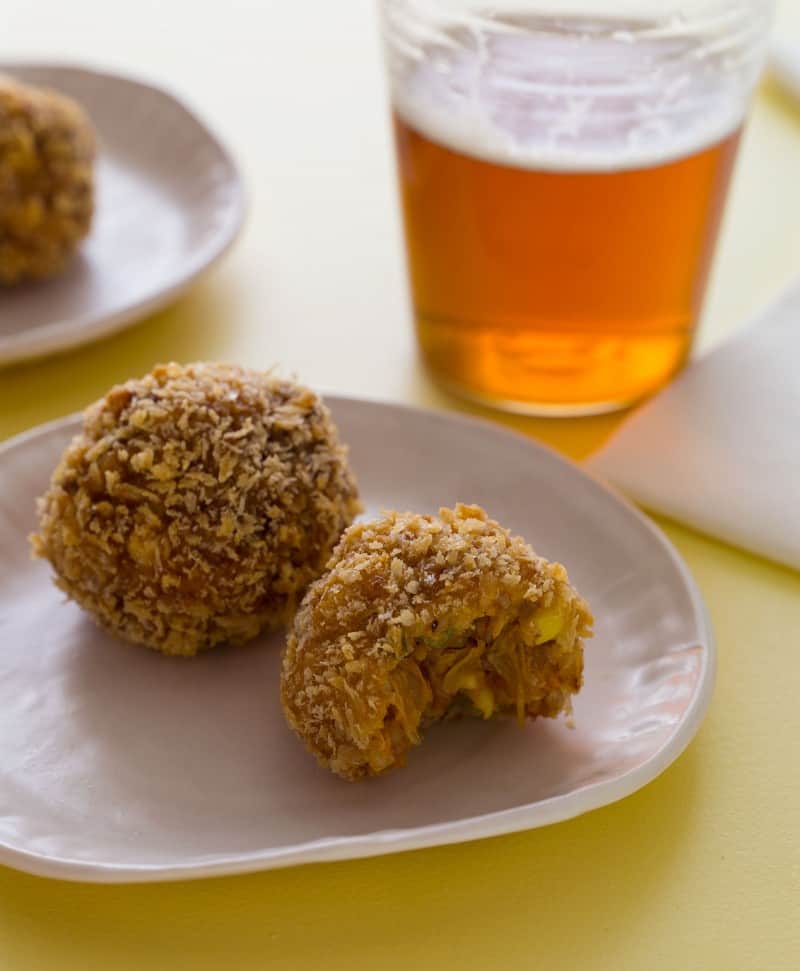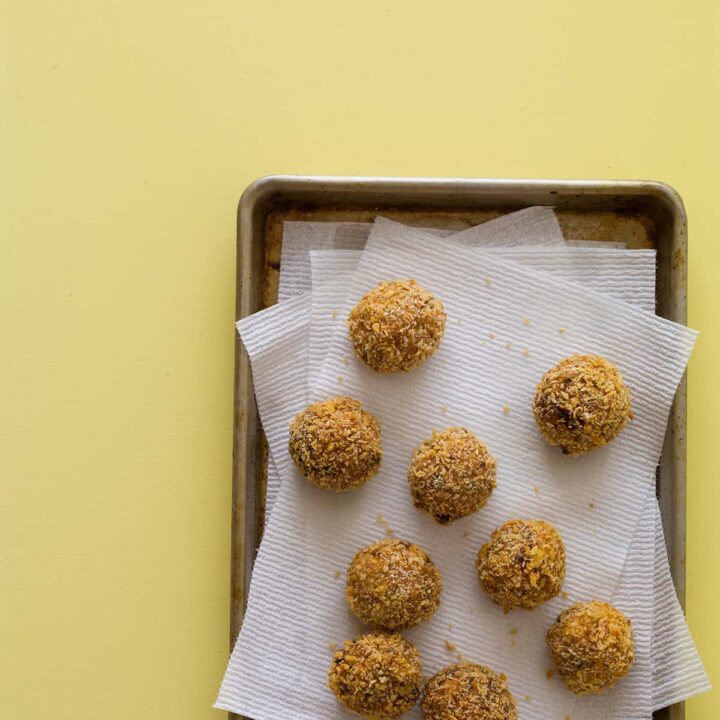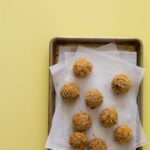 ---
Kimchi Fried Rice Balls with a Garlic and Green Onion Aioli
INGREDIENTS
garlic-green onion aioli
4

cloves garlic, blanched

2

green onions, roughly sliced

⅔

cup

crème fraiche

2

tablespoons

mayonnaise

½

lime, juiced

salt and pepper to taste
pork marinade
3

tablespoons

gochujang (Korean chili paste)

1

tablespoon

granulated sugar

1

tablespoon

rice wine vinegar

1

tablespoon

(low sodium) soy sauce

1 ½

teaspoons

sesame oil

½

pound

diced pork belly

1 ½

tablespoons

vegetable oil
assembly
1

recipe

kimchi fried rice

1 ½

cups

all purpose flour, divided

3

eggs, divided

1

cup

panko breadcrumbs

salt and pepper to taste

vegetable oil for frying
INSTRUCTIONS
For aioli: Place garlic and green onions into the work bowl of a food processor and pulse 5 times. Add the remaining aioli ingredients and process until almost smooth. Season with salt and pepper and stir. Set aside until ready to use.

Place all pork marinade ingredients into a bowl and whisk together until fully combined. Add pork and toss together until completely coated. Allow mixture to marinate, about 15 minutes.

In a large wok or sauté pan add oil and place over high heat. Cook pork for 2 to 3 minutes and drain onto paper towels.

Make fried rice and fold pork belly into mixture. Place the pork fried rice into the refrigerator until chilled, about 2 hours.

Once the rice has chilled, stir in ½ cup of flour and 1 egg until completely combined.

Place remaining flour, eggs (lightly beaten) and panko in three separate shallow dishes. Take 2 ½ to 3 tablespoons of the rice mixture and gently form into a ball.

Carefully dredge the ball in the flour, followed by the eggs and finally the panko until completely coated, shaking off any excess. Place breaded ball onto a parchment lined baking sheet and repeat until all the rice mixture has been used. Place the baking tray in the freezer and freeze balls for about 1 hour.

Fry balls in the oil, a few at a time, for about 4 to 5 minutes or until golden brown. Drain onto paper towels and season with salt and pepper. Repeat until all balls have been fried. Serve immediately with aioli.
NOTES
*Makes 24 to 28 Rice Balls