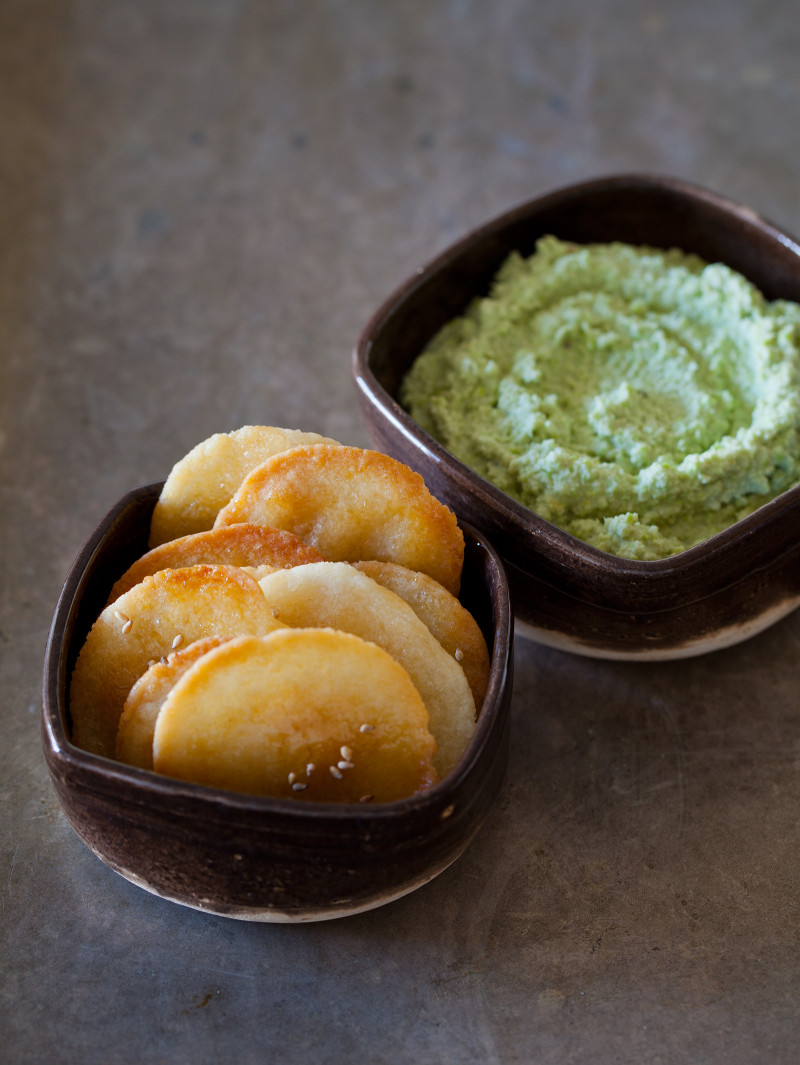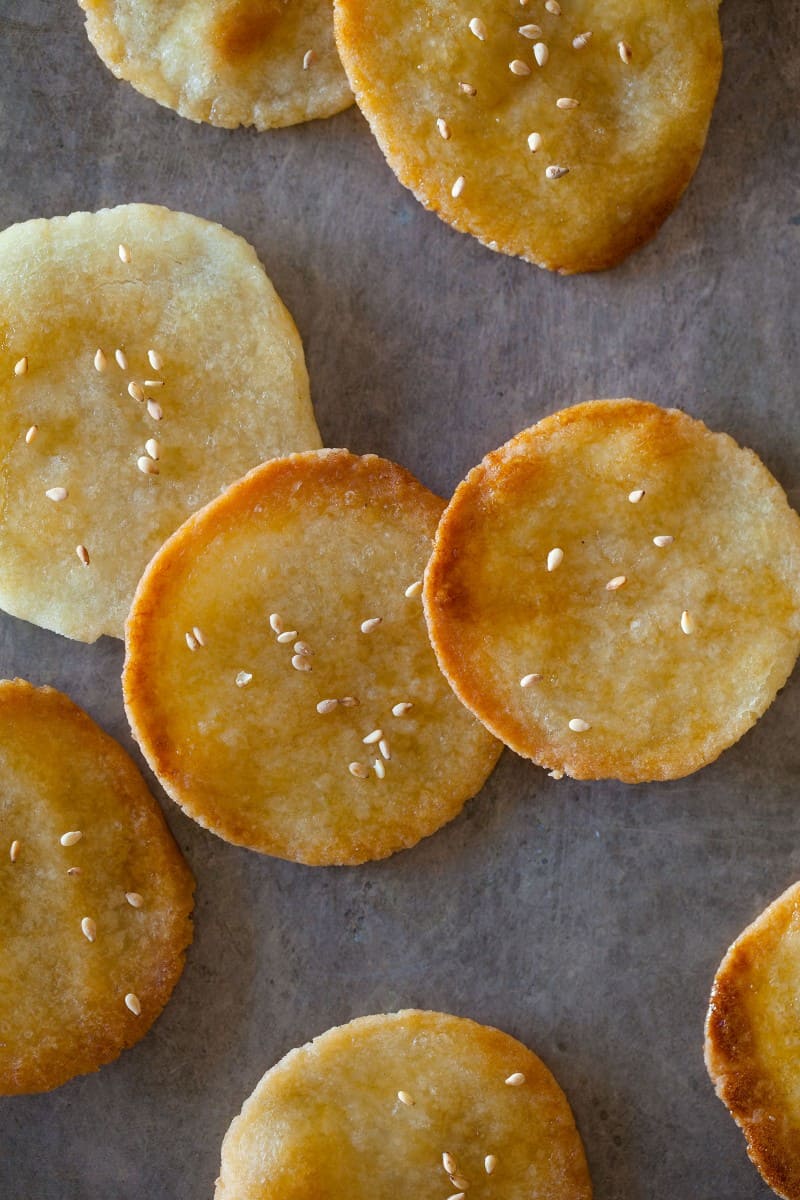 Hi. I hope you all had a nice Valentines day. I did. I went to eat at a place in Hollywood, you know the places with prix fixe menu. So you basically get decisions forced upon you. It was nice though. At dessert the dude at the table next to us began to eat part of the "dessert for two," and in a perfect moment, where our conversation had a pause, and the music stopped, we overhead him loudly exclaim that it tasted like diapers. We burst into laughter. He tried to save his comment by then explaining he used to change his nephews diapers. It didn't work. In case you were wondering, yes, somehow the panna cotta we got served totally tasted like diapers. I'm not sure what they were going for, but it wasn't good.
So now that we are done with fried foods, and valentines foods, we thought we would start with this light Edamame dip that is paired with Japanese Crackers. It makes a really great snack. You could also just prepare the Edamame Dip and use it as a simple spread on toast, or anything really. Enjoy!
♥ Teri
Edamame Dip with Homemade Japanese Rice Crakers (Senbei)
Serves 4 to 6
Ingredients:
edamame dip:
12 ounces steamed and shelled soy beans
3 tablespoons red onion, diced
1 tablespoon red miso
1 garlic clove
½ bunch cilantro leaves
2 teaspoons sesame oil
2 teaspoons red chili sauce preferably Sambal
¼ cup extra virgin olive oil
salt and pepper to taste
Japanese rice crackers:
2/3 cup sweet rice flour (Mochiko)
¼ cup cooked white rice
2 tablespoons plus ½ teaspoon salad oil
½ teaspoon salt
5 tablespoons water
3 tablespoons honey
2 tablespoons low sodium soy sauce
1 ½ tablespoons toasted sesame seeds
optional:
2 tablespoons shredded nori
Directions:
1. For edamame dip: Place soy beans, red onion, miso, garlic, cilantro, sesame oil, and chili sauce into a food processor and pulse 10 times. With the motor running, add olive oil in a steady stream until fully incorporated and the dip is smooth. Season with salt and pepper.
2. For senbei crackers: Preheat oven to 350°F. Place rice flour, cooked rice, oil, and salt (and nori, if using) in a food processor and pulse 5 times. With the motor running, add the water until a dough forms.
3. Turn onto a clean surface and knead for 2 minutes. With wet hands, roll tablespoon sized balls and place between two sheets of plastic wrap or inside a Ziploc bag. Using the back of a glass press ball until flat (super flat).
4. Place discs onto a lightly greased baking sheet and bake for 4 to 5 minutes. Flip crackers and bake for an additional 3 to 4 minutes. In a small bowl whisk together soy sauce and honey. Brush sauce onto the tops of crackers and place back into oven and top with sesame seeds. Place crackers back into oven. Turn oven off and allow crackers to dry, 10 to 12 minutes. Remove from oven and serve with edamame dip.