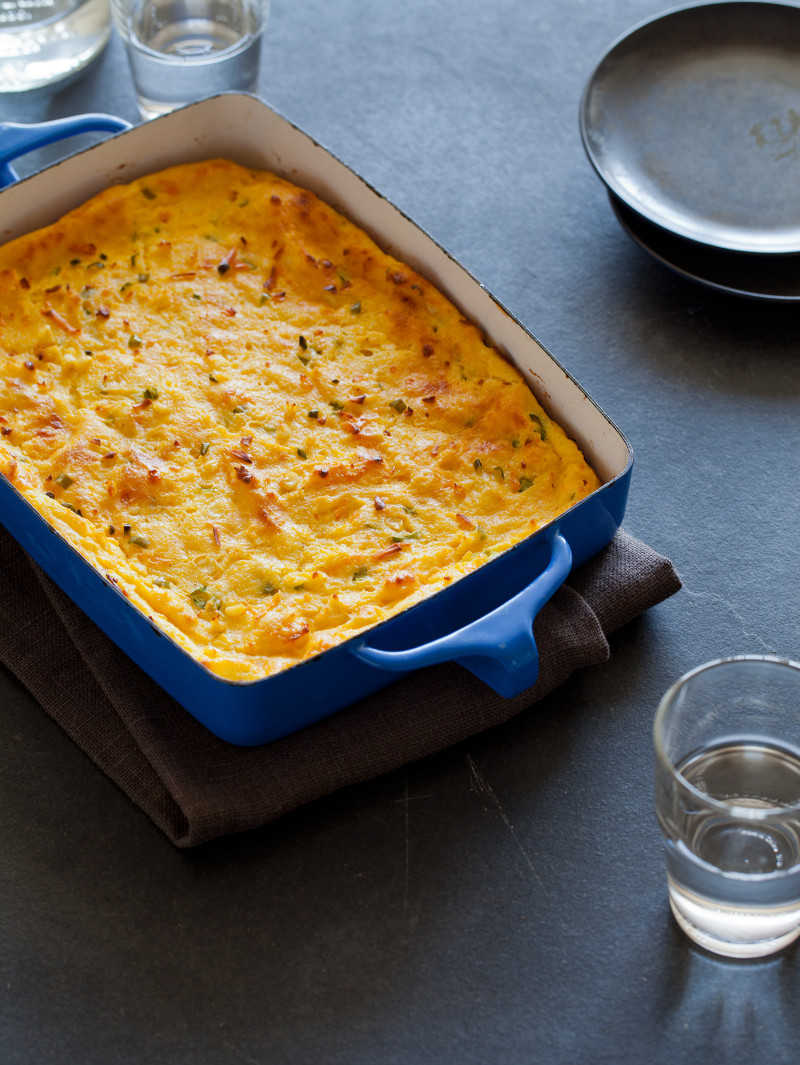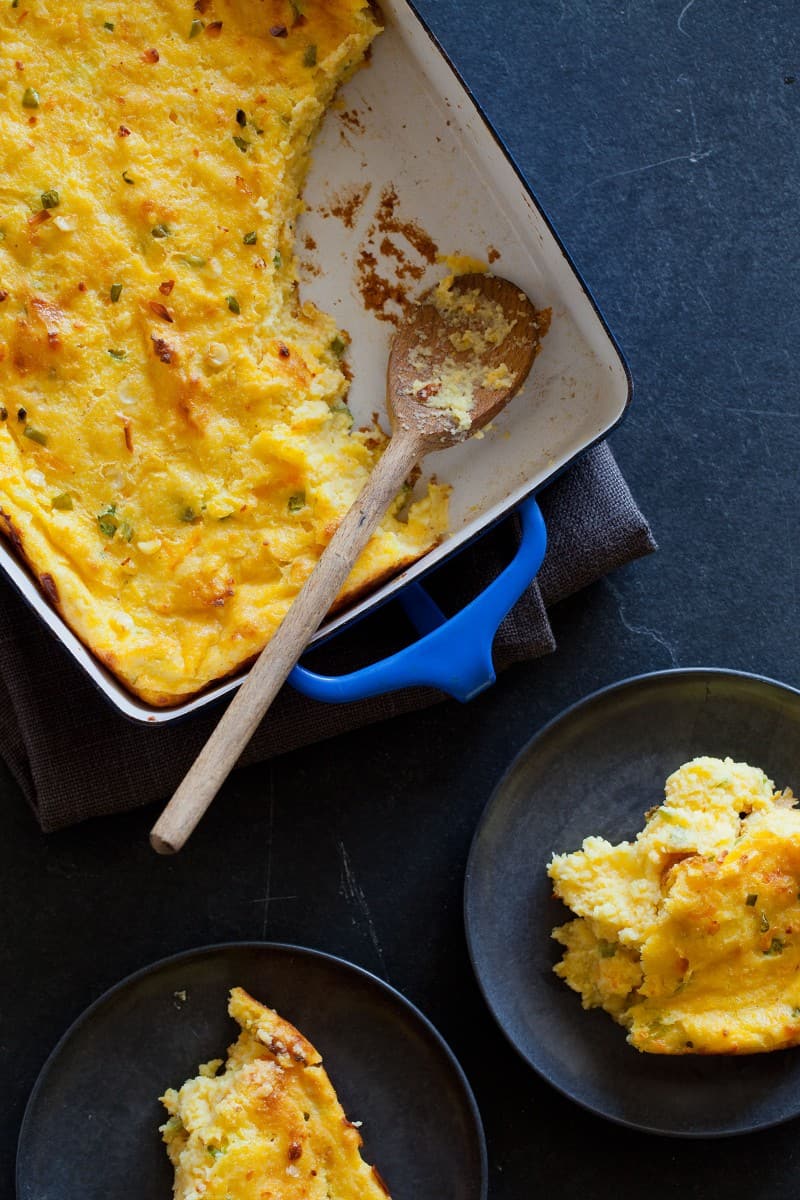 It's really awesome when two great things come together into one. For instance, R2D2 and C3PO, Harry Potter and magic, bread and butter, and corn and spoon bread. So, I give you: jalapeño cheddar spoon bread! This recipe is corn bread in a souffle pudding texture situation. Ok, i know what you're thinking. Why would I choose jalapeno cheddar spoon bread over regular corn bread? Well, let me tell you.
1. You can make spoon bread mountains or volcanoes on your dinner plate. (If you were a cool kid, you used to make these with mashed potatoes and peas. ).
2.  This makes an incredible base at the bottom of a bowl of chili.
3. You get to eat it with a spoon.
4. The texture feels like silk deliciousness in your mouth.
A couple scoops of this saucy corn heaven will breath new life into any traditional country fare. Eating fried chicken? Tried adding a couple scoops of this magic sauceplex. I hope you love it!
♥ Teri
Jalapeno-Cheddar Spoon Bread
Serves 5 to 7
Ingredients:
3 1/2 tablespoons unsalted butter, divided
1 1/4 cups milk
1/3 cup plus 2 tablespoons yellow cornmeal
3/4 teaspoon salt
6 ounces cheddar cheese, grated
2 garlic cloves, minced
2 jalapenos, seeded and diced
2 eggs
1/2 teaspoon black pepper
Directions:
1. Preheat oven to 350°F.
2. Grease a 9" x 12" baking dish with 1 tablespoon butter and set aside.
3. Pour milk into a medium saucepan and bring to a boil. Whisk in cornmeal and salt and continue to whisk until mixture thickens, about 3 minutes.
4. Remove from heat and using a wooden spoon, stir in cheese, garlic, jalapenos, and 2 tablespoons butter.
5. Continue to stir until most steam has escaped from the mixture. Beat eggs into the mixture, one at a time, until fully incorporated. Gently fold in pepper until just combined.
6. Pour mixture into the prepared baking dish and dot top with remaining tablespoon of butter.
7. Bake for 30 to 35 minute or until just set in the center. Allow to cool for 5 to 7 minutes. Scoop and serve.
6/2/2012 UPDATE: Some people have had issues with the amount of spoon bread they're getting using a 9″ x 12″ baking dish. It's totally okay that the spoon bread doesn't rise very much while baking and is only about an inch thick…BUT if you want a thicker spoon bread here's a quick fix: Either increase the recipe by 1/2 OR switch to a 8″ x 8″ baking dish!