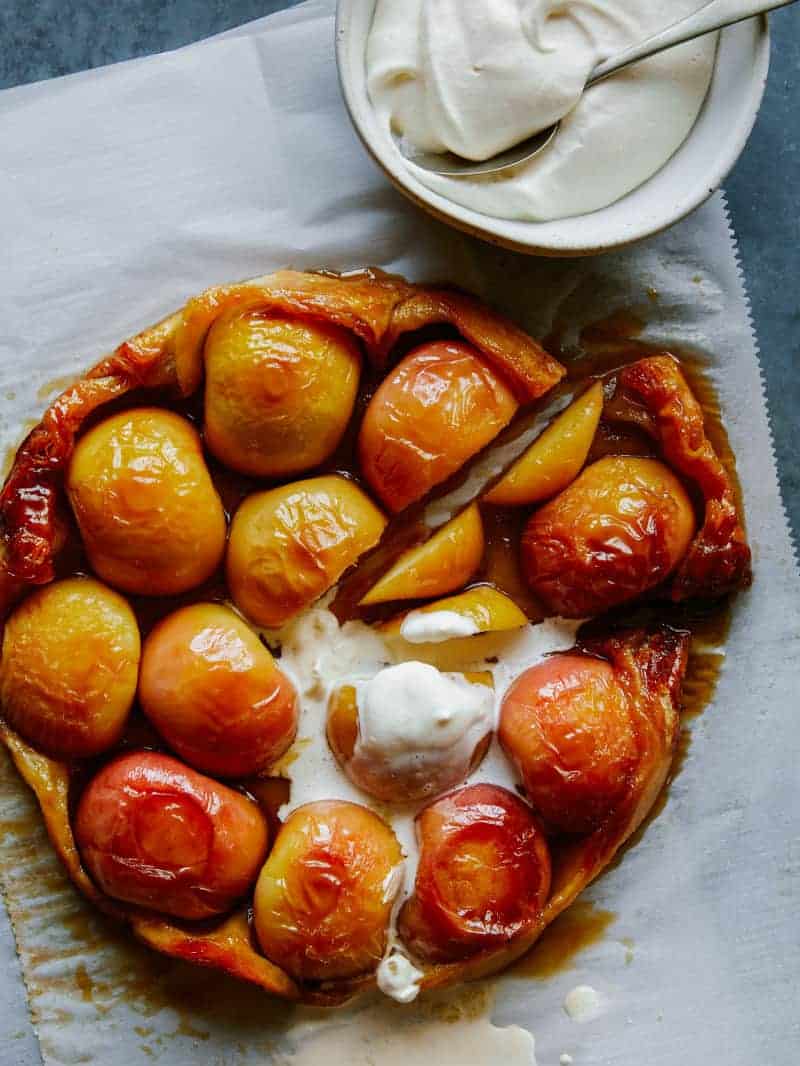 A classic wintery dessert, this Honeycrisp Apple Tarte Tatin is a beauty. We flooded these honeycrisp apples with a caramel sauce and topped them with lightly whipped cream. I love how the whole apples look finished. The colors are so pretty, and it makes this dessert a gorgeous presentation for everybody who is about to partake. Make sure you flip it over on something with a rim because it does tend to get a little saucy. :) Enjoy!
♥ Teri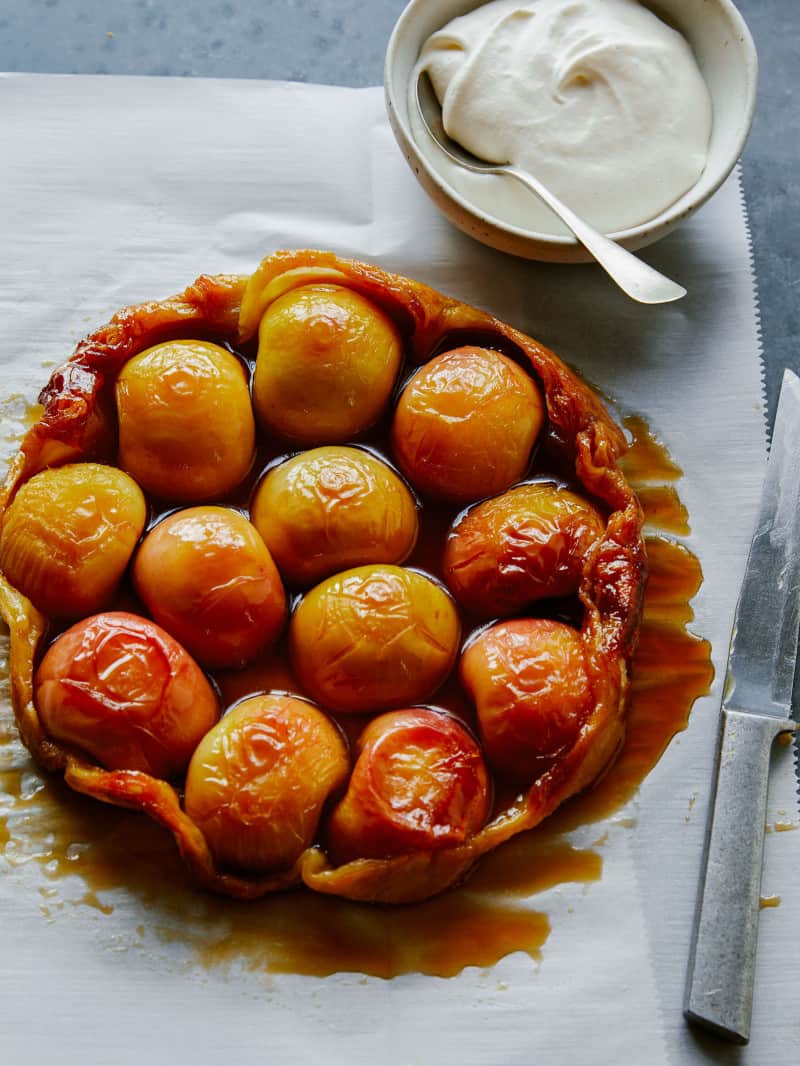 Honeycrisp Apple Tarte Tatin with Soft Whipped Cream

Makes 1 (9")

Ingredients:
caramel sauce:
1/2 cup sugar
2 tablespoons water
1/2 small lemon, juiced
1 teaspoon vanilla extract
1/4 cup (1/2 stick) cold unsalted butter, cut into small pieces

8 small Honeycrisp apples, sliced in half lengthwise and cored
1 sheet puff pastry, thawed and sharp corners rounded out with a knife
1/2 cup whipping cream
1 tablespoon sugar

Directions:
1. Preheat oven to 425˚F.
2. Place all caramel sauce ingredients, except butter, into a saucepan (with tall sides) and bring to a boil to dissolve sugar, over medium-high heat.
3. Once sugar has dissolved continue to boil until a deep amber color forms, about 10 minutes.
4. Remove melted sugar from heat and begin adding butter, a few pieces at a time, swirling the pan to incorporate (the mixture with bubble up quite a bit).
5. Once all the butter has been added and mixture is smooth, pour sauce into a 9" cake pan.
6. Arrange apple halves to fit snuggly over the sauce, cut-side up.
7. Place puff pastry over pan and tuck sides around the edge of the pan.
8. Place cake pan onto a baking sheet and transfer to oven.
9. Bake tarte tatin for 20 to 25 minutes or until puff pastry has nicely browned.
10. Remove from oven and allow tarte tatin to sit for 5 minutes.
11. Place an inverted platter over the cake pan and very carefully flip tarte tatin over and remove the cake pan (you can knock the bottom of the cake pan a few times, once it's flipped, to help release any apples that may have stuck).
12. While tarte tatin cools make soft whipped cream. Place cream and sugar into a mixing bowl and whisk together until very soft peaks form.
13. Slice tarte tatin and top with soft whipped cream. Serve.