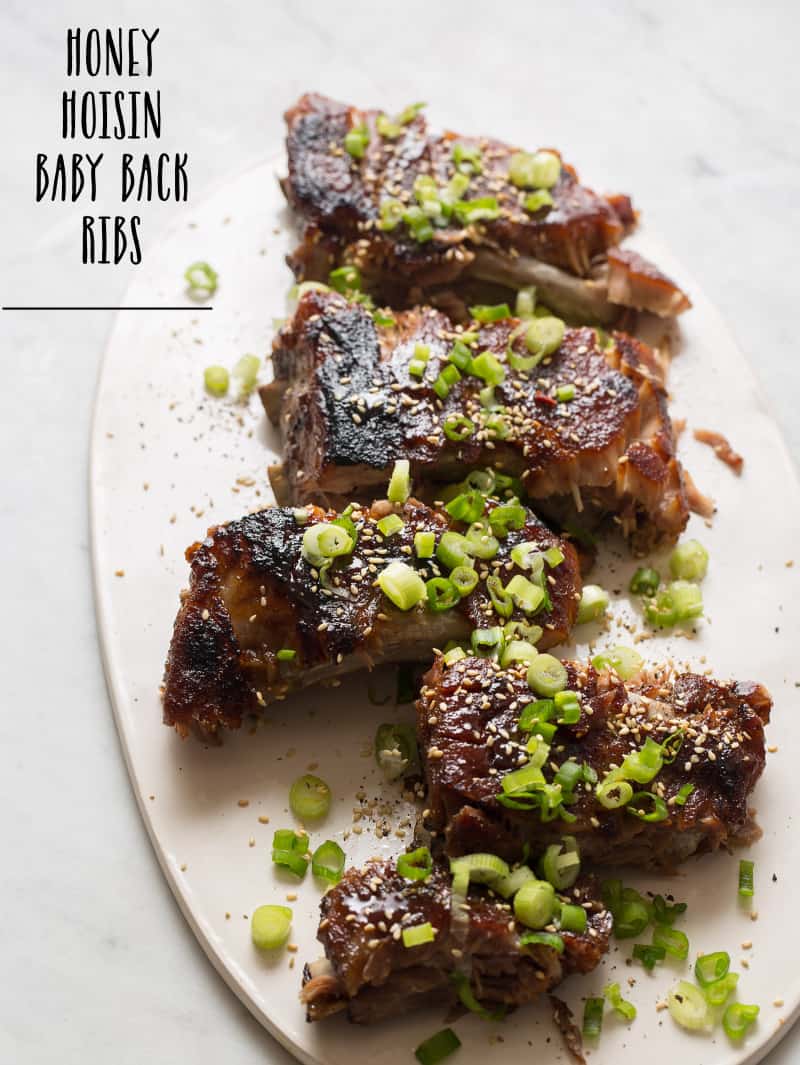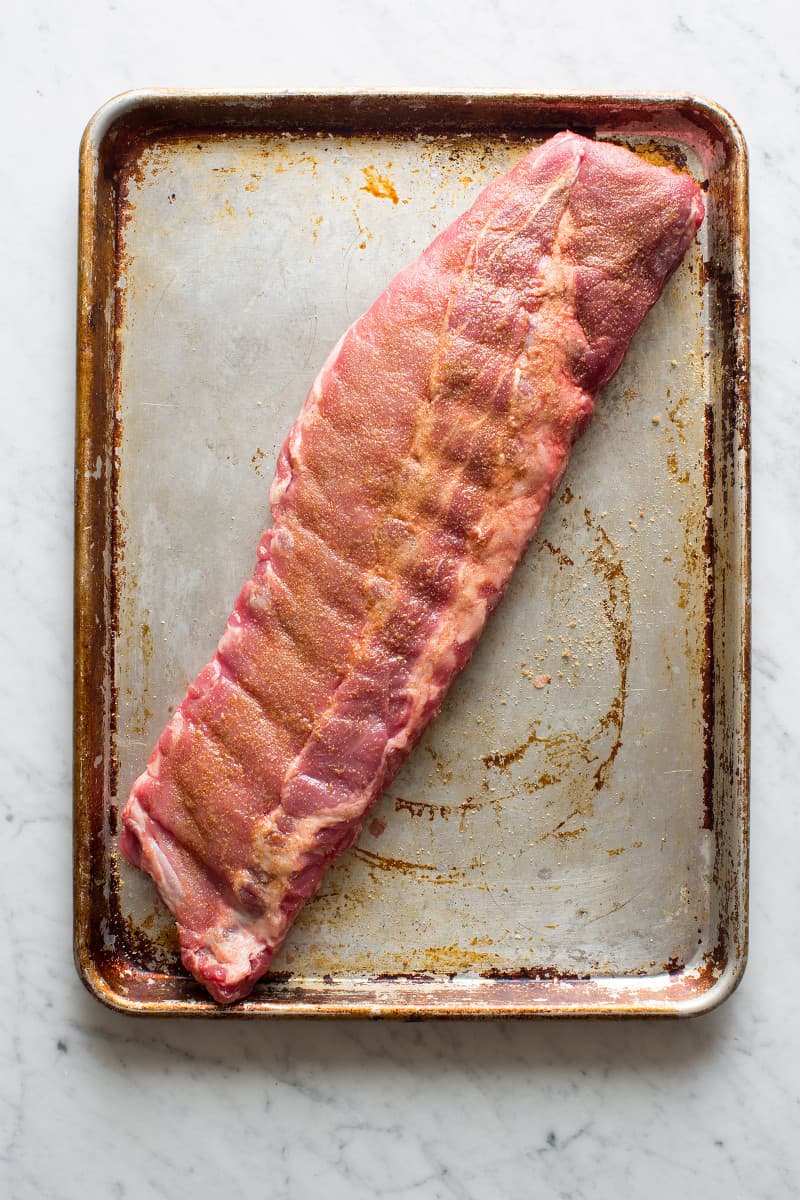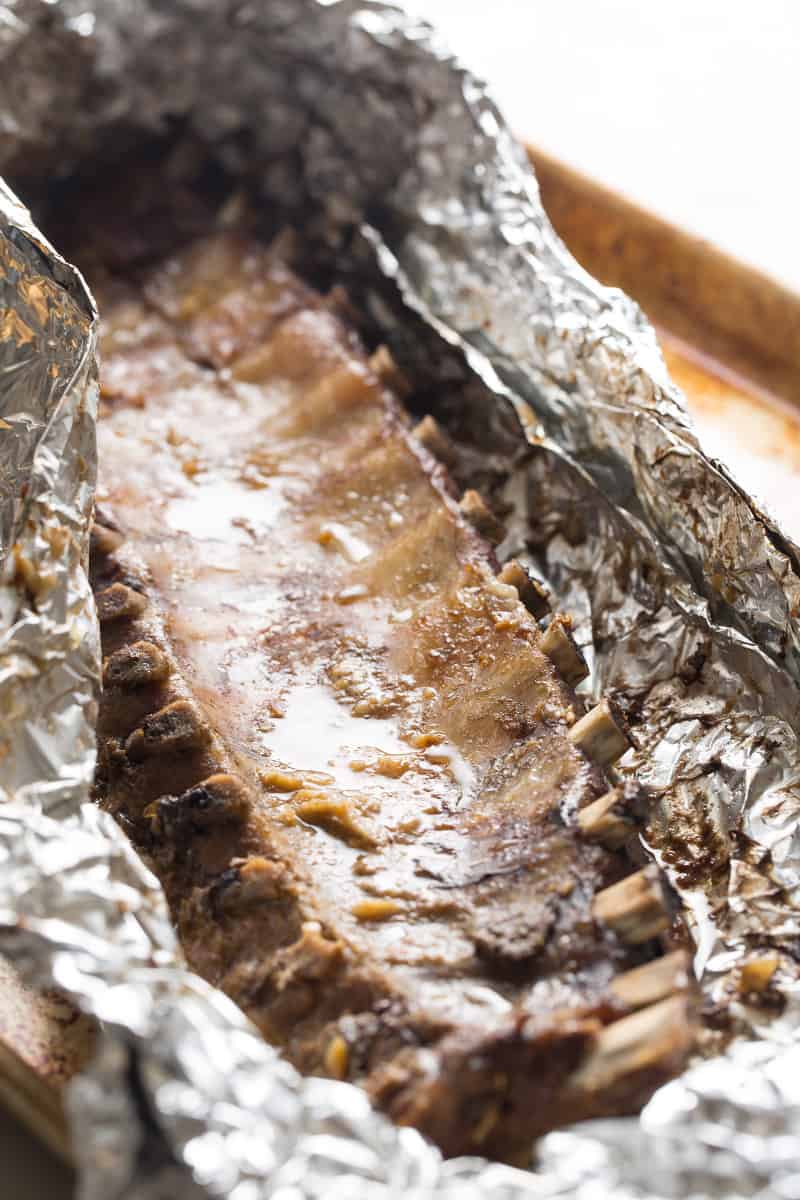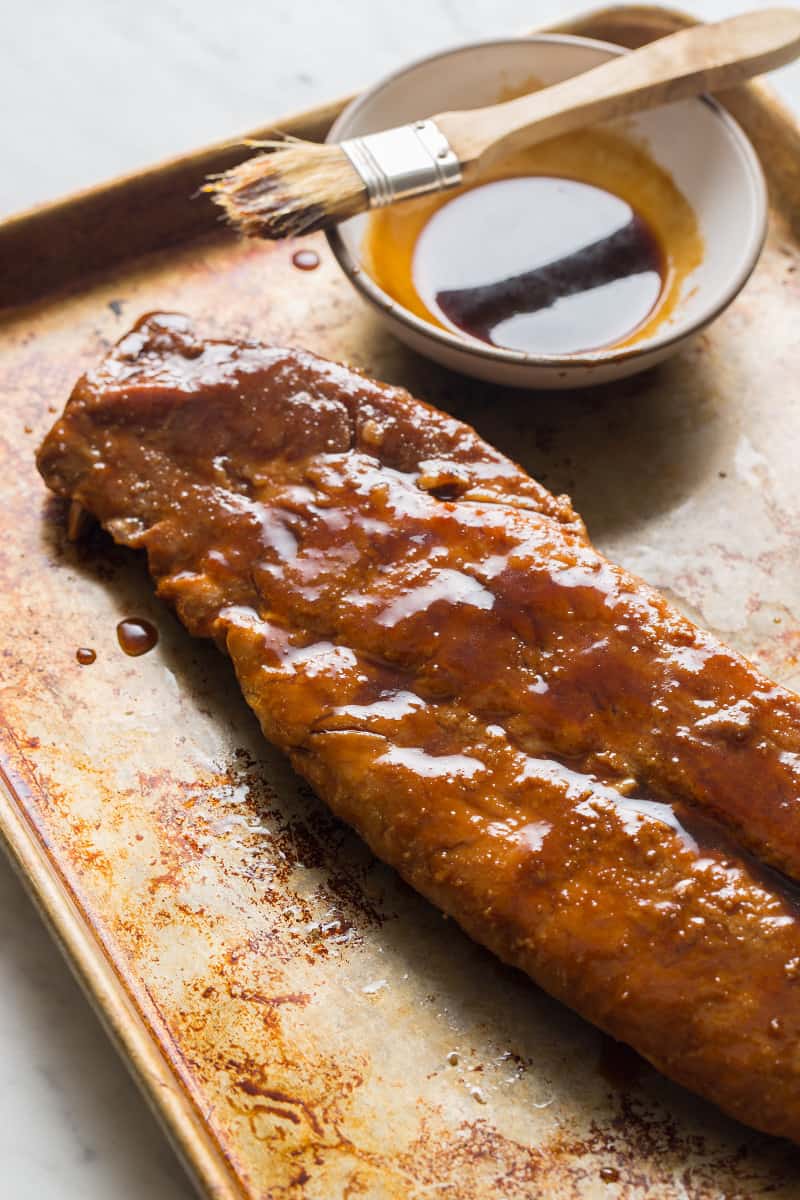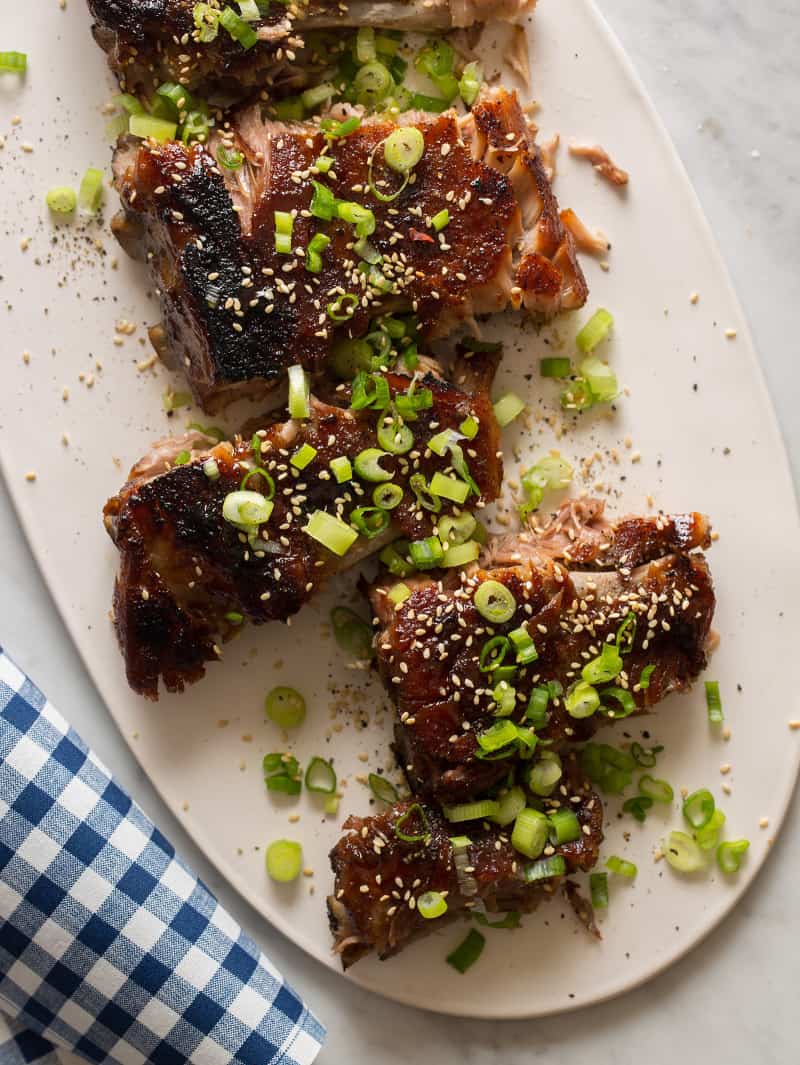 Hi Guys! So this summer the boyfriend and I have been doing a lot of rib experimenting. We've grilled our ribs, used a slow cooker, baked and broiled them in the oven, and I think my favorite version by far is the oven method, finished on the grill. I really love how tender the ribs get… like fall off the bone tender. You can get this with a slow cooker as well, but I think the slow cooker takes ribs a little too far. I feel like the meat becomes a little too soft and I don't like how the bones also get so soft you can easily bend an break them in half. While I love cooking them on the grill, I'm still fudging with the process a little. I love the smoky flavor you get, but I'm still having a little trouble maintaining a low temperature for many hours.
If you're a rib cooking beginner, I think the oven is the perfect way to get your feet wet. Ribs are still fairly cheap right now, so it's a great time to go to your local market, pick up a slab or two and experiment. The 12 hour dry rub is a must. It really helps to tenderize the meat as well as impart awesome flavor deep into the flesh. I know the dry rub list…well the entire ingredient list for that matter, looks a little scary, but I guarantee you these ribs are worth it. You can totally also simplify the dry rub with a little garlic powder, sugar and salt, but I love this particular combination of spices.
I love these Honey Hoisin Baby Back Ribs because they get nice and sticky once the glaze is slathered on and it's place back under the broiler. We've provided broiler instructions because not everyone has a grill, but if you would rather finish these on the grill, which is my personal preference, I recommend you reserve the braising liquid. I would (carefully) throw the ribs onto a hot grill (pre-glazed), meat side up, and mop the braising liquid over the rack every 3 minutes for 6 to 9 minutes. Brush the glaze over the ribs, on both sides and allow the glaze to caramelize for 2 to 3 minutes before removing from the grill.
Although I've stuck to Asian flavors for these ribs, you can totally change the flavor profile around with a simple dry rub (as mentioned above) and finish the ribs with a barbecue sauce of your choice if that's your preference. The overall method is the most important part here to ensure you have soft, tender and moist ribs.
I'm headed to a potluck picnic in Malibu this labor day and the boyfriend and I are seriously considering making these ribs as our contribution. If you're still looking for a great labor day recipe to feed a crowd, maybe think about making these totally sticky, deliciously messy, crowd pleaser. Enjoy! xx, Jenny
Honey-Hoisin Baby Back Ribs
Serves 2 to 3
Ingredients:
1 (3 lb) rack baby back ribs
dry rub:
1 1/2 tablespoons light brown sugar
1 teaspoon garlic powder
1 teaspoon ground ginger
1 teaspoon sea salt
1/2 teaspoon ground cumin
1/2 teaspoon ground white pepper
1/4 teaspoon ground mustard
1/4 teaspoon cayenne pepper
1/8 teaspoon ground cinnamon
braising liquid:
1/2 cup sake or white wine
1/4 cup soy sauce
2 tablespoons rice wine vinegar
2 tablespoon minced shallots
2 garlic cloves, minced
honey hoisin glaze:
1/4 cup hoisin sauce
1/4 cup honey
2 tablespoons ponzu sauce
2 tablespoons light brown sugar
garnishes:
2 green onions, thinly sliced
2 teaspoons toasted sesame seeds
Directions:
1. Place ribs on a baking sheet, lined with plastic wrap.
2. Mix together all the dry rub ingredients until well combined. Smother ribs with the dry rub, on both sides, until fully coated and tightly wrap with plastic wrap.
3. Refrigerate and allow ribs to marinate for 12 hours.
4. Preheat oven to 225˚F.
5. In a medium mixing bowl whisk together all braising liquid ingredients.
6. Remove ribs from the refrigerator and unwrap. Place ribs atop a large sheet of heavy duty foil, meat side down, and lift up all sides around the ribs. Pour braising liquid over ribs and tightly wrap.
7. Place ribs onto a baking sheet and place into oven for about 3 1/2 hours.
8. While the ribs bake, place all glaze ingredients into a small saucepan and stir together. Simmer for 10 to 12 minutes or until the glaze reduces and thickens slightly. Remove from heat and allow glaze to cool.
9. Remove ribs from the oven and carefully unwrap. Remove ribs from the foil completely and place back onto the baking sheet, meat side down.
10. Turn broiler on high in oven.
11. Brush some of the glaze over the ribs and carefully flip over. Brush the glaze over the meaty side of the ribs and place under broiler for 2 to 3 minutes.
12. Brush ribs with more glaze and return to broiler for 3 to 5 minutes or until caramelized and the edges begin to crisp.
13. Remove from broiler and allow ribs to rest for about 10 minutes. Top with green onions and sesame seeds. Serve.