I am totally in love this recipe for Hatch Chile and Cheddar Biscuits. They make the perfect accompaniment to a hearty dinner. I love them with a meaty stew, or on the side of a simple salad! These cheddar biscuits are really flaky, and they are best served a little warm. We love the addition of the hatch chiles. It adds a little texture to these biscuits, but also a slight heat and a hint of sweetness.
What is a hatch chile?
Hatch Chiles are a green chile grown in Hatch Valley in southern New Mexico. There are quite a few varieties of hatch chiles, and therefore a range of spicy level. When roasted, hatch chiles get a nice smoky, buttery flavor to them. That is what we have chosen to do today in our recipe.
How do you fire roast hatch chiles?
Roasting chiles brings out a nice smoky flavor in them. To roast a chile we need to char the outside fully, without cooking the inside. To do this you need to essentially burn the outside of the chile.
Stovetop:
Our favorite method for this is to use a stovetop. Place the chile directly on your stovetop over your open flame and turn every couple of minutes until they are charred all over.
Broiler:
Line a baking sheet with foil and place the chiles on the baking sheet. Turn your oven to the broil setting and cook for 10-15 minutes, turning every 2 or 3 minutes until they are charred.
Grill:
Place the chiles directly on your grill on high heat, turning every few minutes until they are fully charred.
After they are fully charred, remove the burnt skin and use as usual in your recipe!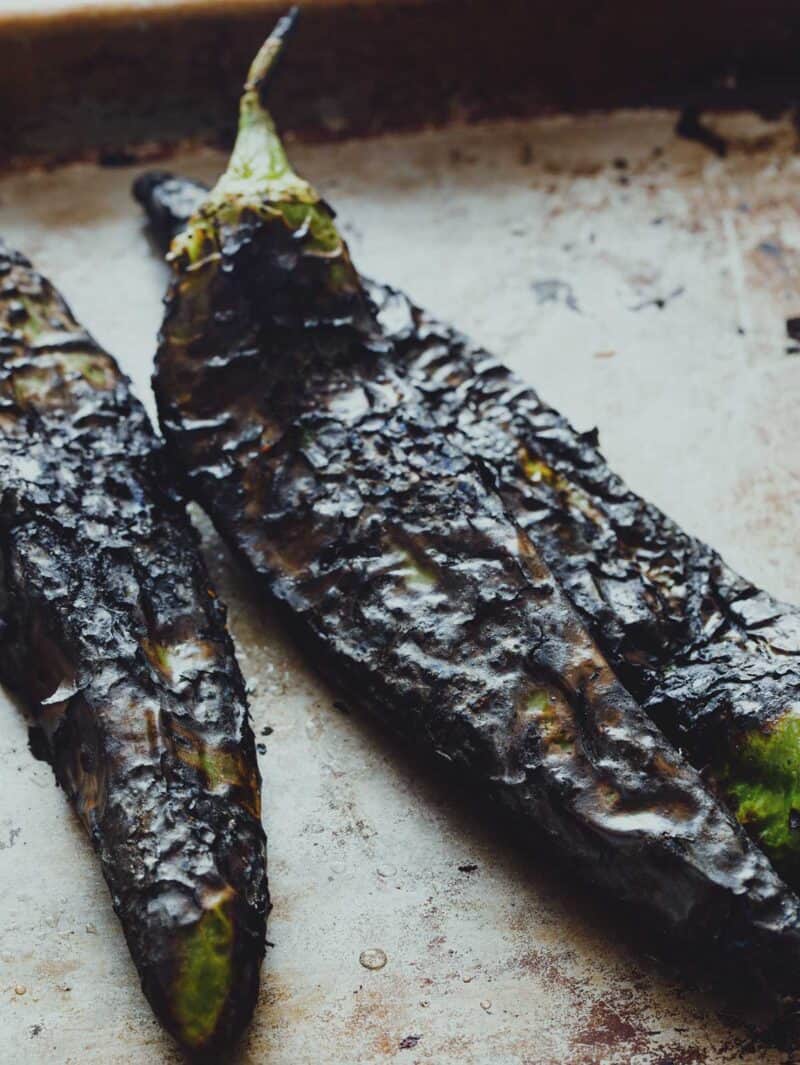 How do you make Cheddar Biscuits?
Biscuits are generally made in 6 easy steps. Make sure to read the recipe carefully so you don't miss details!
1. Whisk together dry ingredients
2. Fold in butter and mix ins
3. Refrigerate
4. Stir in buttermilk and knead
5. Roll out dough to 1 inch thick and cut biscuit rounds out
6. Bake!
We love this biscuit cutter set from Target that comes with three sizes!
Can Cheddar Biscuits be frozen?
Yes. Our Hatch Chile and Cheddar Biscuits can be frozen. You will want to freeze them before you bake them off. Place biscuit rounds onto a parchment line baking sheet, 1/2 inch apart. Place in the freezer until they are completely frozen, then transfer them into an airtight bag. They will keep for up to three months. When you are ready to bake follow the recipe instructions. You will have to add 6 to 10 minutes to your baking to compensate for the biscuits being frozen.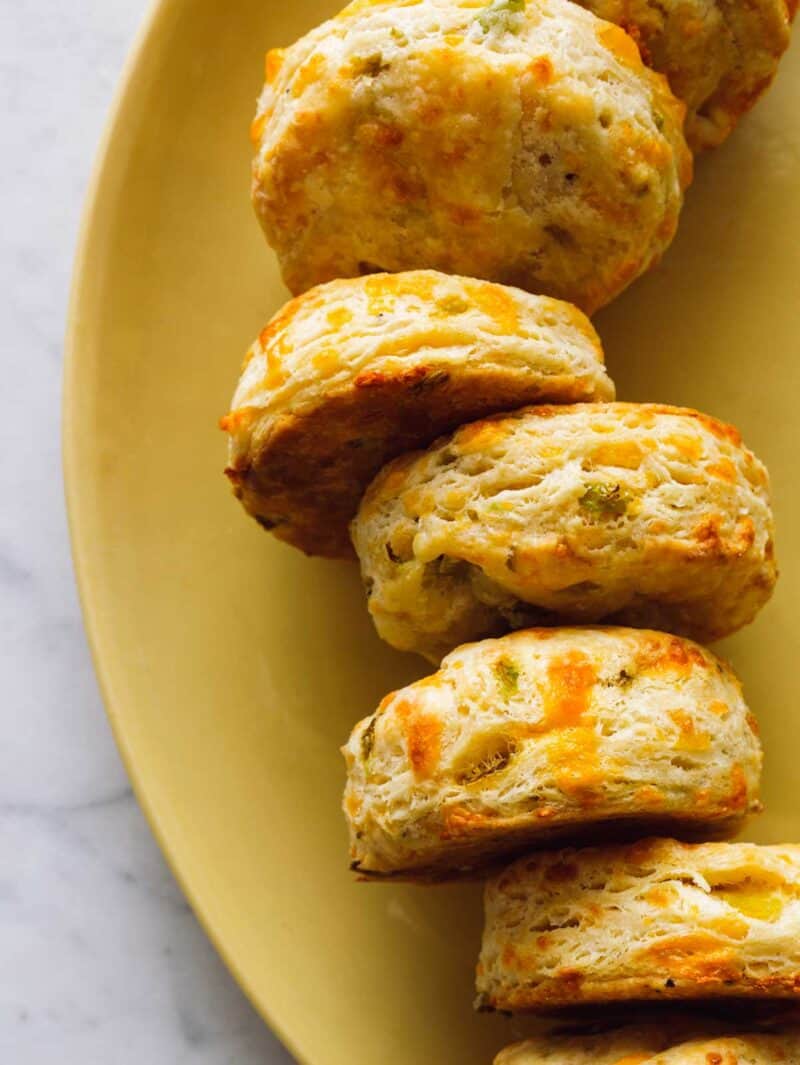 If you love this biscuit recipe you may also like: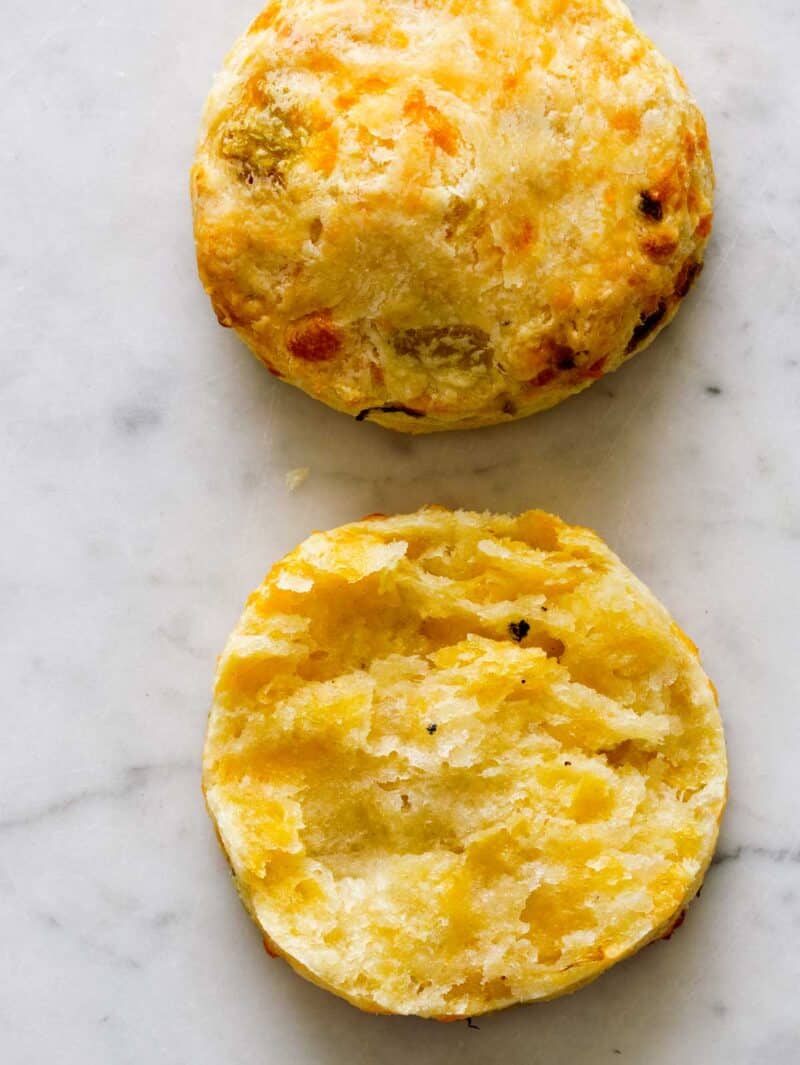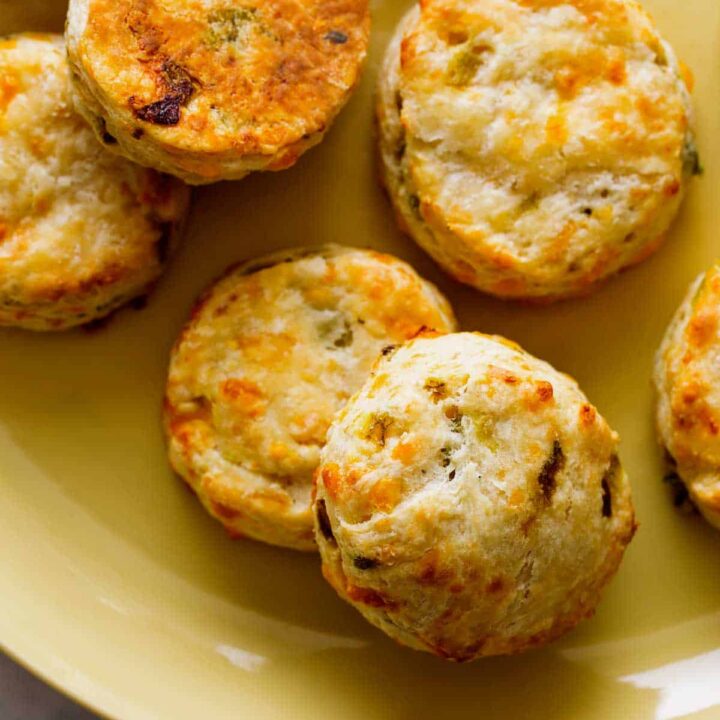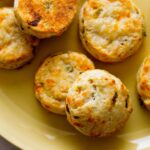 ---
Roasted Hatch Chile and Cheddar Biscuits
This recipe for Roasted Hatch Chile and Cheddar Biscuits is the perfect side of any hearty dinner. Smear with butter and add a little honey on top and these are heavenly. Perfectly flaky, and the hatch chiles gives you a slight hit of spicy and a hint of sweetness.
INGREDIENTS
2

cups

all purpose flour

1 ½

tsp

baking powder

¾

tsp

salt

½

cup

unsalted butter

( 1 stick)frozen and grated

2

medium hatch chiles

fire roasted, peeled, seeded and diced

4

ounces

sharp cheddar cheese

shredded

⅔

cup

buttermilk

¼

cup

salted butter

(½ stick) melted and cooled
INSTRUCTIONS
Place flour, baking powder and salt into a large mixing bowl and whisk together.

Gently fold in the cold, grated butter and cut into the mixture until it resembles a course meal. Fold in chiles and cheese until just incorporated.

Refrigerate mixture for 30 minutes.

Remove mixture from the refrigerator and stir in buttermilk. Turn the dough onto a clean and lightly floured surface and gently knead until it just comes together and no dry spots remain.

Using a rolling pin, roll the dough until ½ inch thick and trifold. Roll the dough until ½ inch thick and trifold the other direction.

Repeat rolling and tri-folding four more times and on the last roll out allow dough to be ¾ to 1 inch thick.

Using a clean 2 ½ inch circle cutter, cut biscuits from the dough, making sure not to twist as you cut into the dough with the cutter (doing so will smash the flaky layers).

Gently push the scraps together and roll out and trifold twice, before cutting out more biscuits, about 12 total.

Place biscuits on to a baking sheet, lined with parchment, about ¾ inch apart and refrigerate for 30 minutes.

Remove biscuits from refrigerator and bake for 12 minutes. Remove biscuits from the oven and brush the tops with melted butter. Place biscuits back into the oven and continue to bake for another 5 to 8 minutes or until golden brown.

Remove biscuits from oven and transfer to a cooling rack. Allow biscuits to cool for about 10 minutes before serving warm. Biscuits go great with butter and honey.
Serving:
1
biscuit
Calories:
226
kcal
Carbohydrates:
17
g
Protein:
5
g
Fat:
15
g
Saturated Fat:
10
g
Cholesterol:
42
mg
Sodium:
339
mg
Potassium:
50
mg
Fiber:
1
g
Sugar:
1
g
Vitamin A:
471
IU
Vitamin C:
1
mg
Calcium:
124
mg
Iron:
1
mg
KEYWORD:
biscuits, hatch chile