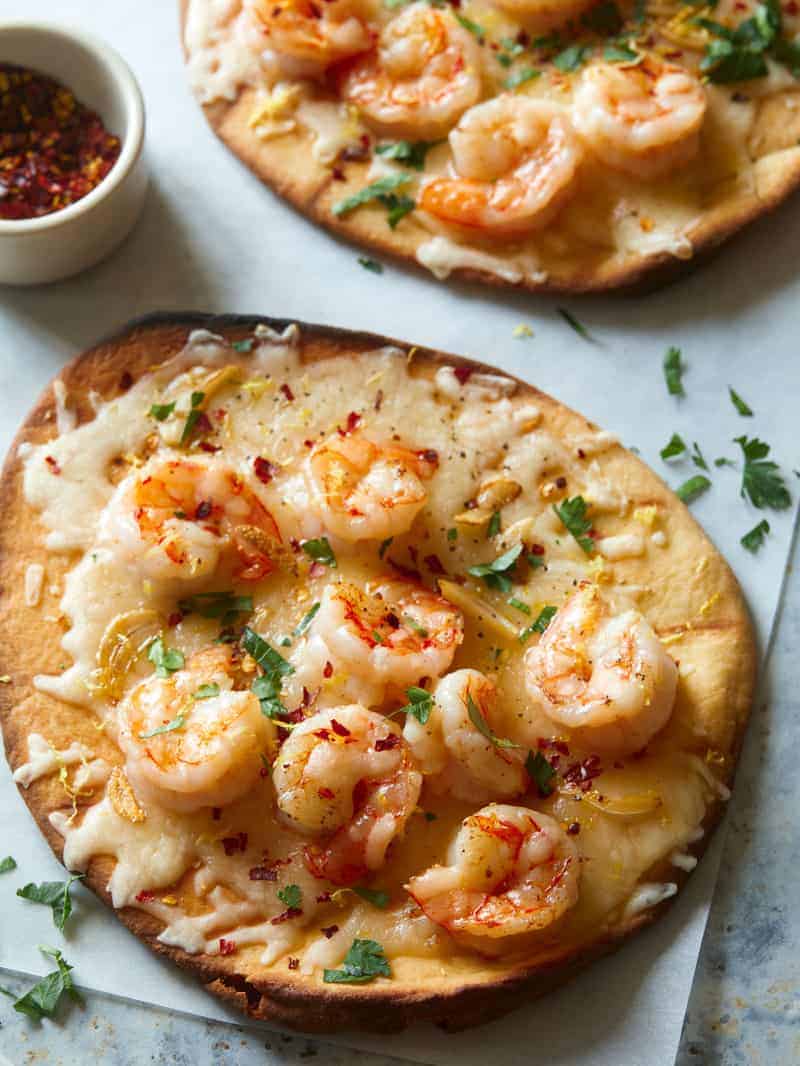 The weather's been really nice in LA lately, so husband and I have been trying to grill as much as possible. Recently we've made these Grilled Shrimp Scampi Flatbreads a handful of times and they've really been hitting the spot. Using store bought naan bread makes this recipe super simple, but still really delicious. It's a great weeknight meal, but can also be served to a crowd for a weekend get together. Enjoy! xx, Jenny

Grilled Shrimp Scampi Flatbreads

Serves 3 to 4

Ingredients:
shrimp scampi:
2 1/2 tablespoons extra virgin olive oil, divided
2 tablespoons unsalted butter
3 garlic cloves, minced
pinch crushed red pepper flakes, plus more to garnish
1 1/2 pounds large shrimp, peeled and deveined
1 lemon, juiced
salt and pepper to taste

2 cups shredded mozzarella
2 pieces naan bread, or other flat bread of choice
1 to 2 tablespoons chopped parsley

Directions:
1. Preheat grill to 400˚F.
2. Place a large skillet over hot grill and add 2 tablespoons of oil and butter. Add garlic and sauté for 1 minute. Add crushed red pepper flakes and continue to sauté for an additional 1 to 2 minutes. Add shrimp, season with salt and pepper and sear on each side for about 2 minutes.
3. Deglaze the pan with lemon juice, until most of the liquid has evaporated and remove the pan from the heat. Shrimp should be about 2/3 of the way done. Set aside.
4. Brush flatbreads with remaining 1/2 tablespoon oil and grill on each side for 3 to 4 minutes over indirect heat.
5. Remove flatbreads from grill and sprinkle 3/4 cups of cheese onto the surface of each and top with the shrimp, garlic and pepper flake mixture. Sprinkle remaining cheese onto the flatbreads and place back onto grill, over indirect heat.
6. Cover grill and grill each flatbread for 2 to 3 minutes to melt cheese. Uncover and continue to grill until flatbreads have crisped up and shrimp has cooked through.
7. Remove flatbread from the oven and top with an extra pinch of pepper flakes and chopped parsley. Slice and serve.