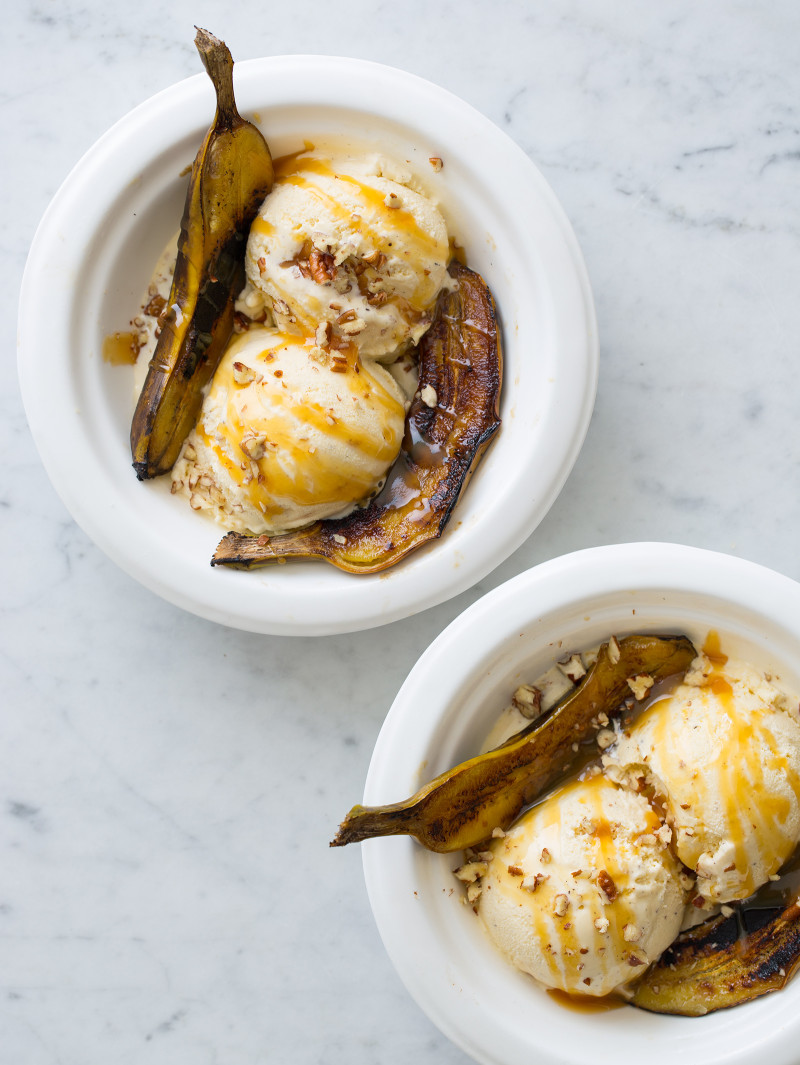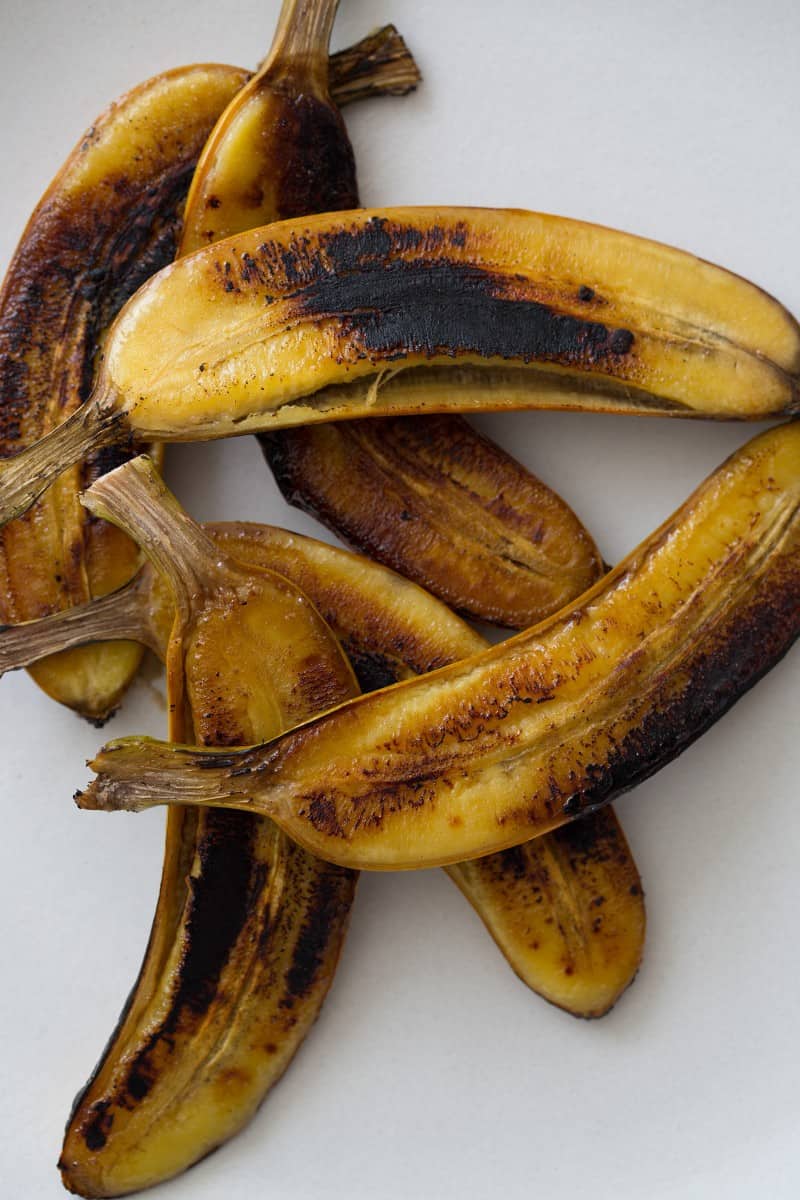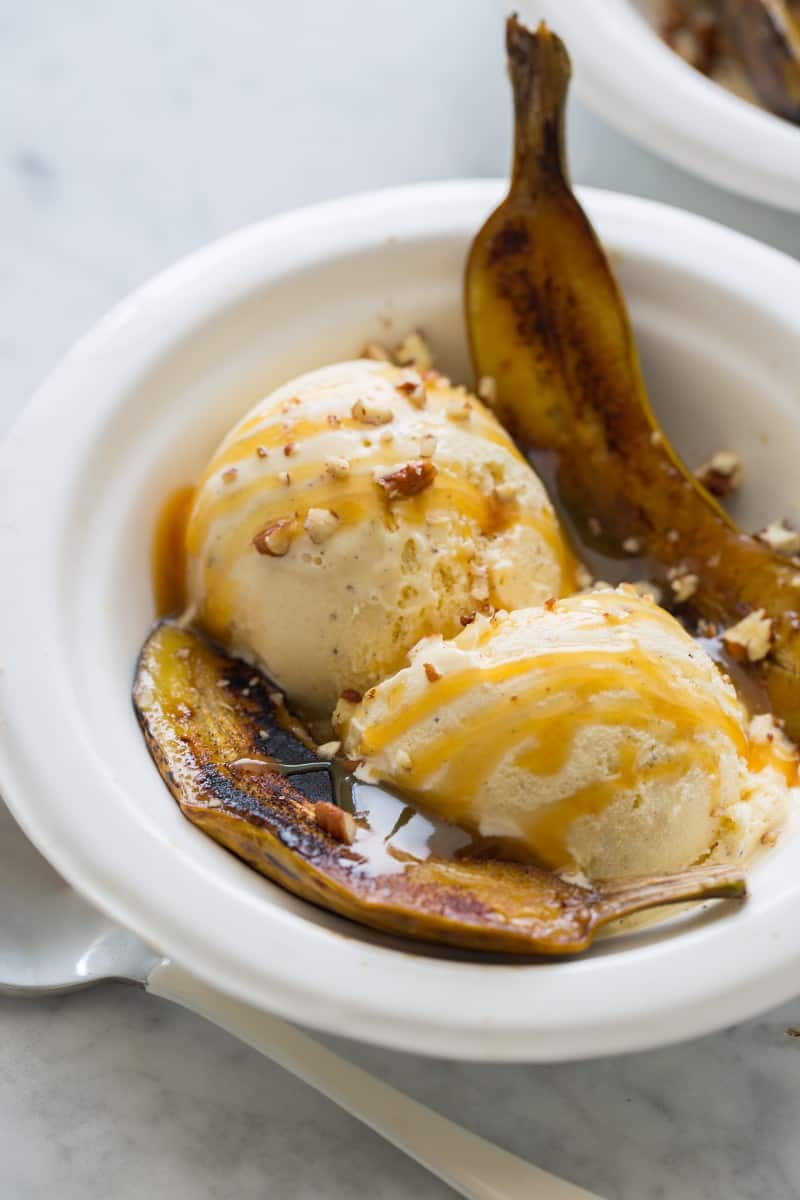 I feel like most adults eat ice cream the same way, huddled in front of the freezer with your spoon eating out of the carton. I don't blame you, I do it too. After making dinner and cleaning up the last thing I want to do is dirty another dish. I remember being a kid and being so freaking excited out of my mind to go get ice cream. I think it's probably safe to say that as we get older, we skip out on desserts a lot more. So I think it's time to make some crazy banana splits and be really freaking excited about it. I love this recipe because of the grilled bananas. It's really that simple, just adding some grilled bananas to the situation will enhance it so much. Here is why: Regular freshly peeled bananas are just find and delicious, but firm-ish, unless they ugly and have brown spots. By grilling these they get soft like the ice cream which just makes it that much more pleasurable to eat in my opinion. We added some caramel sauce and nuts just cause. I hope this inspires you all to create some new ice cream situations. You deserve it!
♥ Teri
Grilled Baby Banana Splits
Serves 4
Ingredients:
2 tablespoons extra virgin olive oil
4 baby bananas, split in half lengthwise
salt to taste
1/2 recipe crème brûlée custard
toppings:
1/2 recipe homemade caramel sauce
1/2 cup chopped and toasted pecans
1 cup whipped cream, optional
4 maraschino cherries, optional
Directions:
1. Preheat grill or grill pan to medium-high heat.
2. Brush cut side of each banana with oil and season with salt.
3. Grill bananas for 3 to 5 minutes. Flip and continue to grill for 2 to 3 minutes.
4.To assemble: Place 2 warm banana halves into each "split" bowl and top with frozen custard or ice cream. Top with warm caramel sauce and pecans (plus whatever other toppings you desired). Serve immediately.