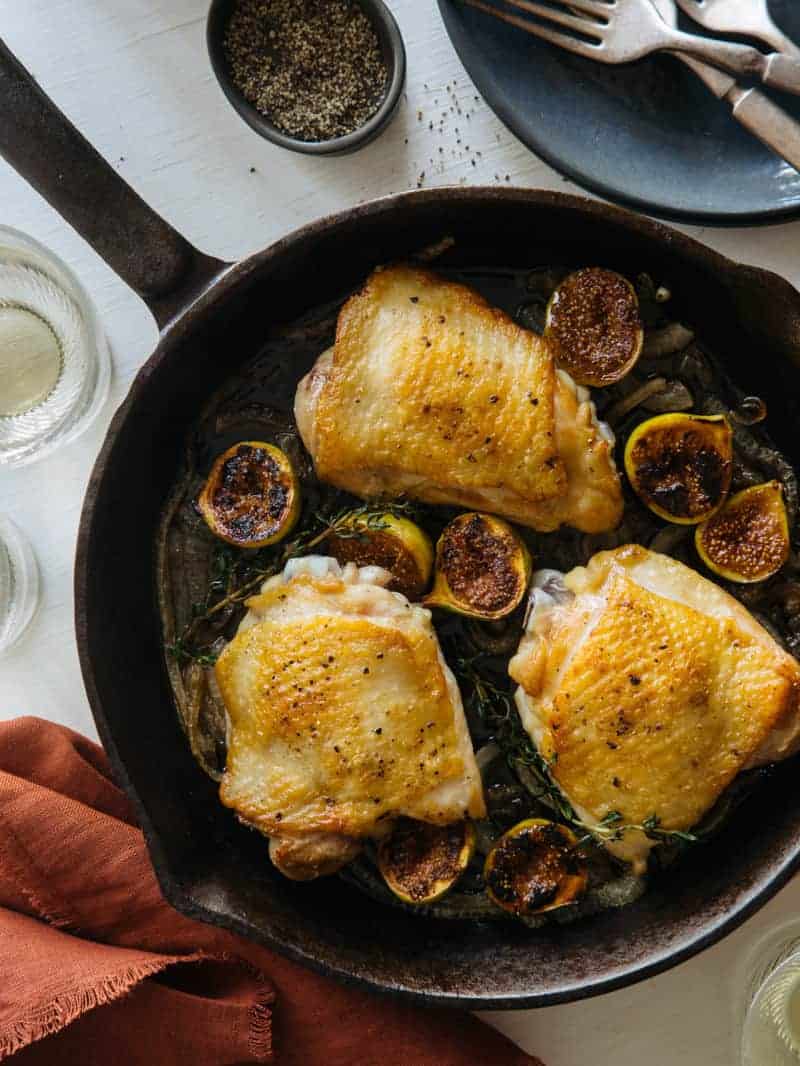 It seems like fresh figs JUST came into season and now they're already getting ready to say goodbye. So sad. We're still hoarding them as much as we can before they're gone until next year and making whatever we can with them. Today we have our Roasted Chicken Thighs with Caramelized Figs + Onions. This is a really great weeknight recipe to make because it's easy, requires only a handful of ingredients and is totally a low maintenance dish.
I love how figs have a sweet-savory profile to them, especially when roasted. They also compliment chicken so well. I usually serve this with a side of steamed farro, brown rice or a mixed green salad with crusty baguette. This dish also makes a great leftover lunch the next day.
I use chicken thighs instead of the breast because I've always preferred dark meat to light meat and it's pretty hard to "mess up" chicken thighs. As long as you give the skin a nice sear and allow the thighs to cook through you're golden! It really takes a lot for chicken thighs to get over cooked, so if you're not too familiar with cooking chicken, it's a good place to start.
When I worked as a line cook at the last restaurant I worked at, we often made a dish similar to this for family meal (using rehydrated dry figs if they were out of season) and it was always so satisfying. These days I've sort of kept that "tradition" alive by continuing to make this dish for groups of loved ones, especially after a long, hard day at work. Enjoy! xx, Jenny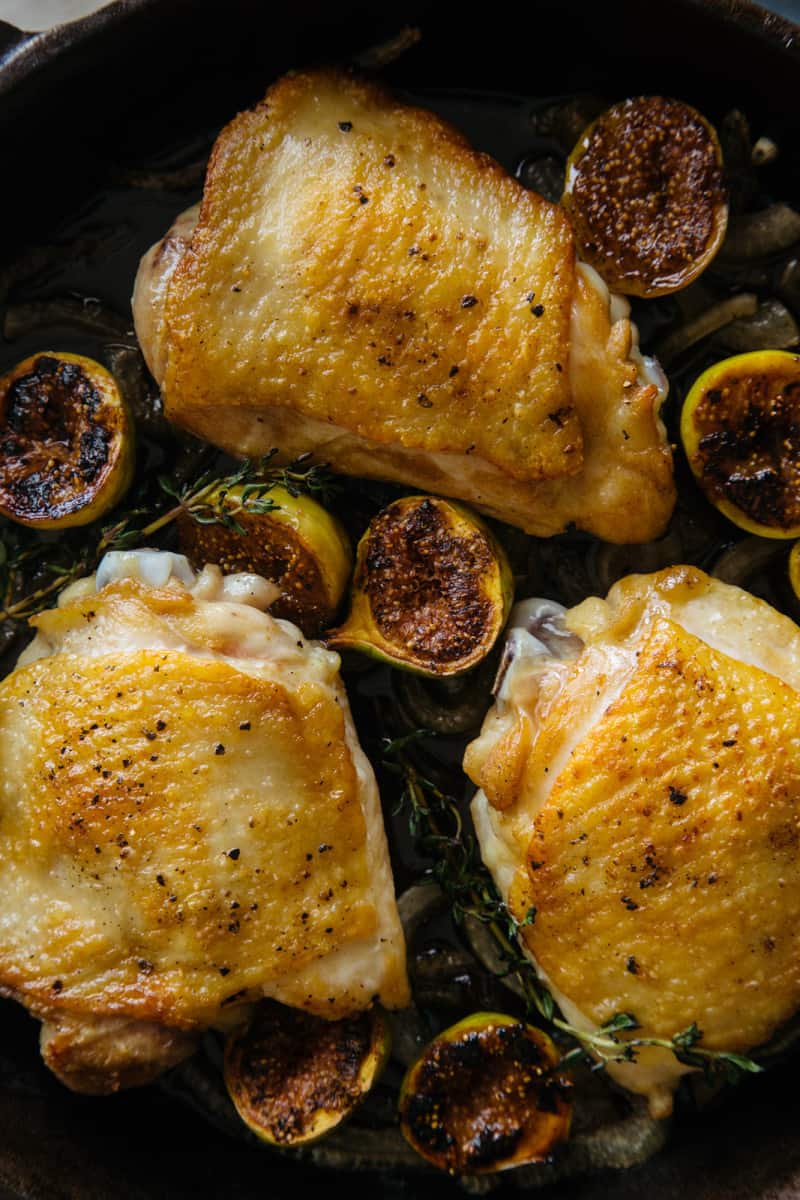 ---
Garlic Roasted Chicken Thighs with Caramelized Figs and Onions
Ingredients
2

tablespoons

extra virgin olive oil, divided

2

tablespoons

unsalted butter, divided

1

large

onion, thinly sliced

5

whole cloves garlic

3

sprigs thyme

6

skin-on, bone-in chicken thighs

8

panache striped tiger figs, halved

plus more for garnish

salt and cracked black pepper to taste
Instructions
Place a large skillet over medium heat. Add 1 tablespoon oil and 1 tablespoon butter to the skillet and melt together.

Add onions, garlic and thyme and lightly caramelize, about 8 minutes.

Transfer onions, garlic and thyme to a mixing bowl or plate and set aside.

Add remaining oil and butter to the skillet and turn heat up to medium-high. Generously season chicken thighs with salt and pepper. Sear each chicken thigh, (skin-side first) on both sides, for 3 to 4 minutes. Remove the thighs from the skillet and transfer onto a cutting board.

Return the onions, garlic and thyme to the skillet and form an even layer and add the halved figs.

Place chicken thighs (skin-side up) over the onion mixture and roast in the oven for 25 to 30 minutes or until the chicken has cooked through completely (with an internal temperature of 165˚F).

Remove skillet from the oven and allow chicken to rest, 6 to 10 minutes. Serve thighs with caramelized onions and figs (along with a mixed greens salad and crusty baguette, if desired).
Calories:
579
kcal
Carbohydrates:
25
g
Protein:
29
g
Fat:
41
g
Saturated Fat:
12
g
Cholesterol:
181
mg
Sodium:
135
mg
Potassium:
649
mg
Fiber:
4
g
Sugar:
18
g
Vitamin A:
485
IU
Vitamin C:
7
mg
Calcium:
67
mg
Iron:
2
mg