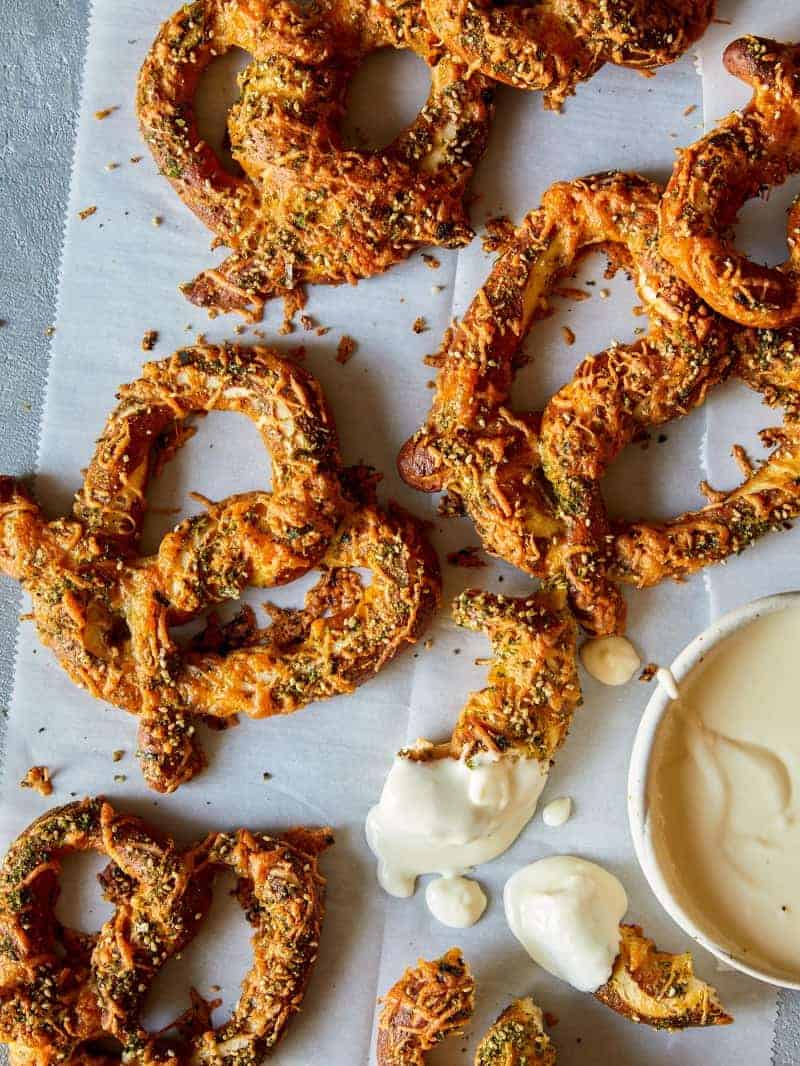 Super bowl is just a few days away and we have more goodies for you guys. Today it's these Furikake and Parmesan Pretzels with White Queso Dip! I love this recipe so much! First of all, I think there's a misconception that pretzels are really hard to make…they're not though! Well, they're no more difficult than other yeast risen breads. Plus, whole isn't into pretzels?!? These guys are so good, especially with the furikake and Parmesan topping! Furikake is like crack to me, I consider it the asian version of 'everything bagel seasoning', ya know? I think it's just as versatile and addicting!
I added our classic white queso dip to this because pretzels and cheese dip are just perfect together and big soft pretzels should never be served without cheese sauce…or mustard! These guys taste the bet fresh out of the oven, but if you want to make them ahead of time you totally can, I just recommend warming them back up before you actually serve them so they taste super fresh. Enjoy! xx, Jenny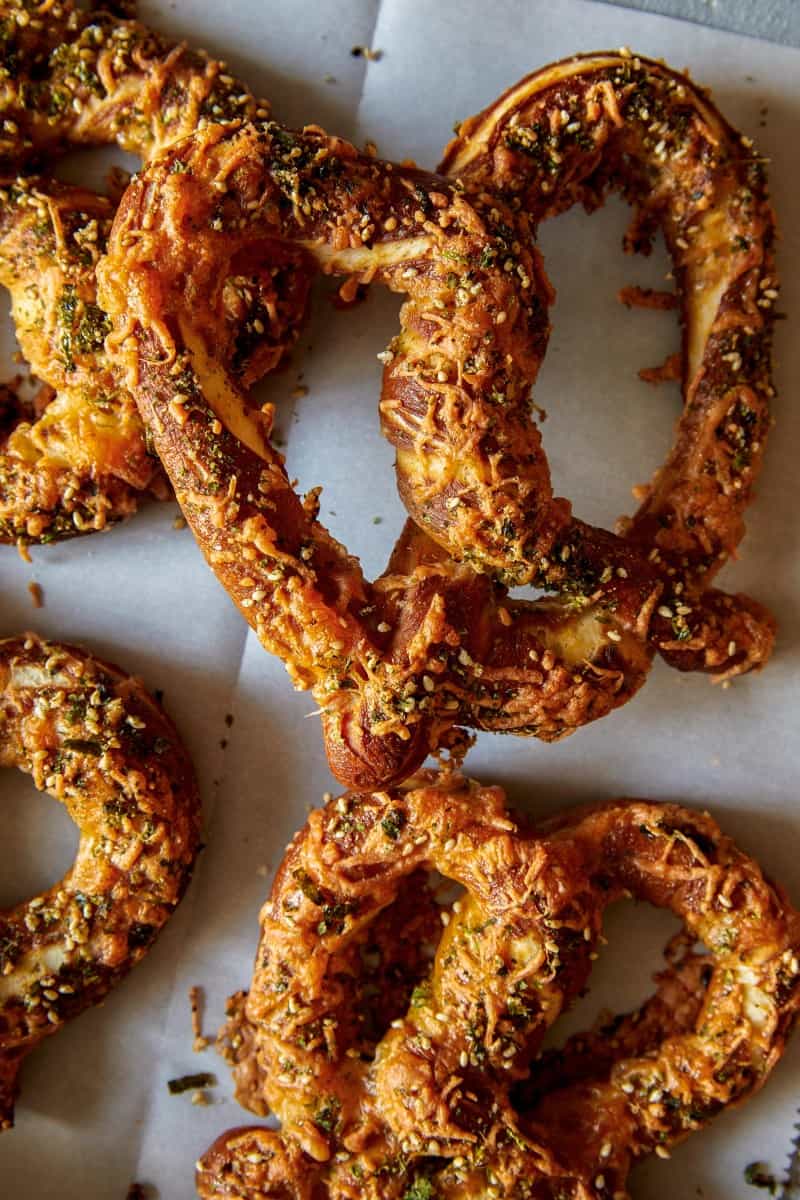 Furikake and Parmesan Pretzels with White Queso Dip

Makes 12

Ingredients:
1 cup lukewarm water (110˚F)
1 tablespoon superfine sugar
1 tablespoon active dry yeast
1 large egg, beaten
4 tablespoons unsalted butter, cut into small chunks and softened
1 teaspoon salt
4 1/4 to 4 1/2 cups bread flour

6 cups water
5 1/2 tablespoons baking soda
topping:
1 large egg, lightly beaten
2/3 cup furikake seasoning
1/2 cup grate Parmesan
white queso dip:
1 tablespoon unsalted butter
1 tablespoon all-purpose flour
1 cup whole milk
1 cup shredded white cheddar
salt and pepper to taste

Directions:
1. Stir together the water and sugar in a large bowl. Sprinkle the yeast evenly over the top and let stand for about 5 minutes, until foamy.
2. Stir egg, butter and salt into the proofed yeast. Then stir in the 4 1/4 cups of the flour, 1 cup at a time, continuing to stir until the dough comes together into a rough mass.
3. Lightly flour a work surface and turn the dough out onto it. Knead the dough, adding more flour as needed to prevent dough from sticking to the surface, for 8 to 10 minutes, until the dough is smooth, soft, and elastic.
4. Shape the dough into a ball and place into a lightly greased mixing bowl. Cover with a clean, damp towel and place in a warm area until dough doubled in size, about 1 hour.
5. Preheat oven to 400˚F.Line 2 baking sheets with parchment paper.
6. Punch the dough to release the air and cut the dough into 12 equal pieces. Working with 1 piece at a time, roll the dough into a rope 12-16 inches long, then twirl each pretzel into shape, twisting the final ends a few times before sealing.
7. Combine water and baking soda in a deep stockpot and bring to a boil over high heat. One at a time, dip pretzel-dogs into boiling water for about 30 seconds, then carefully return them to baking sheets.
8. In a small bowl combine beaten egg and 1 tablespoon water.
9. Generously brush pretzels with egg wash and sprinkle with furikake seasoning and Parmesan. Bake the pretzel-dogs for 18 to 22 minutes or until they are golden brown.
10. Transfer the pretzels to a wire rack and cool for a few minutes before serving.
11. Queso Dip: Melt butter in a small pot over medium heat. Add flour and whisk together for 2 minutes. Stir in milk and continue to whisk for 2 to 3 minutes or until mixture is smooth. Remove from heat and whisk in shredded cheese, small handfuls at a time, until fully incorporated and sauce is smooth. Season queso dip with salt and pepper and serve immediately with warm pretzels.