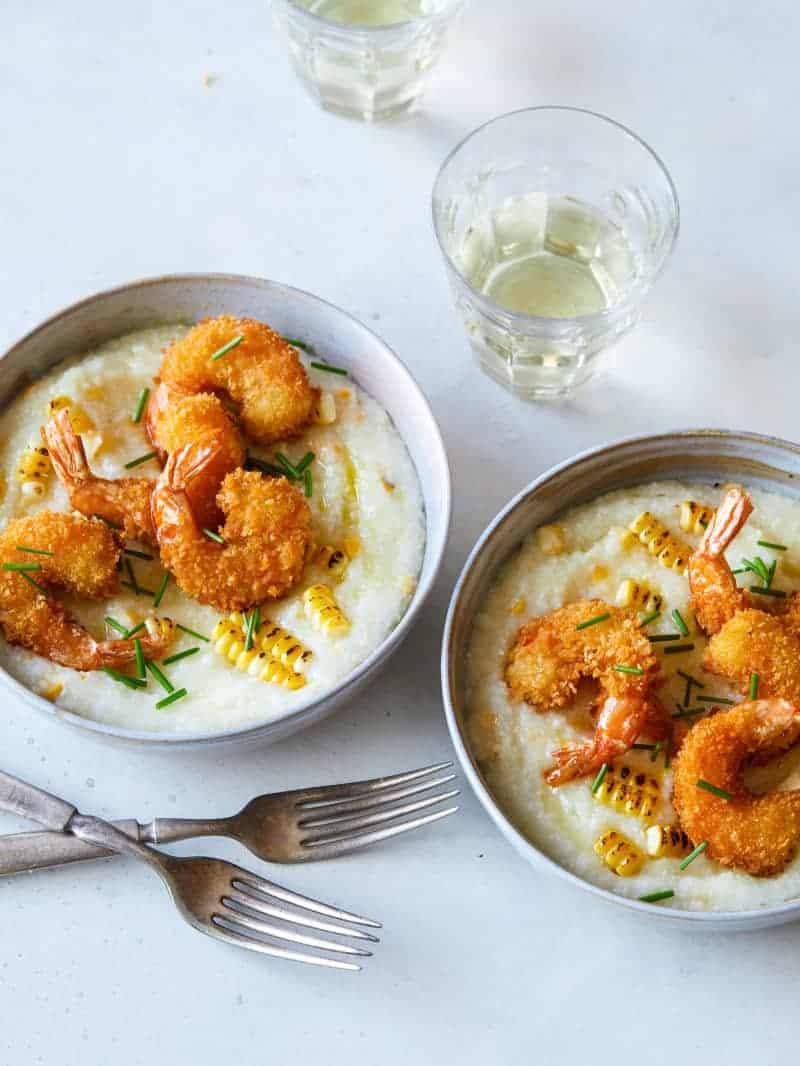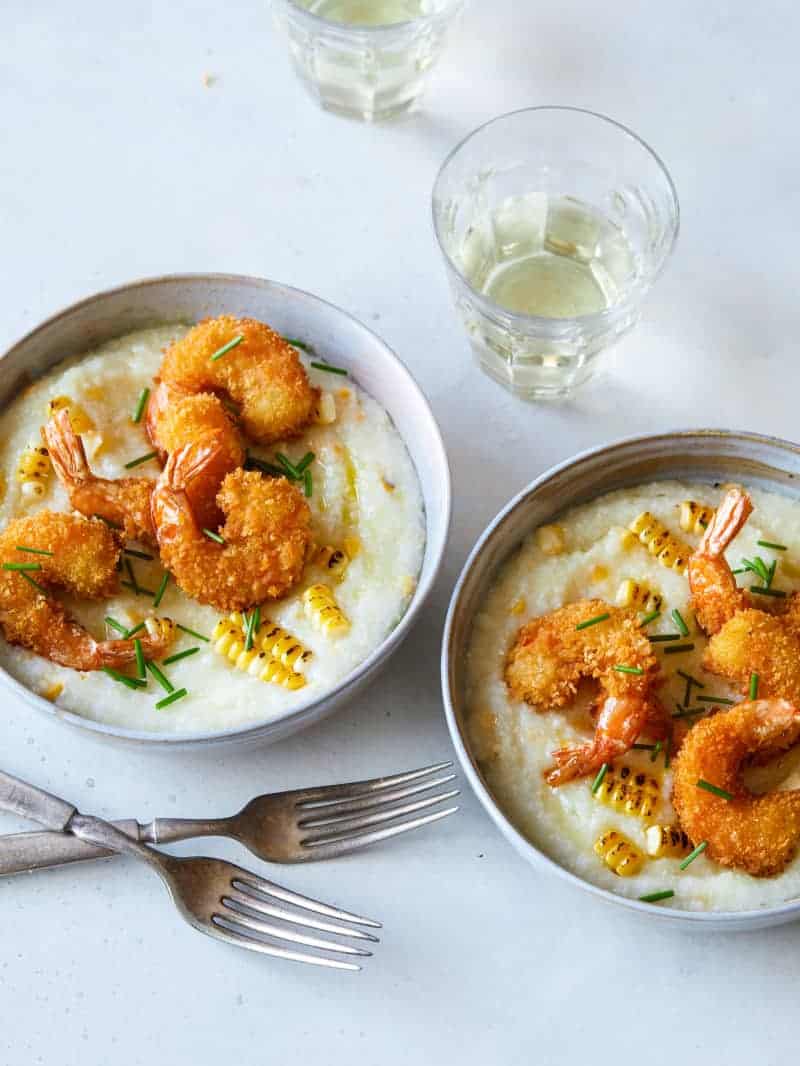 Summer shrimp and grits recipe right here for you. Using all that super yummy summer corn we have right now. Ok, I know frying is really annoying – but it's also super super delicious. Like right before you work out you hate that you're doing it – but when it's over you're really glad you worked out. Same thing with frying stuff. Yea – it's annoying, but when you're eating these delicious fried shrimp with grits and corn, you won't be mad anymore you will be really happy.
♥ Teri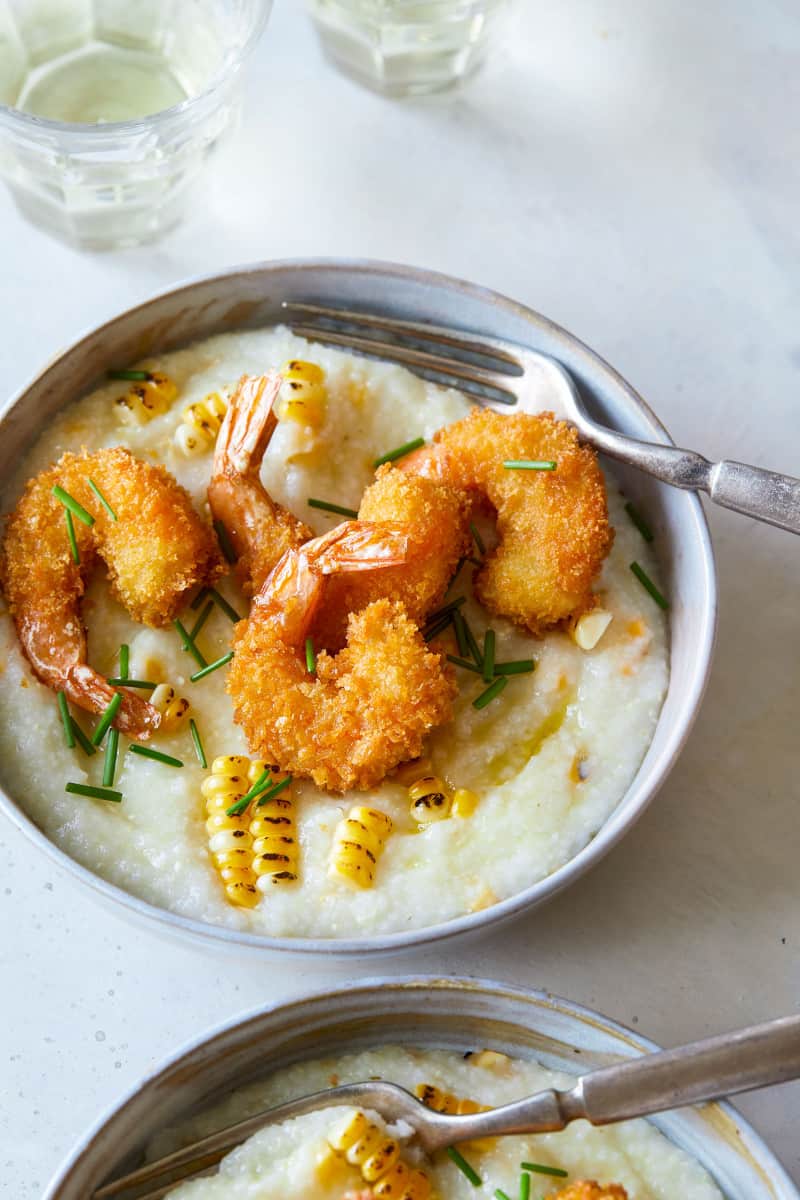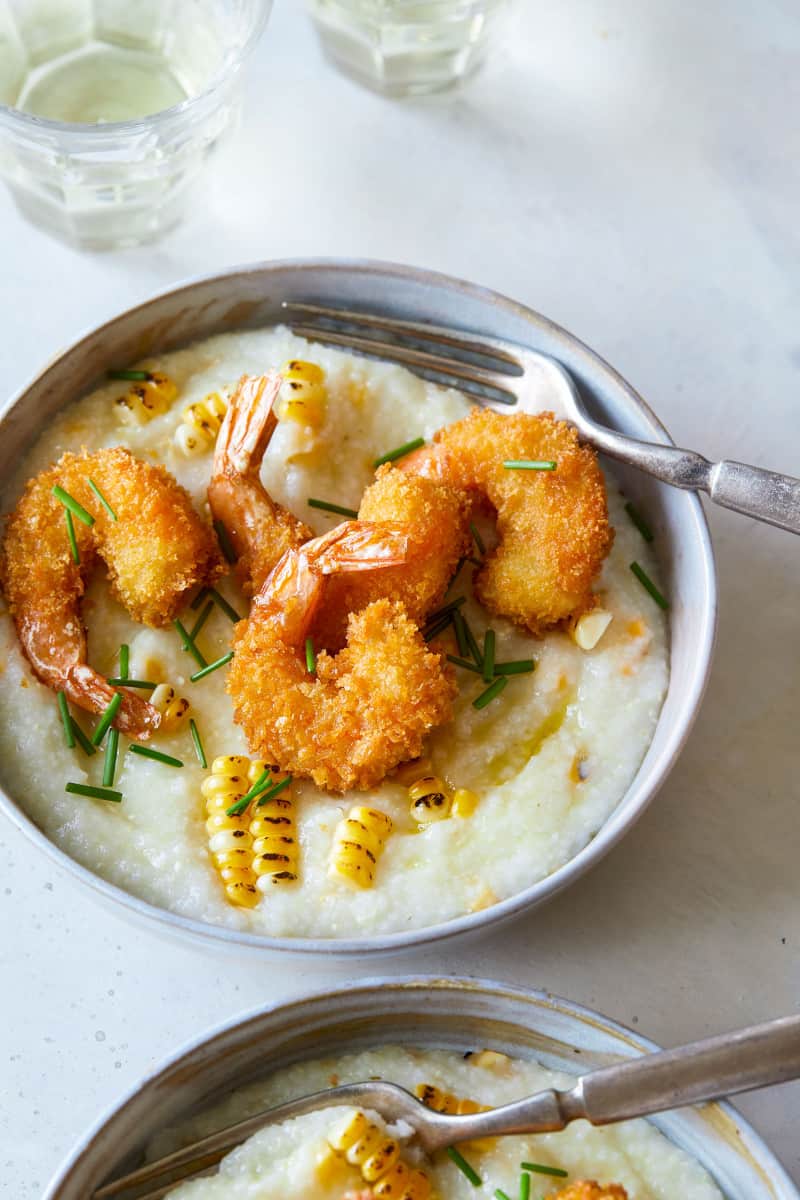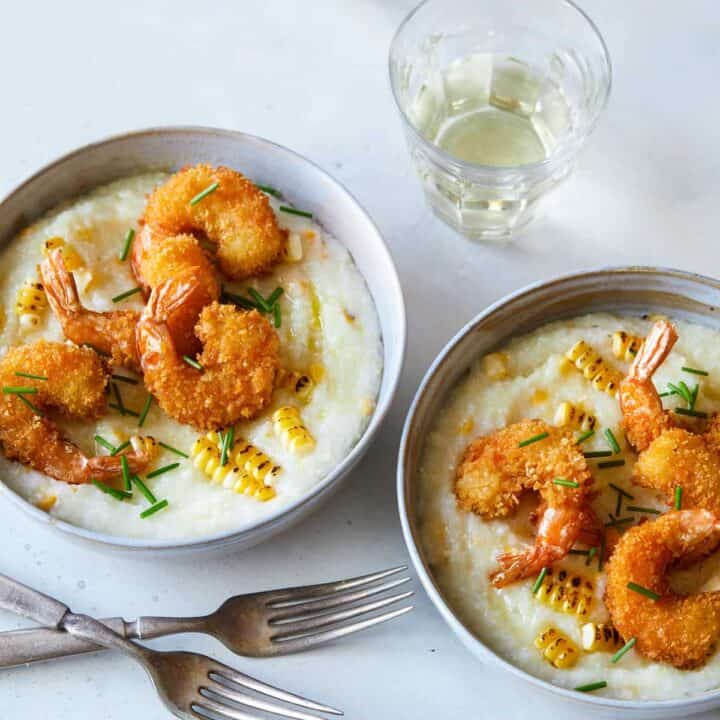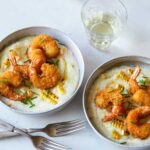 ---
Fried Shrimp and Grits
INGREDIENTS
charred corn and white cheddar grits
1

cup

white stone-ground grits

4

ounces

shredded white cheddar (1 heaping cup)

Kernels from 2 ears charred corn

2

tablespoons

unsalted butter, softened

salt and pepper to taste
fried shrimp
½

cup

all purpose flour

2

large eggs, beaten

1 ½

cups

panko bread crumbs

16

large shrimp, peeled and deveined with tails intact

salt and pepper to taste

oil for frying

sliced chives, for serving
INSTRUCTIONS
For grits: Bring 4 cups water to a boil. Generously salt water and stir in grits. Lower heat to medium and simmer mixture for about 30 minutes, stirring frequently, until mixture is thick and creamy. Stir in the cheese, corn and butter until fully incorporated. Adjust seasonings.

For shrimp: In a shallow bowl combine eggs whisk together. Set an assembly line up with a shallow bowl of flour, the beaten eggs, a shallow bowl of panko, and a clean baking sheet lined with wax paper.

Lightly season shrimp on each side with salt and pepper. Dredge each shrimp in the flour, followed by the beaten eggs, and finally into the panko until completely coated (making sure to shake any excess coating on the shrimp after each dredging).

Place all coated shrimp onto the prepared baking sheet and refrigerate the shrimp for 30 minutes while you preheat the oil.

Fill a tall sided saucepan or Dutch oven with 2 inches of oil and heat to 350˚F.

Carefully add the shrimp into the hot oil, a few at a time and fry for 3 to 4 minutes, carefully flip each shrimp and continue to fry for an additional 1 to 2 minutes. Transfer fried shrimp onto baking sheet lined with a cooling rack and season with salt and pepper.

Fry remaining shrimp in batches and set aside.

To assemble: Ladle grits into bowls and top each with a few fried shrimp. Sprinkl with sliced chives, serve.