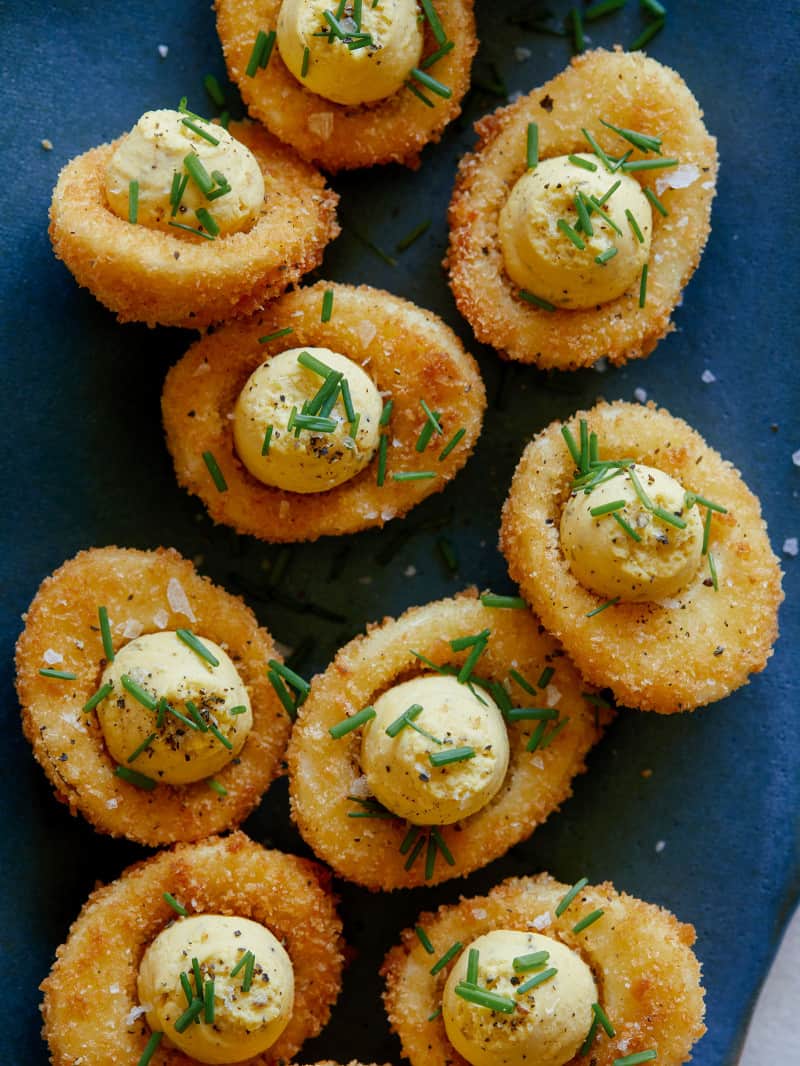 Just in time for the holidays we have a really yummy mix it up kind of recipe for you. If you are in charge of bringing deviled eggs – maybe try our fried deviled egg recipe. The crunch of the egg is a really nice change to your typical deviled egg. Plus, everyone likes fried things so you're kinda guaranteed it will be a hit. I am a really big fan of deviled eggs, and these do not make me wish I had the regular kind. Anyway – you should try them! Enjoy!
♥ Teri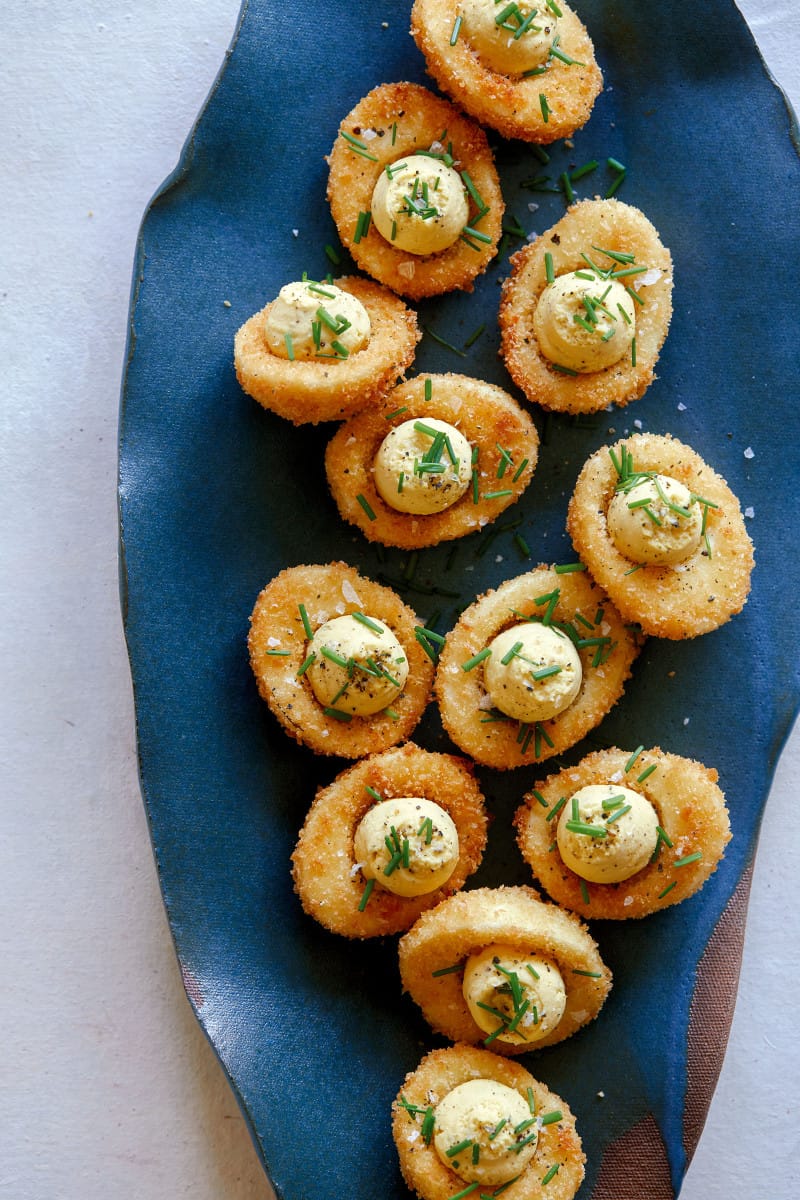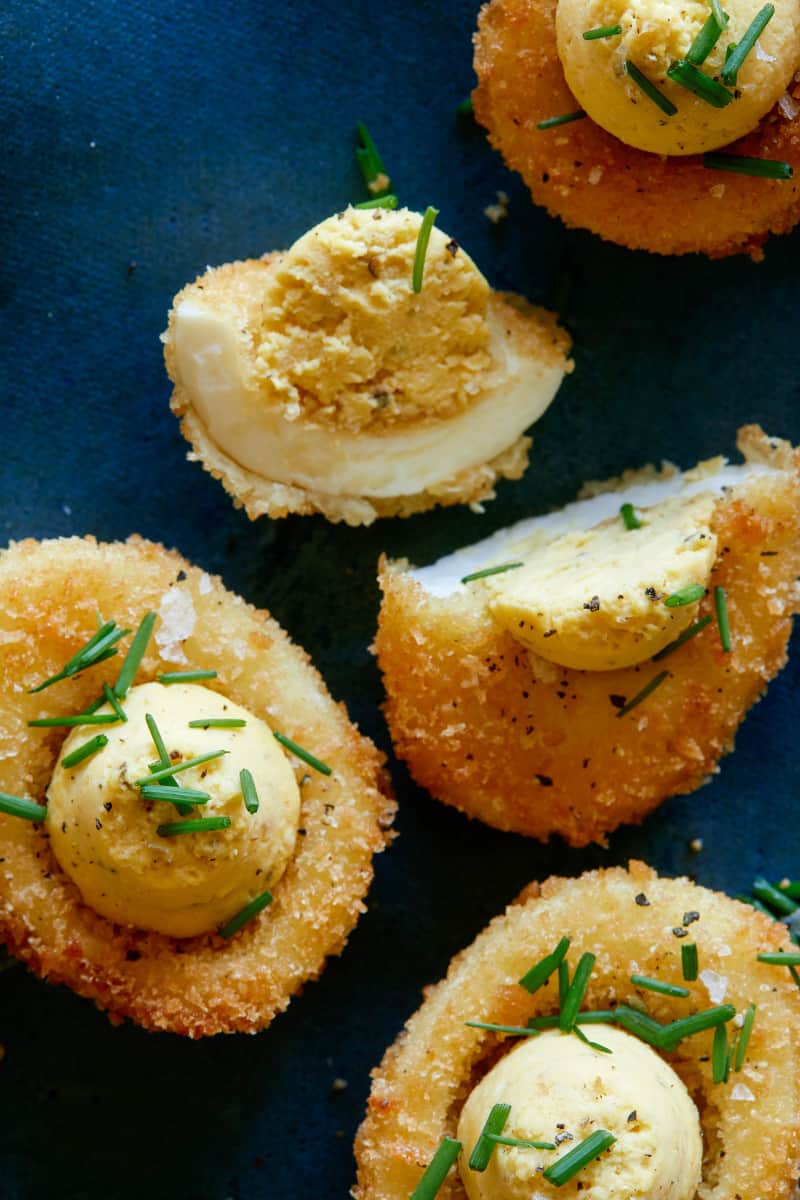 Fried Deviled Eggs
Ingredients
12

large

hardboiled eggs, peeled and halved lengthwise

2

tablespoons

mayonnaise

1 ½

tablespoons

sweet pickle relish

2

teaspoons

Dijon mustard

salt and pepper to taste

1 ½

cups

all purpose flour

2

large

eggs, beaten

1 ½

cups

panko breadcrumbs

1

cup

finely crushed butter crackers

i.e. Ritz

thinly sliced chives for garnish

oil for frying
Instructions
Carefully scoop egg yolks from the egg whites, into a mixing bowl and set whites aside.

Add mayonnaise, relish and mustard to yolks and lightly season with salt and pepper.

Mash together until smooth and creamy. Adjust seasonings, cover with plastic wrap and set aside.

Set up an assembly line with the egg whites, flour in a shallow baking dish, eggs in a mixing bowl, and the panko and crushed crackers mixed together in another shallow baking dish.

Dredge egg whites into the flour, eggs and finally the panko-cracker mixture, shaking off any excess after each addition. Repeat until all the egg whites have been breaded.

Fill a tall pot with 2 inches oil and preheat to 350˚F.

Carefully add egg whites to the pot, a few at a time, and fry on each side for 2 to 3 minutes or until golden brown. Drain fried whites onto a paper towel and lightly season with salt and pepper. Transfer whites to a cooling rack (to prevent them from getting soggy) and repeat until all have been fried.

Scoop about 1-2 tablespoons of the yolk mixture into each well(or scoop mixture into a piping bag and pipe into the wells).

Finish each egg with a sprinkle of chives and serve.