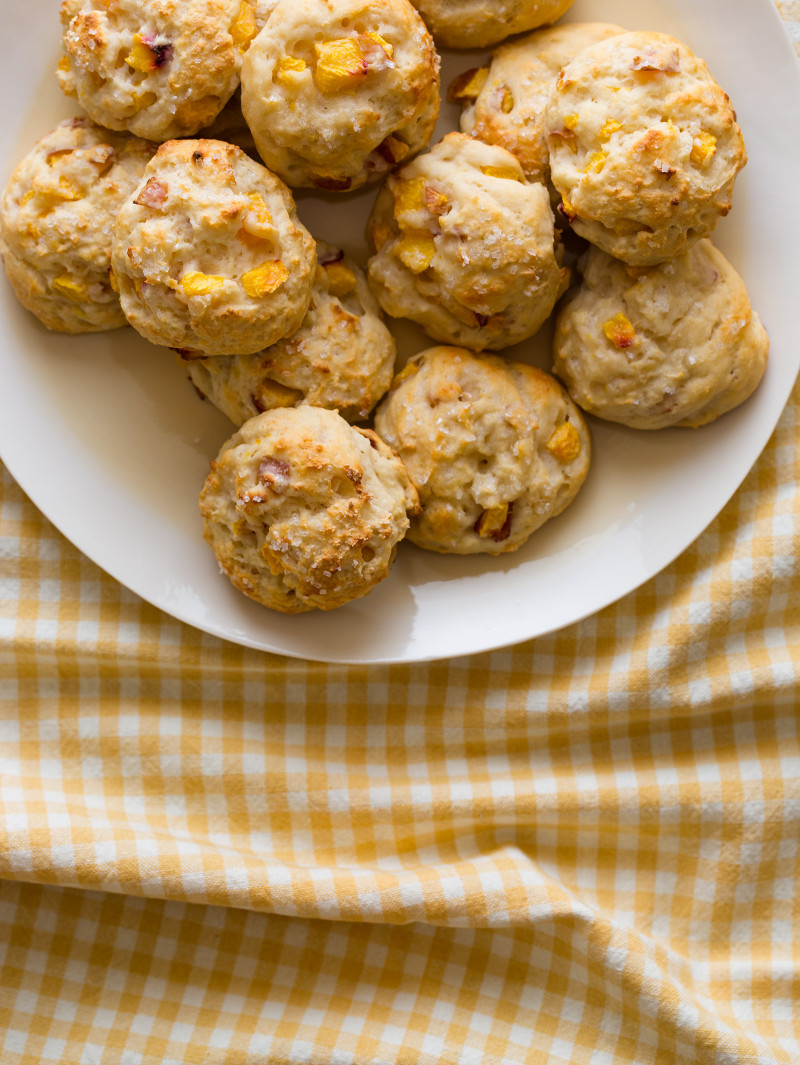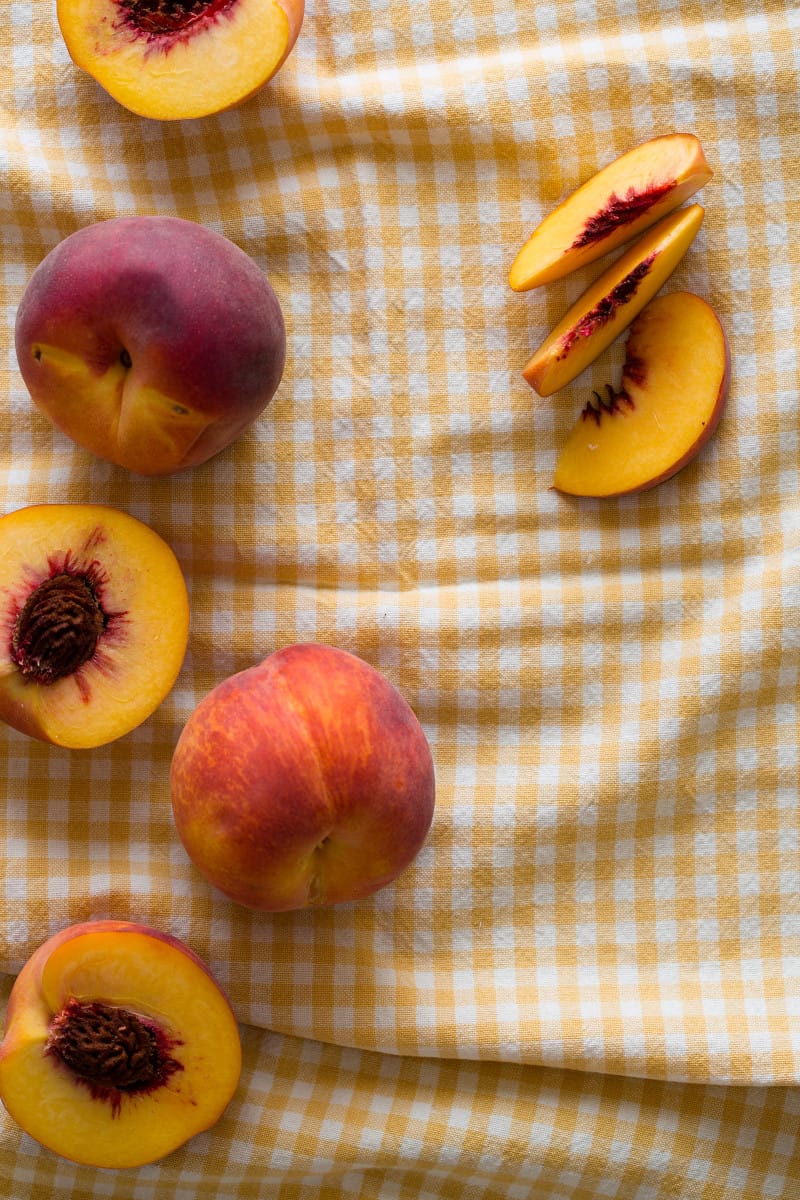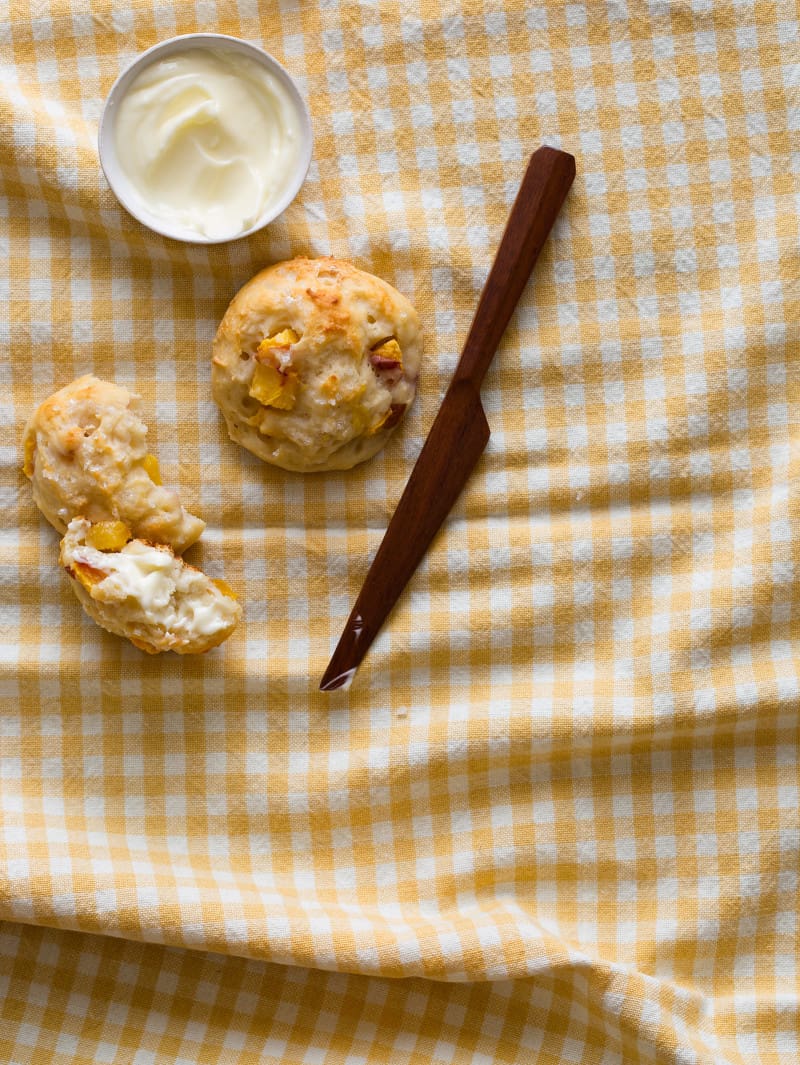 Happy Friday! We have a really yummy recipe for you today for Fresh Peach and Yogurt Biscuits. I love these biscuits because they are light and airy and just a little sweet, and a perfectly crisp exterior. They are the perfect mid day snack. These biscuits are also great because you can use all of your peaches before they go bad. These Fresh Peach and Yogurt Biscuits come together really quickly, are super easy to make. These little biscuits are really just perfect pockets of wonderfulness designed for snacking and perfect with tea. Too bad we already ate them all, or that is what I would be doing right this minute.
♥ Teri
Fresh Yellow Peach and Yogurt Drop Biscuits
Makes 12
2 cups all purpose flour
2 tablespoon superfine sugar
2 teaspoons baking powder
1 teaspoons salt
2/3 cup low-fat Greek yogurt
2 tablespoons honey
2 ripe yellow peaches, pitted and diced
1/3 cup buttermilk, chilled
garnish:
1/2 cup crystalized sugar
Directions:
1. Preheat oven to 400°F.
2. In a medium mixing bowl, combine all the ingredients except peaches and milk. Whisk together until the mixture resembles a bowl of coarse grains. Fold in peaches.
3. Add milk and mix just until sticky dough comes together.
4. Using two lightly greased spoons or a lightly greased ice cream scooper, drop 1/4 cup sized balls of batter/dough onto a baking sheet lined with parchment, about 1 inch apart. Sprinkle tops with sugar.
5. Bake biscuits for 20 to 22 minutes or until golden brown.
6. Allow biscuits to slightly cool before serving.
P.S.
We don't usually post stuff like this on the blog but the dudes that run The Yacht Club here in LA are friends of mine, and what they are doing is pretty cool and I really want to help them out. So please help the Yacht Club (a non-profit dodgeball league) win a $100K grant to create more kids cooking classes and advance the #CommonGood, check out their project at TheYachtClub.org/LA2050 All you gotta do is vote (which is really easy) and / or share on facebook or twitter. Thank you guys in advance! We all really appreciate your support!!!!! :)