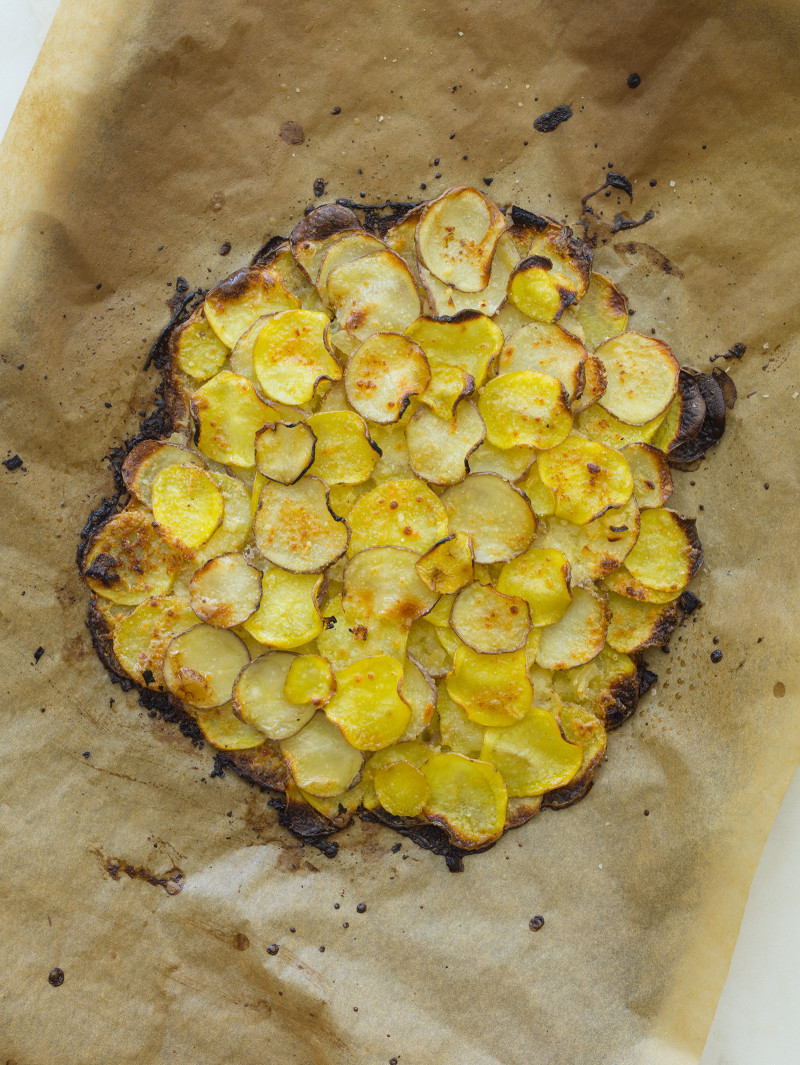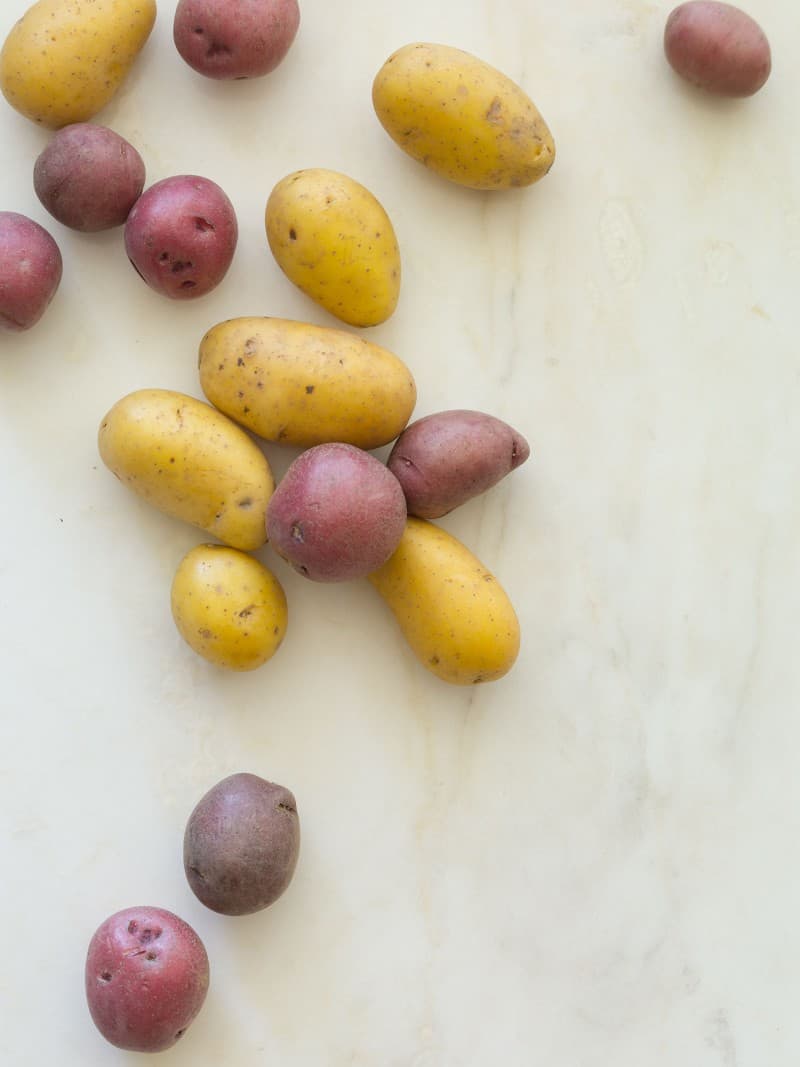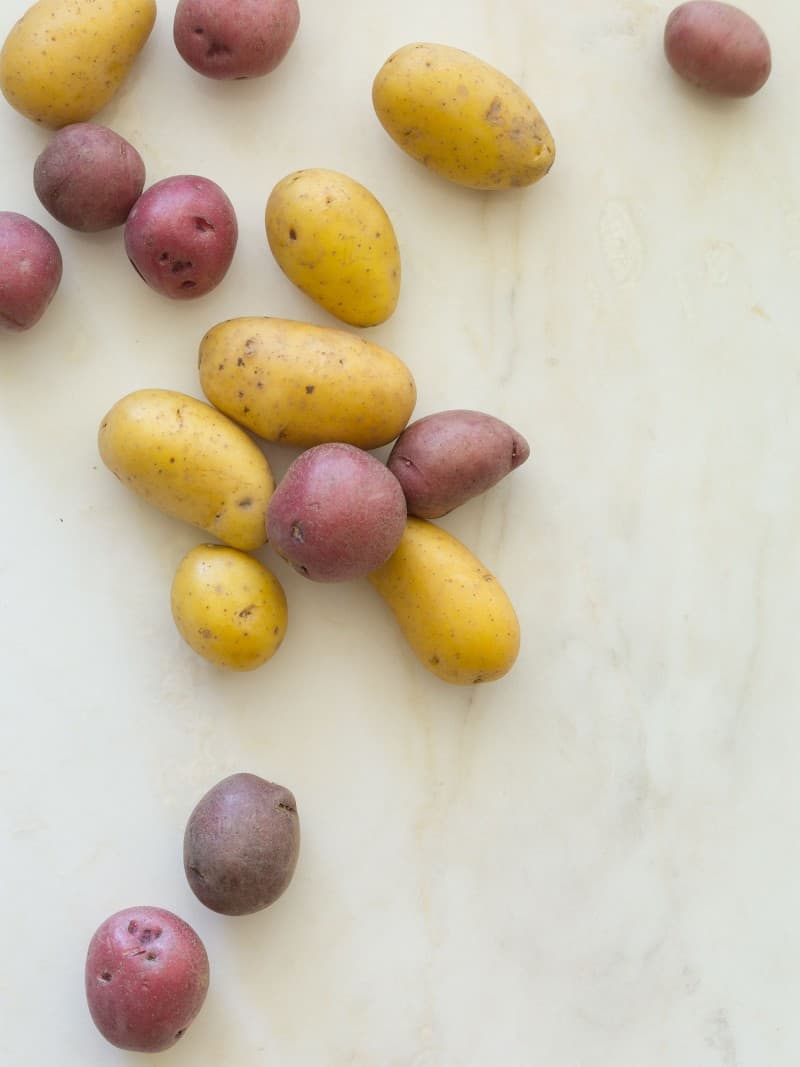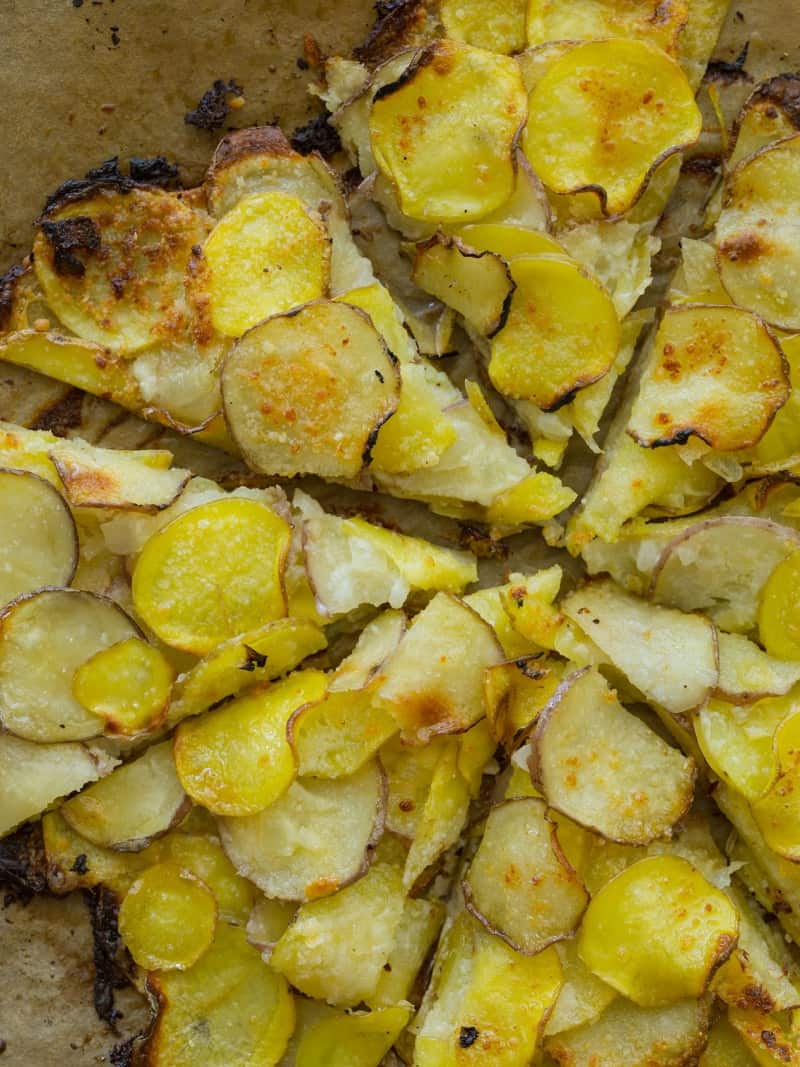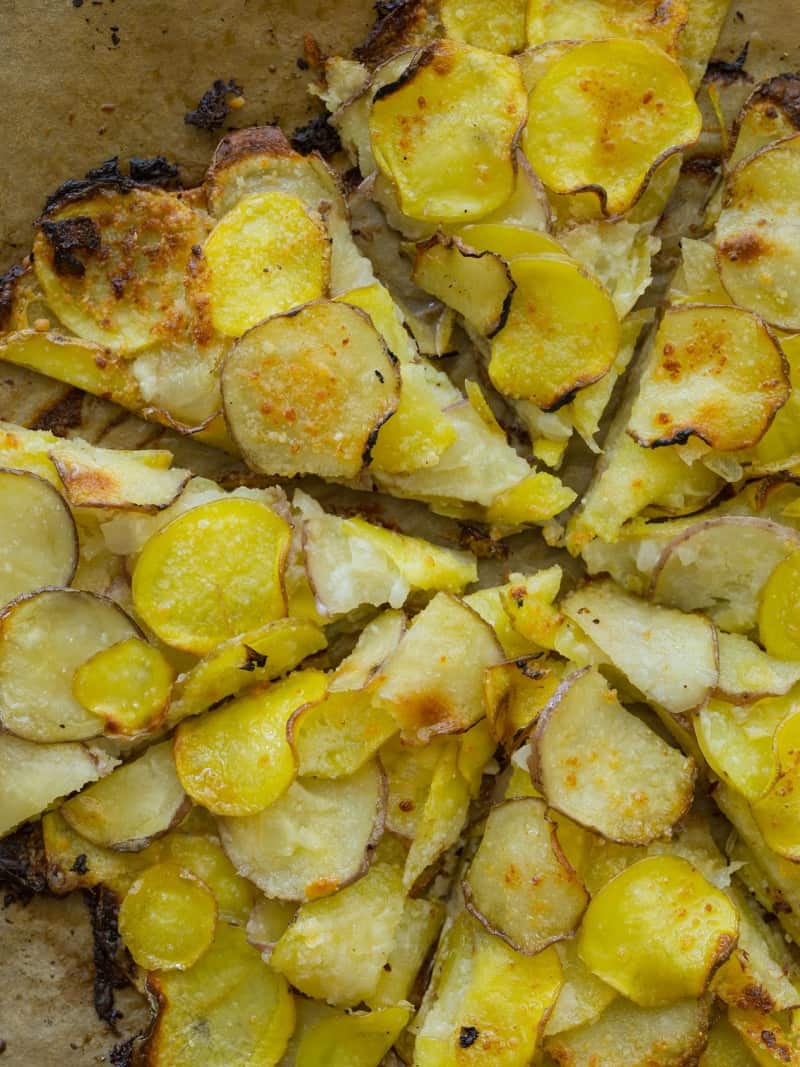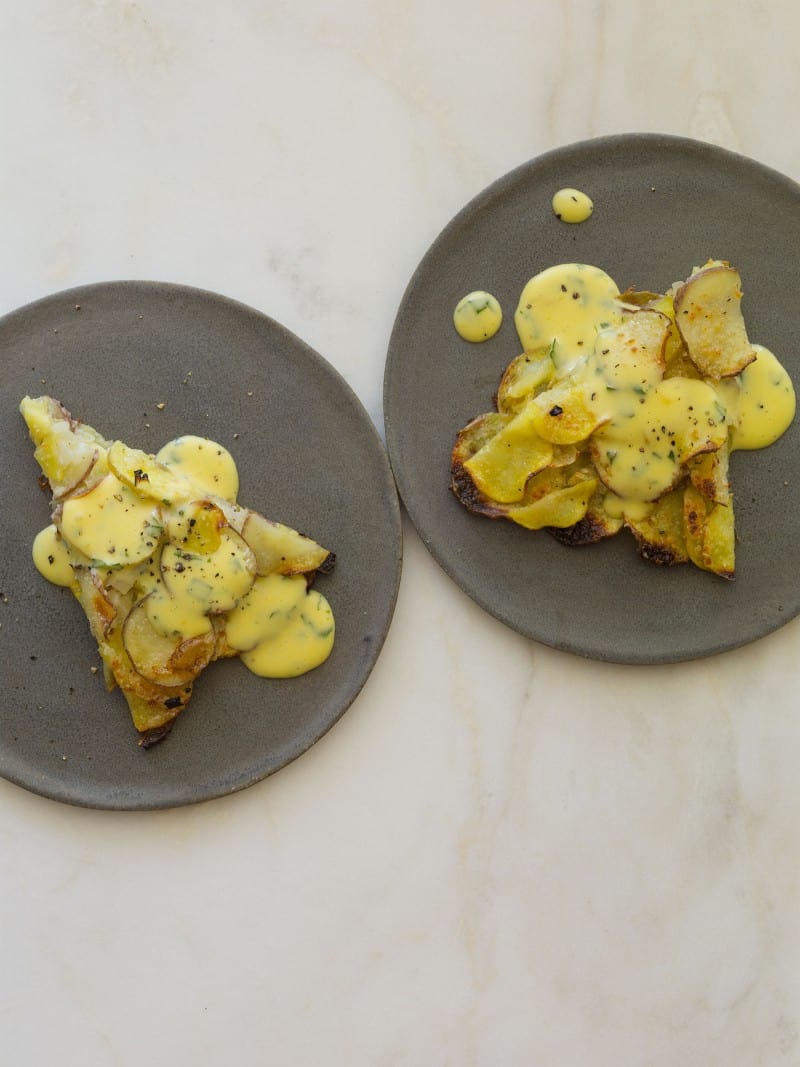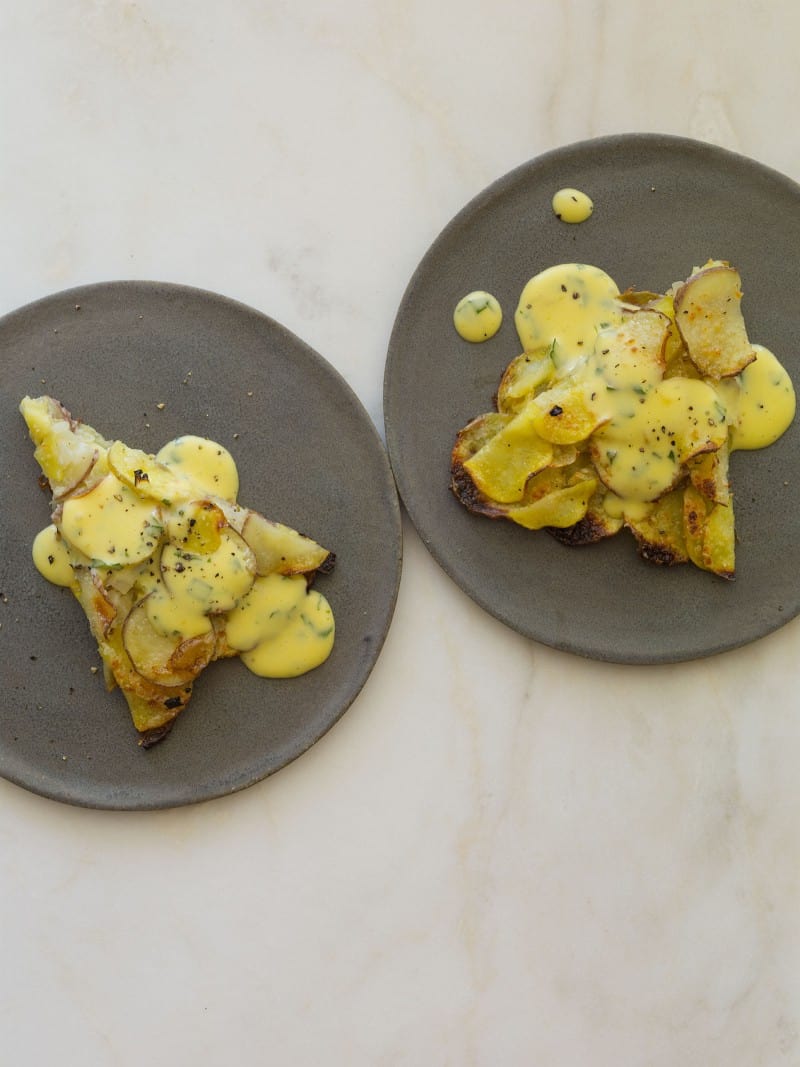 I am really excited to present to you this great free form Potatoes Au Gratin. I would like to think of myself as a potato aficionado (It's the Idaho in me!). Whenever I am at breakfast and the side choices are salad and potatoes, it's potatoes. Obviously. No question. Eating a sandwich? Put potato chips on it! Getting a burger? French fries on the side, or inside for that matter. Potatoes Au Gratin bring back a lot of memories for me. I used to work at this French restaurant in college, we had these amazing creamy Potatoes Au Gratin, and we would run out on busy days on occasion and people would have meltdowns because the only other thing I could offer them is a side salad. I got it, I understood, you come to a restaurant expecting to have a delicious side of Potatoes Au Gratin and instead get offered a salad. I always felt horrible. I remember asking one of the chefs the secret to their Au Gratin, and it was to make sure you let the potatoes sit in the cream for a long time. This allows the starchiness of the potato to exude and really marry into the cream. Our recipe calls for 5 minutes if you happen to be short on time, and because our slices are thin. If you have the time you can make slightly thicker slices and really let them soak up that cream. I love the concept of the free form because I think it just looks so beautiful and organic. Plus, the crunchy sides I believe are the best part. We are serving ours with a béarnaise sauce because it just really makes this dish such a treat, and I for one love the added richness. Enjoy!
♥ Teri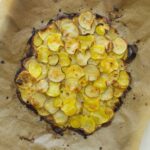 ---
Free Form Potatoes Au Gratin with Béarnaise Sauce
INGREDIENTS
gratin
8 to 10

small new potatoes (or large fingerling potatoes or both), thinly sliced

1

cup

heavy cream

1

shallot, diced

2

garlic cloves, minced

½

cup

plus 2 tablespoons freshly grated Parmesan cheese

¼

cup

(½ stick) unsalted butter, softened

salt and pepper to taste
béarnaise sauce
1

tablespoon

minced tarragon, divided

½

cup

vinegar

1

shallot, diced

4

egg yolks

½

cup

(1 stick) unsalted butter, melted (and clarified, if desired)

salt and freshly cracked black pepper to taste
INSTRUCTIONS
Place sliced potatoes into a mixing bowl and top with cream. Toss gently to coat. Season with salt and pepper. Allow potatoes to sit for 5 minutes, or longer if you can.

Line a baking sheet (with a lip) with parchment and begin placing the potatoes in a single layer, slightly overlapping one another. Sprinkle the surface with some shallots, garlic and cheese. Dot the surface with a small amount of butter and lightly season with salt and pepper.

Continue layering potatoes and shallot mixture until all the potatoes have been used, placing small dots of butter between each layer.

Top gratin with remaining butter and season bake for 15 about 15 minutes. Remove from oven and sprinkle with remaining cheese. Place back into the oven for another 10-15 minutes until the potatoes are fork tender and the cheese has bubbled and browned on top. Allow gratin to cool for 5 minutes. Cut into wedges and serve with béarnaise sauce.

Béarnaise sauce: Place 2 teaspoons tarragon, vinegar and shallot into a small saucepan and reduce by half. Strain and set aside until completely cooled.

Place egg yolks and vinegar reduction into a stainless steel or heatproof glass bowl and whisk together until the mixture doubles in volume. Place mixture over a pot with simmering water (make sure the water from the pot does not reach the bottom of your bowl) and begin whisking. While whisking, begin to add melted butter, in a slow and steady stream, until fully incorporated and the béarnaise is thick and smooth. (the sauce should gradually thicken as you add the butter) Remove from heat and add remaining tarragon and season with salt and freshly cracked black pepper.

Drizzle sauce over gratin wedges and serve.
Calories:
484
kcal
Carbohydrates:
17
g
Protein:
8
g
Fat:
43
g
Saturated Fat:
26
g
Cholesterol:
251
mg
Sodium:
164
mg
Potassium:
428
mg
Fiber:
2
g
Sugar:
1
g
Vitamin A:
1579
IU
Vitamin C:
17
mg
Calcium:
171
mg
Iron:
1
mg