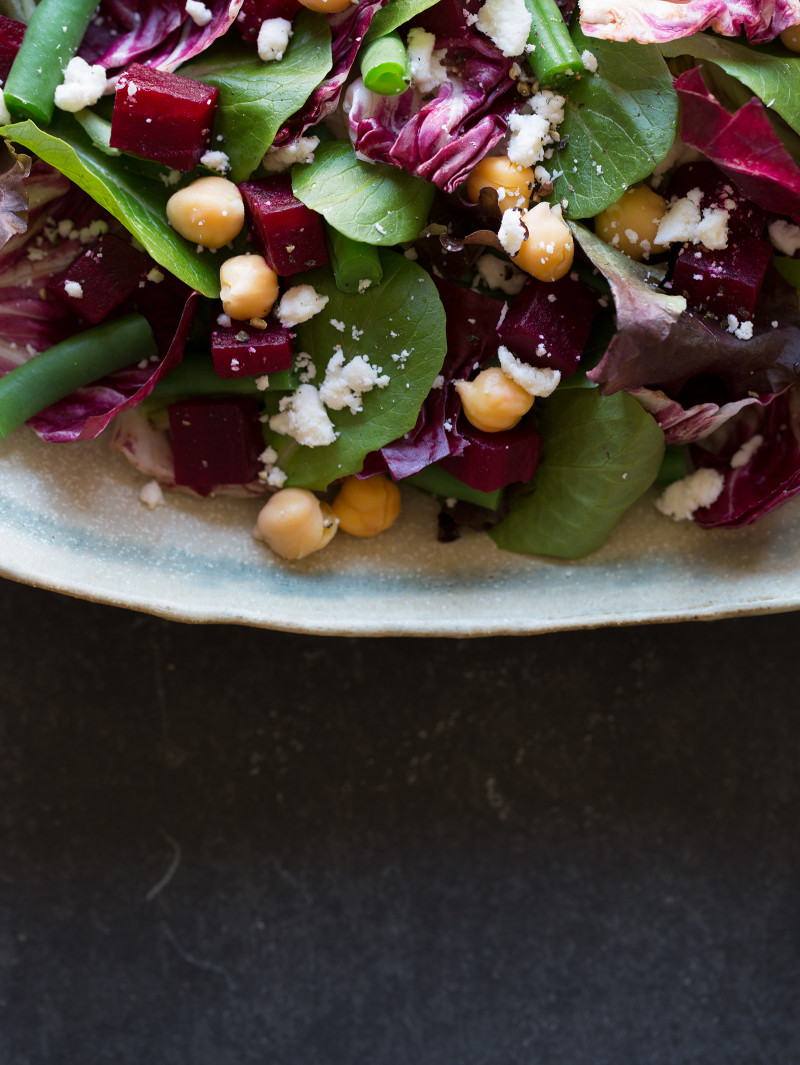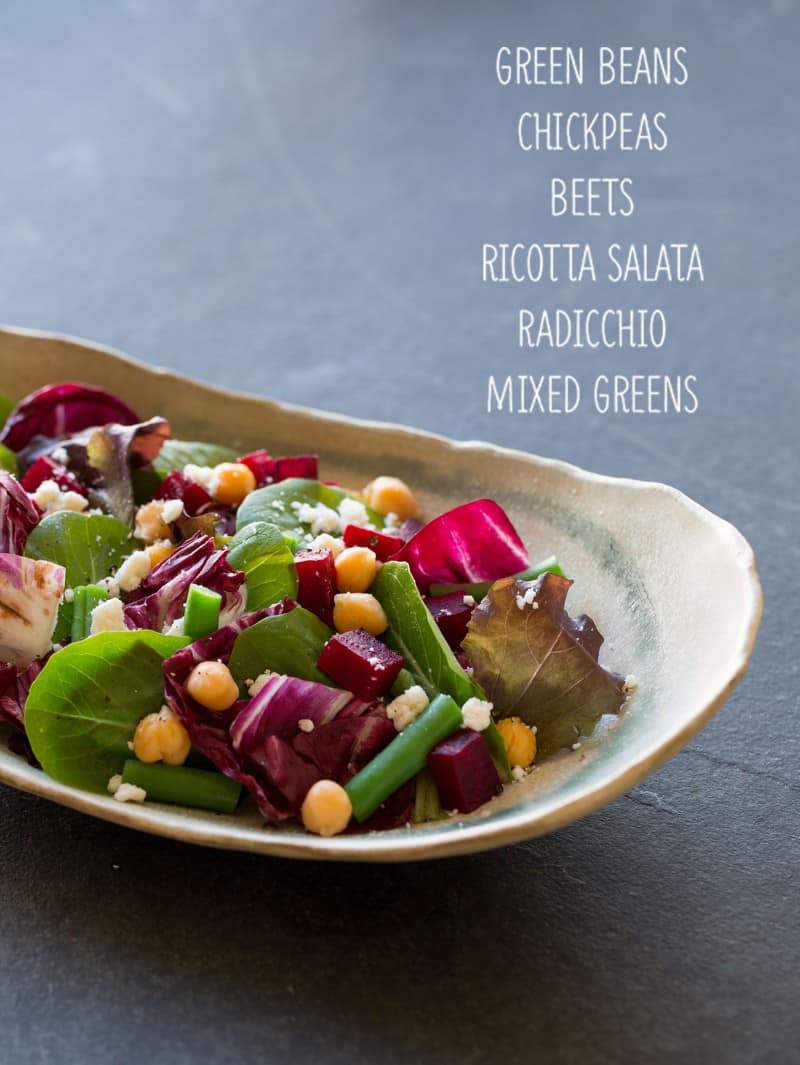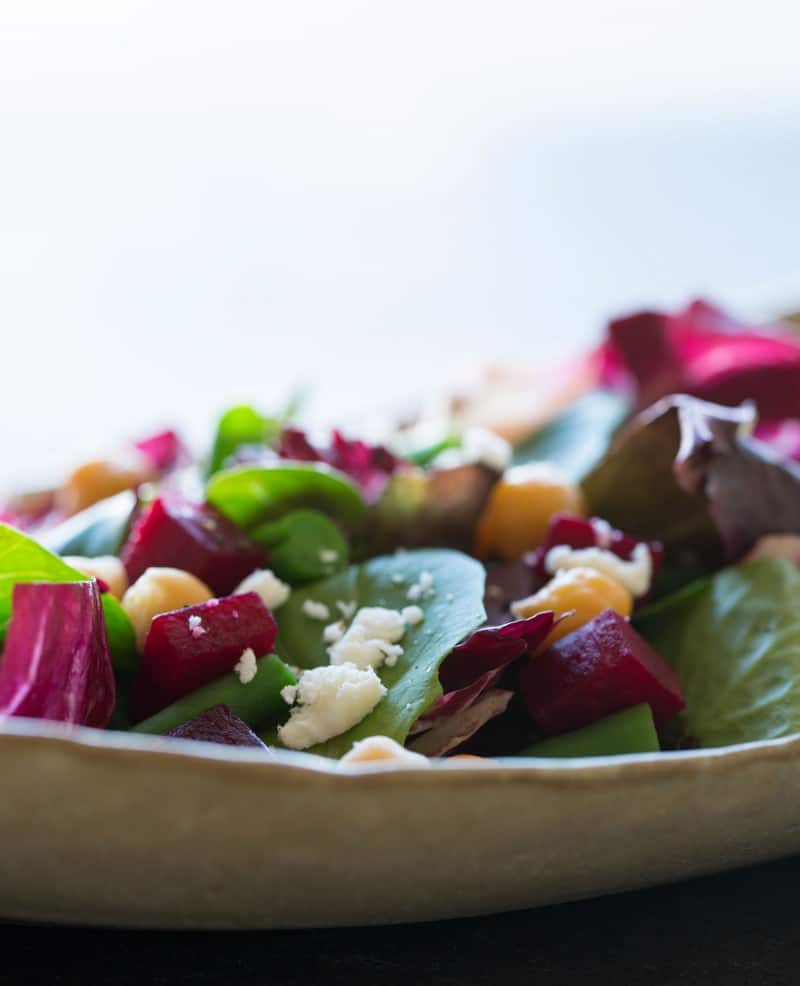 Hey Guys! Today we have this really great salad for you. This salad is very easy to throw together and the name pretty much speaks for itself…it's awesome and really wonderful anytime of the year (plus, I couldn't think of a better name!). I love the bitterness of radicchio, especially paired with a sweet and tangy balsamic vinaigrette. The ingredients in this salad are pretty much based on my own personal preferences. It has both the earthiness of the beets and mixed greens and the hearty texture of the chickpeas which I think beings good balance to this salad overall….but feel free to swap out ingredients you don't like for ones you do!
What I think makes this salad super special is the ricotta salata, a cheese I learned about just a year ago and am now seeing pop up even at regular grocery stores! It's basically a dry ricotta….think feta/cotija hybrid, Italian style. It's SO good and really makes the salad pop! Some of you might be a bit surprised at the amount of oil added to the vinaigrette. Nothing bums me out more than a vinaigrette that taste like  nothing but oil, with a hint of balsamic….so this recipe definitely packs a punch. If you prefer a more mild vinaigrette, then go ahead and add in another 1/4 cup…eat it however you like!
As the weather begins to get chilly here and everyone is getting into the spirit of hearty, comfort dishes; remember this salad as a great alternative to those stick to your ribs meals. Oh and did you guys see our gorgeous Candied Yam Pie yesterday? Wasn't it puuuurtty?! Holiday desserts are always so much fun, and we're going to keep it going with another pumpkin pie alternative at the end of this week so we hope you're ready. Yay! Have a great week! xx, Jenny
The Awesome Anytime Salad
Serves 3 to 4
Ingredients:
5 ounces of mixed greens (6-8 loosely packed cups)
1 small head radicchio, roughly chopped
10 green beans, blanched (or steamed) and cut into 1 inch pieces
1 medium red beet, roasted, peeled and diced
2/3cup canned chickpeas (aka garbanzo beans), drained
1/2 cup ricotta salata, crumbled
super simple balsamic vinaigrette:
1 tablespoons minced shallots
1 garlic clove, minced
3 tablespoons high quality balsamic vinegar
2 teaspoons light brown sugar
1/2 cup extra virgin olive oil
salt and pepper to taste
Directions:
1. Place greens, radicchio, green beans, beets, and chickpeas into a large mixing bowl and toss together.
2. For the vinaigrette: Place all ingredients into a small jar, seal and shake until completely combined.
3. Pour vinaigrette over salad and toss together. Sprinkle ricotta salata over salad and serve.
**To roast the beet: Preheat oven to 375°F. Rinse any dirt off the beet and thoroughly dry. Drizzle about 1 tablespoon of extra virgin olive oil over the beet, wrap in foil and place directly on the rack in the oven. Roast for about 40 minutes or until tender. Allow beet to cool before unwrapping, peeled and dicing.