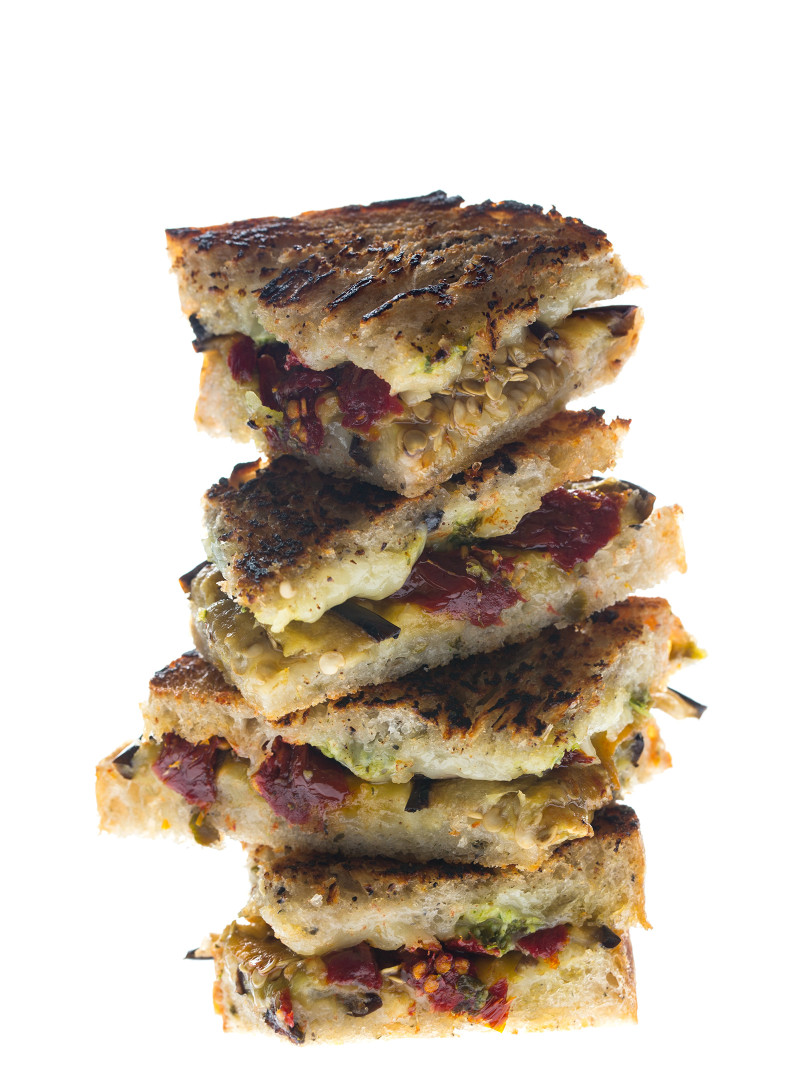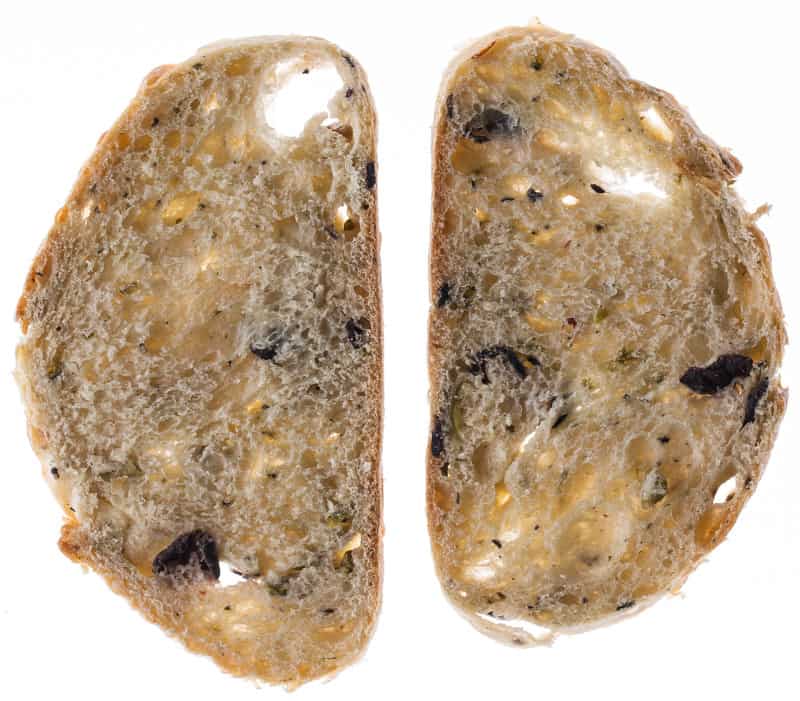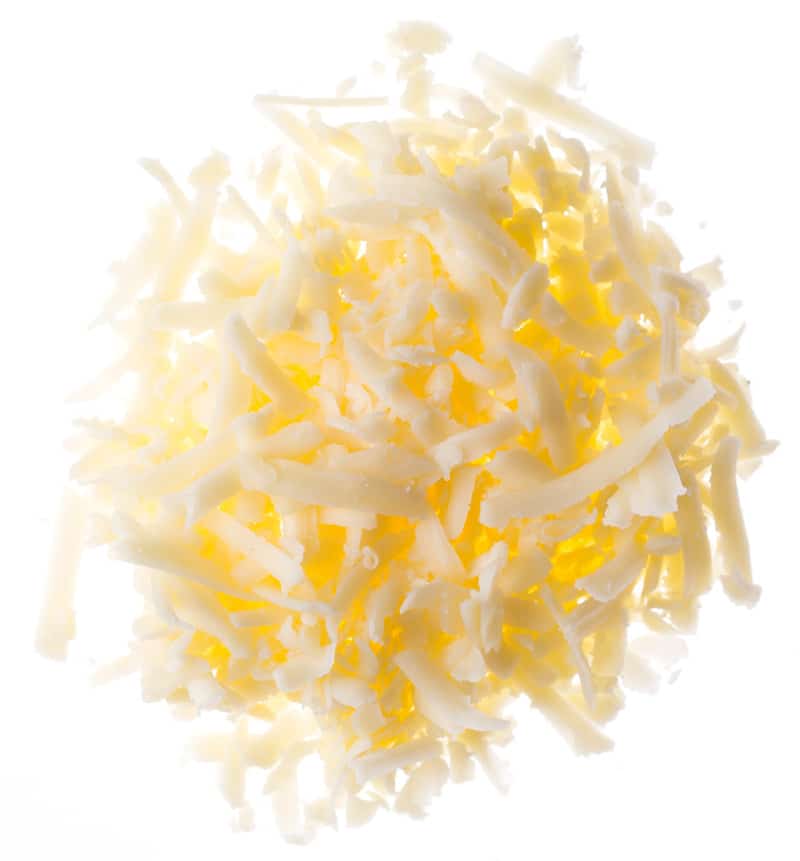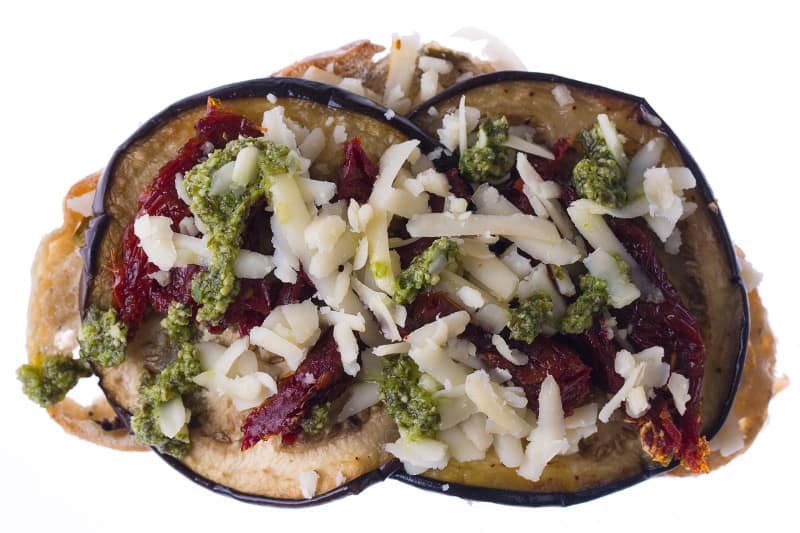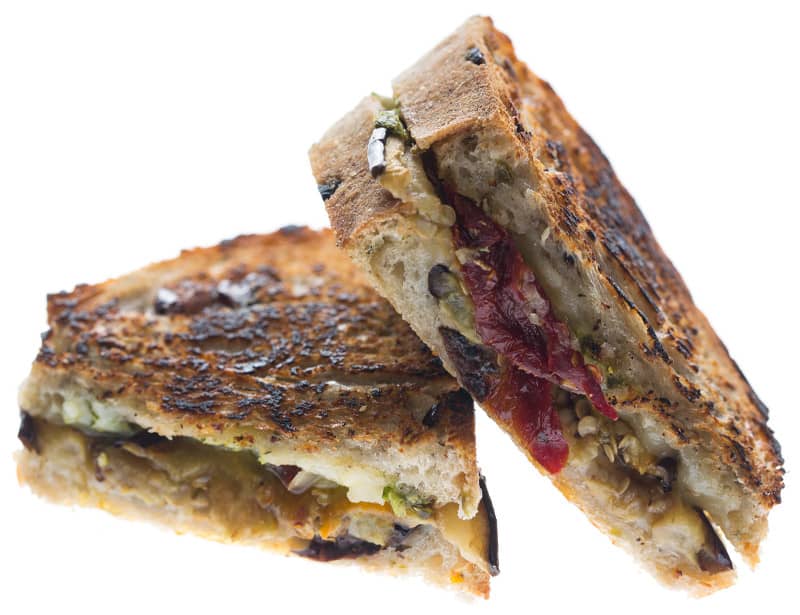 Day 4 of Grilled Cheese. Are you sick of them yet? I googled why eggplants are called eggplants and it's because some of them look like goose eggs. In case you were wondering also. Today we have a vegetarian option for you, this Eggplant and Sun Dried Tomato Grilled Cheese. I always wonder how vegetarians out there feel about eggplant. It seems like when you go to a lot of restaurants their vegetarian entrees always consist of some kind eggplant situation. I always thought it was kind of a cop out in a way. I'm not entirely sure why I feel this way when I think about it, I think it is because I always notice it as being the token vegetarian option. Once upon a time I was a vegetarian (hard to believe I know), and I always hated going out to eat and having to choose between something eggplant, and a salad. I loathed eggplant, but as my diet changed and I started eating pretty much anything, I now love it. Do you guys like eggplant?
Yesterday I had an interesting conversation with the people I work with about Grilled Cheese. It seems that two of them were Grilled Cheese purists. They don't think you can call a Grilled Cheese a Grilled Cheese if you shove a bunch of other ingredients in there. What do you think? I think if it's going to make it taste better, you should probably do it.
♥ Teri
Eggplant and Sundried Tomato Grilled Cheese
Ingredient List:
grilled eggplant:
1 eggplant, sliced into 1/2 inch thick rounds
2 teaspoons salt
3 tablespoons extra virgin olive oil
sliced olive bread
shredded provolone or mozzarella
grilled eggplant rounds
thinly sliced sundried tomatoes
fresh minced rosemary leaves
store-bought or homemade basil pesto
unsalted butter, softened
Directions:
1. For grilled eggplant: Sprinkle each slice of egg plant with salt, flip over and repeat. Allow slices to sit for 20 minutes. Rinse salt off each slice and gently pat dry. Heat a grill or grill pan to high heat and brush with oil. Grill eggplant rounds on each side for 4 to 5 minutes. Lightly season with salt and pepper and set aside until ready to use.
2. Slather both sides of each slice of bread with butter.
3. Sprinkle some shredded cheese onto a piece of olive bread and top with grilled eggplant rounds. Top eggplant with another generous sprinkle of cheese and a small amount of rosemary.
4. Top the cheese with a layer of sliced sundried tomatoes followed by a final sprinkle of cheese.
5. Drizzle pesto over the layered ingredients, top with another slice of bread and gently press grilled cheese together.
6. Place a cast iron skillet over medium heat and melt a couple tablespoons of butter. Once the butter has melted and the skillet is hot, carefully place the grilled cheese into the skillet and cook for 4 to 5 minutes or until the bottom is nicely toasted and some of the cheese has melted. Flip the grilled cheese and continue to cook for an additional 3 to 4 minutes or until the bottom is toasted and the remaining cheese has melted.
7. Transfer grilled cheese onto a cutting board. Allow the sandwich to sit for 3 to 5 minutes before cutting the half and serving.