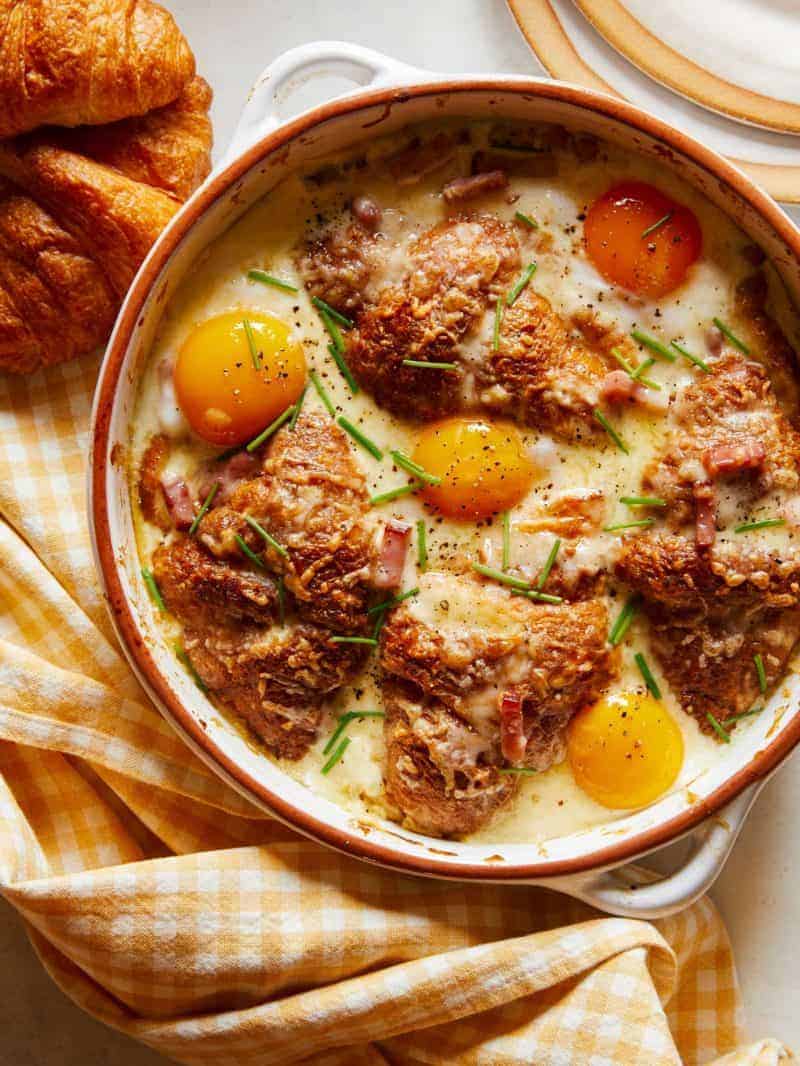 We love Croque Madame in general, and have made Croque Madame Flatbreads and Croque Madame Toasts. Our love runs deep. Today we made a Croque Madame Croissant Casserole. Croque Madame for everyone! But really, this is going to be a crowd pleaser, and it's the perfect brunch dish, and the best way to feel a crowd. You could also easily cut this recipe in half if it's just for you and another person, or just you. :) Happy weekend!! ♥ Teri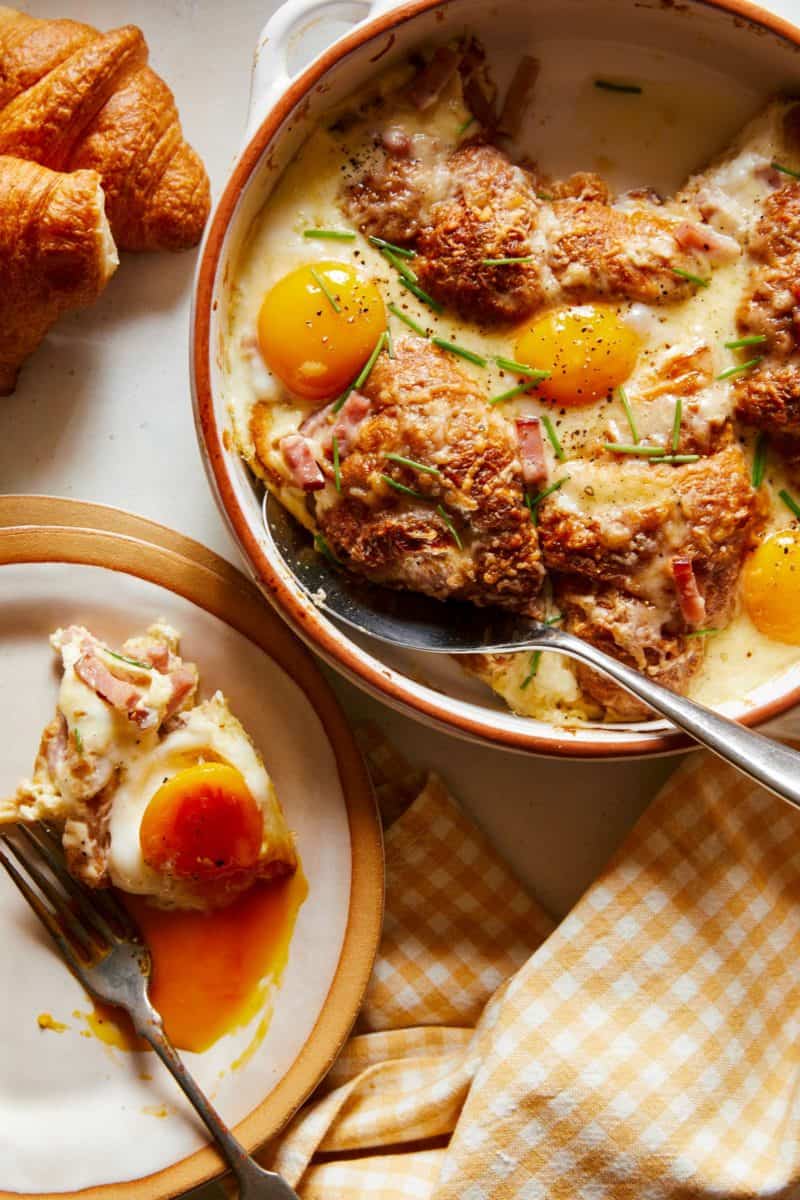 ---
Croque Madame Croissant Casserole
Ingredients
4

(day old) butter croissants, split in half

2

tablespoons

Dijon mustard

5

tablespoons

unsalted butter

2

tablespoons

all-purpose flour

2

cups

whole milk

Pinch fresh grated nutmeg

1

teaspoon

salt

½

teaspoon

cracked black pepper

2 ½

cups

shredded gruyere cheese, divided

1 ½

cups

chopped ham

(about 12 ounces)

4

large eggs, separated
Instructions
Rub 1 tablespoon butter along bottom and sides of baking dish. Set aside.

Brush each side of each split croissant with Dijon mustard (on cut side) and set aside.

Melt remaining butter in a saucepan over medium heat. Add flour and whisk together until mixture is smooth and foaming stops. Slowly whisk in milk, breaking up any lumps.

Continue whisking together until mixture is smooth and thick enough to coat the back of a wooden spoon. Stir in nutmeg, salt and pepper.

Remove béchamel from heat and in small handfuls, stir in 1 ½ cups shredded cheese until sauce is smooth. Set aside and slightly cool.

To assemble: Pour ⅓ of cheese sauce into the bottom of the prepared baking dish. Top cheese sauce with bottom halves of croissants, cut side up.

Top each croissant with ¼ cup ham (about 2 ounces ) and pour another third of the sauce over the baking dish.

Gently press top halves of croissants over bottom halves (cut side down) and pour remaining sauce on top.

Create 4 divots around the baking dish and add an egg white into each divot.

Cover baking dish with foil (making sure foil doesn't rest directly atop contents of baking dish) and bake for 15 to 20 minutes or until casserole is bubbling and egg whites are almost set.

Remove casserole from oven, uncover and add an egg yolk over each egg white.

Sprinkle remaining shredded cheese over dish and place back into the oven, uncovered, for 6 to 8 minutes or until cheese has melted and browned and yolks have heated through, but are still runny.

Remove casserole from oven and allow it to cool, 10 to 15 minutes. Top casserole with more cracked black pepper, sliced chives (if using) and serve.
Notes
*Makes 1 (4 quart) casserole