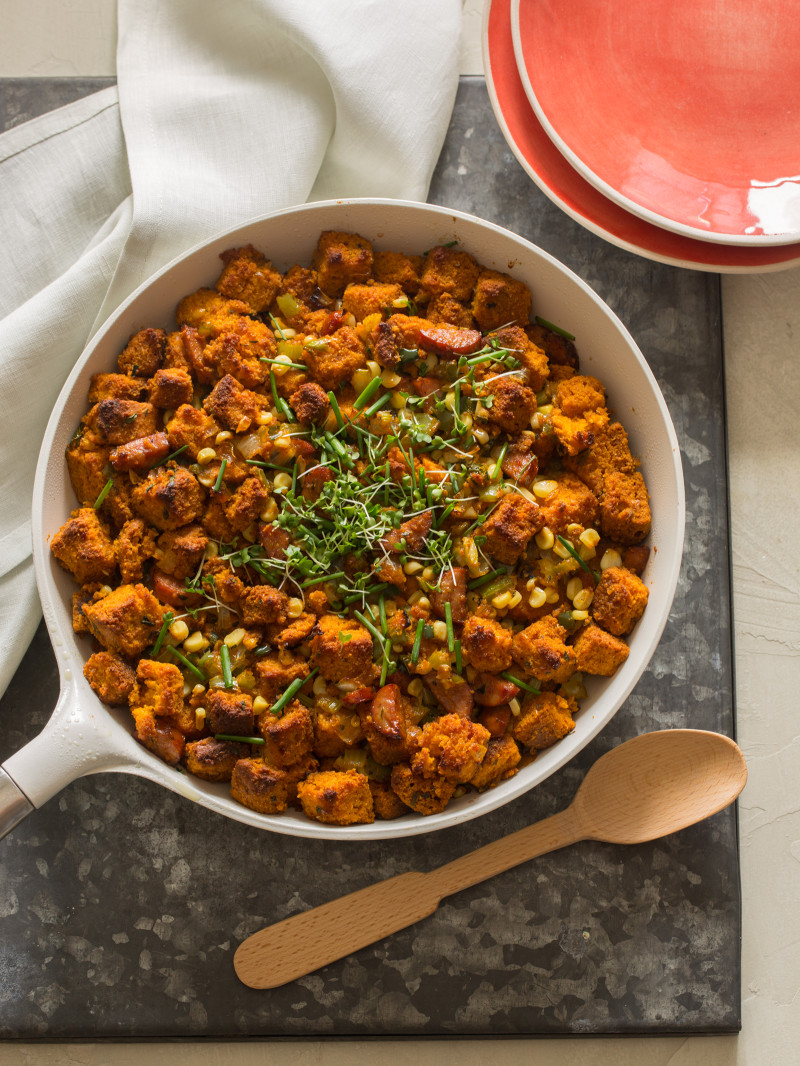 Thanksgiving is less then a week away and if you're anything like me you've been procrastinating on what dishes to make, etc. I absolutely love stuffing. Like love love love love love stuffing!! I also don't have it very much outside of this time of year, mostly because I forget about it, so when this time of year rolls around I just want to eat all the stuffing.
Earlier this month we showed you guys our Fig + Herb + Sausage Stuffing (hello delicious thang!), but today we have a creole cornbread stuffing for you!! This stuffing is totally decadent and totally worth having on your thanksgiving table this year. The secret is to dry the cornbread cubes out as much as possible so you still end up with stuffing with some texture, otherwise you'll end up with something more similar to spoon bread..still super yum, but not quite what we want.
We used our pumpkin cornbread recipe for the cornbread in this stuffing. The pumpkin flavor adds a nice touch to the overall stuffing, but is still subtle enough that if you wanted to use regular cornbread or even store bought cornbread to save on a little bit of time, you totally can. Enjoy!! xx, Jenny
Creole Cornbread Stuffing
Makes 10-12 cups
Ingredients:
1 recipe pumpkin cornbread (or 1 (8"x8") pan of cornbread of choice), cubed and dried out
1/2 cup (1 stick) unsalted butter, softened
2 Andouille sausages, diced
1 yellow onion, diced
2 garlic cloves, minced
2 ribs celery, diced
1 poblano pepper, diced
2 ears fresh corn, kernels removed from cob
1 tablespoon smoked paprika
2 teaspoons chile powder
1 teaspoon cayenne pepper
2 tablespoons thinly sliced chives
1 tablespoon minced oregano
3 cups vegetable or chicken stock, warmed
salt and pepper to taste
Directions:
1. Preheat oven to 375˚F.
2. Pour dried cornbread cubes into a large mixing bowl. Set aside.
3. Place half of butter in a large skillet and melt over medium heat. Add sausage and sauté for 4 to 5 minutes. Pour into the mixing bowl with the cornbread and set aside.
4. Place remaining butter into the skillet and add onions and garlic. Sauté for 2 to 3 minutes. Add celery and poblano and continue to sauté for 4 to 5 minutes. Season with salt and pepper.
5. Add corn, paprika, chile powder, and cayenne and continue to sauté for 2 minutes. Stir in the chives and oregano, season with salt and pepper and pour mixture over the cornbread mixture.
6. Too mixture together. Add stock, 1 cup at a time and continue to mix until no dry spots remain.
7. Allow mixture to sit for about 10 minutes, to absorb any remaining liquid. Adjust seasonings.
8. Pour mixture into a lightly greased, 12" skillet or 9"x13" baking dish.
9. Cover with foil and bake for 25 to 30 minutes. Uncover and continue to bake for about 10 minutes or until the top has browned slightly.
10. Allow stuffing to cool for 10-15 minutes before serving.
**To dry out cornbread: Carefully cube into 1" pieces and spread onto 2 large baking sheets, in a single layer. Place baking sheets in a 225˚F oven for about 2 hours or until cubes have mostly dried out, but aren't rock hard. Remove from oven and allow to cool completely before using or storing in airtight containers.