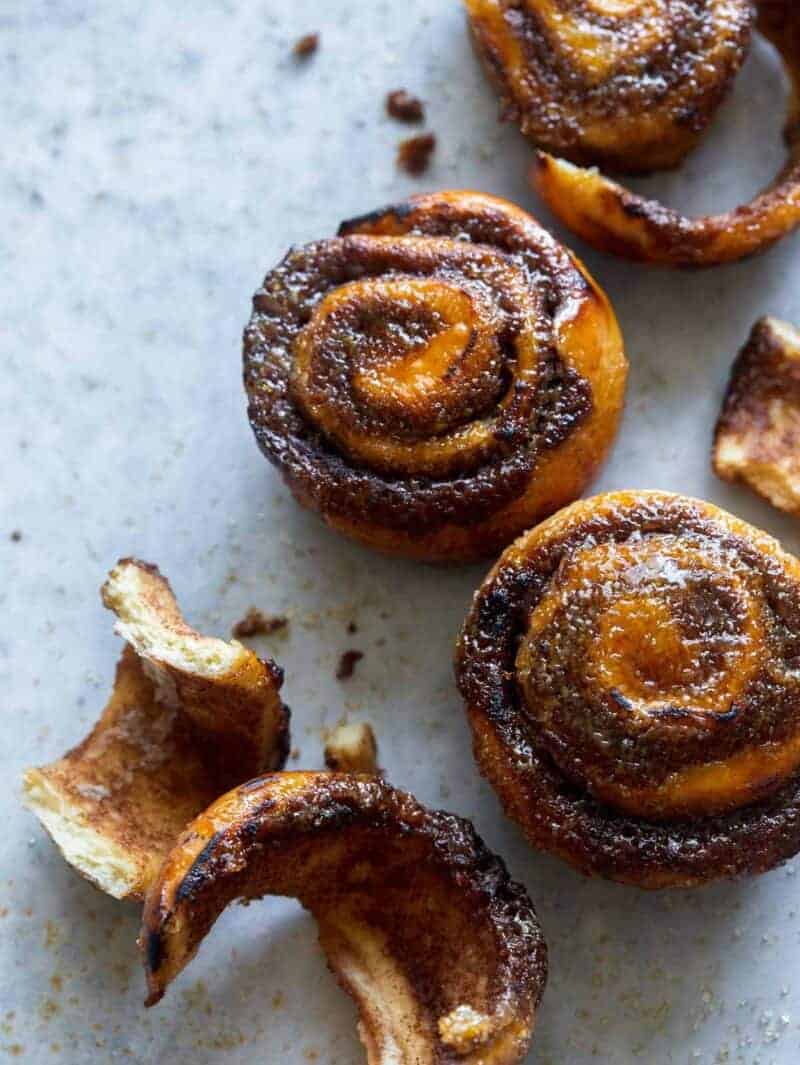 For me, adding the words 'crème brûlée' in front of anything is usually enough to peak my interest. What is it about super thin sheets of crispy caramelized sugar that most of us find so darn good? For me it's the glorious 'crack' I hear when breaking through the thin, crispy layer of sweet goodness with the back of a spoon. I just love that sound so much. Today we have cinnamon rolls covered in that thin, sweet, crispy goodness and they're so good! The sugar shell goes really well with the soft cinnamon roll. I think the next time I make these I'll put out a glazy dipping sitch for these guys, because while not totally necessary, I think it's something that could be missed. These are perfect for your next brunch! Enjoy! xx, Jenny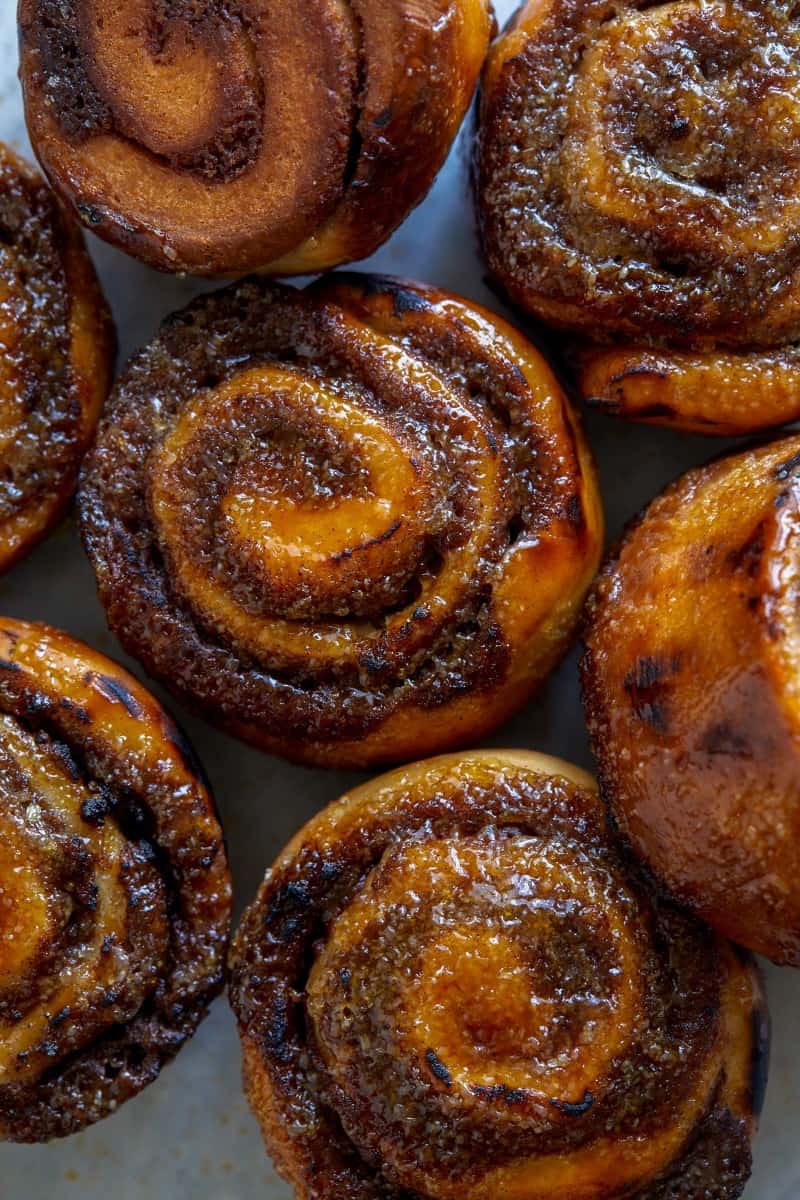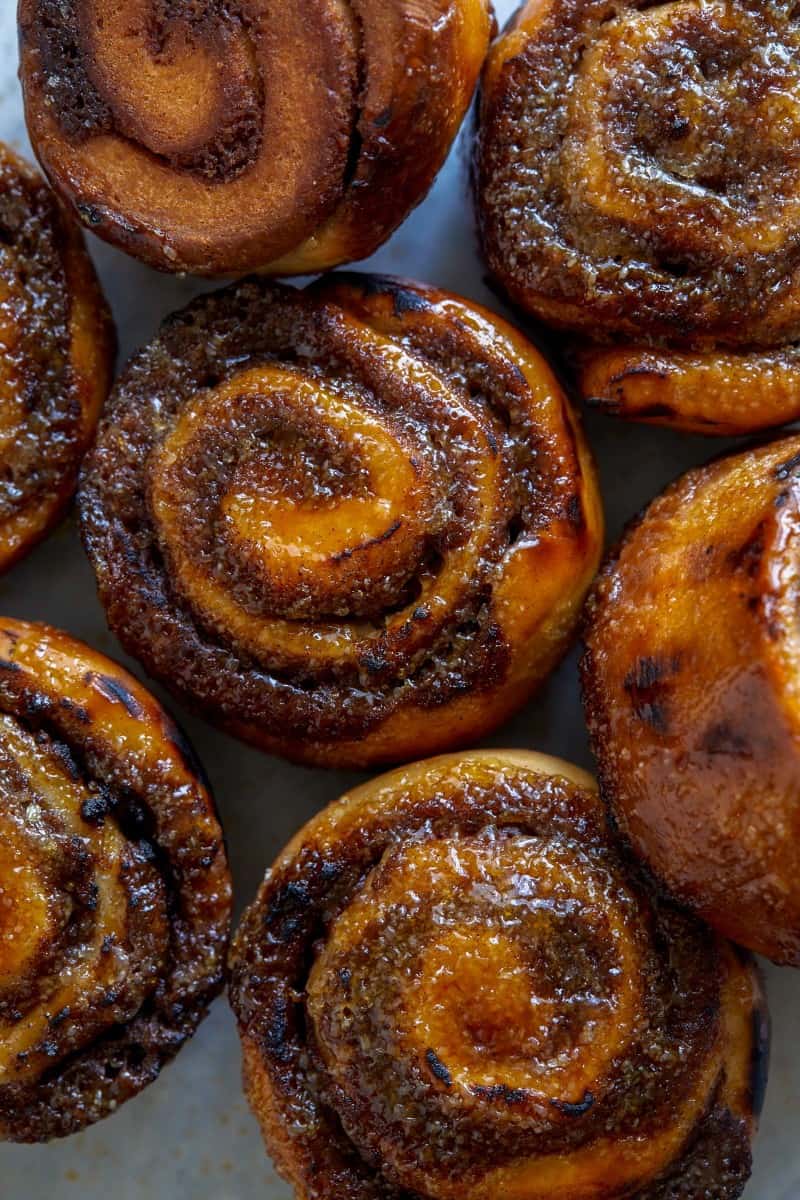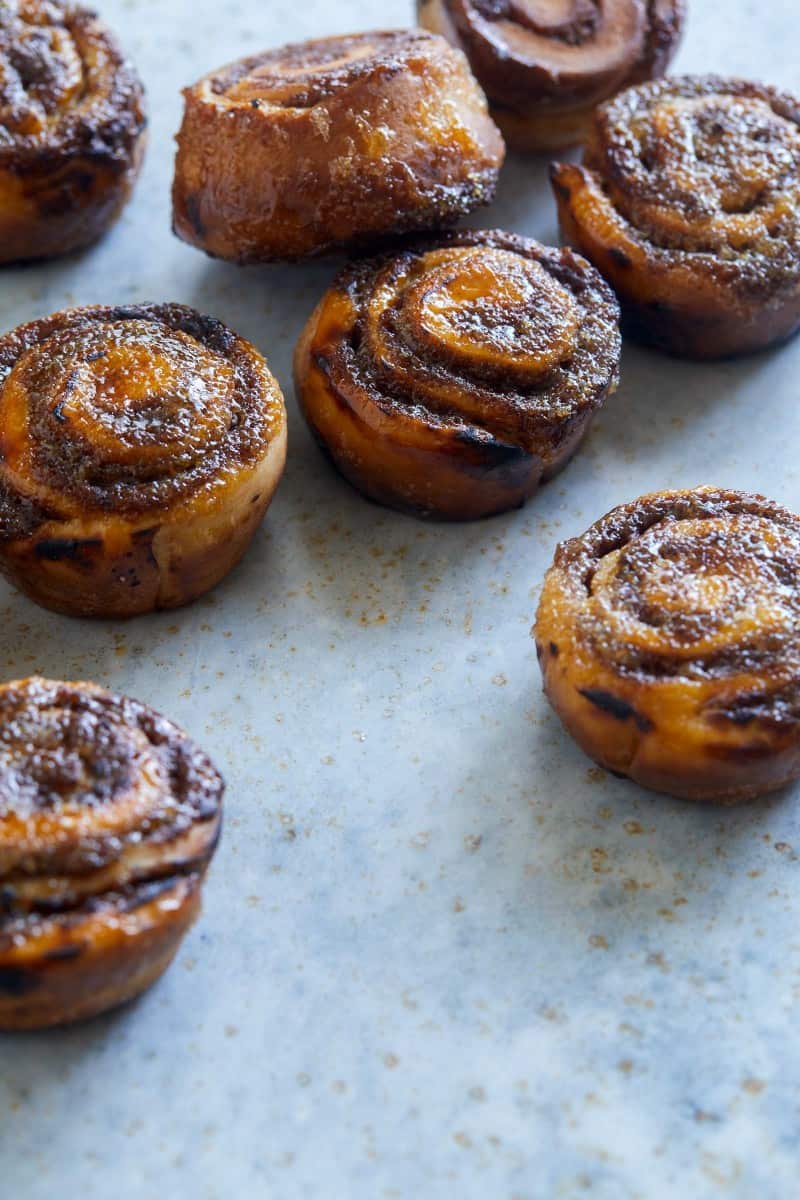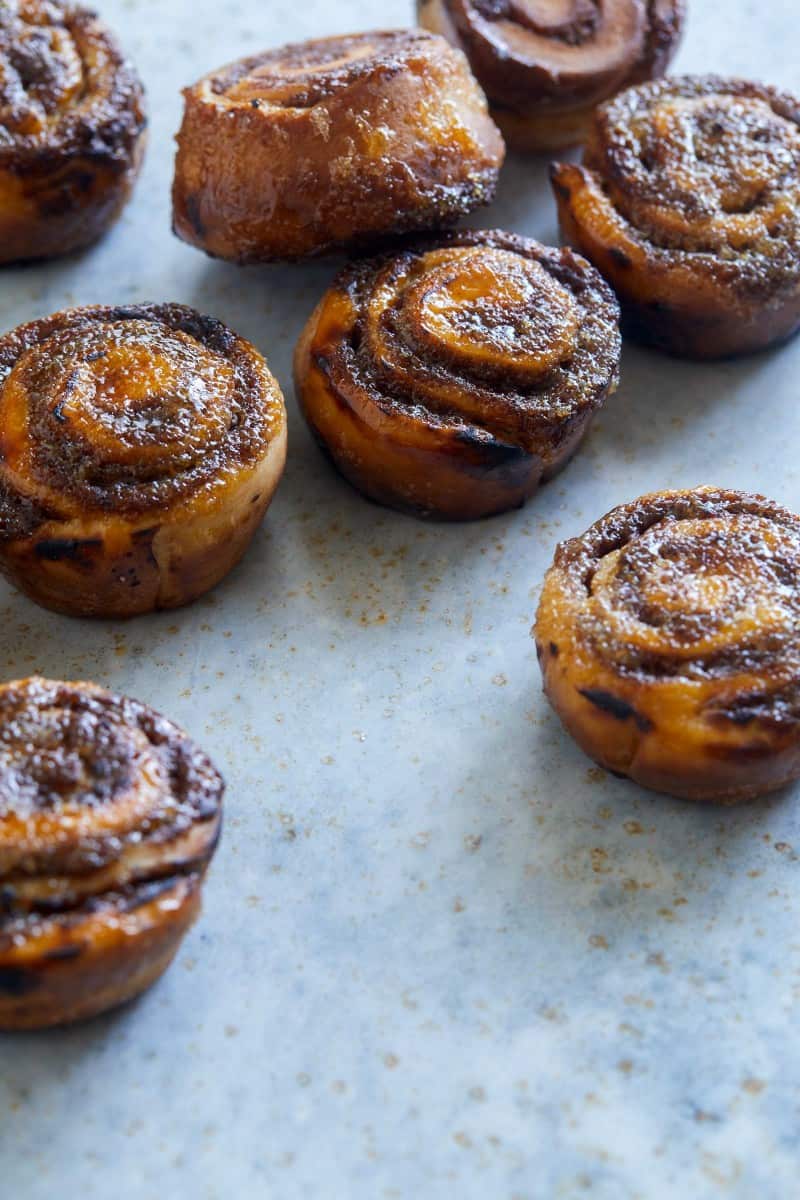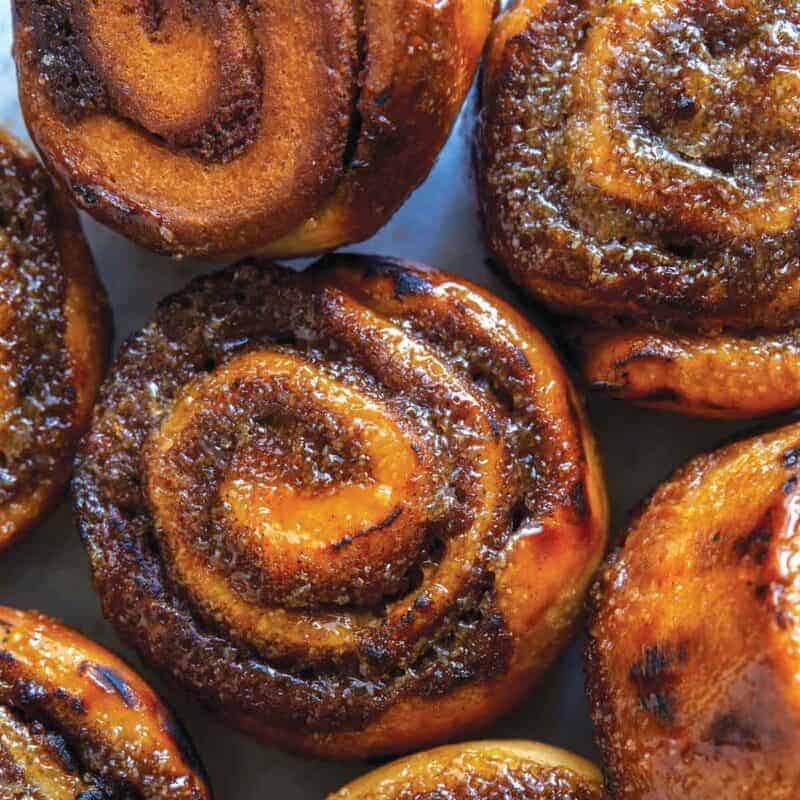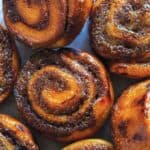 ---
Crème Brûlée Cinnamon Rolls
INGREDIENTS
¾

cup

whole milk, warmed (about 110˚F)

¼

cup

superfine sugar, divided

2

teaspoons

active-dry yeast

¼

teaspoon

salt

6

tablespoons

unsalted Organic Valley butter, softened

1

large

egg, room temperature and lightly beaten

3 ½ to 4

cups

bread flour
filling
½

cup

(1 stick) unsalted butter, melted and cooled

¾

cup

plus 2 tablespoons light brown sugar

⅓

cup

all-purpose flour

1

tablespoon

cinnamon

½

teaspoons

cardamom, optional

½

cup

honey

turbinado sugar
INSTRUCTIONS
Preheat oven to 400˚F. Lightly grease a 12 count muffin tin and set aside.

Pour milk and half of sugar into a mixing bowl and stir together.

Sprinkle yeast over milk and sugar and allow mixture to sit for 4 to 5 minutes (yeast should begin to bubble and foam).

Stir in remaining sugar, salt, butter, and egg. Begin adding flour, ½ cup at a time, stirring to incorporate after each addition.

Continue to add the flour until soft and slightly sticky dough forms.

Dump mixture onto a clean and lightly floured surface and knead dough for 5 to 7 minutes or until smooth and elastic, adding more flour, 1 teaspoon at a time as needed.

Once smooth dough has formed, place dough into a lightly greased bowl, cover with a clean towel and place in a warm area until dough has doubled in size. About 1 hour.

For filling: Whisk all ingredients together in a small mixing bowl until a paste form. Set aside.

To assemble: Once dough has doubled in size, punch down the center and turn onto a clean and lightly floured surface. Roll dough out into a 12"x 19" rectangle and about 1/4″ thick and spread surface with an even layer of the brown sugar and butter paste. Tightly and evenly roll rectangle from one end to the other and gently pinch the seam shut. Place cinnamon roll log seam side down and cut into 10 to 12 even cinnamon rolls.

Lightly grease a muffin tin and place a cinnamon roll into each muffin well. Loosely cover with a clean towel and store in a warm place until cinnamon rolls double in size, about 30 minutes.

Uncover and bake for 25 to 30 minutes or until golden brown. Then remove cinnamon rolls from oven and cool for 15 minutes.

Remove cinnamon rolls from muffin tin and transfer to a cooling rack.

In a small bowl combine honey and 2 tablespoons warm water. Sprinkle a generous amount of turbinado sugar into a shallow baking dish.

Brush honey mixture over the sides and top of each cinnamon roll, then roll each one into the turbinado sugar until well coated (if not well coated the cinnamon rolls can easily burn when 'brûléeing').

Using a brûlée torch, carefully brulee the sides and top of each roll until a nice, caramelized crust develops.

Allow cinnamon rolls to cool for a couple minutes before serving.
Calories:
398
kcal
Carbohydrates:
61
g
Protein:
7
g
Fat:
15
g
Saturated Fat:
9
g
Cholesterol:
54
mg
Sodium:
186
mg
Potassium:
112
mg
Fiber:
2
g
Sugar:
30
g
Vitamin A:
462
IU
Vitamin C:
1
mg
Calcium:
48
mg
Iron:
1
mg