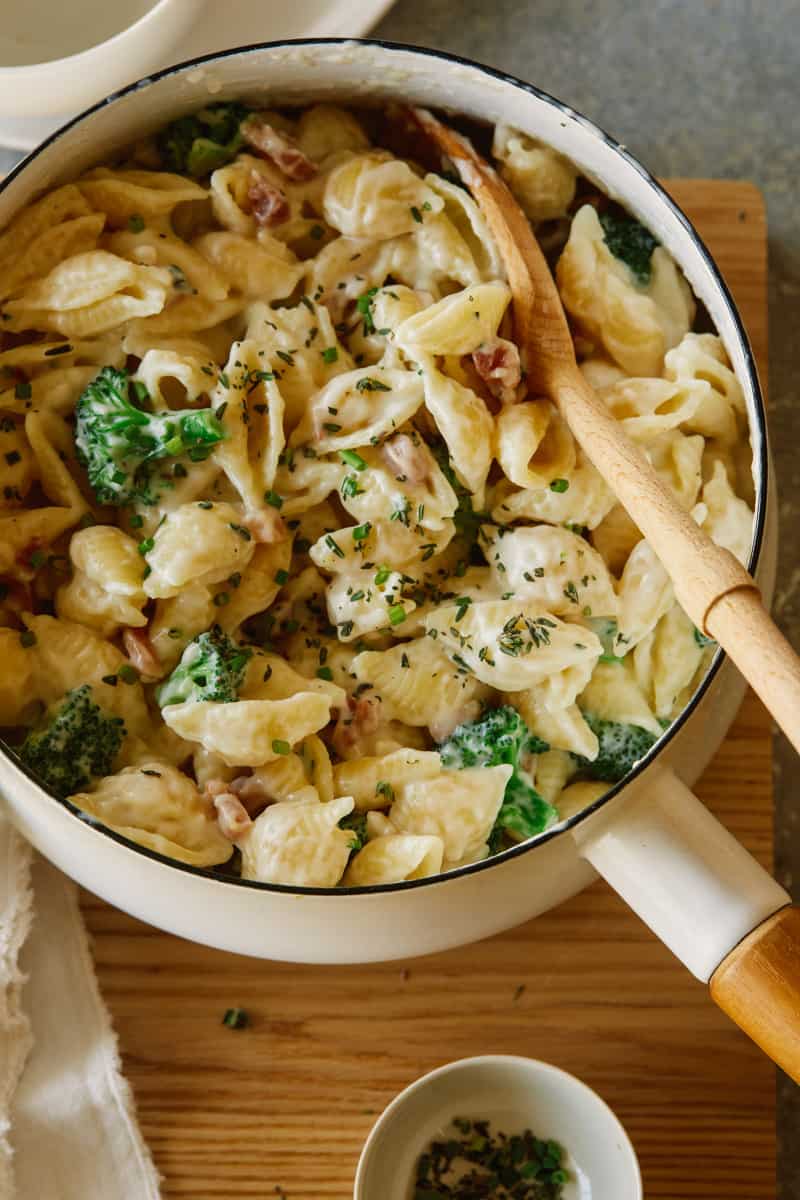 Who was the first person to dip broccoli into cheese sauce? Did it start with fondue? Is that something that's known? Am I just asking the crazy questions? Probably….but seriously, why are broccoli and cheese (specifically cheddar cheese) such a winning combination? I was also going to ask why broccoli and bacon are such a winning combination as well (i.e. broccoli crunch salads), but then thought, it's probably because bacon is part of a winning combo with virtually anything, amirite?
All that broccoli, cheese and bacon talk was pretty much just to get to our recipe today, haha. Really though. Today we have our Creamy White Cheddar, Pancetta and Broccoli Stovetop Mac and Cheese for you all! I love all types of mac and cheese, but my favorite kind is probably the stovetop version. You just can't beat the creamy goodness of a great stovetop macaroni recipe. The addition of the pancetta bits and bite sized broccoli pieces really just make this a winning, comfort dish. Enjoy! xx, Jenny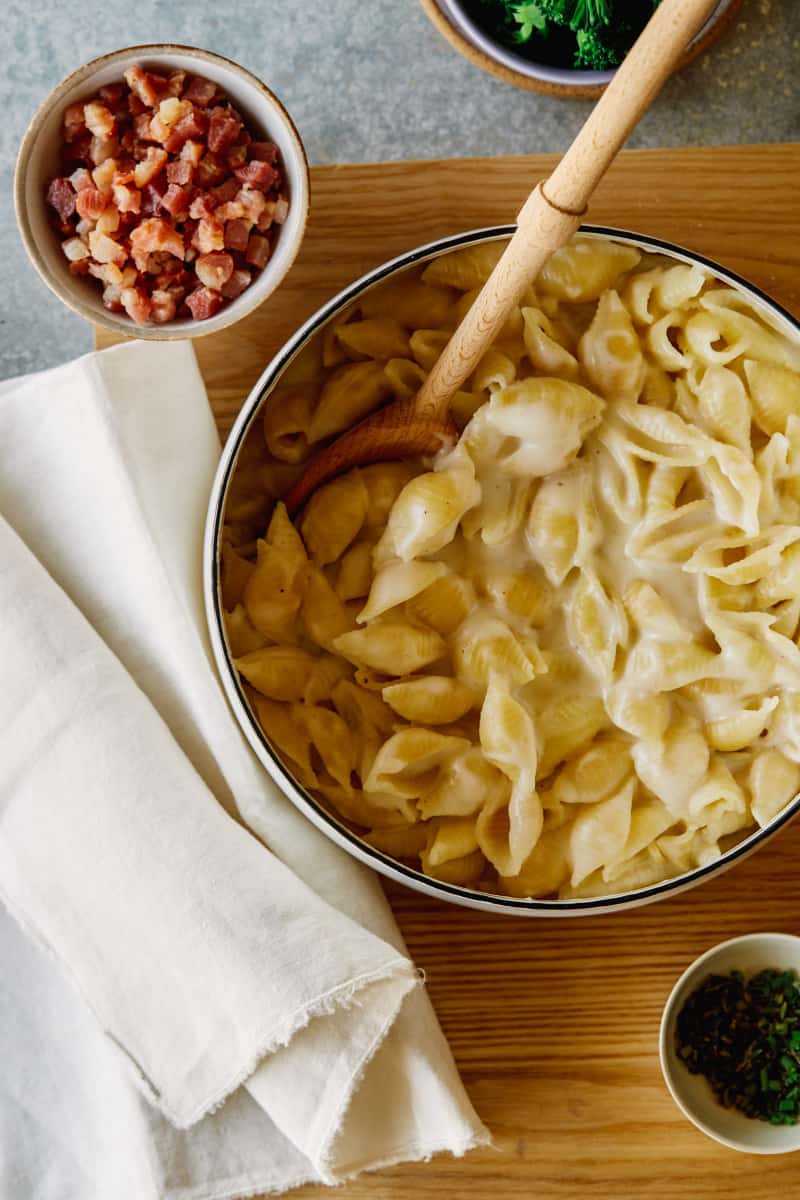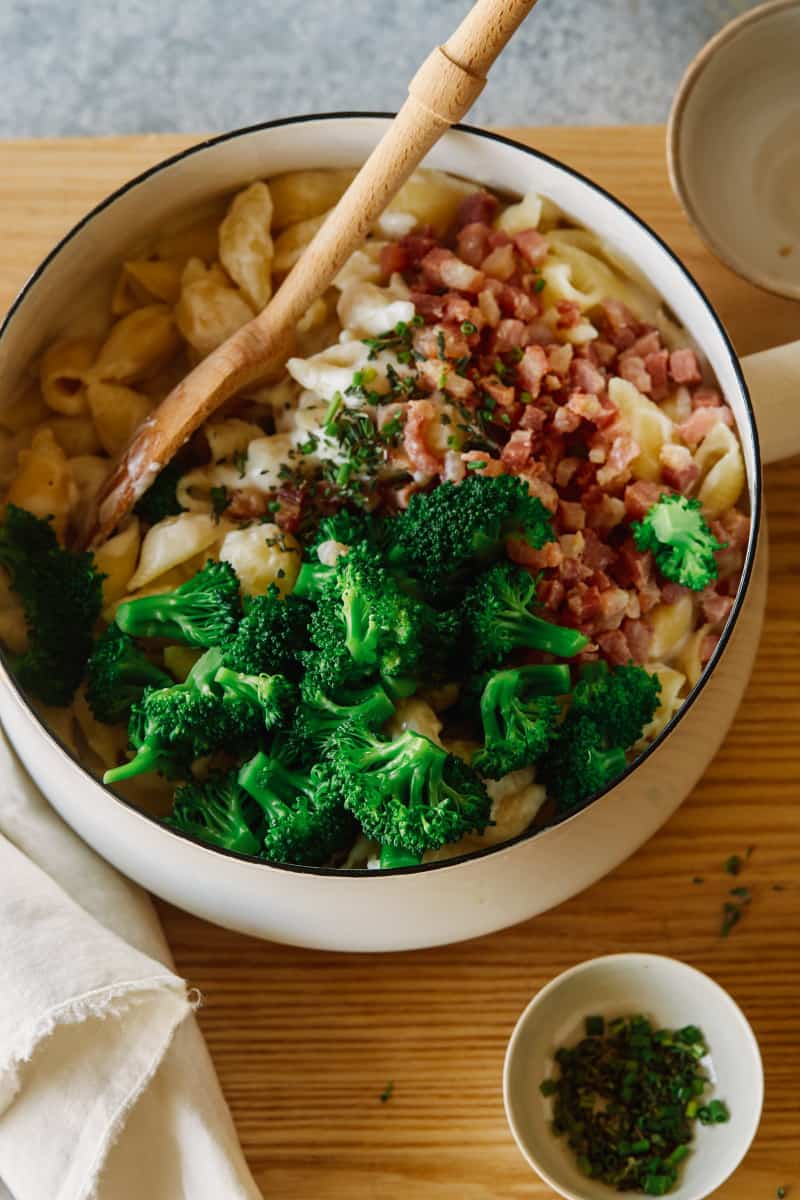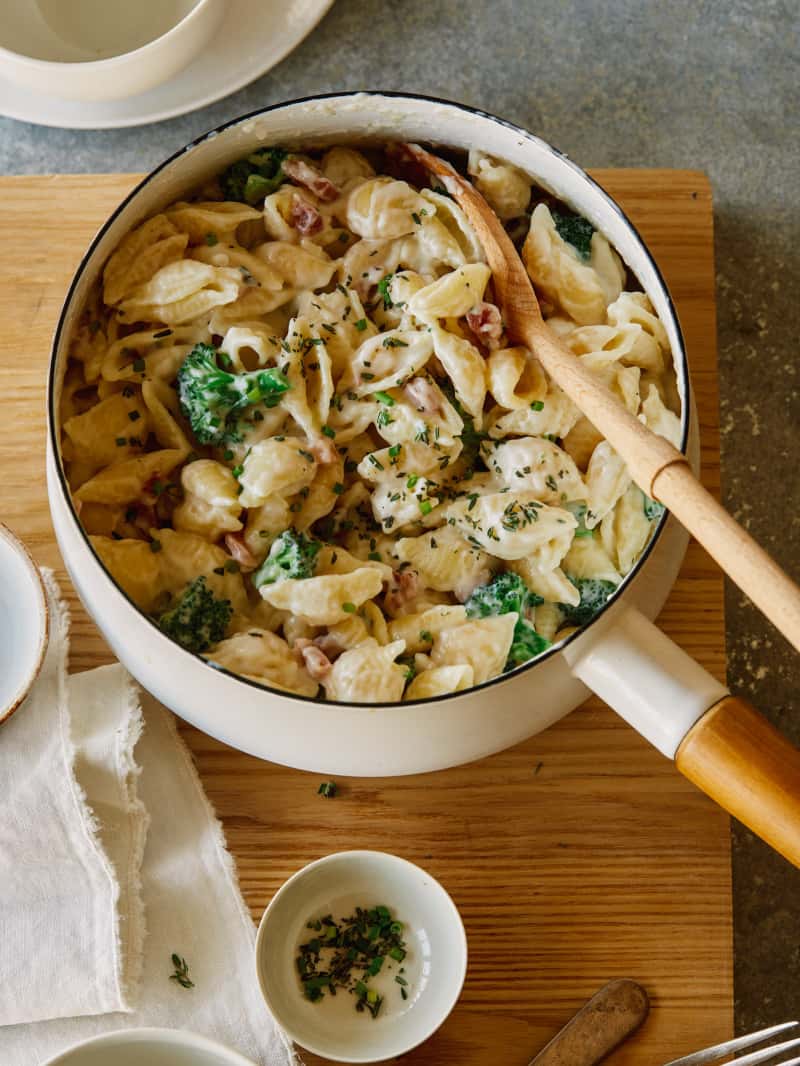 Creamy White Cheddar, Pancetta and Broccoli Stovetop Mac and Cheese

Serves 4 to 6

Ingredients:
1 lb. medium shells
silky white cheddar sauce:
5 ounces evaporated milk
1 egg
1 teaspoon dry mustard
1 teaspoon salt
1/2 teaspoon cracked black pepper
12 ounces shredded white cheddar cheese
2 teaspoons cornstarch
1 1/2 teaspoons lemon juice
1 1/2 cups bite sized steamed broccoli florets
1/2 cup cooked, diced pancetta

Directions:
1. Fill a large pot with water and bring to a boil. Add a handful of salt and pasta and boil, stirring occasionally, until pasta is fully cooked. Drain pasta, reserving 3 tablespoons pasta water. Set aside.
2. In a large saucepan combine evaporated milk, pasta water, egg, dry mustard, salt, and pepper and whisk together. In a large mixing bowl combine cheese, starch and lemon juice and toss together.
3. Place saucepan over medium-low heat and whisk together for about 2 minutes. Whisk in small handfuls of the cheese mixture at a time, making sure not to add more cheese until the previous addition had been fully incorporated to the sauce.
4. Continue to whisk and add cheese over the low heat until all the cheese has been added and a creamy and smooth sauce forms (make sure not to rush this process or your cheese sauce will not be smooth).
5. Once the sauce has been made, stir in the pasta, broccoli and pancetta. Adjust seasonings and serve.

**If the sauce seems too thin/loose that's okay. It'll thicken as it sits with the pasta.

**The lemon juice will help prevent the sauce from getting stringy.