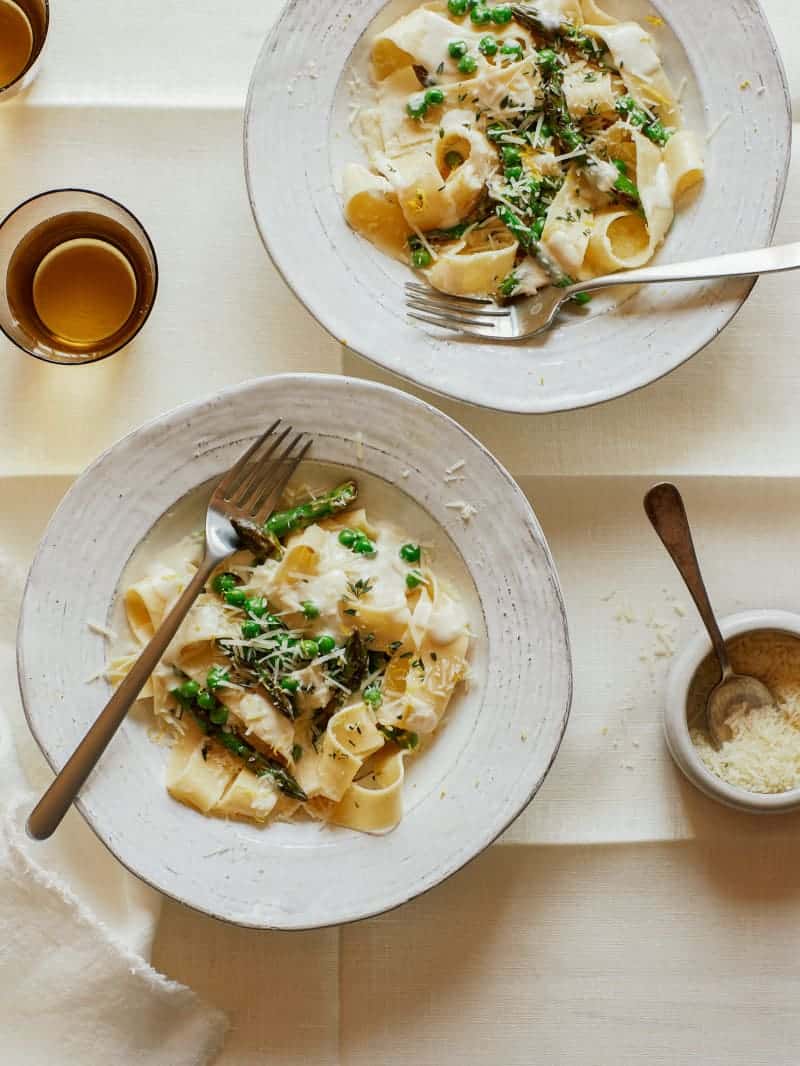 Mother's Day is just a week away and we're already planning our menu for the special day. My mom personally loves it when I make her dishes that she normally wouldn't prepare herself and pasta in general is usually at the top of the list. My mom makes mostly Korean food when she cooks and really loves to go out to enjoy a bowl of pasta, so this Mother's Day I'm making one of my mom's favorite things to eat (that's she'd rather not cook herself), a big bowl of Creamy Garlic Pappardelle with Asparagus and Peas.
This recipe is hearty from the thick ribbons of pasta and the garlic cream sauce, but it's also lightened up with the asparagus and the bright pops of sweet peas. This dish itself is also pretty versatile and you can swap the "mix-ins", as I call them, out for something else like shredded chicken and broccoli.
I also plan on dressing up our dining table with fresh flowers, using linen napkins, a cute new table runner I just bought, and I'll probably also make cute little place cards just to make things nice and sweet for my mama. I think she will appreciate the added effort of dressing the table up a bit just for her. Afterall, it's about the little things and the extra thought that counts, right? Enjoy! xx, Jenny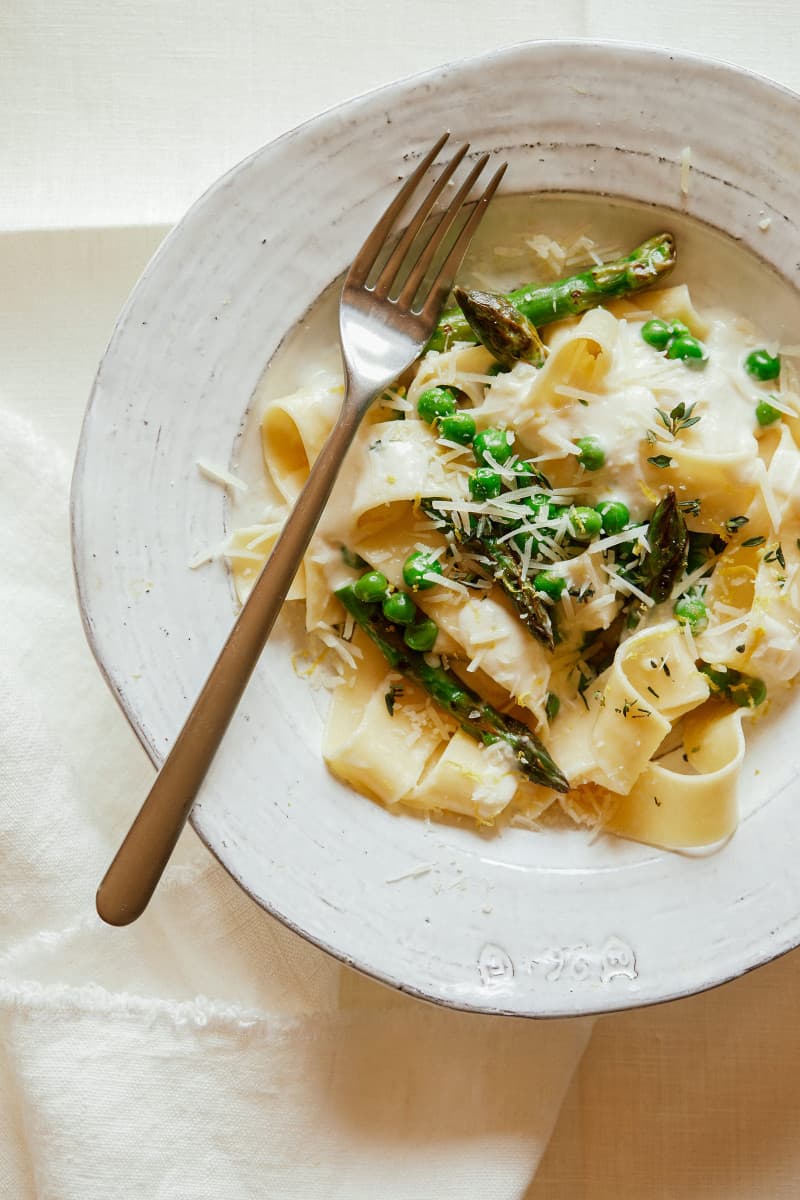 Creamy Garlic Pappardelle with Asparagus + Peas

Serves 3 to 4

Ingredients:
12 ounces dry pappardelle pasta
2 tablespoons extra virgin olive oil
8 asparagus spears, cut into 1 inch pieces
2 tablespoons unsalted butter
2 garlic cloves, thinly sliced
1 1/2 cups heavy cream
1/2 cup grate Parmesan
1 cup fresh steamed (or frozen) peas
salt and pepper to taste
garnishes:
lemon zest
grated Parmesan
minced thyme

Directions:
1. Fill a large pot with water and place over high heat.
2. Once water has come to a boil, add a small handful of salt, as well as the pasta and bring back up to a boil.
3. Cook pasta, stirring occasionally, until pasta is al dente. Remove from heat and drain, reserving 1/4 cup pasta water.
4. Pour oil into a large skillet and place over medium-high heat.
5. Add asparagus and sauté for 3 to 4 minutes. Transfer asparagus onto a clean plate and set aside.
6. Return skillet to the stove and add butter, garlic and cream.
7. Reduce heat to medium and simmer until the liquid has reduced by a third. Season with salt and pepper.
8. Stir grated Parmesan into the cream mixture, 2 tablespoons at a time, until the sauce becomes thick enough to coat the back of a wooden spoon.
9. Return pasta and asparagus to the skillet and toss together with the cream mixture. Stir in peas and adjust seasoning.
10. Top pasta with lemon zest, more grated Parmesan and minced thyme. Serve.