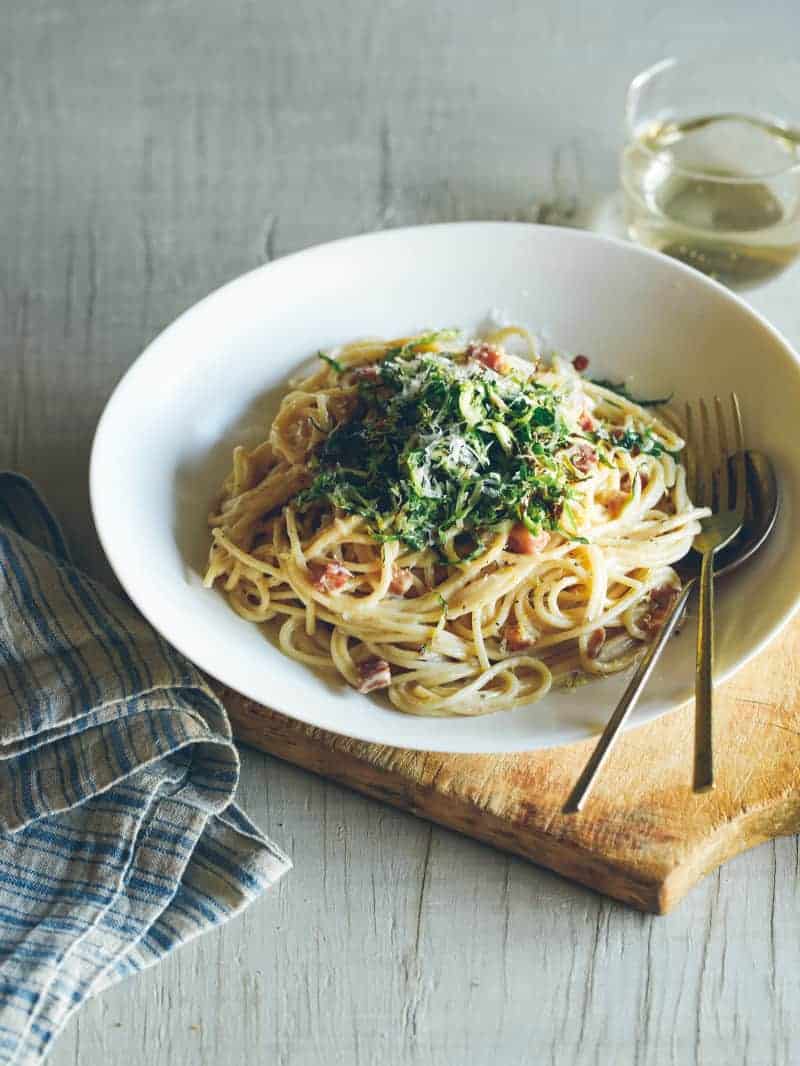 I am on my way to Idaho tomorrow for Christmas. While I love going home for the holidays, it's just so dang cold! SO COLD! I am such a wuss now from living in southern california for so long. When I go home I crave super comforting stick to your ribs foods. I think my body is like "OMG survival mode! Must consume so many carbs." One of my favorite things to eat is a creamy pasta, and that is what we have for you today. Our new Creamy Garlic and Pancetta Spaghetti with Crispy Shredded Brussels Sprouts. We added the crispy shredded brussels sprouts so you can balance your carb intake with something healthy. Just kidding, that is not true, it just tastes really good. It's the holidays, there is no such thing as balance. :)
♥ Teri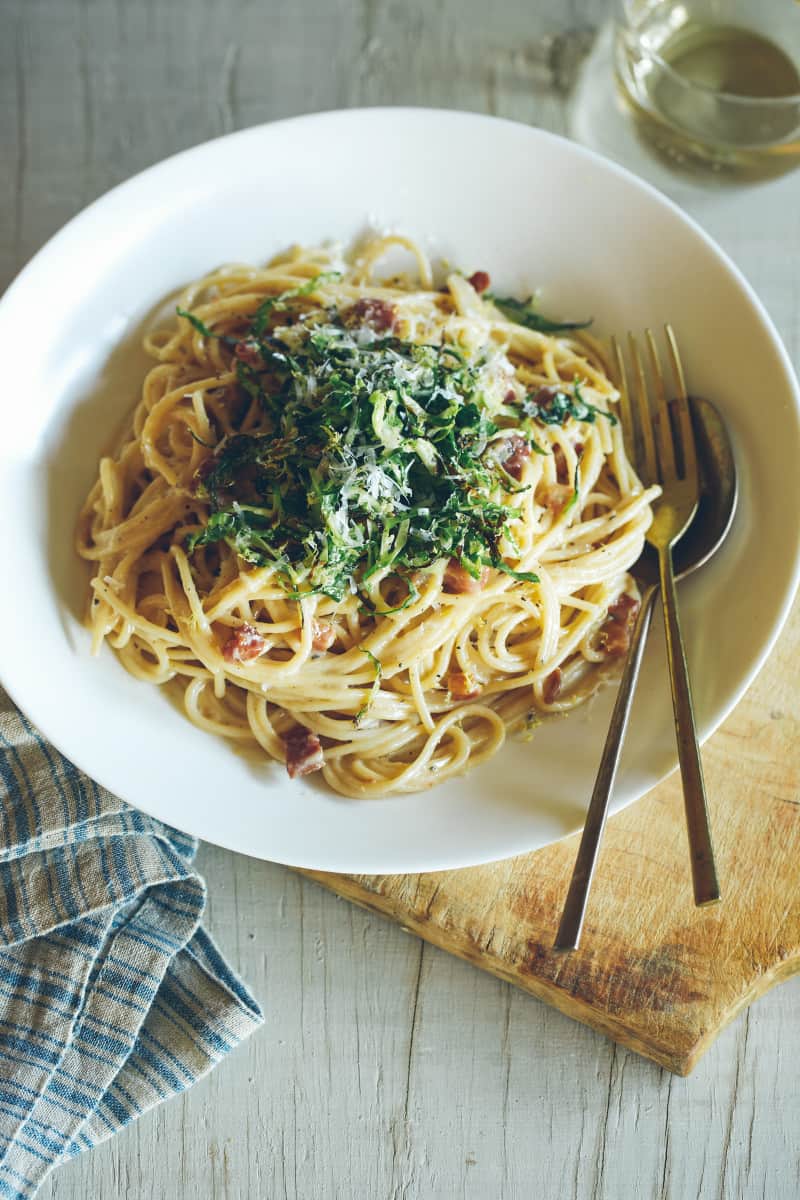 Creamy Garlic and Pancetta Spaghetti with Crispy Shredded Brussels Sprouts
Serves 3 to 4
Ingredients:
10 ounces dry spaghetti
1 tablespoon extra virgin olive oil
6 ounces diced pancetta
3 tablespoons unsalted butter, divided
4 ounces shredded Brussels sprouts
3 tablespoons minced shallots
2 garlic cloves, thinly sliced
1 cup heavy cream
2 tablespoons grated Parmesan, plus more for garnish
salt and pepper to taste
Directions:
1. Bring a large pot of water to a boil. Add a small handful of salt and add spaghetti.
2. Boil spaghetti, stirring occasionally until al dente, about 5 to 7 minutes. Drain and toss with olive oil and set aside.
3. Place pancetta into a large skillet and place over medium heat. Sauté until pancetta becomes crispy, about 3 minutes.
4. Remove pancetta onto paper towels with a slotted spoon and set aside.
5. Drain all but 1 tablespoon of the grease from the skillet and add 1 tablespoon of butter.
6. Raise the heat to medium-high and add shredded Brussels sprouts. Sauté for 2 to 3 minutes or until the edges of the Brussels sprouts become golden brown and crispy. Season with salt and pepper. Remove from the skillet and set aside.
7. Add remaining butter into the skillet and add shallots and garlic. Lower heat back down to medium and sauté for 2 to 3 minutes. Season with salt and pepper.
8. Add cream and simmer until reduced by 1/2 and cream has thickened.
9. Stir the Parmesan into the cream mixture and stir until smooth. Add spaghetti and pancetta to the skillet and toss together until evenly coated. Season with salt and pepper.
10. Top spaghetti with the crispy Brussels sprouts, more Parmesan and serve.