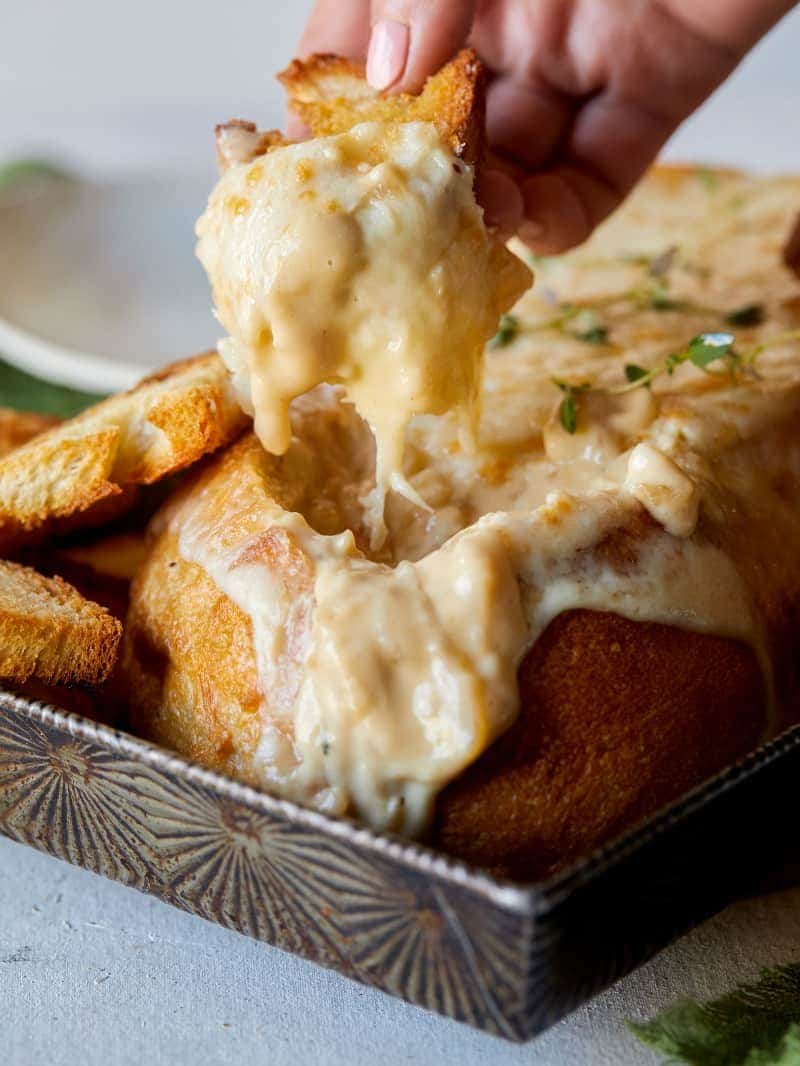 We have another delicious appetizer recipe for you today for game time – or snack time – whatever floats your boat. This time we made French Onion Soup Dip in a bread bowl because frankly we love all those things. We love the cheesy-ness of french onion soup, we love soup in bread bowls, but we also really really love dip. In fact we really love a good onion dip. So it really seemed smart to combine all of those things into this masterpiece we are cleverly calling French Onion Soup Dip in a Bread Bowl. :) This is bound to a crowd pleaser and just something to keep in your back pocket for anytime you have lots of people gathering around the tv. Enjoy:)
♥ Teri

Creamy French Onion Soup Dip in a Bread Bowl

1 bread bowl

Ingredients:
7 tablespoons unsalted butter, divided
1 1/2 tablespoons extra virgin olive oil
5 cups thinly sliced yellow onion (2 large onions)
1 teaspoon Worcestershire
6 sprigs fresh thyme
1 bay leaf
1/4 teaspoon sugar
1 tablespoon dry sherry
3 tablespoons all purpose flour
1 cup milk
1/2 cup beef broth
6 ounces shredded Gruyere cheese

1 loaf French or sourdough bread, with the top cut off (sliced into pieces and toasted) and the body hollowed out
3 to 5 thin slices gruyere cheese

Directions:
1. Place a large pot over medium heat and melt 4 tablespoons butter and oil together. Add onions, sprinkle with Worcestershire sauce and lower heat to low and cook down and caramelize for 20 minutes.
2. Add the thyme sprigs and bay leaf and sprinkle onions with sugar, sherry, some salt and black pepper and continue to cook down for an additional 10 to 12 minutes. Pull out bay leaf and thyme sprigs and set aside.
3. Place a pot over medium heat and melt remaining butter. Add flour and whisk together until well combined, 1 to 2 minutes.
4. Whisk milk followed by broth into the pot and continue to whisk together until mixture is smooth and has thickened enough to coat the back of a wooden spoon.
5. Remove mixture from heat and slowly stir in shredded cheese, in small handfuls, until all cheese has been added and sauce is smooth and creamy.
6. Stir caramelized onions into the cheese sauce until fully incorporated. Season with salt and pepper.
7. Preheat broiler to high.
8. Pour onion dip mixture into the hollowed bread loaf and top with sliced cheese.
9. Place prepared bread bowl onto a baking sheet and broil until cheese is bubbling and melted and the bread bowl is lightly toasted, about 2 minutes.
10. Remove from heat and serve immediately with prepared crostini.