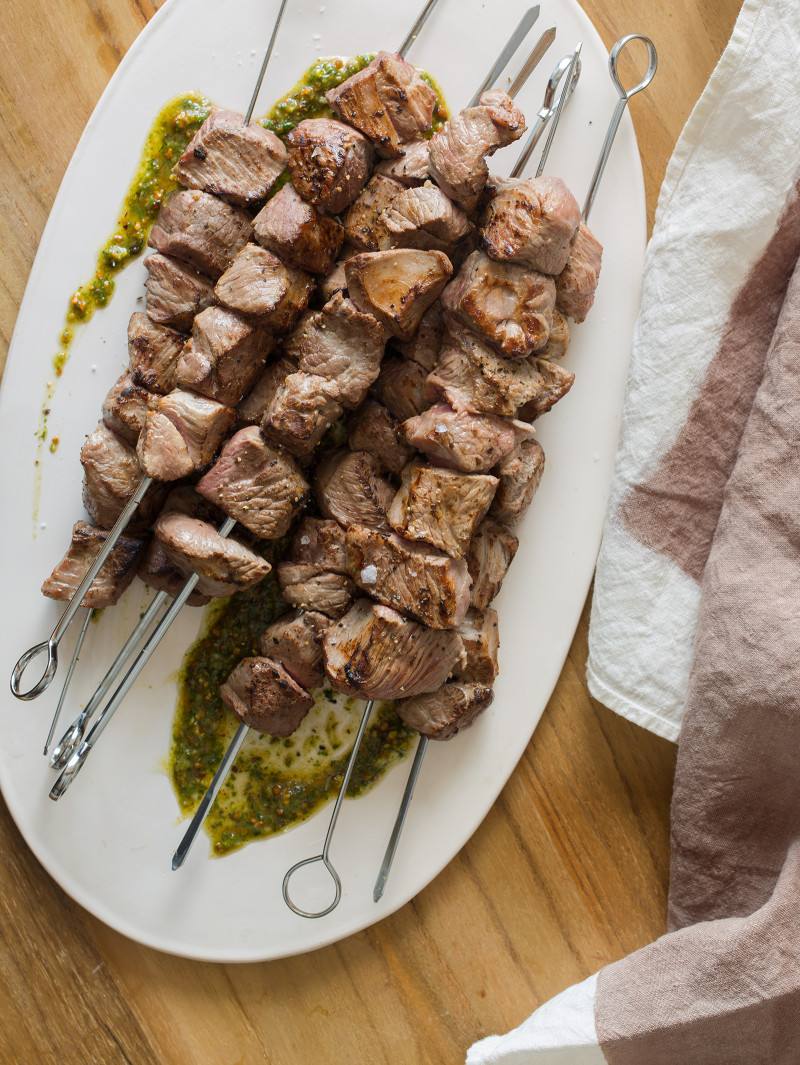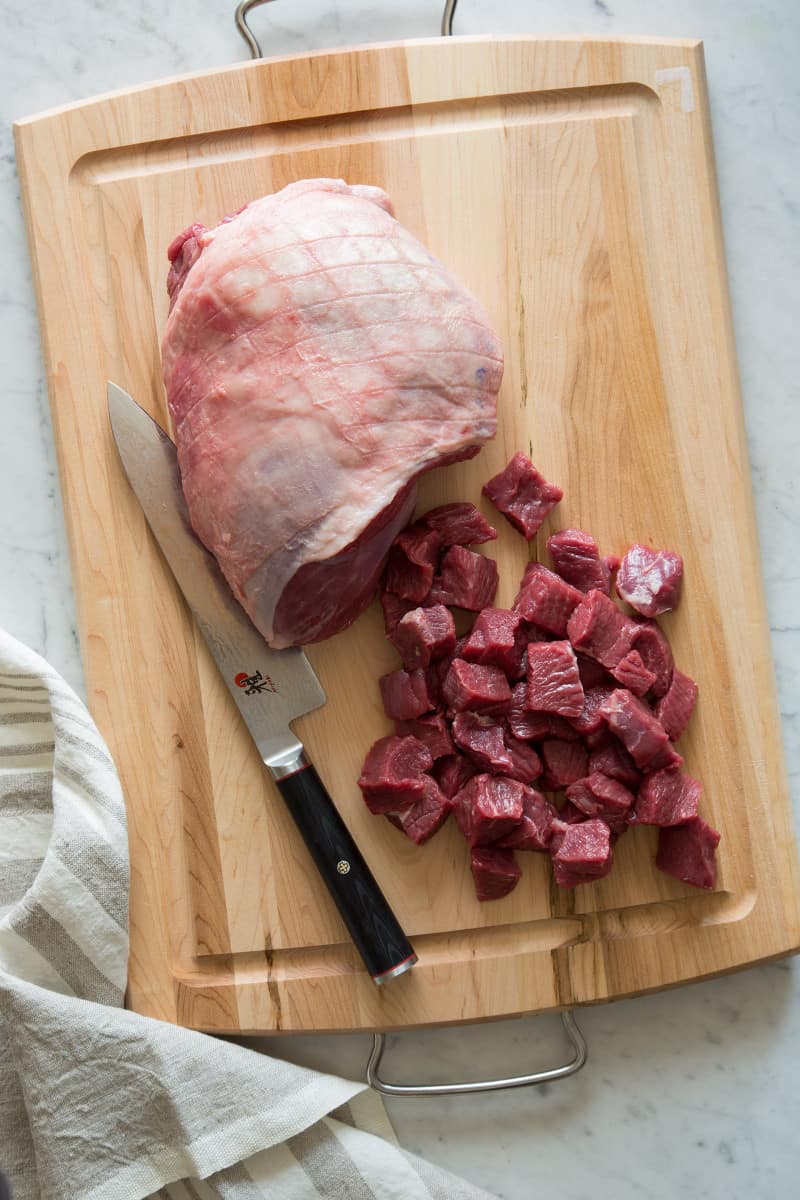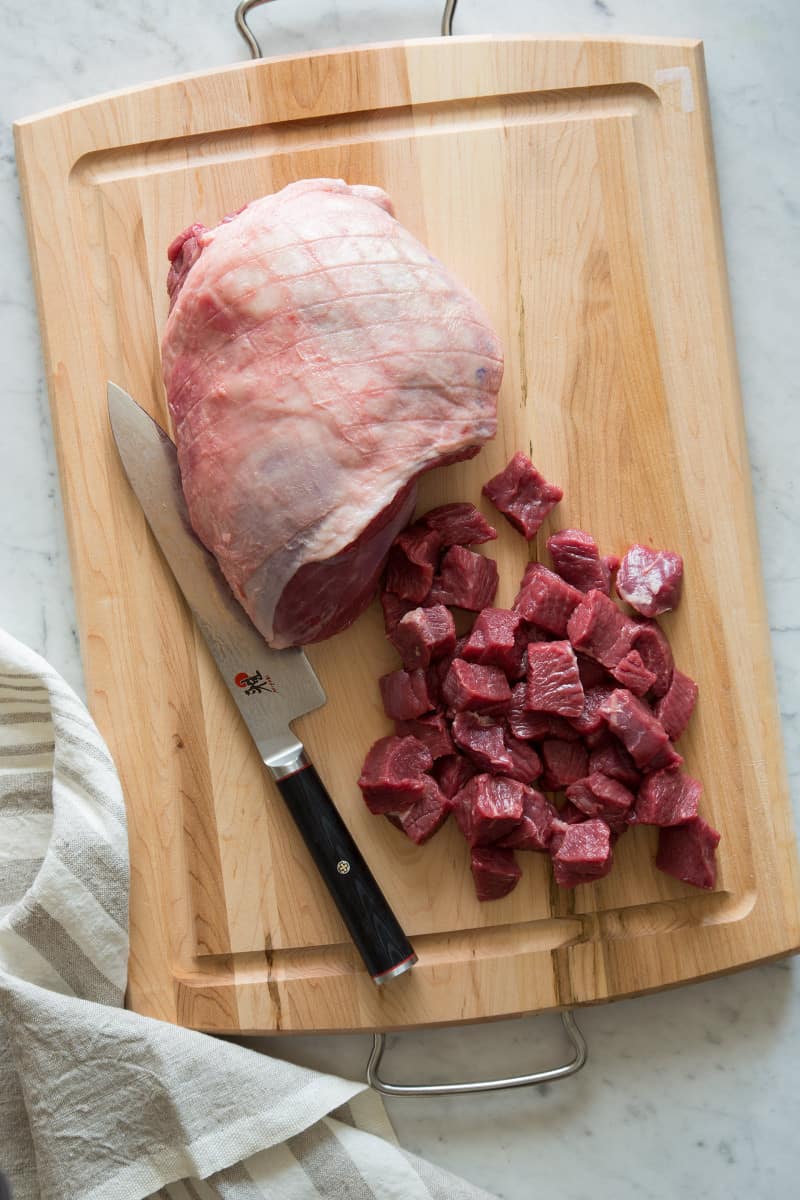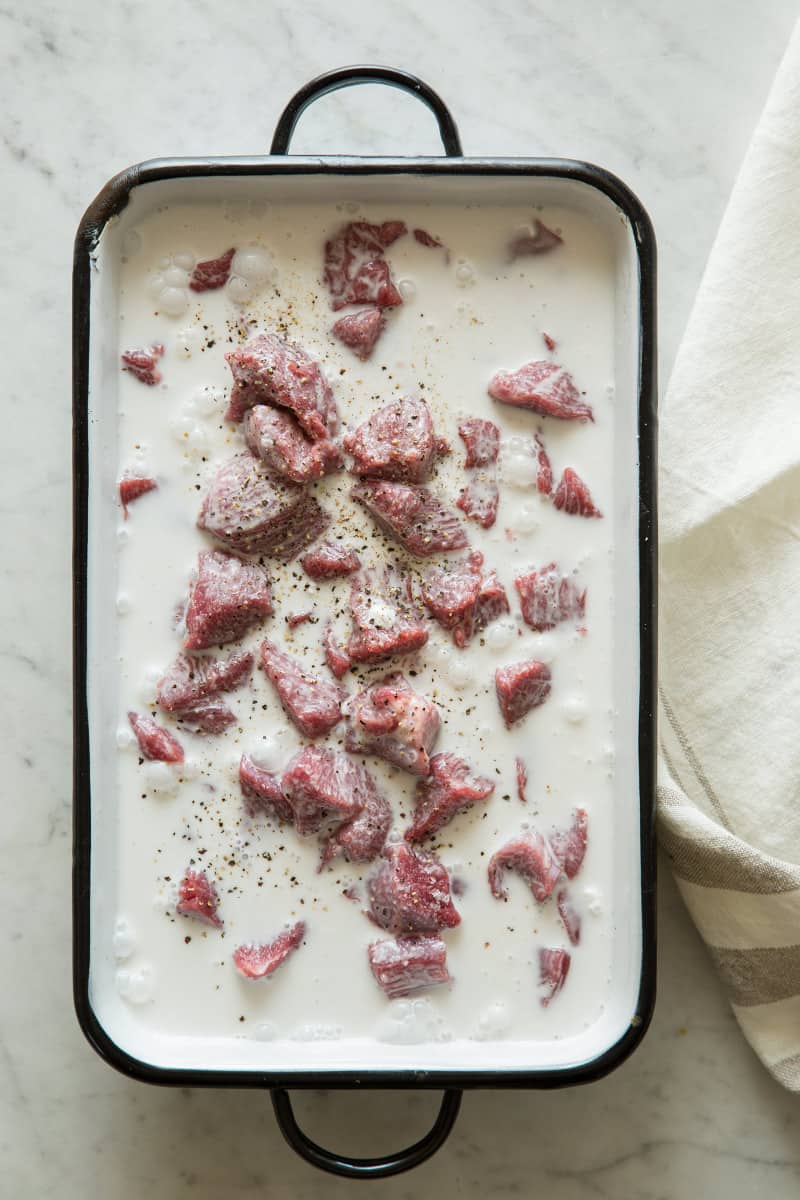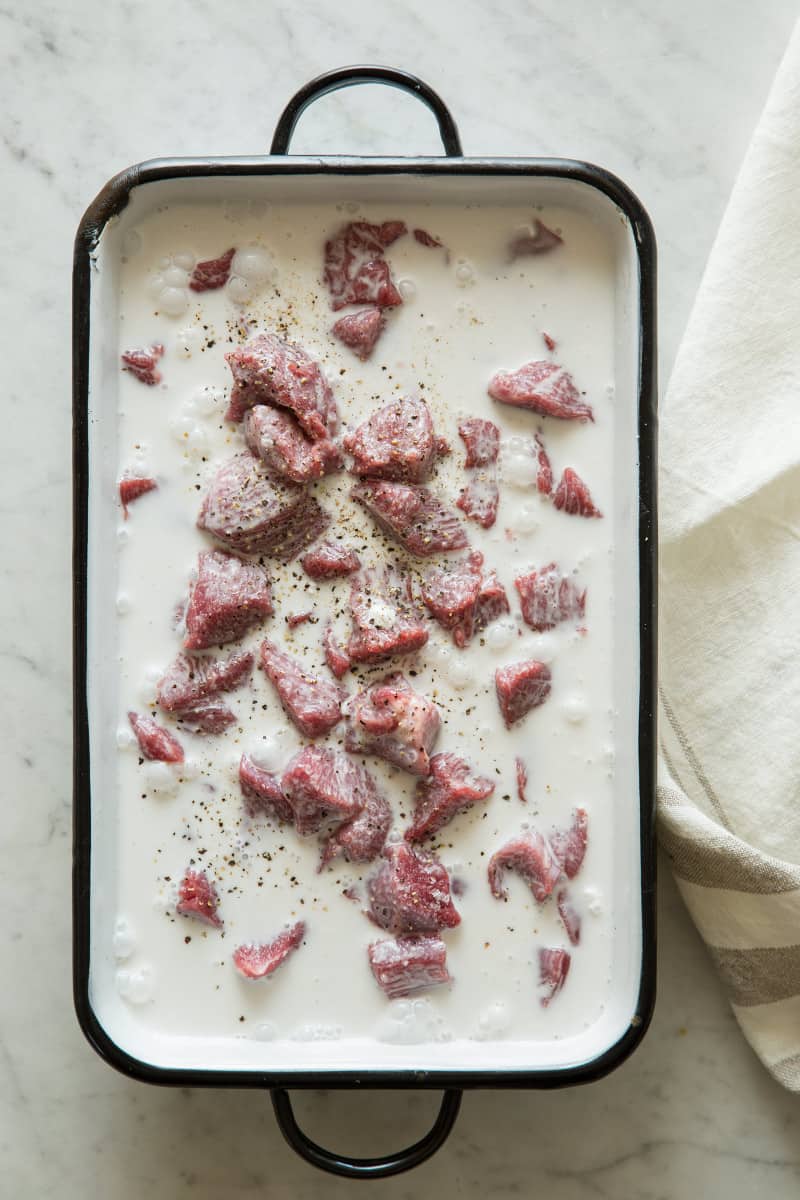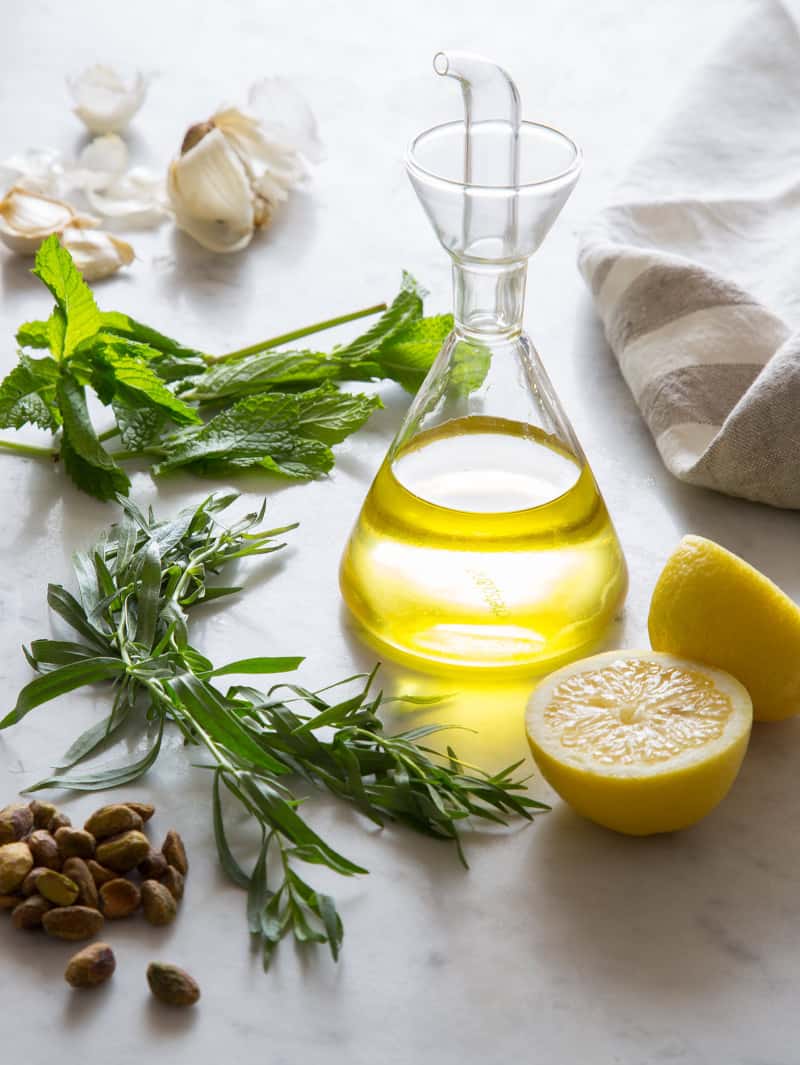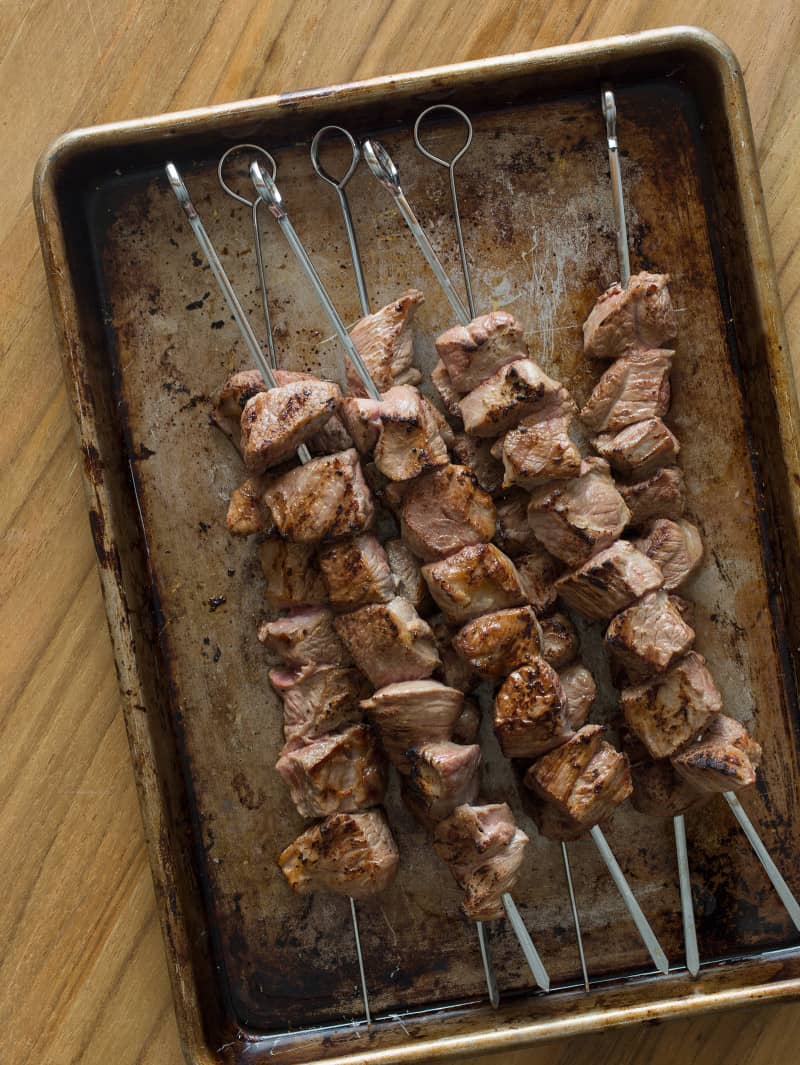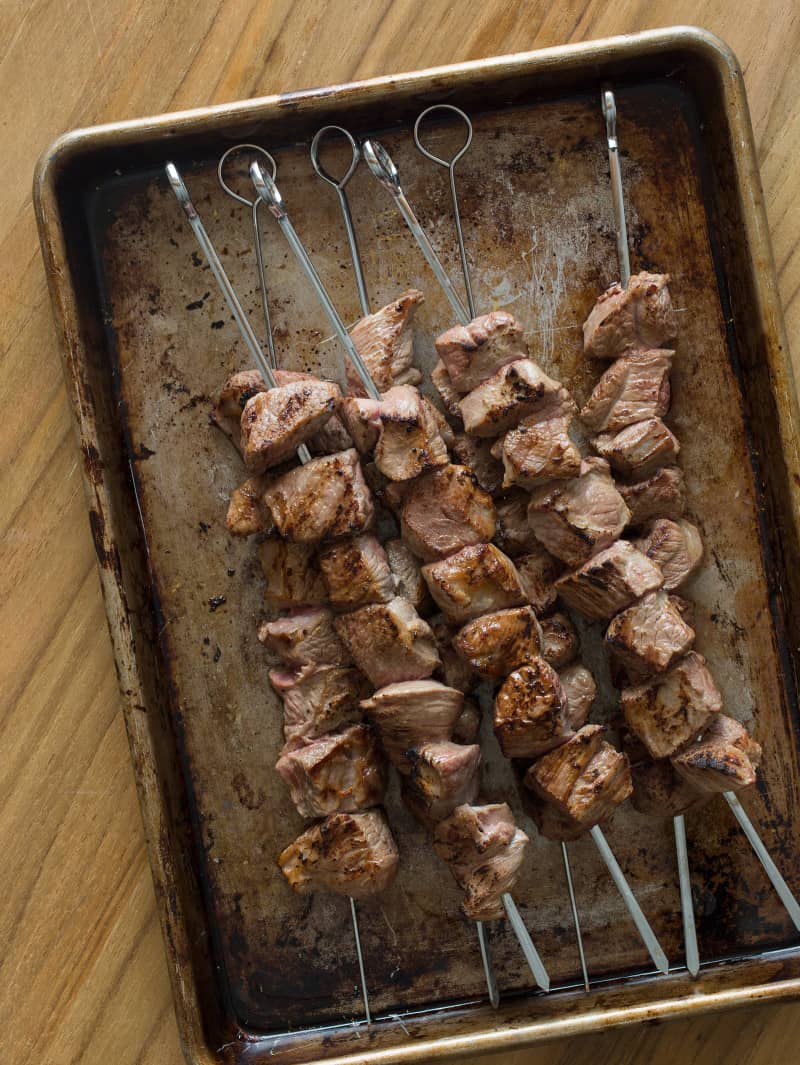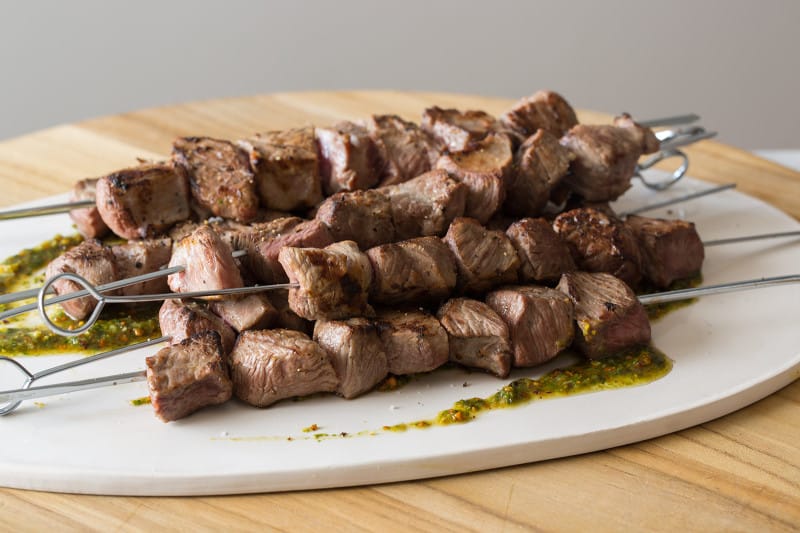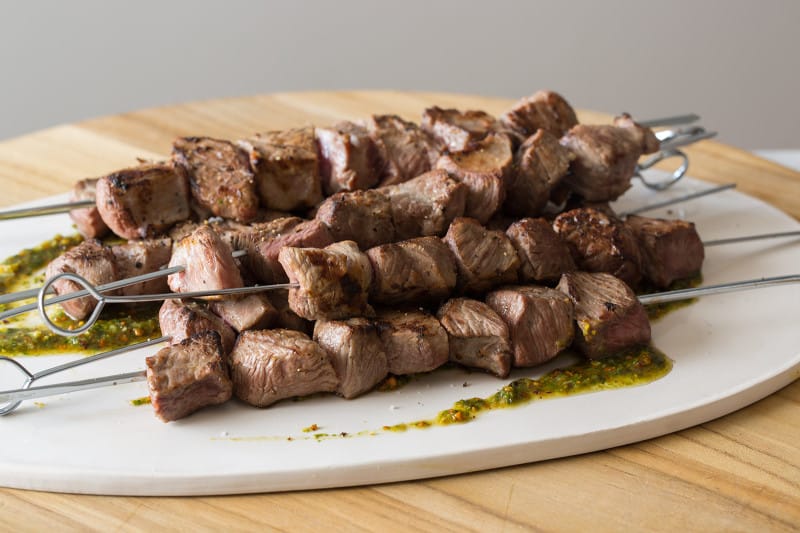 Summer is just around the corner, which means grilling season officially starts in 3 days! Yay! Growing up I found grilling to be super intimidating. There's just something about getting the heat level just right (especially when dealing with charcoal), direct heat or indirect heat, covered or uncovered, ahhhhh!! So many things to remember! As I got a better feel for different heat levels and how to control flare ups, etc., grilling became more comfortable, less stressful and a lot of fun. Today we have simple Coconut Milk and Marinated Lamb Kabobs! Lamb is one of my favorite proteins and I can eat it for days. I love the flavor and how it pairs so well with fragrant herbs such as tarragon and mint.
For these kabobs you can really use any cut of lamb and still achieve delicious results, but for this recipe we used a fresh and gorgeous boneless leg of American lamb. I like using the leg meat, because after trimming away the excess fat, you're left with a large piece of lean meat, making it easy to portion out even cubes for the kabobs themselves. If you're unsure about grilling lamb or the different types of cuts, I recommend heading over to your local butcher and taking advantage of their wealth of knowledge AND their knife skills! You will walk out of the market feeling more confident and ready to grill up some tasty lamb, I promise. You can also head over to the American Lamb's website for lots of tips on how to prepare any cut of lamb.
The marinade for this dish is simple, coconut milk plus apple cider vinegar. Although these are both powerful flavors, after patting the cubes of meat dry and grilling them up, you're left with a very subtle hint of coconut; it's not overwhelming at all. We've also kept the serving sauce simple, a tarragon-mint pesto. The robust flavors of the pesto complement the lamb well and assist in highlighting the meat's natural flavors. It's so yum, you guys! Plus you can incorporate this pesto into so many other dishes, and in my kitchen I love versatility.
This summer, if you're looking for something a little different from the typical chicken, beef or pork we urge you to give lamb a chance by grilling up these simple and delicious kabobs, accompanied with our equally simple and delicious tarragon-mint pesto. Enjoy! xx, Jenny

You might also like our: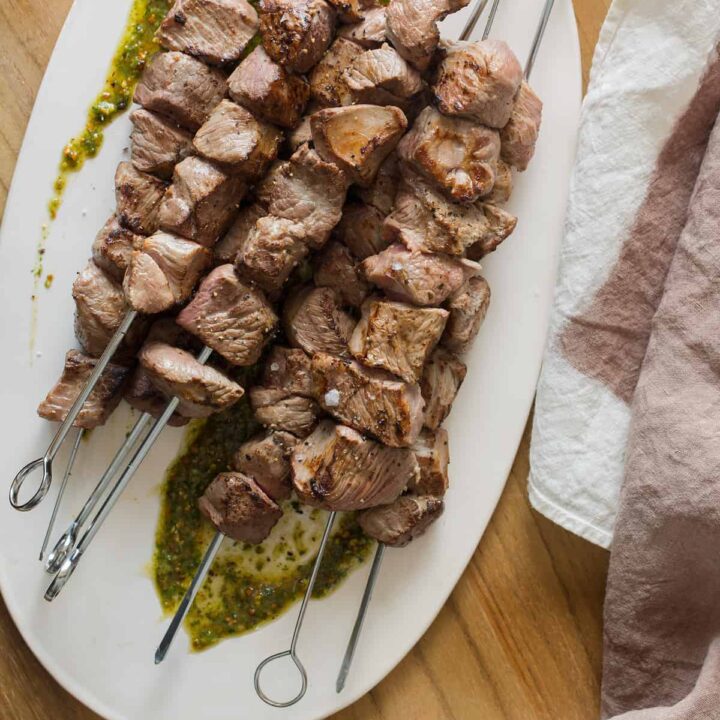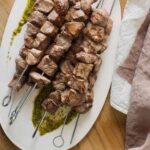 ---
Coconut Milk Marinated Lamb Kabobs
INGREDIENTS
1

(3 lb) boneless leg of lamb

1

(15 ounce) can coconut milk

2

tablespoons

apple cider vinegar

2

tablespoons

extra virgin olive oil

salt and pepper to taste
tarragon-mint pesto
2

garlic cloves

1

bunch

tarragon leaves

½

bunch

mint leaves

¼

cup

shelled and toasted pistachios

zest and juice of ½ lemon

½ to ¾

cup

extra virgin olive oil

salt and pepper to taste
INSTRUCTIONS
Remove as much excess fat as possible from the lamb leg and cut into 1 inch cubes.

Place cubes into a shallow baking dish and top with coconut milk and vinegar. Gently stir mixture, cover, refrigerate, and marinate for 1 hr.

Heat grill to high and brush generously with oil.

Remove cubes from marinade and gently pat meat dry. Season liberally with salt and pepper.

Skewer 6 to 7 cubes of lamb onto each skewer and place on the grill about ½ inch apart.

Grill kabobs on each side for 2 to 3 minutes. Remove from heat and allow the meat to rest for about 4 to 7 minutes.

While the meat rests, place garlic in a food processor and pulse until chopped. Add the remaining ingredients, except the oil and continue to pulse 6 to 8 times. Then with the motor running, add the oil in a slow and steady drizzle until full incorporated. Season with salt and pepper. Serve sauce with kabobs as a dipping sauce or drizzle over the lamb.
Calories:
558
kcal
Carbohydrates:
4
g
Protein:
32
g
Fat:
47
g
Saturated Fat:
19
g
Cholesterol:
91
mg
Sodium:
100
mg
Potassium:
662
mg
Fiber:
1
g
Sugar:
1
g
Vitamin A:
91
IU
Vitamin C:
2
mg
Calcium:
44
mg
Iron:
6
mg